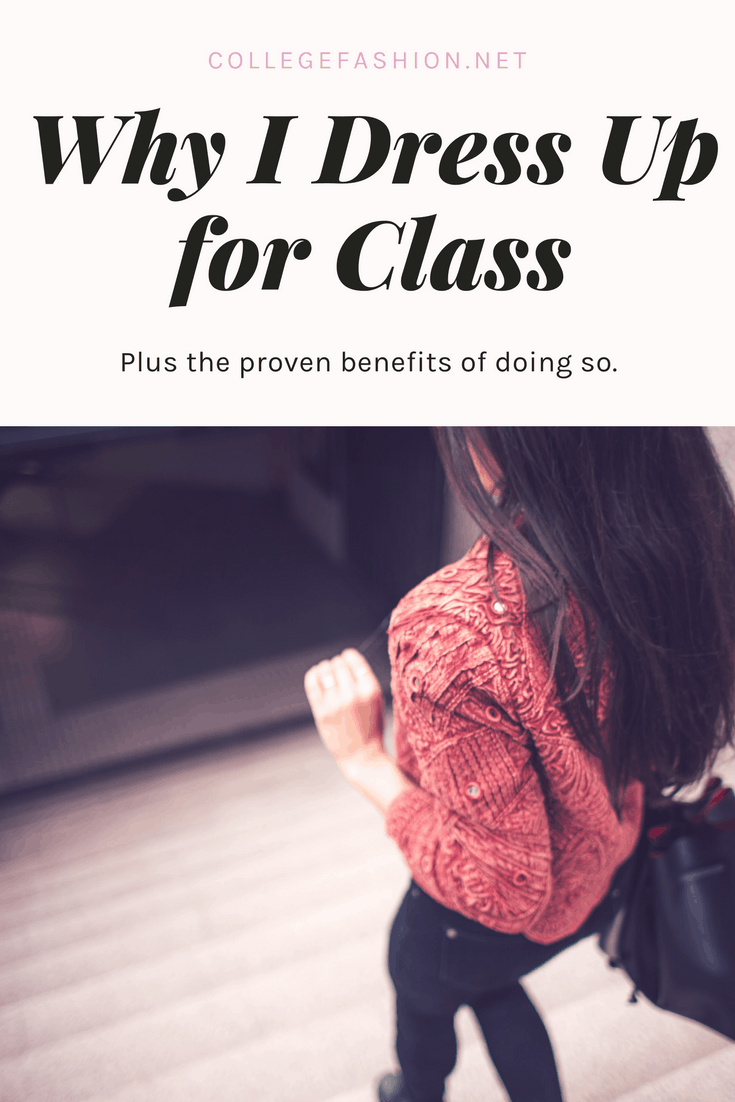 You're nearing midterms and and you've pulled several all-nighters in a row. All you're thinking about is caffeine and getting through your tests. The absolute last thing you want to do is attend your 9 a.m. class, but you know that attendance is mandatory and you don't want to miss any important material.
In this scenario, you may opt to jump out of bed five minutes before you need to leave, pull on a pair of sweats, throw your hair into a bun, brush your teeth and dash out the door. I know many students who have this as their set routine every morning. It's evident if you walk into any early morning lecture hall. And there really is zero judgment for showing up to class in such lazy attire.
In fact, this wear is more common than not. You are the minority if you chose to wear something that looks like you put in effort. At least I feel that way when my classmates ask me why I wear jeans to class, or when my boyfriend asks me why I have to wake up so early to get ready.
The Benefits of Dressing Up for Class
This is not a new topic for us here at CF. (See: 25 Reasons Why You Should Dress Up Every Day.) However, at this time of year in particular, it bears repeating.
I believe there are some worthwhile benefits to "dressing up" or at least upgrading from sweatpants and a stained t-shirt. You don't need to be NYFW-ready to sit in class, but putting in a small amount of effort goes a long way.
Waking up and picking out an outfit plus washing your face and maybe fixing your hair is a nice way to perk yourself up for class. These things require a bit more time than the sweatpants, hair tied look, but only an extra 15 minutes or so if you work efficiently. These extra minutes give your mind and body time to wake up for class. The odds of you being awake and staying awake for your class will increase if you make yourself completely wake up and start fresh, compared to just rolling out of bed and walking to class. Bonus points if you can multitask and drink a cup of coffee or tea while getting ready.
You've probably heard the phrase that if you look good, you feel good. This is pretty simple. It is also very true because your self-confidence is boosted when you look good, therefore leading to higher self-efficacy. This may bring you to approach the professor after class to ask for help, or ask a group of peers to join their study group. It is truly crazy how much of an influence our appearance has on ourselves and other's perceptions of us.
Because people do view others with opinions based on how they may look and present themselves, it is best to show your professors you care about what they are teaching you. Dressing up can help to accomplish this. Imagine you are a professor and you see two students in lecture: one is wearing an extra large bar crawl t-shirt and a pair of leggings with her hair in a messy bun, and the other is wearing leggings with a large waffle-knit tunic and her hair is in a sleek pony. Both of these outfits would be equally comfy, but one of these students seems to care more about their education than the other. And that student is more likely going to be believed by the professor when they say they need an extension for an assignment, for instance.
How you dress affects the rest of your day, too. When you go to the library to study in the same clothes you would wear to bed, you aren't going to be inclined to do work at all. You will feel tired, it will be hard to focus, you wont be as productive as If you were in something more along the lines of jeans and a sweater. This philosophy is similar to the idea that you shouldn't do homework — or any kind of work — in bed. You're more likely to fall asleep if you're reading your textbook in bed lying down than sitting in a chair at a desk. A solution to your droopy-eyed demeanor in class could be as simple as putting on a pair of jeans instead of sweats in the morning. And because of this, chances are that wearing your sweats is making your grades suffer a little.
The effort of getting up a bit earlier and trying to present yourself in the best light for the day can open doors to beneficial interactions with peers, professors, and yourself. Plus, the effort can be as minimal as keeping yourself clean and keeping your outfits coordinated. Jogger-sweats are super cool with a pair of sneaks, just pair them with a cool looking graphic tee and you've got yourself a comfy outfit, just not one that you'd wear to bed. There is a difference between athleisure and pajamas.
What do you wear to class?
In sum, "dressing up" for class isn't even really dressing up. Its just refusing to let yourself wear clothes that don't represent you, or keep you from being the best version of yourself. All it takes is a few minutes and you can feel self-confident, stylish and productive both inside and out of the classroom.
Do you think that these tips would help you be more productive? Do you dress up for class? Let me know in the comments.