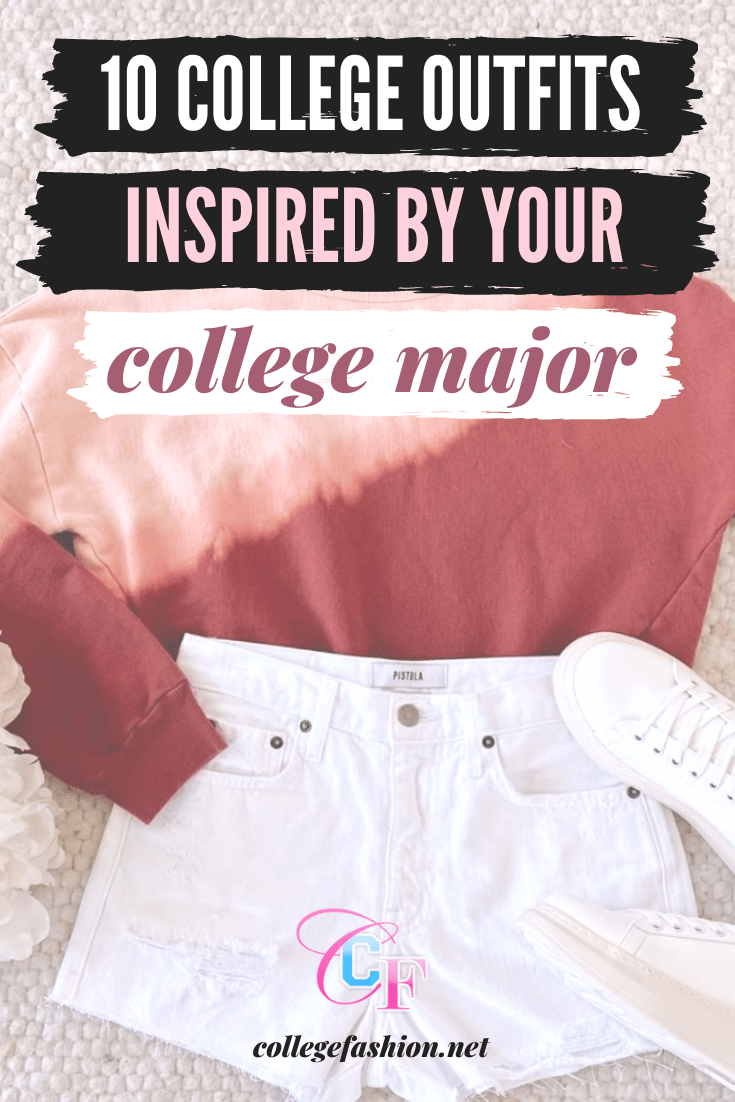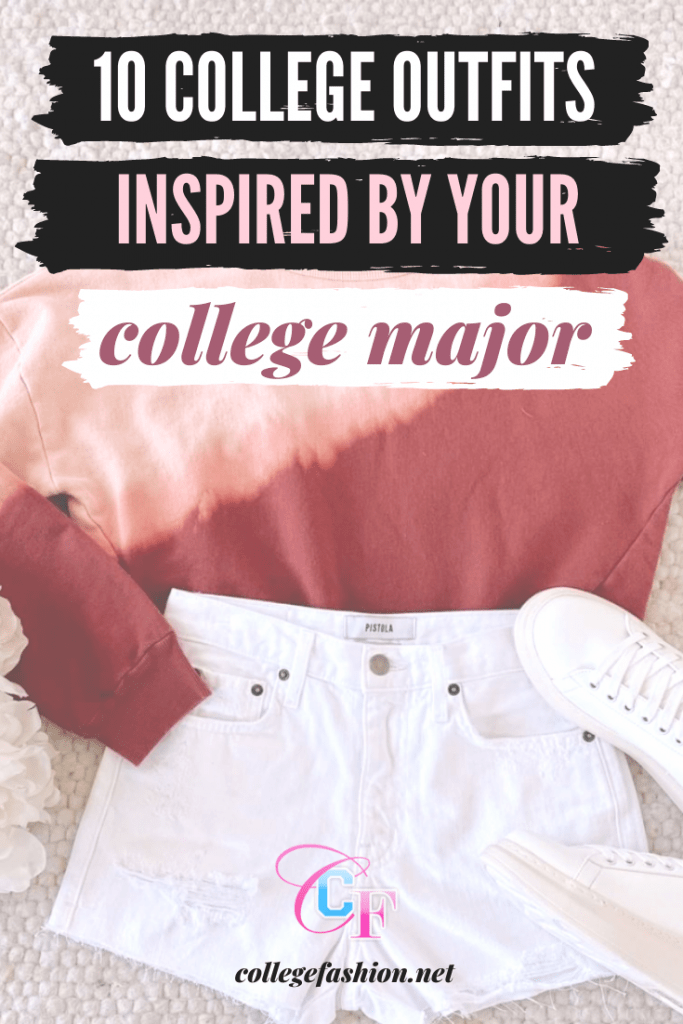 In this post, I'm going to share college outfit ideas for a variety of popular college majors.
Syllabus week has come and gone and that means the semester is officially back in full swing.
Picking out the outfit that you'll be wearing all day for school (whether remote or not) is actually more important than you'd think. When you feel like staying in bed, it can really help to get dressed in a cute outfit to feel put-together and motivated for the day.
Your major doesn't necessarily determine your college wardrobe, but it can be a fun starting point when picking out an outfit to wear for school work.
These cute college outfit ideas are inspired by different majors. They're guaranteed to get you in the right head space to get your grind on.  
Related reading: A Realistic Week in My Closet as a College Student Doing Online Classes
P.S., Just as students often switch their majors, feel free to wear an outfit that's in your field of study or something completely different. There is no right answer when it comes to style!
College fashionistas, here's how you can hit in the books in style.
Chemistry
Recreate this cute college outfit:
These pieces have good chemistry when paired together. (Couldn't resist.)
Reminiscent of chemicals mixing, this dip dyed crew neck is the perfect cozy nod to your studies. One day, you'll be mixing your own formulas and chemicals together and this outfit will bring that excitement out in you.
Related reading: What to Wear to Lab in College
Finance
Recreate this cute outfit:
With money on your mind, you want your fit matching up with the precision of a finance major.
Tweedy coats and blazers don't have to define your ensembles all the time. A white t-shirt, beige pencil skirt and brown sandals will surely keep you feeling polished, yet totally comfy. You can't always predict the stock market, but in this outfit you'll always be dressed for success.
Fine Arts
Recreate this cute outfit idea for class:
Whatever your medium of choice is, this outfit embodies a true artist.
As someone with an eye for art, you know that style is not just about trends. Get yourself some overalls, an oversized long sleeve and chunky shoes to get your head in the zone. Plus, something about accidental paint splatter on overalls makes for an even cuter look.
Creating art is all in the details, so make sure you add some cute accessories to accentuate the look!
Creative Writing
Recreate this cute college outfit:
Spinning stories with imagination and invention defines this major.
This outfit is a nod to the poetic side of this major. While you're sitting in the library typing up some complex characters and unexpected plot twists, you'll be able to dress accordingly with your own creative ensemble.
Pants with bold patterns, such as these multi-color flower jeans, make a bold statement. These unexpected shapes and colors will inspire your writing.
Nursing
Recreate this cute college outfit idea:
Dedicating your time to helping others is so admirable. Whenever you're not decked out in scrubs, wear this simple white on denim outfit. It will give you the simplicity and calm you need to focus on your work while still looking super chic.
Your busy schedule will thank you later for this minimalist ensemble.
Anthropology
Recreate this cute college outfit idea:
We want your own identity to shine as you learn about other cultures around the world. This mustard yellow romper paired with brown accessories is earthy and eclectic. It is indie but never trying too hard.
Add a signature necklace or backpack to this outfit to really make it your own. As you know, your backpack will be holding all of your tools from snacks to notepads, so choose one that screams "you."
International Relations
Recreate this outfit idea:
As an International Relations major, politics and power dominate your papers. One day you might be passing the next laws for society.
The good thing is that while you're studying, you don't need to be dressed up for the courtroom. So double down on comfort for studying with these slouchy takes on classics like dad jeans and a button-down.
Psychology
Recreate this cute outfit for school:
This outfit might just give you the boost of dopamine you need to get to work.
Psych majors are all about analyzing people, so your outfit needs to be no-nonsense. Converse and a knit sweater are classic campus pieces that always look cute.
Computer Science
Recreate this cute school outfit idea:
If you love computers and technology, we programmed the perfect 'fit for you!

If your study-time implies hours at a computer, a graphic t-shirt and sweater is the comfiest choice. These jeans are extremely cute but we won't judge if you swap em for joggers when studying at home.
Elementary Education
Recreate this cute college outfit idea:
Working with kids all day doesn't mean you can't look good. In fact, wearing an outfit that expresses your identity is a great impression for youthful minds. This dress isn't too restrictive (or expensive) so you can still move and play in it, and even get it dirty.
Tie up your hair with a ribbon and add your favorite canvas sneakers for a look that's easy-breezy for the early fall.
Music
Recreate this cute college outfit idea:
Study time for you might mean playing some classic notes from music sheets.
Your outfit is just like a song in that it is comprised of different 'notes.' Hitting the right notes in this outfit is all about combining pattern, texture and shape. While you might not think these pieces pair together, they combine for something gorgeous and unexpected.
What do you think of these college outfit ideas?
Regardless of your major, all of these college outfit ideas are comfy, casual and cute.
Being well put-together in any outfit you feel confident in will have you ready to take on your to-do list.
What outfit are you wearing to get focused during your next study sesh?