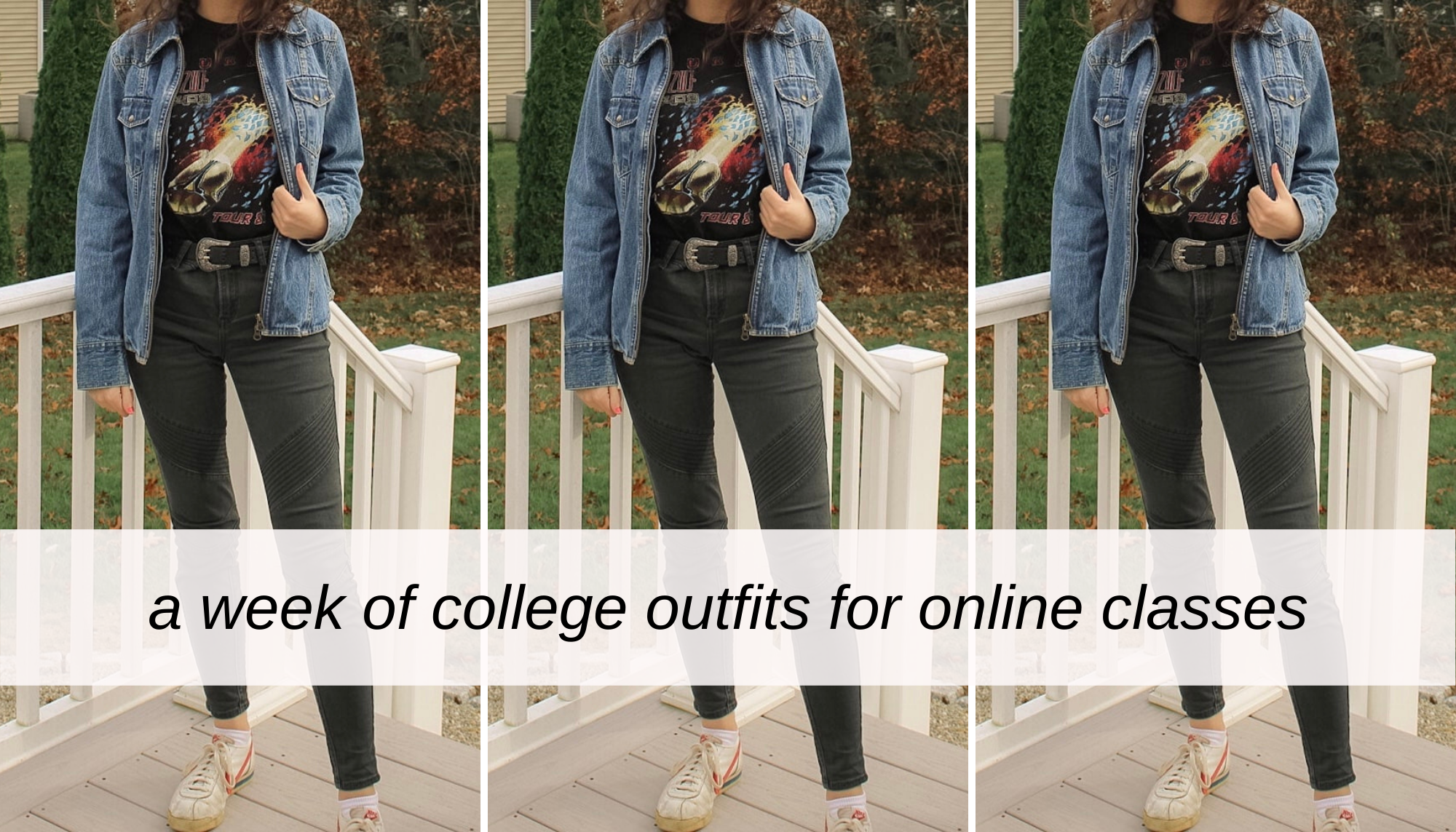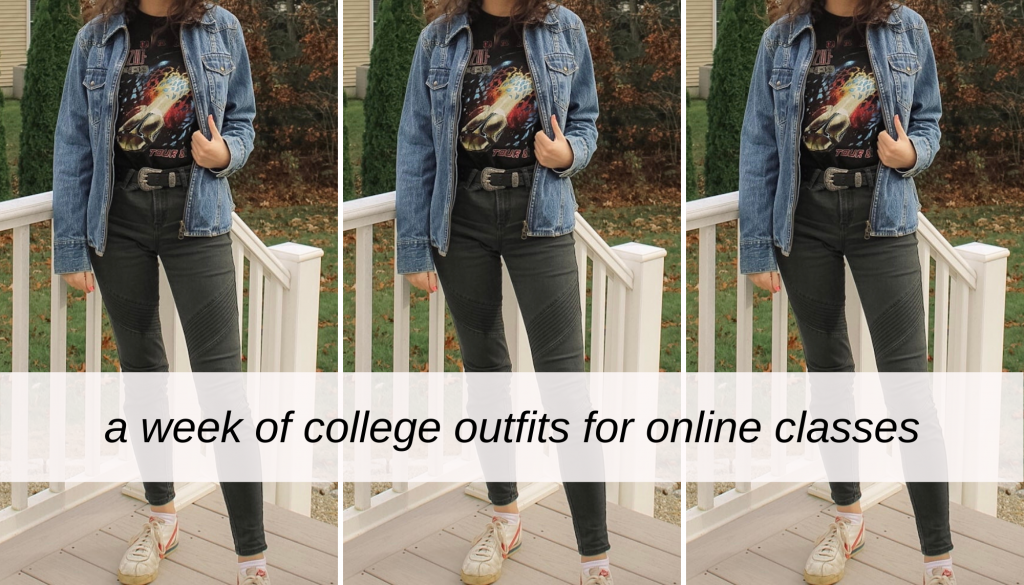 Heading into the biggest retail season of the year, I'm trying to be especially mindful of what I buy and consume. Since I have so many amazing pieces in my closet already, I try to rediscover what I have before buying something new.
With finals season coming up, it's nice to get out of bed and dressed everyday as a motivating morning wake up. While I can't wake up every morning and look like I just came off the runway, I love to put together fun outfits and show off my favorite pieces.
Here's a realistic look at what I wear in a week by using only thrifted, secondhand, or handmade pieces of clothing!
Monday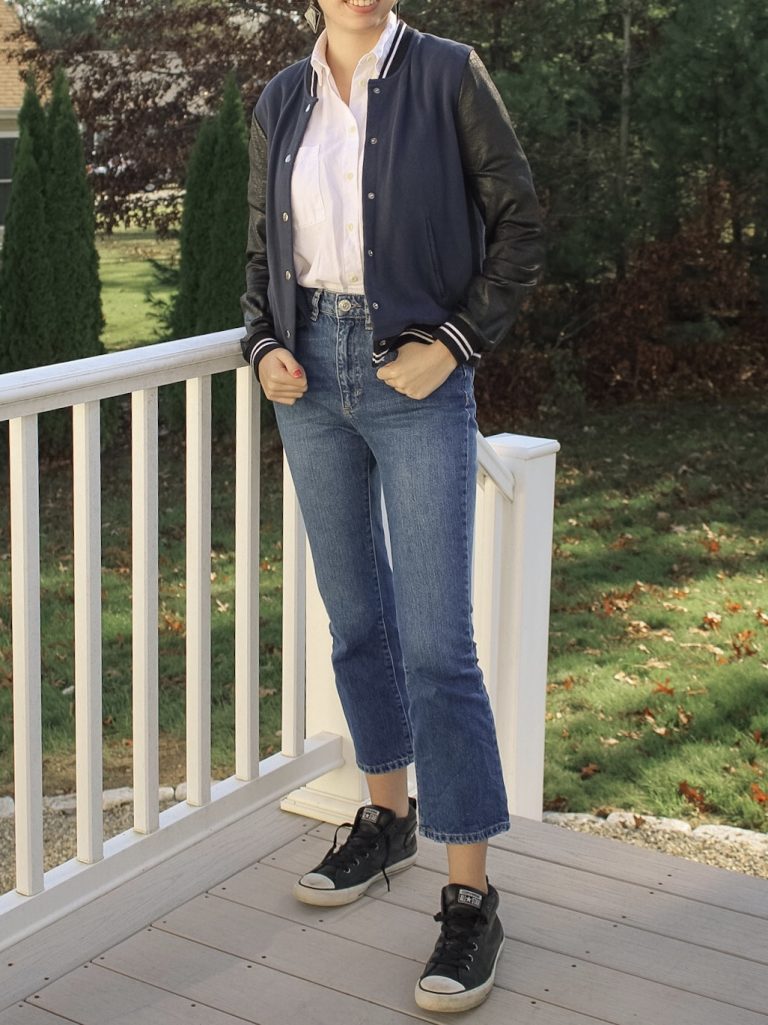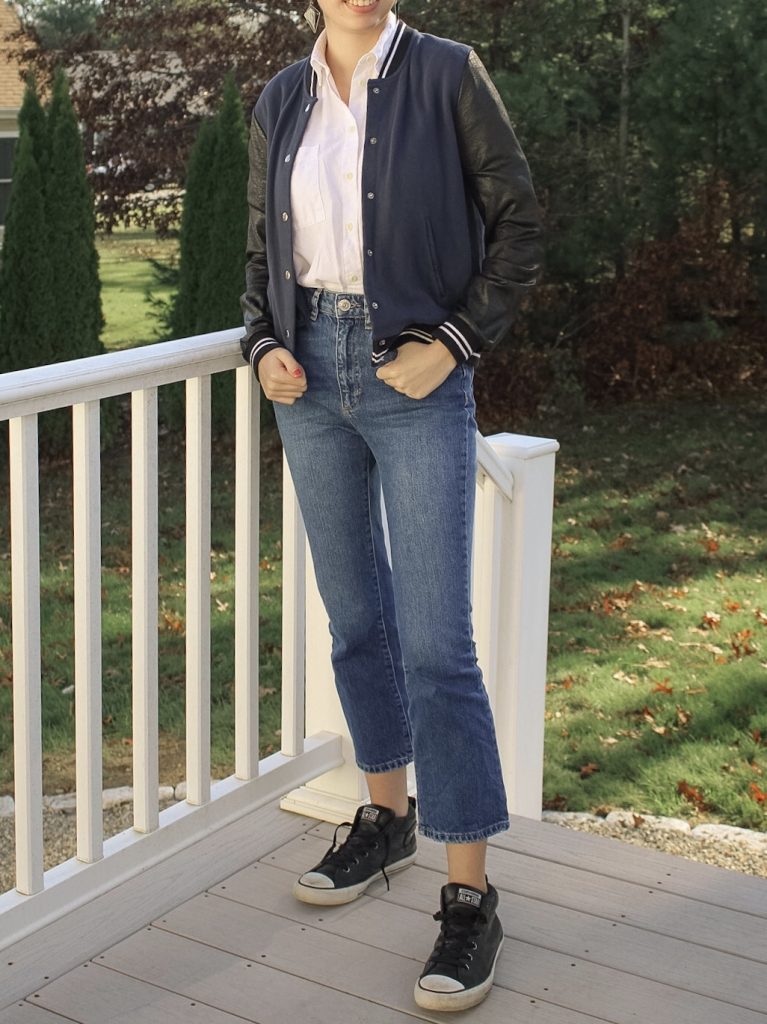 Happy Monday everyone! Today's outfit was simple, but it was something to keep me on my toes for my online classes today. (It always helps to get dressed up for class, even if you're just staying home.)
I took one of my favorite thrifted loose button down shirts and tucked it into a pair of cropped jeans I thrifted online last spring. It's a simple girl-next-door ensemble but it certainly plays well with accessories!
Over the button down on this cool fall day, I layered a varsity-style jacket with pleather sleeves that I got from Poshmark a couple of years ago. To match, I wore leather-style Converse sneakers that were hand-me-downs from my younger brother. 
Finally, my dark blue earrings were handmade in Spain and gifted to me by my grandmother. Who knew sustainability could be so nostalgic? I love collecting meaningful pieces from my family and giving them a whole new life.
Tuesday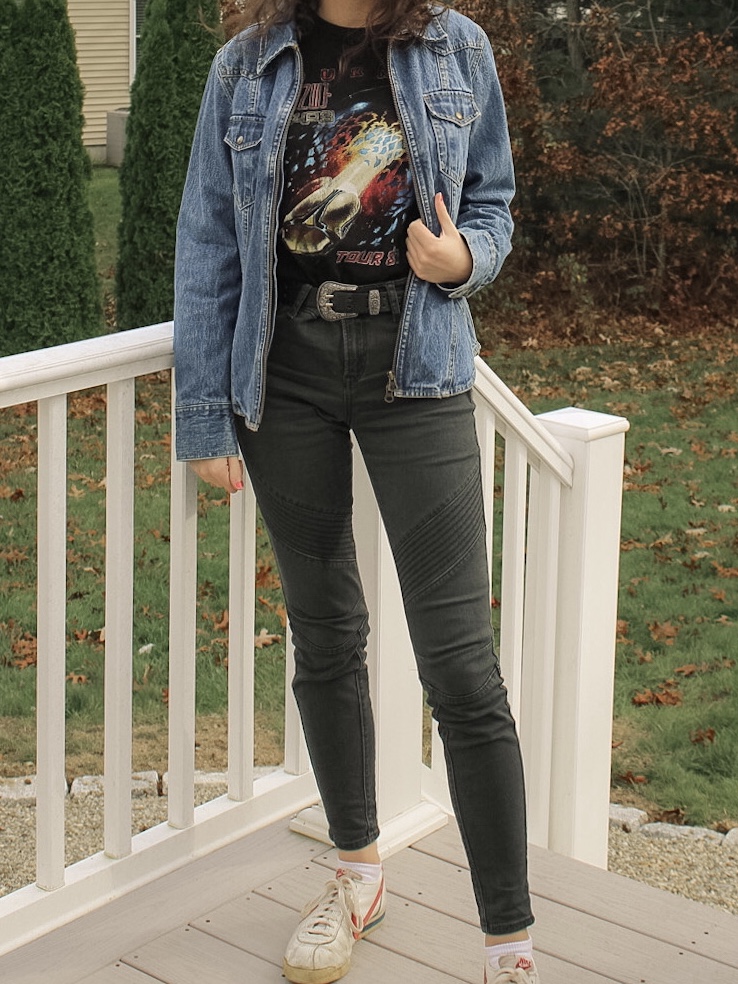 Today, I went for an edgier vintage-inspired look for my day filled with online classes. This Journey band tee is one of my favorite thrift finds from before quarantine. On the bottom, I have this unique pair of dark green biker pants. They're difficult to wear because they don't match a ton of my clothes, but I love the dark look they create with the graphic tee!
To accentuate the retro vibe of this look, I wore this pair of vintage Nike Cortez sneakers that were passed down from my dad. I was shocked when these shoes fit me, but they've quickly become my favorite pair.
For a little wind coverage, I layered this collared denim jacket on top. It came from one of my favorite local thrift stores and it's now a staple piece in my closet. Sadly my fun belt wasn't thrifted – it's one of those items that's difficult to find in my size but I'm always on the lookout when I shop secondhand!
Wednesday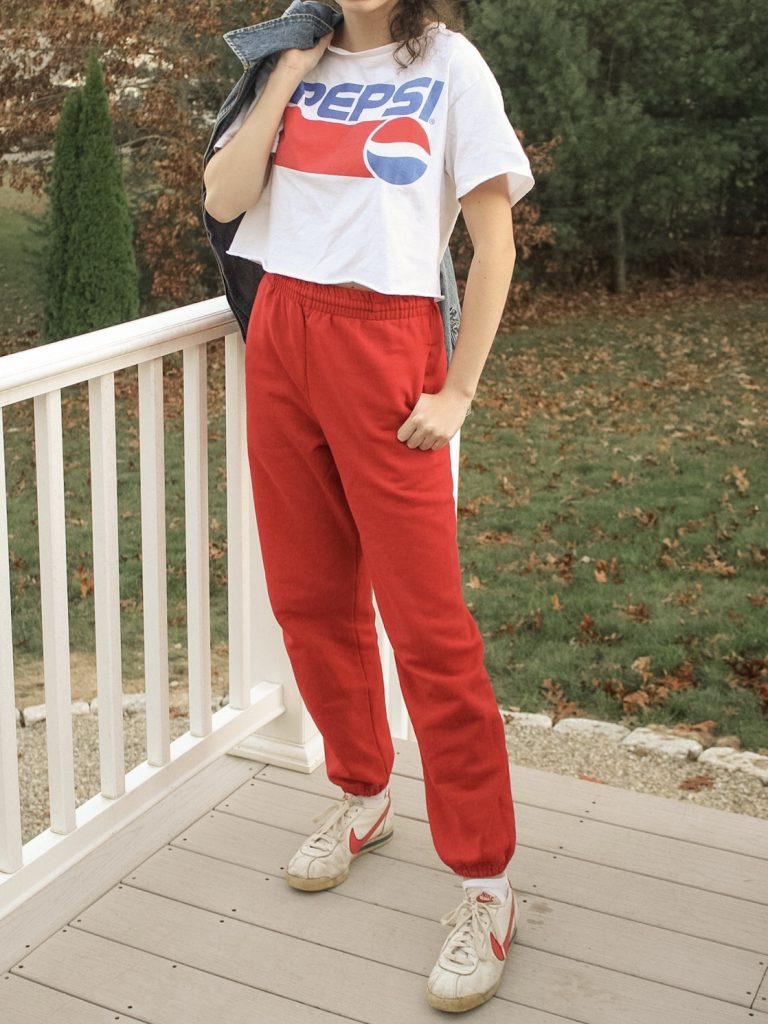 This wouldn't be a realistic week-in-my-closet post without a casual look! On days like today when I'm not feeling great, I'm lucky enough to still have some sustainable clothing options.
This cute graphic crop top is a great piece from my favorite thrift store that's easy to dress up or down. The red in this shirt matches perfectly with this pair of hand-me-down sweatpants from my brother for a coordinated yet comfy look.
Just in case I need to leave the house, I can throw on the same vintage Nikes from yesterday and the collared denim jacket to dress up this look a bit.
Thursday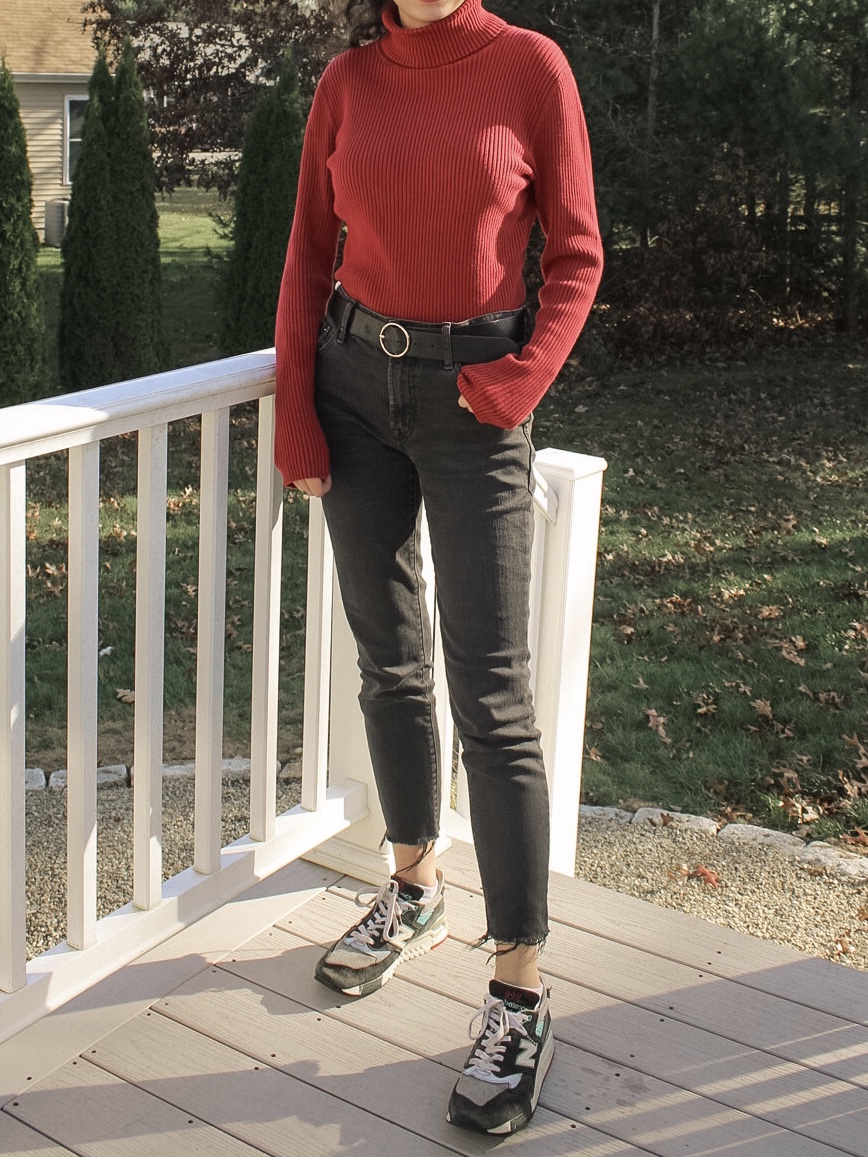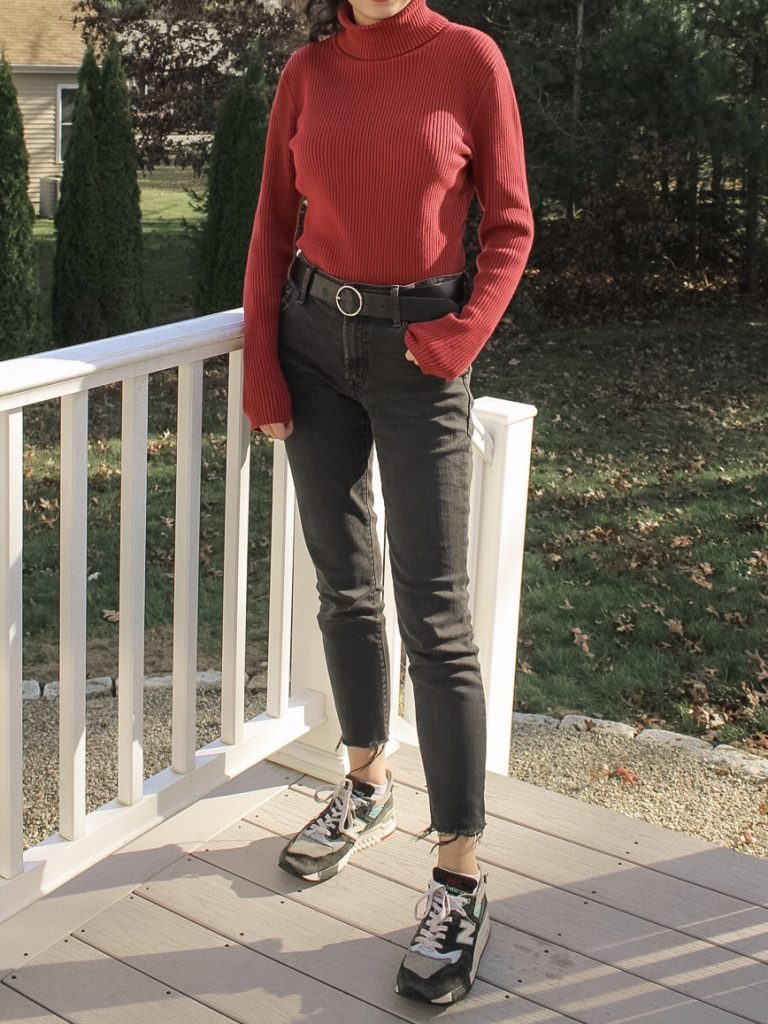 Today, I wore one of my favorite go-to winter outfits for when the weather gets chilly. I'm not usually one to wear long sleeve shirts, but today was just too cold for anything else.
This red textured turtleneck is roomy and comfortable, and it's a staple hand-me-down from my mom's '90s closet. Here I've tucked the sweater into some black girlfriend-style thrifted jeans for a sleek look.
To pick up the red and black theme, these awesome hand-me-down New Balance sneakers from my brother are a cool combination of black, white, red, and teal. They're chunky and comfortable and add an athleisure edge to this look.
Friday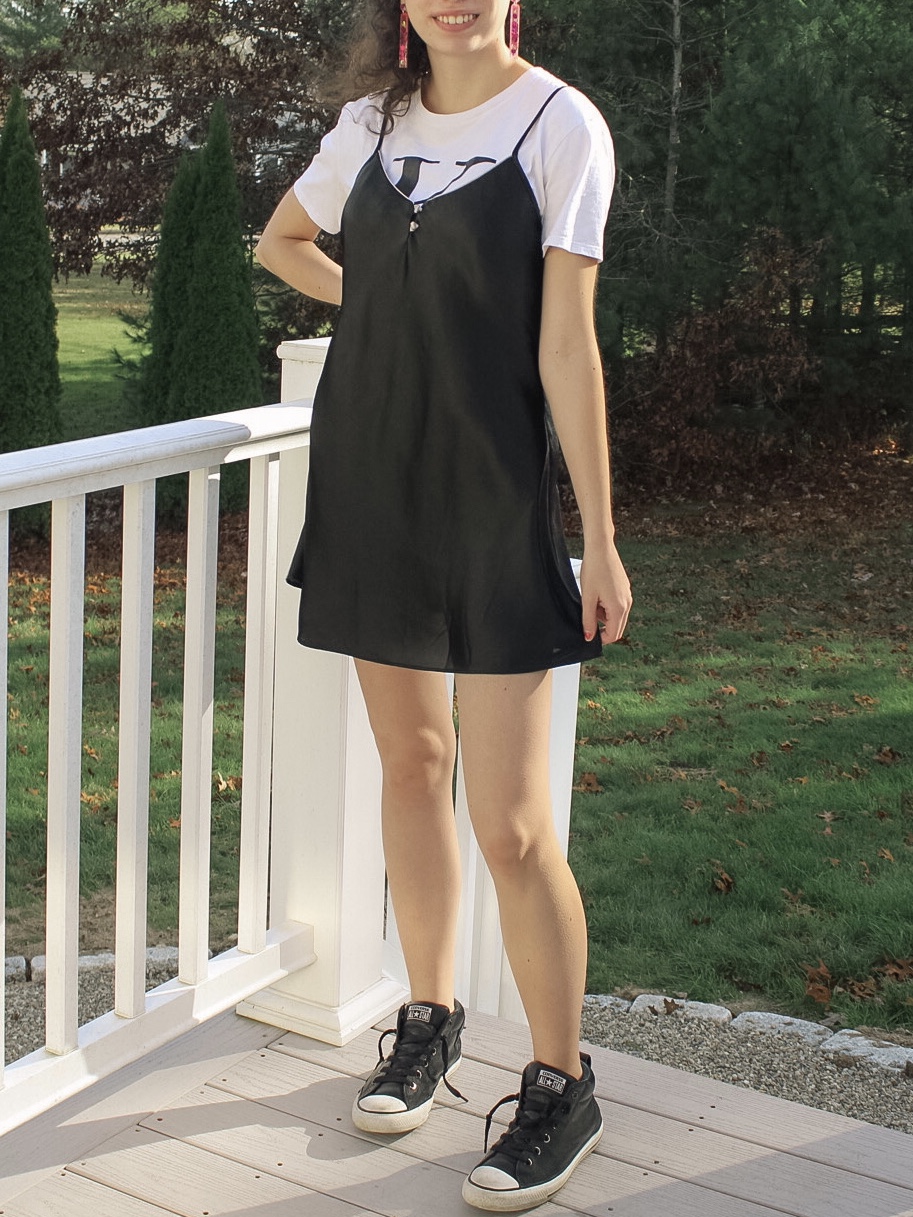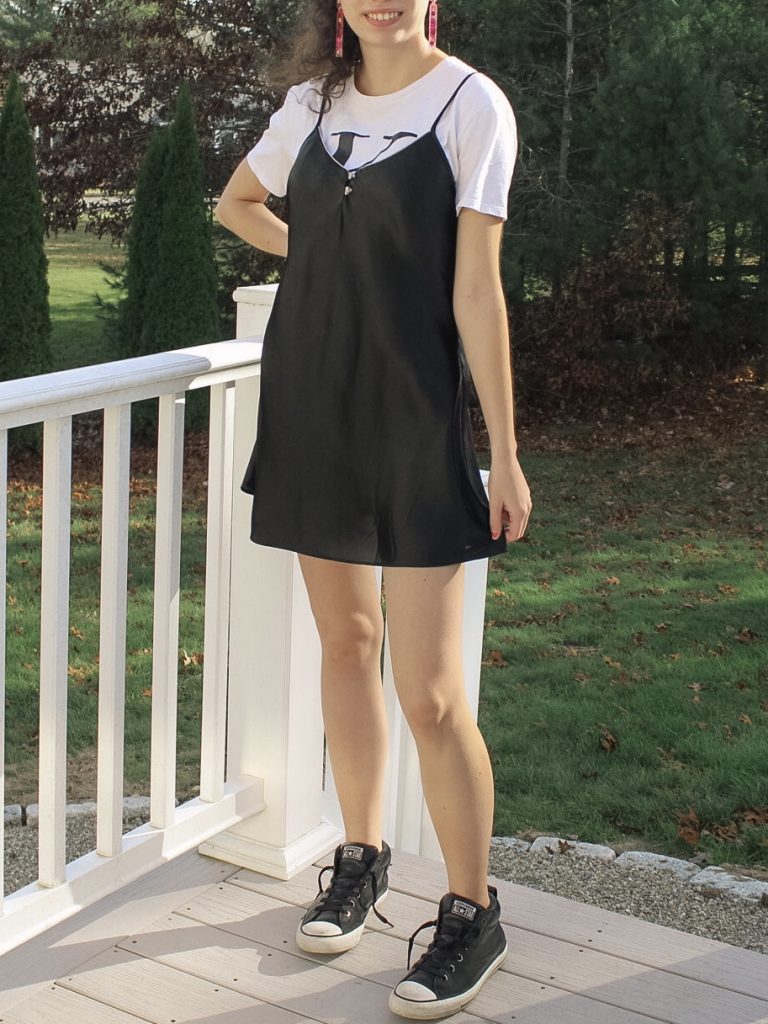 Now that I'm done with classes for the week, I was able to get up early and get dressed up before my work meetings! Even though I'm wearing a dress, this look is deceptively comfortable. The slip dress is a black silk dress that I online-thrifted in the early days of quarantine.
Underneath for a bit of cold weather coverage, I layered a basic black-and-white Calvin Klein tee that I also thrifted online. On the bottom, I wore my black leather-style Converse to add a spunky edge to this look.
Finally, I added one of my favorite accessories to spice up the ensemble. These pink glittery earrings are handmade from one of my favorite jewelry artists and a fun accessory to so many of my outfits.
Saturday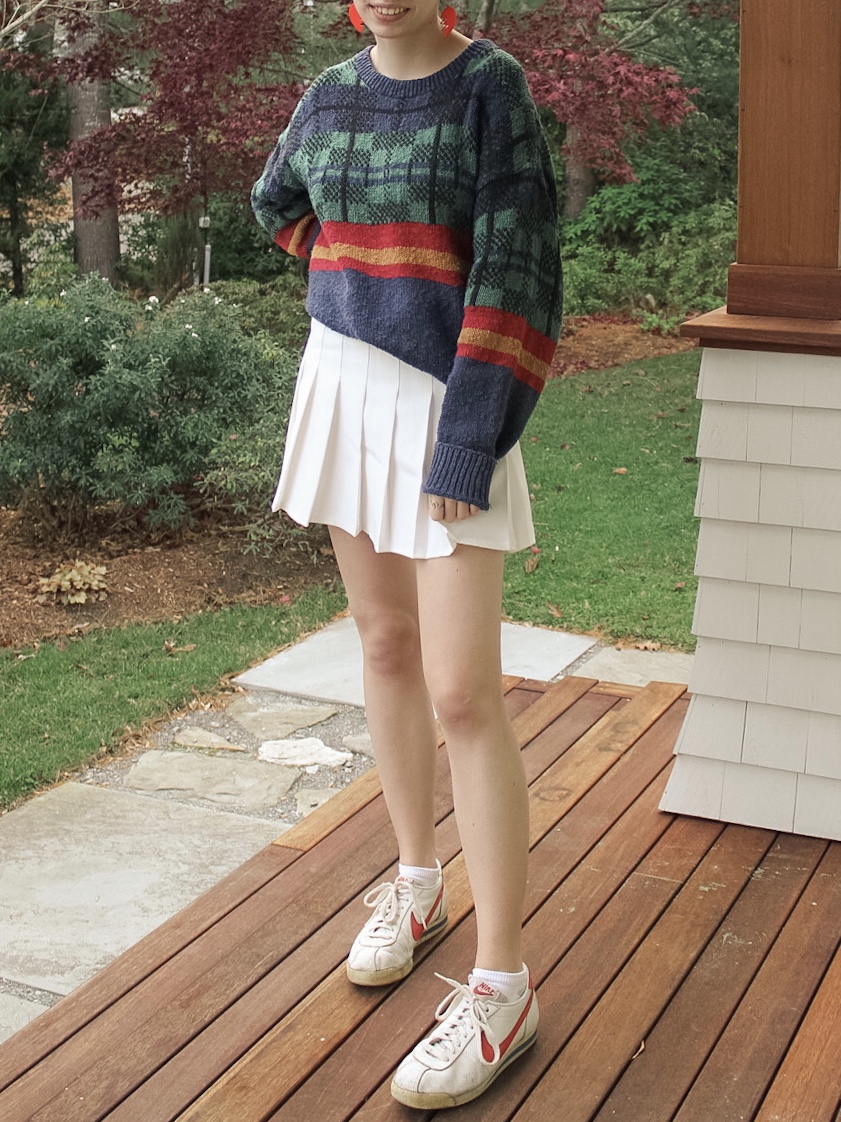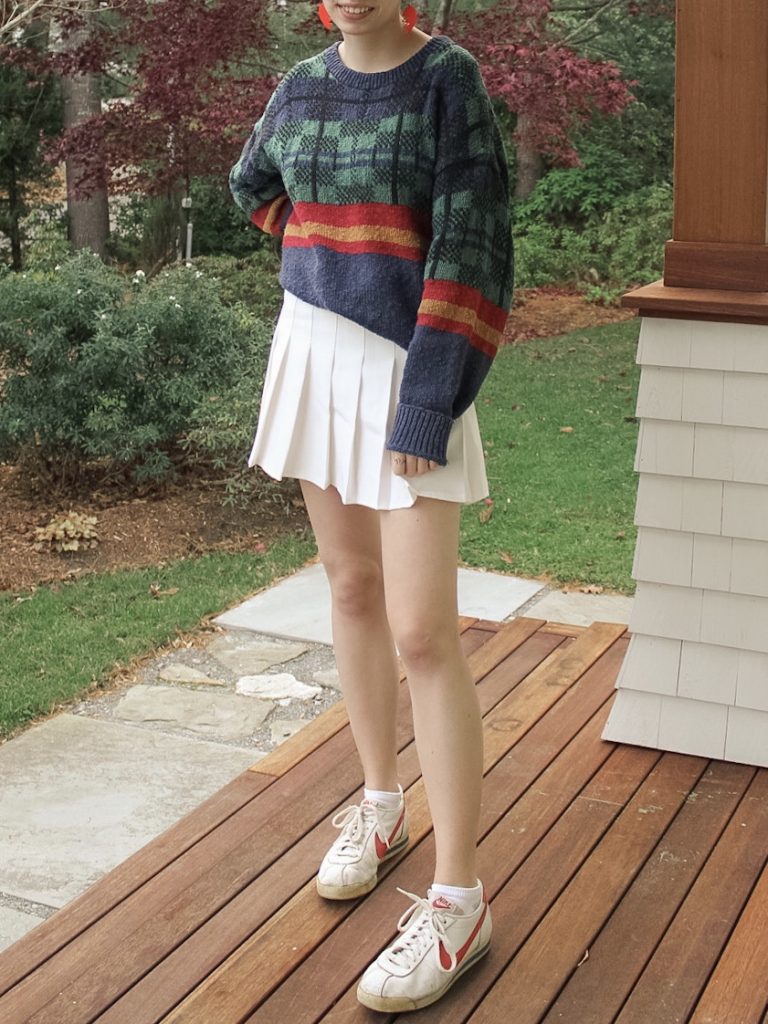 For my Saturday look, I needed an outfit that was comfortable and "flowy" so I could move around easily while at a photoshoot. Fortunately, this did just the trick!
This multi-colored "grandpa sweater" has been my staple for the whole fall season – I can't wear it enough! Since it's so big and drape-y, I French-tucked it into the top of this white tennis skirt. I was lucky enough to thrift this skirt before they became trendy this summer, because I know how hard they can be to find these days!
My vintage Nike shoes match perfectly with the tennis skirt, creating that retro-sporty vibe I was going for here. To top off this look, I rocked a pair of handmade red earrings that picked up the red in this look. Each earring is one half of a heart – super cute!
Sunday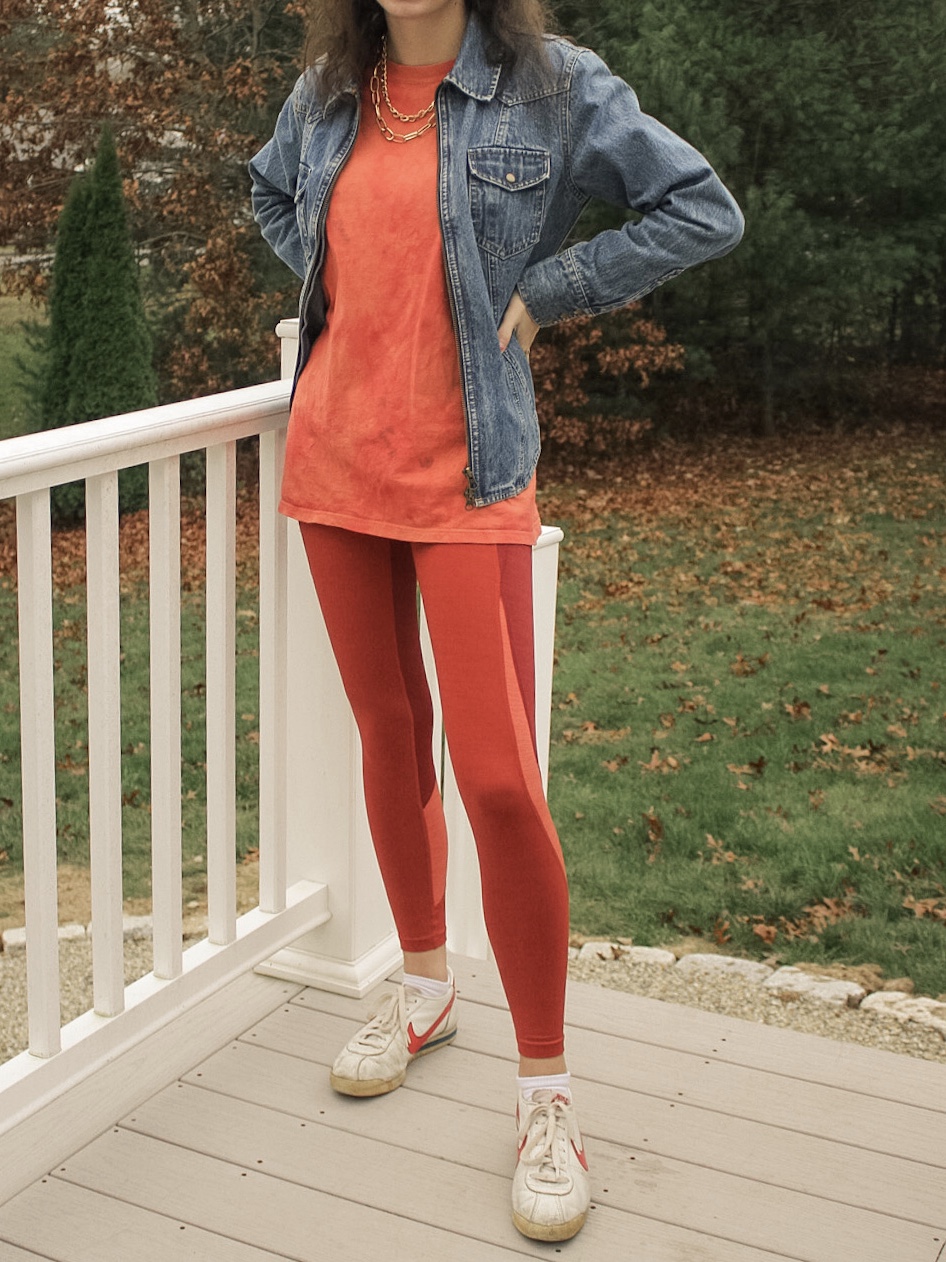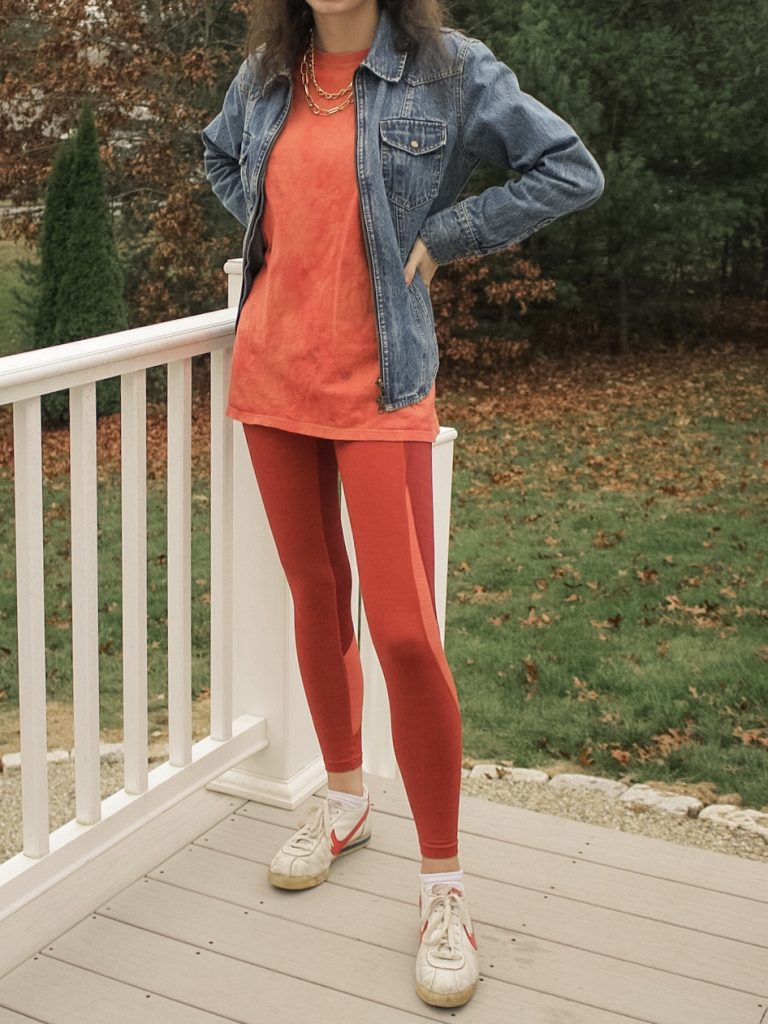 Today was another super casual day where I felt like repping one of my favorite colors – a bright red-orange! This outfit was completed by the accessories to counter the bold hues of my shirt and leggings.
This shirt was an old shirt of my dad's that I tie-dyed to be a fun burst of red-orange. It's the perfect size for a loose and comfortable fit. On the bottom, I wore a pair of red and orange Outdoor Voices leggings I got from Poshmark last year. They were sold in perfect condition so I was able to get a name brand piece for a great price!
I've dressed up my outfit with the classic pairing of the collared denim jacket and vintage Nike's. Although I've worn these pieces a ton, they create such a different look depending on what I pair them with. To accessorize further, I wore this chain necklace purchased from a local small business.
What I Learned from My Outfits This Week
Although I love to shop secondhand, I will admit, it can be difficult to create a whole outfit with all secondhand and sustainable pieces – especially if you're just starting out! Things like belts, socks, jewelry, and shoes are often overlooked when we go shopping, but are outfit essentials.
Another important lesson I learned putting together my outfits this week was that there are certain pieces that work better with the clothes in my closet. Staple pieces like my jean jacket may not be the most exciting or eye-catching, but are the easiest to wear with my other pieces.
Finally, I learned (once again) the benefits of rocking a cute outfit, no matter what your plans. When in quarantine it's super easy to resign to sweatpants every day, but dressing up in a nice outfit is such an unexpectedly nice way to bring up your mood on a weekday. Try it out sometime!
What Do You Think?
Have you ever worn an outfit with all sustainable or secondhand clothes? What is the best takeaway from my week of all-thrifted outfits? Would you try any of these looks?
Let me know in the comments!