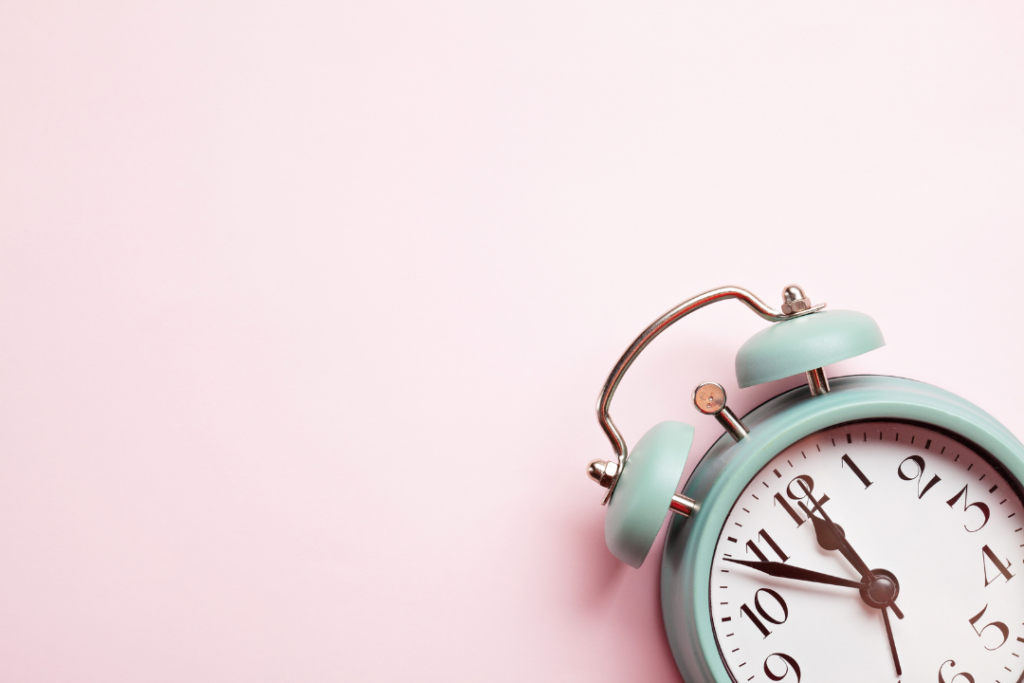 It always seems to happen: the days when you have a formal presentation, or just really need to look decent, are the days you always hit the 'snooze' button one too many times.
If you're anything like me, wearing sweats to class is the biggest fashion disaster any college girl could possibly commit. Whether you were working on the presentation until three in the morning the night before, or just wonder how some of your classmates in that 8am math class still look impossibly put-together, here are my top four tips for looking polished… even when you're severely sleep-deprived.
1. Lay out outfits a week ahead.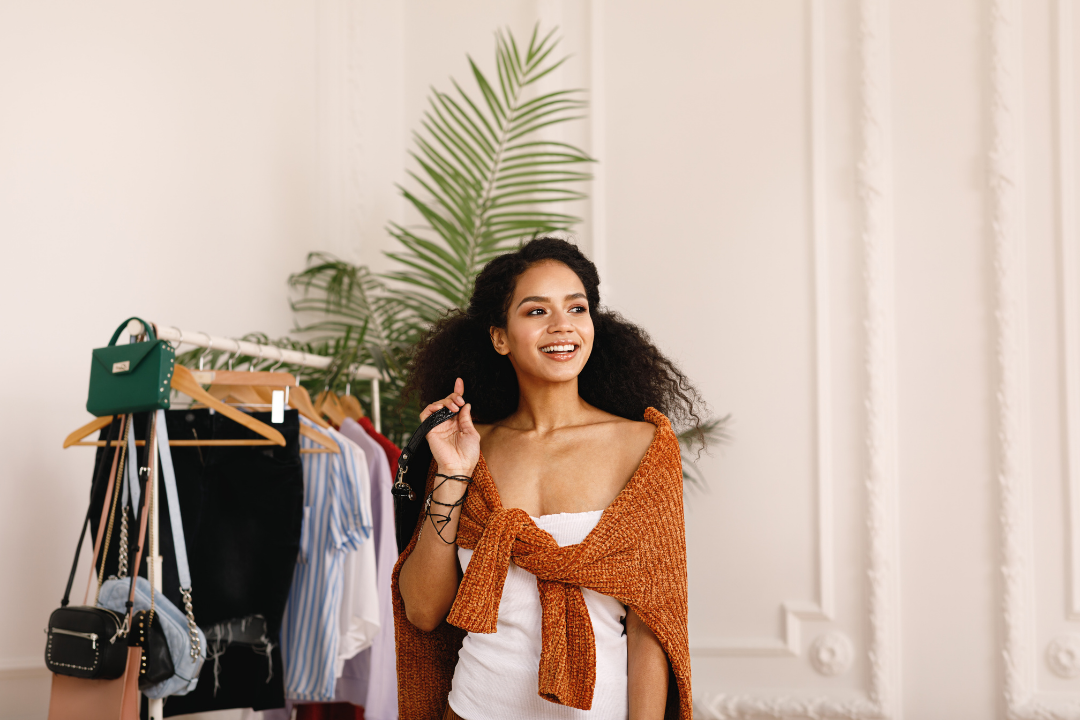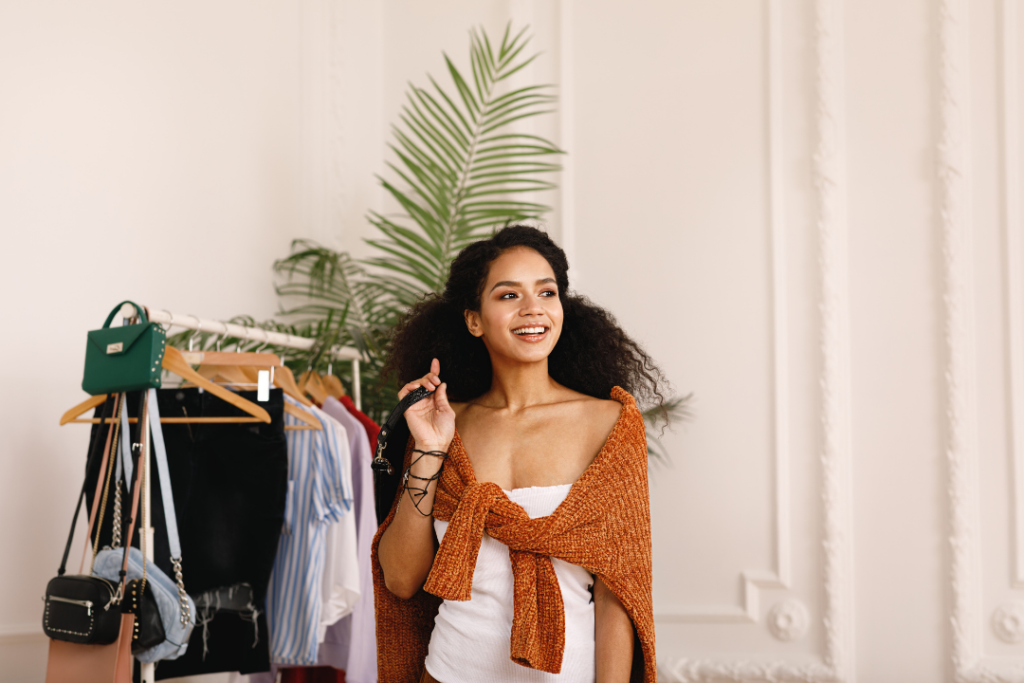 I know, I know – this sounds scary, high-maintenance, and like far too much work – but hear me out. I like to put aside potential outfit combinations for the week ahead on Sunday evenings. However, this doesn't have to mean coming up with seven different, weather-appropriate outfits for the week.
If you're just starting out, try laying aside a pair of jeans you already want to wear next week (maybe they haven't been washed yet!), and one or two tops. Just separating potential pieces for the week ahead shaves minutes off getting dressed in the morning.
I like to create as many outfits as I can when inspiration strikes, then set them aside for next week or two. I then recycle the individual components, like the jeans or a sweater, with something else in the separate pile. Having fewer pieces to work with can actually help you get more creative with styling, and avoid the dreaded 'I have nothing to wear!' dilemma that occurs when you have five minutes to get dressed and be in class.
2. Choose statement accessories.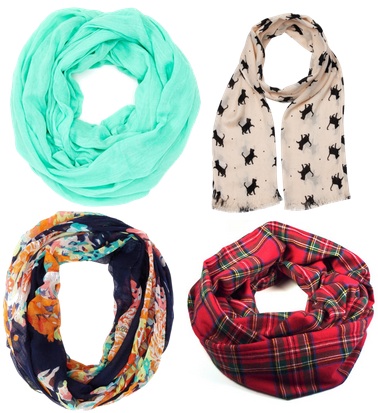 Product Information: Mint Scarf- Nordstrom Rack, Cat Print Scarf- Oliver Bonas, Floral Scarf- Charlotte Russe, Plaid Scarf- Etsy
One of my favorite lazy-girl styling hacks is using statement accessories to instantly add punch to any outfit. Scarves or bib necklaces both work wonderfully when you want to spice up a look.
Having just one statement piece, like a fantastic coat or killer boots, also makes you look like you've tried a lot harder. Try throwing on any one of these statement scarves with your knits, three-day-old unwashed jeans, and a pair of over-the-knee boots – no one will be able to tell that you got dressed in two minutes and ate breakfast on the way to class!
3. Find your style uniform.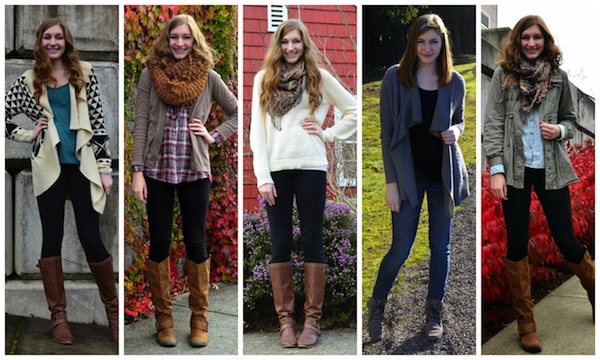 Photos from our college uniform post.
One of my biggest secrets to getting dressed with pizzazz when my eyes can barely stay open long enough for a lecture is by having a style uniform. Once you've established what silhouettes look good on your body shape and what pieces you constantly reach for, creating a go-to style uniform is not only a jumping-off point for creative experimentation, but also helps you put together an outfit in thirty seconds.
For example, I reach for skater skirts year-round, so throwing on two layers of fleece-lined tights and a turtleneck in the winter months saves me the trouble of having to think about what to wear. I've also never shown up for class in sweats or pajama pants and Uggs.
If you're not sure where to get started, our Easy Outfit Formulas column is a fantastic resource full of easy-to-put-together looks.
4. Pick makeup for maximum impact.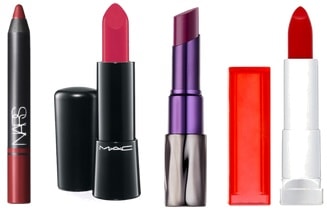 Product Information: NARS, MAC, Urban Decay, Maybelline
There's this girl in my philosophy class who always wears a bright, matte orange-red lip to class. Of course, she always looks fabulous – even on days when she only wears a Patagonia fleece and jeans under her puffy black North Face.
I can create a cat eye pretty quickly, so I often opt for one because it immediately pulls my whole look together. Otherwise, if you really need to look polished in a pinch, statement lips are the way to go. A bold lip can jazz up concealer and mascara, plus it will instantly make you look more well-rested.
What do you think?
What are some of your secrets to looking put-together and awake at eight in the morning? Do you frown on sweats and pajama pants in classrooms? Do you lay out outfits in advance or have a style uniform? Let us know in the comments below!