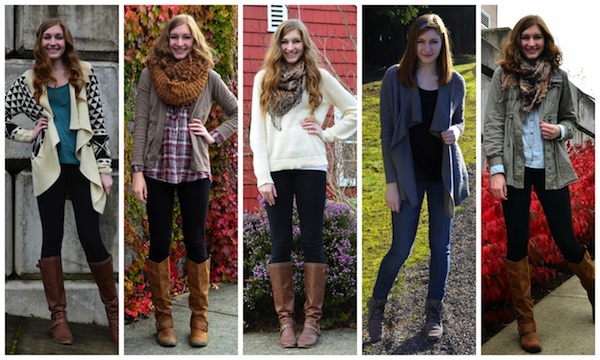 If there's one thing college has taught me about fashion, it's the importance of having a personal uniform. Now, I'm not talking about khakis, navy pleated skirts, and white polo tops. I mean the go-to outfits that you can throw on in the morning with zero effort and without resorting to wearing sweatpants.
While I still love pulling together the perfect outfit to wear to class or out with friends, I've learned that having a go-to outfit is essential for those mornings where you really just want to hit that snooze button one more time. Over the last few years, I've built a repertoire of pieces that I can mix and match to create a stylish outfit in less time than it takes me to brush my teeth.
I'm here to show you some of my favorite outfits that let me stay comfy and cute all day long, as well as some of the pieces that are essential to creating your own personal "uniform." Read on to learn more:
1. Comfy Cool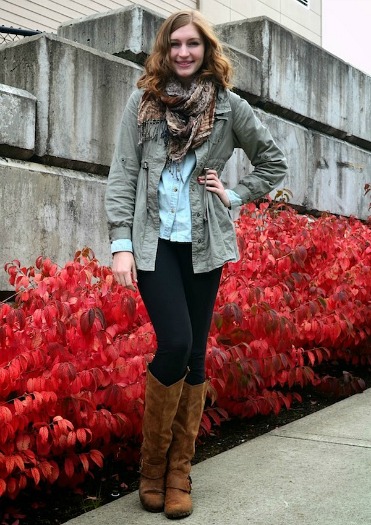 Ponte pants are the perfect base to any comfortable yet stylish look. Pair them with a utilitarian jacket, a chambray shirt, and a patterned scarf for a layered look that will get you through the day of shifting temperatures. Add a warm coat if it's extra chilly out, then shed layers in a warm classroom.
2. Cozy Casual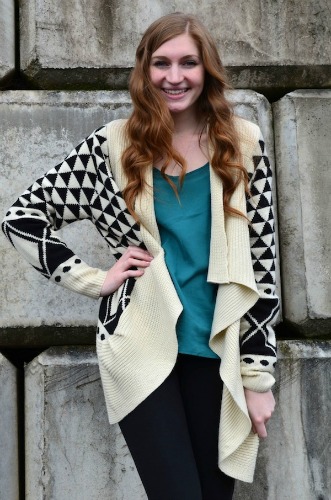 I don't think I could live without this cozy cardigan. It's my favorite piece to wrap up in and is warm enough to wear without a coat over top. The geometric print and pop of teal make add some fun and trendy touches to this ultra-comfy look.
3. Last-Minute Chic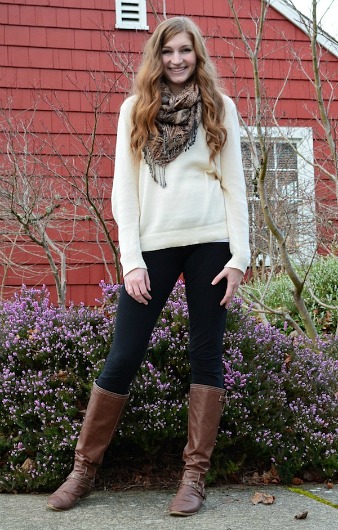 A last-minute outfit doesn't get any easier than comfy leggings, an oversized sweater, and a cute scarf. Switch up the sweater and scarf to make this outfit your own!
College "Uniform" Essentials
Now that you've seen my college wardrobe essentials, gather up your favorite versions of these items to create your own easy and stylish go-to outfits: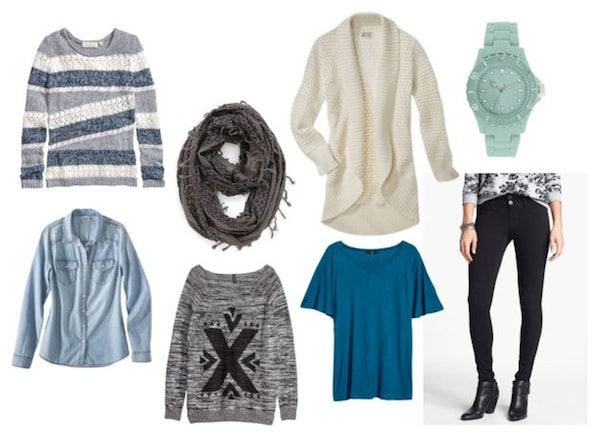 Product info: Striped Sweater, Shirt, Scarf, Gray Sweater, Cardigan, Tee, Watch, Pants
Ponte skinnies. Because they're made with a ponte knit fabric, these feel just like a pair of comfy leggings, but function and look like a pair of paints. The best part? The super-thick material prevents the wardrobe malfunctions that are common with leggings that are too thin and too sheer. Just make sure to size down because they will stretch!
Chambray shirt. I wear mine all the time with different scarves layered on top. It's the perfect unassuming layer – no one will notice if you wear it constantly!
Oversized sweater. This is so easy to toss on with a pair of ponte paints or jeggings, and there are so many different styles out there that you're bound to find the perfect one (or three!) for you. I like to buy sweaters a couple of sizes too big to make sure they're perfectly slouchy.
Cozy cardigan. These cardigans can basically double as blankets and are the coziest thing you can wear during a long day on campus.
Infinity scarf. Nothing adds instant style and comfort like looping an infinity scarf around your neck. Just vary the color, pattern, or texture of your scarf and the same old outfit will feel new again.
Loose-fitting tee or tank. This is perfect for layering under one of those chunky cardigans without loosing out on any of the coziness. You can also wear it under an unbuttoned chambray shirt for a different look.
Accessories. Make your go-to outfit a little more special by adding your favorite pair of boots, a colorful watch, or a fun headwrap.
Tell me what you think:
Which of these go-to outfits are your favorite? What do you like to wear when you need an easy and stylish outfit? Let me know by leaving a comment!