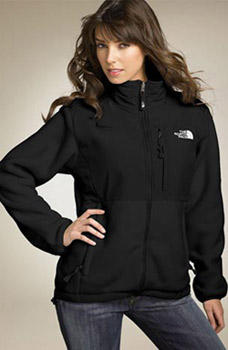 On any given day here at OU, I'd bet at least 60% of students are rocking The North Face, Columbia or Patagonia ("Fratagonia", as some might say) outerwear. Perhaps it's a southern or midwestern cliche, but literally EVERYONE I know owns a zippered or pull-over fleece jacket. And I'm betting many of you probably own one, too. (Admit it!)
As popular as they are, jackets like these are often negatively associated with "the uniform", as I like to call it. You know, the Uggs/leggings/oversized V-neck/fleece jacket combo that is popular at countless colleges across the nation. While I'm not saying it's "wrong" to dress this way, why not challenge yourself to think outside the box and rock a more unique outfit?
There's a way to rock these babies and still stand out in a crowd. Just because you're in a situation that requires a warm, tough, and no-frills jacket, it doesn't mean that you have to give up looking stylish. I hope you find this styling challenge as practical and fun as I did.
Ready to try this week's fashion challenge? Read on for easy ways to turn your sporty fleece jacket into a sartorial statement!
Tips and Tricks for Making a Fleece Jacket More Stylish
Add a funky scarf. This is the easiest way to dress up a fleece coat. A colorful scarf will catch the eye of people around you. Others will pay attention to the texture, or the unique way it's tied around your neck.
Wear one with a hat. A slouchy beanie adds a laid-back vibe to any outfit, including one with a plain fleece jacket. Plus, you'll stay super warm!
If you have to buy a fleece, look for unique styles. I love the plush and fur-lined versions I've seen.
Pair one with chic shoes. Fleece jackets go great with riding or motorcycle boots, or those cute lace up ankle boot wedges that are getting popular. They also look fine with oxfords, ballet flats, loafers, and anything casual.
Layer, layer, layer. Wear a striped, floral, or graphic shirt underneath your fleece for interest, or wear your jacket under an ever heavier coat if you're outside in the bitter cold. Play with vests, zip it up, or leave it unzipped.
Show of your style with pants! To balance out the drab top, pair a fleece jacket with flared or wide leg jeans, a great pair of trousers, or your trusty skinny cargos.
Wear it with moxie. Here at CF, we love the idea of wearing unique, creative outfits every day. But everyone needs a break! A fleece jacket, jeans, and a pair of sneakers can still make a statement if you wear the look with a bit of confidence.
Outfit Inspiration
Below, I've created three potential ideas for how you could wear a fleece jacket in a slightly more unique way. Obviously, aside from covering it up completely, there's no way to hide that you're wearing a North Face, but that doesn't mean you have to look like everyone else when you wear yours!
Classic and Cute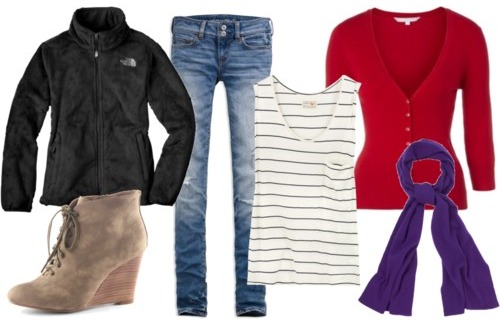 Jacket, Jeans, Shoes, Tank, Cardigan, Scarf
This outfit is colorful, simple, and classic. A striped tank will look great under a red cardigan. Pull on jeans and cute lace up boots, and add a scarf for a casual look.
A Hint of Retro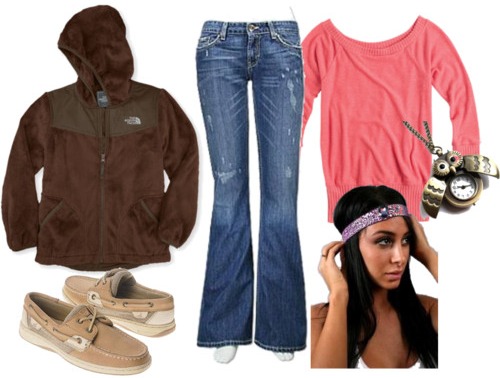 Jacket, Shoes, Flare Jeans, Headband, Necklace, Sweater
This outfit has a bit of a '70s vibe to it. I began with a fuzzy, plush jacket for a faux fur-esque look. (One of my friends has a jacket like this, and every time she wears it, people want to "pet" her!) Pair it with a sweater, and trendy flared jeans (which are making a comeback). Finish with boat shoes, a cute necklace, and a hippie headband.
Snow Bunny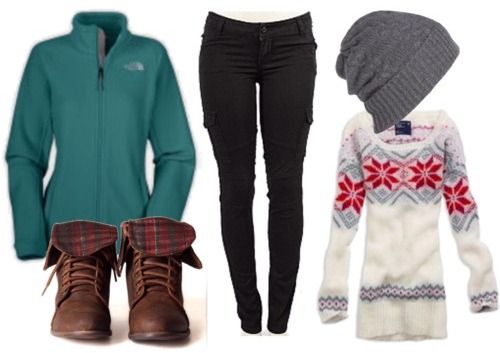 Jacket, Cargos, Boots, Sweater, Beanie
A colorful fleece jacket looks great with a chunky knit sweater. Add some skinny cargos and these adorable boots for some stylish edge. Finish with a cozy beanie!
Took the Challenge? Send CF your Photos!
We've showed you our ideas – now we want to see how YOU tackle this Fashion Challenge! So please send a photo of you rocking the challenge along with your name, school, blog URL if you have one, and a description of your outfit to fashionchallenge AT collegefashion.net. We'll post the photos here to inspire other CF readers!
We can make you a celebrity overnight. 🙂
Thoughts?
Are fleeces popular at your school? Do you own one, or do you prefer jackets that have more shape? How do you dress your fleece jacket up? Are you going to take the challenge? What challenges would you like to see in the future? Let us know what you think by leaving a comment!!