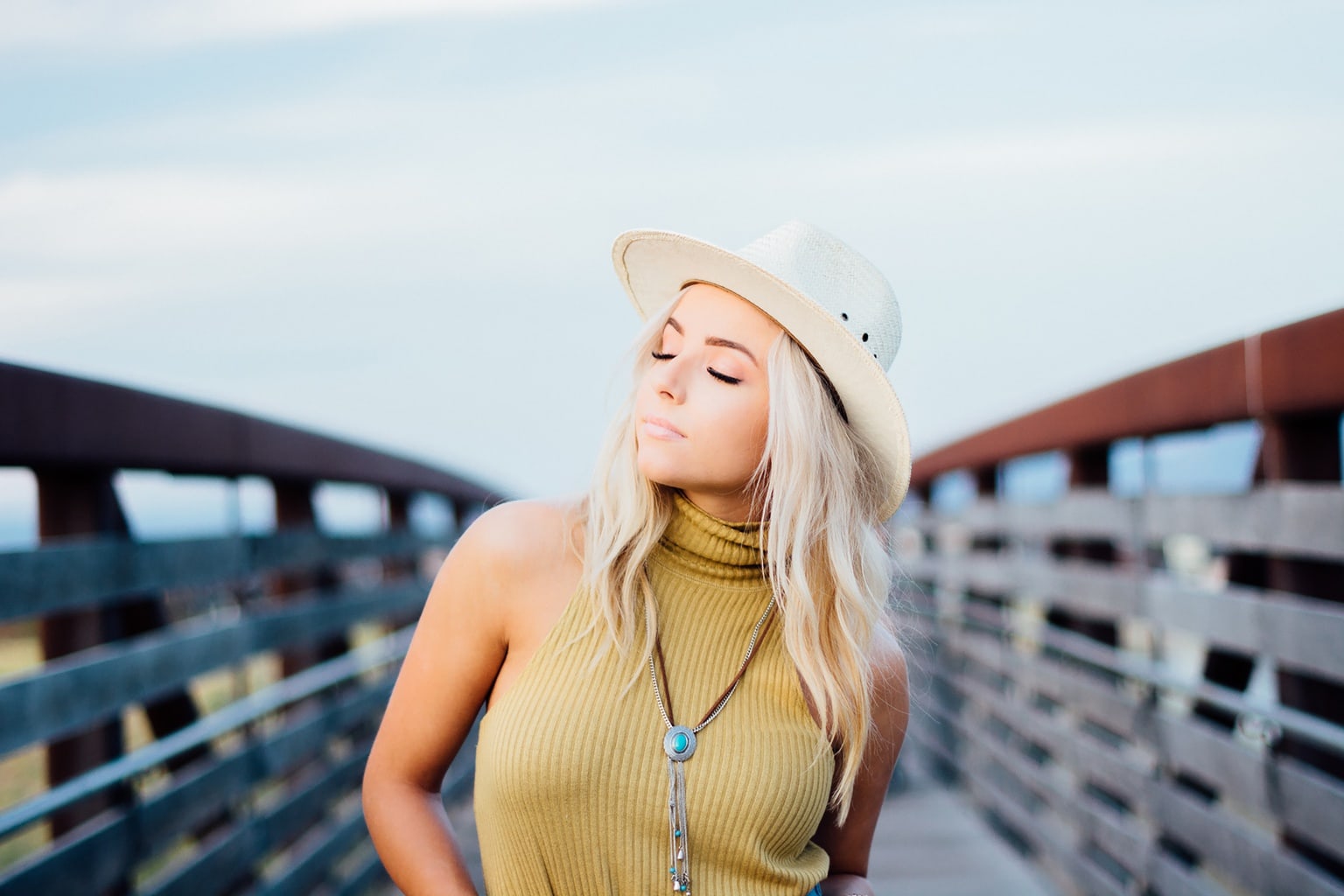 I know talking about the weather is boring, but where I am, it seems like we've gone straight from wintery snowstorms and slushy roads to blisteringly hot summer days. And let me tell you, I have a bit of sartorial whiplash. I've been waiting for a chance to wear cute mules, light jackets, and floaty tops, but it seems like I have to go straight to my summer wardrobe, do not pass go, do not collect $200.
Not that I mind – after a couple of years of working and building up my wardrobe, I have a lot of summer pieces that have lasted me a long time and I really love – and they're not the kind of pieces you have to replace every year because they fall apart from constant use.
In college, it seemed like every summer I had to replace my favorite pair of sandals or flip flops, or a summer bag that was barely holding on by the time fall rolled around. Now, I know that spending a bit more on pieces I love (and look a lot sharper) is well worth the investment and makes my wardrobe look a little, well, more grown. If you're just graduating college or just looking to up your fashion game a bit, try swapping out some of your tried-and-trues this summer for some sturdy, sophisticated staples. 
If you live in your flip flops all summer, try…
Minimalist Sandals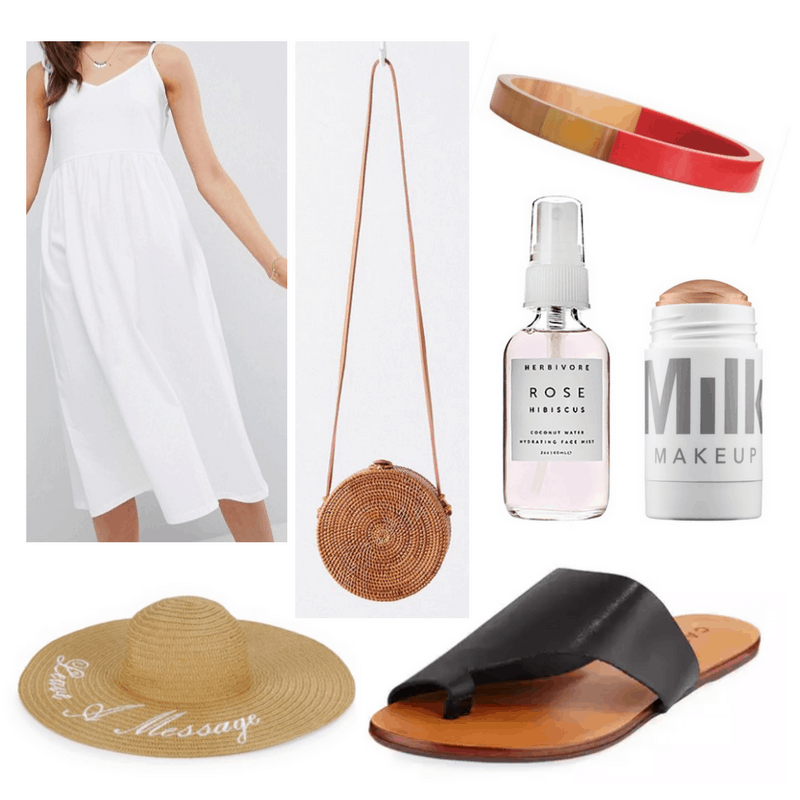 Products: Dress – ASOS, Bag – Urban Outfitters, Bracelet – Ahalife, Hat – Saks Off Fifth, Sandals – Neiman Marcus Last Call, Facial Mist – Revolve, Highlighter – Sephora
I get it…flip flops are a no-brainer in the summer. They go with everything! Your feet don't sweat as much! They show off your manicure! But they're also kind of gross, friends, especially if they're all you wear in the summer, and there are soooo many other cute sandal options out there.
A sturdy leather (or faux leather) sandal in a neutral color, like black, beige, or cognac, is a perfect easy swap for your favorite flip flop. These sandals are easy to break in, fairly breathable (for extra breathing room, pick a cute strappy number), and they give you an extra laid-back vibe, like you're a forward-thinking painter who also likes to tend to their garden and watch movies in the park.
I especially love how a minimalist sandal can really elevate other basic summer staples, like a floaty white sundress, a woven bag, and a wide-brimmed sun hat (though I'm also a huge fan of statement sun hats – who knew?). Finish the look with a little shimmer, a couple of minimal bangles, and a refreshing facial mist for a look that's perfect for that outdoor movie or a Sunday brunch on a sunny patio.
If your beach bag is barely holding on, try…
A Take-Everywhere Tote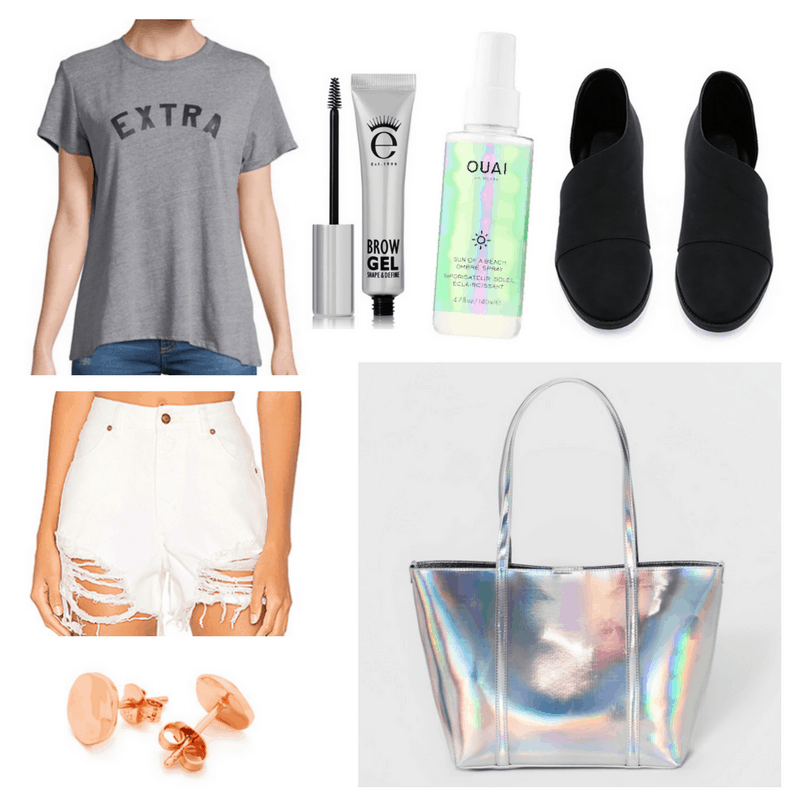 Products: Tee – Lord & Taylor, Brow Gel – Net-a-Porter, Ombre Spray – Sephora, Booties – Amazon, Shorts – Revolve, Earrings – Revolve, Bag – Target
A woven beach bag screams summer, and if you're the kind of girl who hits the beach on the regular in the summer, I totally get that it's easier to just keep your regular ish with your beach ish. And yet, by the end of the summer, your beach bag is destroyed, and so is everything inside it, because it's covered in sand and sunscreen.
Instead, try upgrading your beach bag for a sturdy, take-anywhere tote that you can use for all your casual outings. Go ahead and get crazy with the finish – I love holographics for the summer, but you could totally do a fruit pattern or a cute colorblock in a hot color, like lavender.
Here, the holographic tote elevates a fairly simple summer outfit of shredded white shorts, a grey statement tee, and black booties. Pair with full, brushed brows, a bit of beach spray, and rose-gold studs, and you have an elevated outfit that you can wear anywhere, from running errands to checking out a cute local festival.
If you have a favorite tank that your friends know is your favorite tank, try…
A Floaty Blouse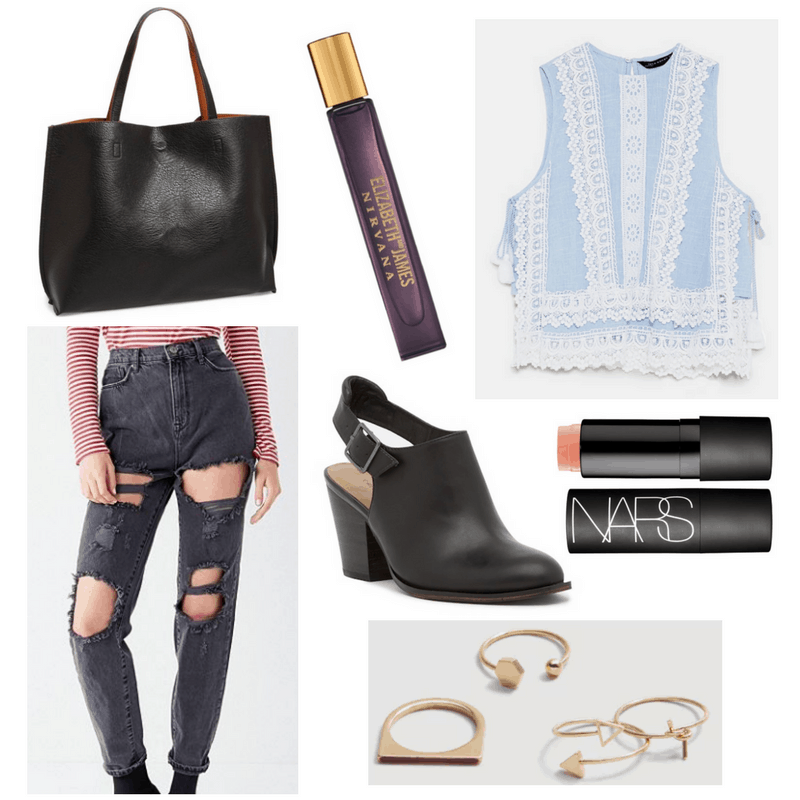 Products: Bag – Nordstrom, Perfume – Nordstrom, Top – Zara, Jeans – Urban Outfitters, Shoes – Nordstrom Rack, Cheek + Lip Color – JCPenney, Rings – MANGO
I'm definitely guilty of being an outfit repeater. As a plus-sized girl, sometimes it's a crapshoot to find something that looks cute and feels comfortable, especially in the summer, so often I rewear and rewear and rewear, until my husband or my friends say…so, that shirt again, huh?
Often, this is a comfortable tank, so I try to give myself lots of "tank" options, including cute floaty sleeveless blouses that feel like tank tops but look a liiiitle more polished than a regular workout tank.
Here, I've paired a sweet embroidered tank in baby-blue with tough pieces and accessories, like a pair of ripped black mom jeans and buckled mules, to keep the tank from looking too precious. Minimal stacked rings and a black tote keep this look from being too much in the summer, while a multiple stick in a shimmery peach gives you a little color without making you feel too overdone (always a terrible feeling when the temps are climbing!).
What do you think?
How would you style these swaps for your summer faves? What are your summer go-tos – could they do with an upgrade? Let me know in the comments below!