Aside from a plain pair of flats and an LBD, I personally believe that a simple white tee is the third and final piece that EVERY girl should have in their wardrobe. A plain white shirt is literally a blank canvas you can use to create any look imaginable, and for that reason I'm sure that most girls own quite a few.
But, if you already own a bunch of plain white tees, why not spice things up a little? That's exactly what this $18 shirt from Rue21 does! Clearly not a typical basic, this lace-panel tee shirt acts as a blank canvas, except with a bit more pizazz. Here are a few ways to style this adorable top!
The Top: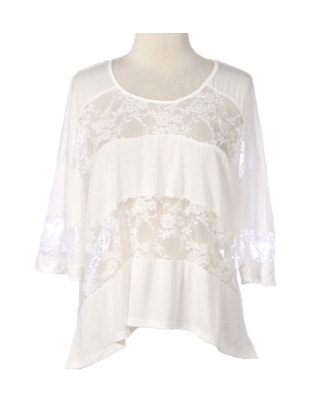 Lace Panel Tee – Rue21
1. Dress It Down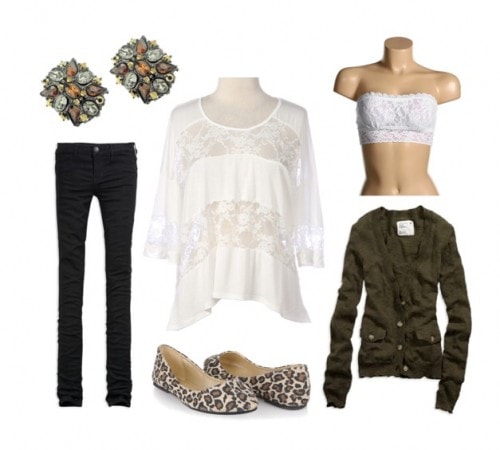 Top, Jeggings, Cardigan, Bandeau, Flats, Earrings
This outfit is a perfect example of how to use this shirt as a neutral in a cute, casual way. I personally have been tucking my shirts in lately, so in this case I would tuck the shirt in. That said, it would look just as great left un-tucked as well.
Mixed with a pair of super dark wash jeggings and an army green cardigan, the lace tee works to tie in the leopard flats and pretty brown jeweled earrings with the rest of the ensemble. A white bandeau (this one is lace, perfect!) or a simple white tank would work perfectly underneath the top, considering its lace panels are completely see-through… that is, unless you're trying to get in on the letting your bra peek through trend!
2. Causal Cool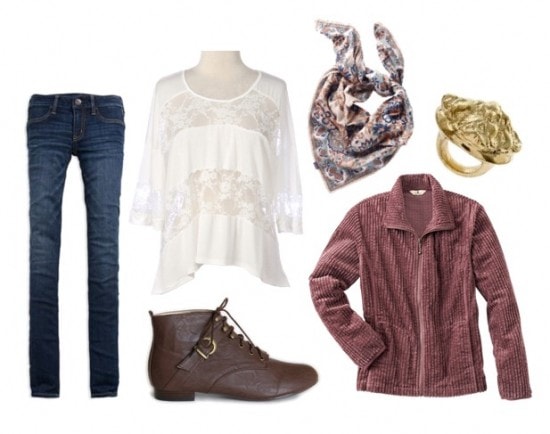 Top, Jeggings, Corduroy Jacket, Scarf, Booties, Ring
I love this outfit because of the cool, kind of indie/hipster vibe it gives off. With another pair of jeggings (obviously my preference over regular jeans for comfort on campus), the lace tee looks cool against a vintage-looking square scarf and a pair of equally vintage-looking oxford booties.
For some extra warmth, I came across this corduroy zip up jacket that I thought was really cool – It may seem a little old-lady, but the color is perfect with the scarf and it adds an interesting texture to the outfit – just imagine it left open over the lace tee with the cute scarf tied loosely around the neck! (So cute; trust me!) Finish off the look with a cool gold ring to play off the buckle on the shoes.
3. Dress It Up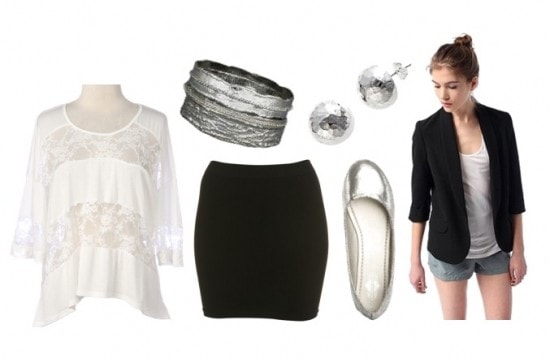 Top, Skirt, Blazer, Flats, Earrings
This outfit proves that this shirt transitions flawlessly from cute and laid-back for daytime to sophisticated and dressed-up for night. This time, wear it tucked in (or un-tucked for a less put-together vibe) with a black body-con skirt and shiny silver accessories. By adding a slightly cropped black boyfriend blazer on top, the outfit looks pretty and stylish for any dressy occasion.
So, there you have it! This budget-friendly piece is the perfect upgrade from the typical, every day basic white tee. And at such a reasonable price!
Your thoughts?
So what do you guys think? Do you like this shirt? Do you think it's a good alternative to a plain white t-shirt? Have you ever shopped at Rue21? What is your favorite outfit of the three looks in this post? Let me know!