Hey girls! How is everyone doing? Can you believe that it's already April? I can't believe how fast the time has gone by. How are all your semesters going? It's weird to think that there's only a little more than a month left of classes.
This week's Fabulous Find is a must-have piece for every spring wardrobe. It combines timeless elegance with modern sophistication. It's also perfect for college girls who are on a budget. Check it out below: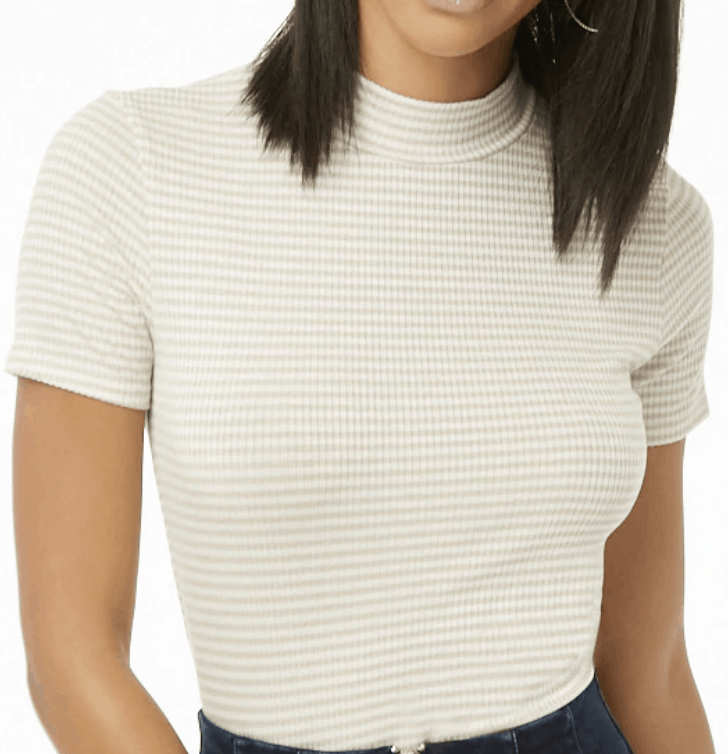 Buy now at Forever 21 for $5.99
This stripped mock neck top is so comfortable and stylish, and the neutral colors mean it will go with everything. The cap sleeves are the perfect length so you can wear this top with pants, a skirt or your go-to denim shorts.
Not to mention it's only $5.99! Yes, you read that right. This beautiful top can be yours for under $6.
Curious about how to style it? Don't worry, we've got you covered.
Stones n Roses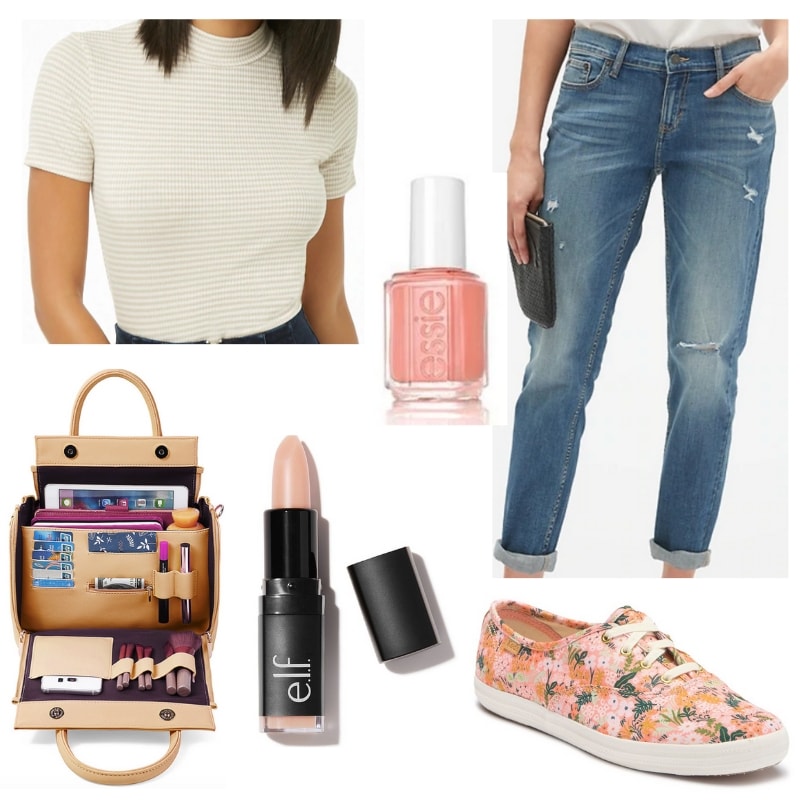 Products: Lipstick – elf, Jeans – Banana Republic Factory, Sneakers – Keds, Handbag – New Chic, Top – Forever 21, Nail Polish – Essie
This outfit is perfect for going to class. For starters I love the elf exfoliating lipstick. It keeps your lips looking shinny and smooth. Whether you go natural or wear colored lipstick, your lips will look and feel fabulous. I also adore the floral print Keds sneakers. The print is so springy and they're under $30!
The must-have piece in this look, though, is the handbag! From your makeup brushes to phone to your credit cards, this handbag will keep everything organized for you. Gone are the days of you searching through your bag to find your phone or lip gloss. This bag will be your biggest time saver and will declutter your life.
Yellow Sunshine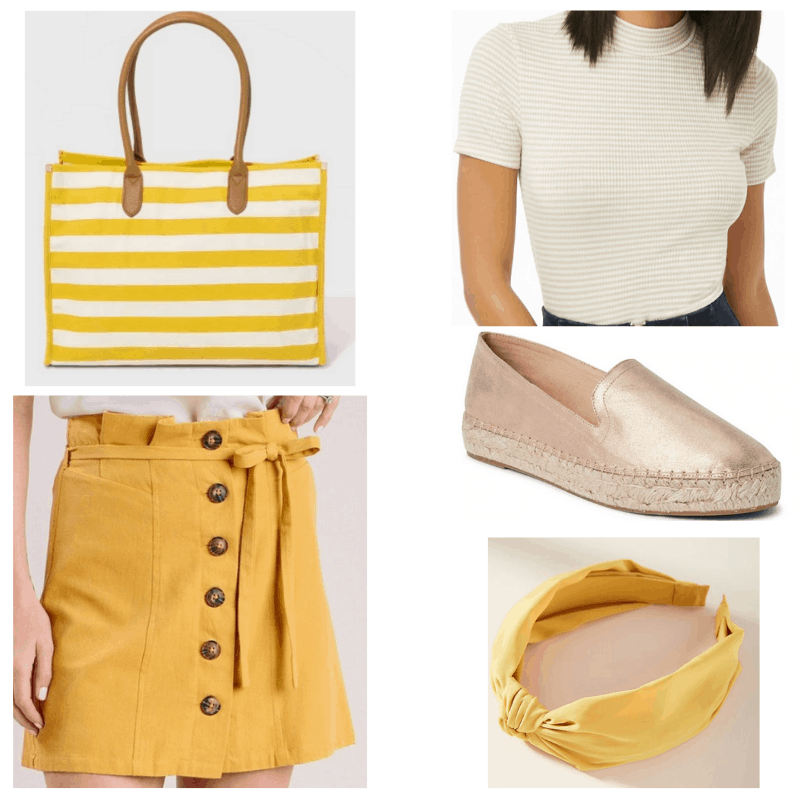 Products: Top – Forever 21, Tote Bag – A New Day (Target), Espadrilles – Gap, Headband – Anthropologie, Skirt – Morning Lavender
This outfit is perfect for weekend brunch with friends.
I'm obsessed with headbands. They're by far my favorite preppy accessory. This one from Anthropologie is so cute! I love the knot design and the vibrant yellow color.
Espadrilles are the perfect spring/summer shoe. They're inexpensive (this pair is only $26), comfortable, and go perfectly with everything! Not to mention they're very durable. I wear them often to big parties because I know they'll survive.
Scalloped Red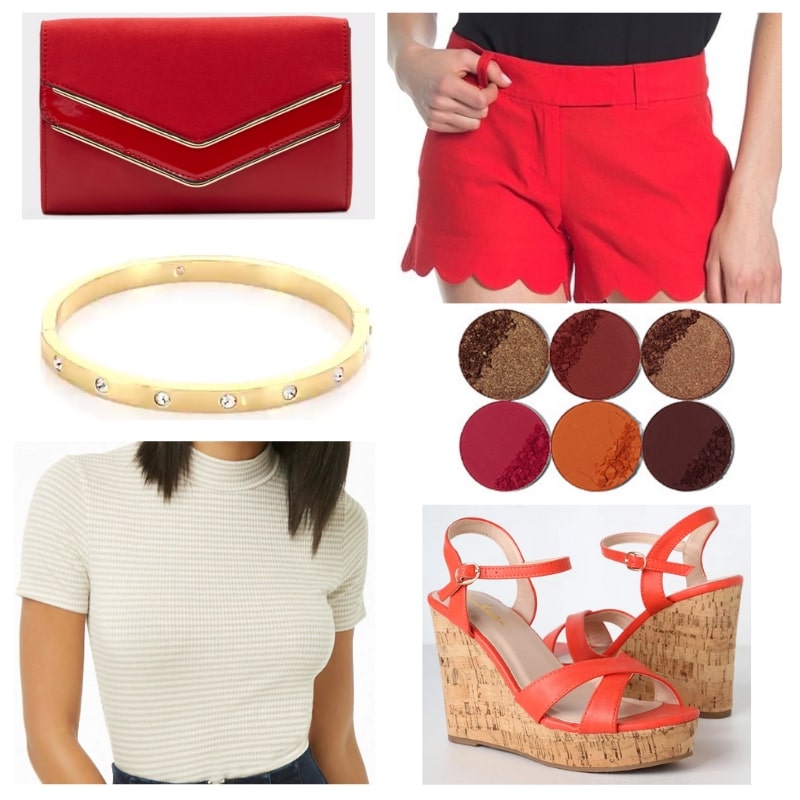 Products: Clutch – Aldo, Shorts – J.Crew (Nordstrom Rack), Eyeshadow Palette – Juvia's Place (Ulta), Heels – Lulu's, Bracelet – Kate Spade (Saks 5th Avenue), Top – Forever 21
Whoever said shorts and a top couldn't be dressed up was seriously disturbed. I love scalloped shorts! They take the classic chino short design and make it so much more stylish with a fun design.
I'm also a big fan of wedge heels. They are by far the easiest to walk in and don't give you too many blisters. I love the cork design of the shoe, it adds a rustic feel to the already gorgeous look.
What did you think about this week's Fabulous Find?
Do you like this top? Are you a fan of Forever 21? What are your favorite styles of tops? What have been your favorite Spring trends so far? Start the convo below!