The neon trend is huge this season, so why not try it out in a super cute, super affordable way? This neon pink skirt from Papaya is only $5.99 – yes, you read that right – so go snag it and check out these three totally unique ways to rock it!
The Skirt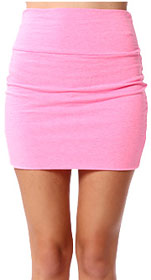 Simple Pink Mini Skirt – $5.99 at Papaya
Outfit Inspiration
Below, I've done three completely different takes on this skirt – two casual and one night-out-worthy – to get your inspiration going. Check them out!
Outfit 1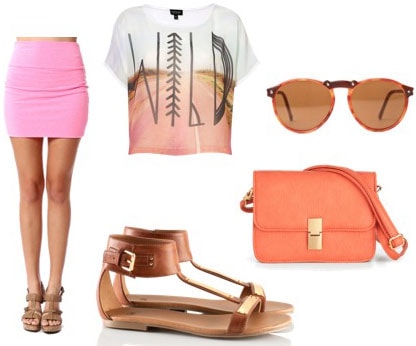 Skirt, Tee, Sandals, Bag, Sunglasses
This look is the ultimate spring-summer ensemble – with its pretty, warm colors and laid-back feel, it'd be perfect for a day spent out in the sun. I gave the skirt a casual feel here by pairing it with a loose-fitting graphic tee and a pair of leather sandals. The orange-y bag complements the tee nicely and the retro-inspired sunglasses keep your eyes protected in style!
Outfit 2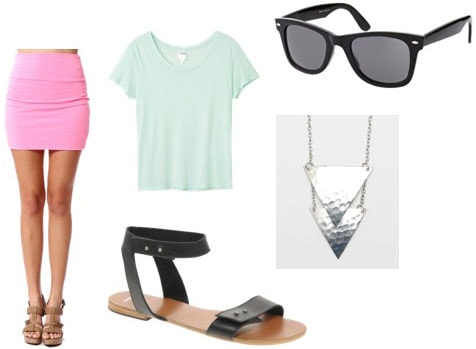 Skirt, Tee, Sandals, Necklace, Sunglasses
This look is a bit more polished than the first, but still just as casual and comfortable. Mint green is huge this season, so I chose to pair a subtle mint-colored tee with the skirt. Sleek black leather sandals add a punch of boldness to the look while a hammered silver necklace and classic black wayfarers finish off the ensemble in a sleek, trendy way.
Outfit 3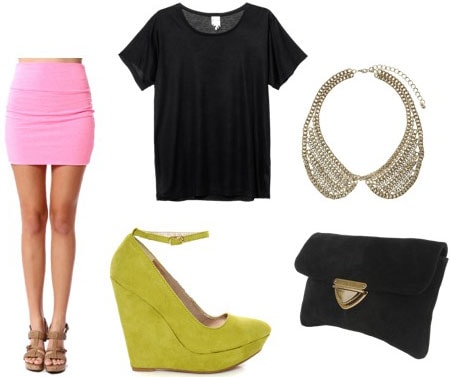 Skirt, Tee, Wedges, Collar, Clutch
This outfit, if I do say so myself, is the BOMB. Nothing says "LOOK AT ME" like wearing a pop of neon… so, with that being said, why not rock TWO pops of neon? This time, I paired the skirt with a simple black tee and this amazing pair of neon wedges. A chained collar necklace makes an equally bold statement, while a simple black clutch ties the look together.