I love basic t-shirts as much as the next person, but sometimes you want your comfy staple to have a bit of pizzazz — enter the graphic tee. In my opinion, a good ol' graphic tee is a closet staple. The tricky part is finding one that catches your eye, makes you laugh, or just represents your current mood.
This week's Fabulous Find from Old Navy is one great option. This Cote d' Azur graphic tee is eye-catching, versatile enough to pair with anything, and it's the perfect tee for dreaming of sun and palm trees. Best of all, it's a steal at only $7 (less than the price of lunch!). So don't wait — grab it while it lasts!
The Tee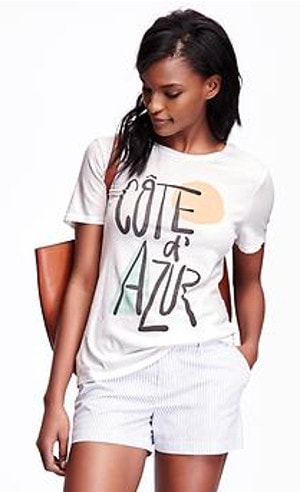 Relaxed Graphic Tee in White – $7.00 at Old Navy
Outfit Inspiration
Here are few fun, Spring Break-appropriate ways to style this tee:
Outfit #1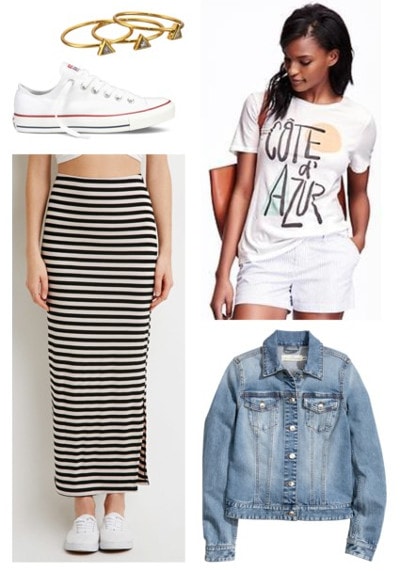 Products: Tee, Jacket, Skirt, Sneakers, Rings
For a cute and casual sightseeing look, try pairing the tee with a striped maxi skirt and a denim jacket. Slip on comfy white sneakers for walking all over town. Lastly, add some gold sparkle with a stack of cute rings.
Outfit #2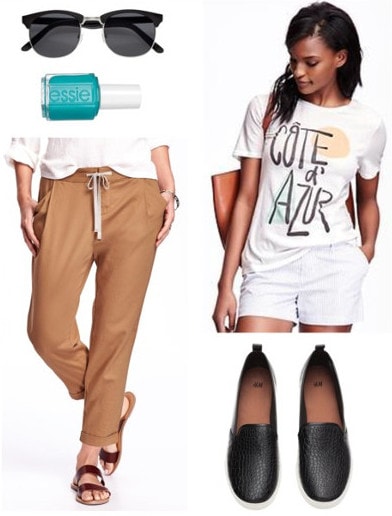 Products: Tee, Pants, Slip-ons, Nail Polish, Sunglasses
This comfy-casual look is perfect for throwing on over your swimsuit as you walk to the beach. Pair the tee with some cropped, lightweight joggers, and for a trendy touch, throw on a pair of faux-leather slip-on sneakers. Accessorize with bright, tropical nails and classic sunglasses.
Outfit #3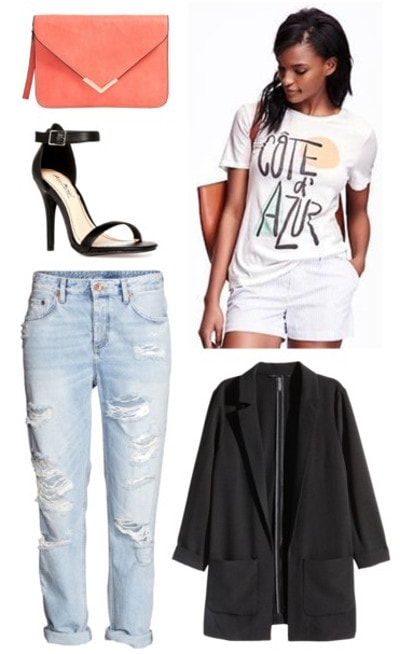 Products: Tee, Blazer, Jeans, Heels, Clutch
For a fun and trendy night-out look, try mixing things up with this feminine-masculine combo. Pair the graphic tee with boyfriend jeans for a laid back vibe, but don't forget to dress things up with a black straight-fit blazer and strappy heels. Add a pop of color with a bright coral clutch.
Thoughts?
Are you a graphic tee fan? What do you think of this Fab Find? Which look is your favorite? Let us know in the comments!