This article will show you 15 affordable and cute sweater dresses for 2023.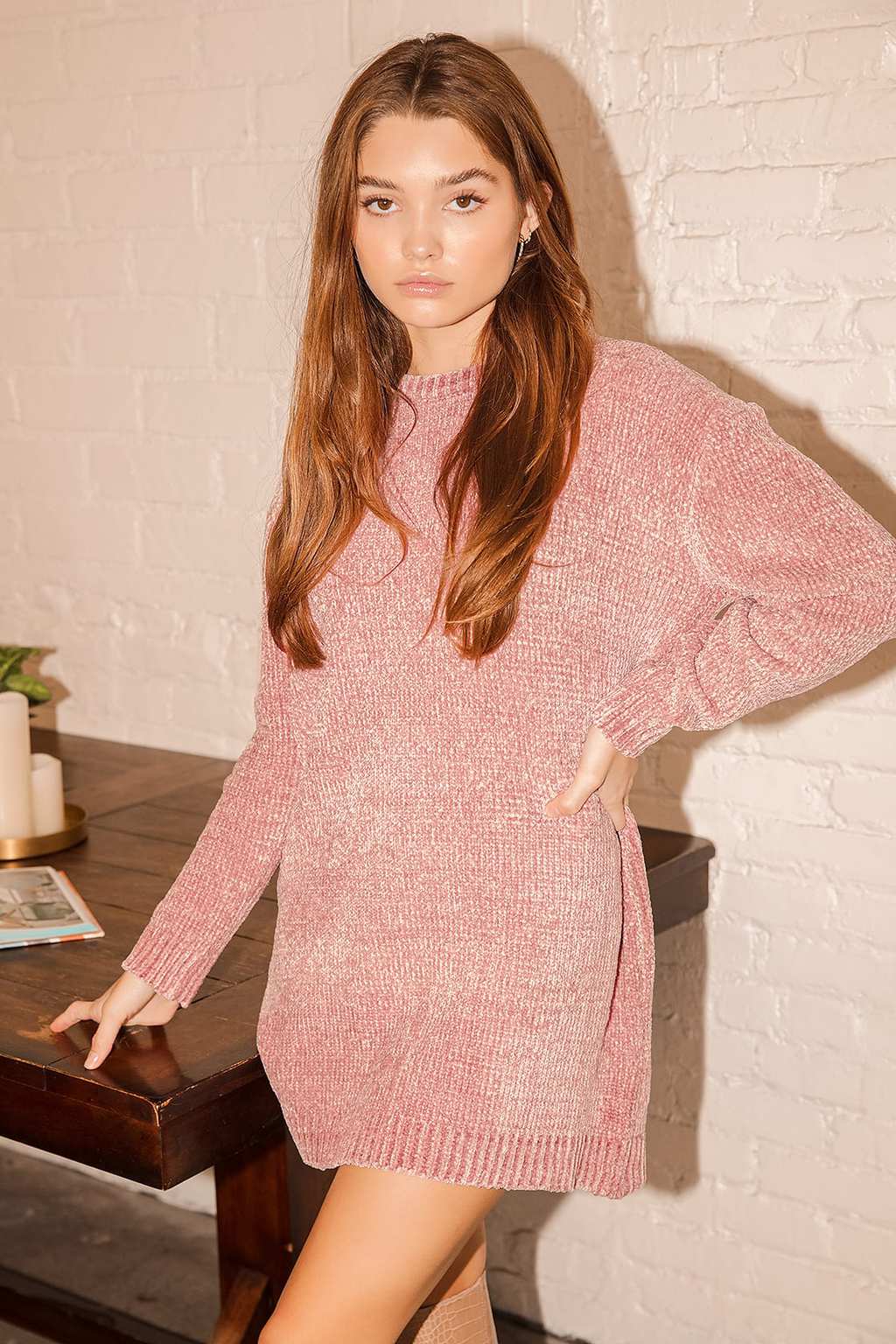 Sometimes it can be hard to make winter clothes look fashionable because they are usually big and bulky.
That's why the sweater dress is a game-changer.
Sweater dresses are cute and comfortable, can be dressed up or down, and they keep you warm and cozy. What's not to love about these closet staples?
If you are looking for some super cute sweater dresses to add to your wardrobe, this post will show you 15 of the best ones, all college student-affordable.
1. Leopard Print Sweater Dress
Leopard print is always in style, so why not go for a super cute leopard print sweater dress?
This tan leopard print cutout turtleneck sweater dress will be the perfect choice for just about any wardrobe. This closet staple even has a turtleneck cut to keep you extra warm.
2. Black Cutout Side Sweater Dress
If you need an outfit for an event but you don't feel like wearing a long-sleeve dress, I love the idea of wearing a sweater dress with short sleeves!
This black cutout bodycon mini sweater dress will make you look really stylish and is made out of sweater material to add some warmth.
Also Read: Cutout Sweater Outfit Ideas
3. Blue Colorblock Sweater Dress
The color block trend is returning again, and a two-toned sweater dress is a cute way to wear the look.
In particular, I love this blue color block knit sweater dress because it comes in blue and beige. This is a classic, subtle color combo that looks great together and can be paired with just about any accessories.
4. Grey Off-Shoulder Sweater Dress
The off-the-shoulder look is an unexpected take on the sweater dress trend that's a great way to show some skin while staying warm.
This grey cable knit off-the-shoulder sweater dress is awesome because it combines the off-the-shoulder trend with a super cute and of-the-moment puff sleeve detail.
I love it styled with chunky combat boots but it would also look amazing with over-the-knee boots.
Also Read: Class to Night Out: Off-the-Shoulder Jacket
5. Black Cold Shoulder Sweater Dress
To spice up your sweater dress outfits a little more, you can get one that has cutout shoulders.
This is a popular design for tops recently and it also looks great on a sweater dress. I especially love it as a statement detail on an otherwise simple and basic dress, like this black turtleneck cold-shoulder sweater dress.
6. Baby Blue Turtleneck Sweater Dress
A pastel-toned sweater dress is a perfect piece to transition from the winter to spring months with ease.
This light blue turtleneck sweater dress is my personal favorite because it comes with a thick turtleneck to make sure you stay warm in winter, while the color practically screams spring.
7. Dusty Pink Sweater Dress
With Valentine's Day coming up, a pink sweater dress is the perfect base for any Valentine's Day outfits you might have planned. Just style this up with your favorite accessories and cute boots, and you're good to go.
This dusty pink chenille knit sweater dress looks insanely cozy — chenille fabric is incredibly soft and comfortable, so you'll love wearing this.
8. Manhattan Mini Sweater Dress
Another popular trend recently is ties on the side of dresses. If you've been waiting until it gets warmer to wear this look, let me introduce you to the side-tie sweater dress.
This manhattan mini sweater dress in beige is the perfect pick for rocking this look because it comes in a stylish neutral beige tone and. again, has a turtleneck for extra warmth.
9. Varsity Girl Mini Sweater Dress
If you are looking for a sporty look or if you just want to wear a sweater dress with a fun design on it, you should go for this varsity girl mini sweater dress in black.
You can wear this cute sweater dress for a casual day look or even a nighttime look if you pair it with some boots or even some fun accessories. It's so old-school collegiate chic.
Also Read: How to Style a Varsity Jacket
10. Eyelash Knit Sweater Dress
One of the best things about winter is wearing fluffy sweaters! They are always so comfy and look so adorable.
What's even better is you can get sweater dresses that are also fluffy! This ivory multi eyelash knit turtleneck sweater dress will do the trick if you are looking for that fuzzy, incredibly cozy look.
11. Off-Shoulder V-Neck Mini Sweater Dress
If you want to wear a classic black dress, but you also want to stay warm in the cold, you cannot go wrong with a simple black sweater dress. It's the winter equivalent of the LBD.
This Kaia mini sweater dress in black is basic enough to be a wardrobe staple but is made a bit more interesting by the off-the-shoulder v-neck cut. You could definitely wear this cute sweater dress for day or night with a switch of accessories.
12. Cream Turtleneck Mini Sweater Dress
Beige is a super popular fashion trend right now, and I love beige for knitwear. There's just something so cozy and effortless about the look.
This Zahara mini sweater dress in beige would look amazing styled with combat boots and a mini purse for casual days in late winter and early spring.
Also Read: 3 Ways to Layer Turtlenecks Under Any Outfit for Warmth & Style Points
13. Mock Neck Cutout Sweater Dress
I love midi-length sweater dresses if you're going to a fancier event in the winter.
This ribbed mock neck sweater dress is longer in length than most others on this list, which will keep you even warmer and will look great for fancier looks. This one also boasts a cool cutout design that's every 2023.
14. Olive Green Wrap Dress
Another cute way to spice up your sweater dress selection for the winter is to purchase one with a bow. This is perfect if you have a girly or classically feminine sense of style.
In this category, I'm obsessed with this olive green faux wrap sweater dress — this cute sweater dress is girly thanks to the bow but balanced by the moody green color. It also comes with flared sleeves to make it even more fun.
15. Balloon Sleeve Mini Sweater Dress
If you are the kind of person who loves wearing oversized sweatshirts, this corrie mini sweater dress in pink is a fantastic way to dress up the look for every day.
How pretty is this pastel pink color for the early spring months? This piece will make sure you stay comfy and warm.
Which sweater dress is your favorite?
What sweater dress are you going to purchase? Which one are you excited to wear this winter?
For more cute sweater dress ideas, please consider the following related post below –