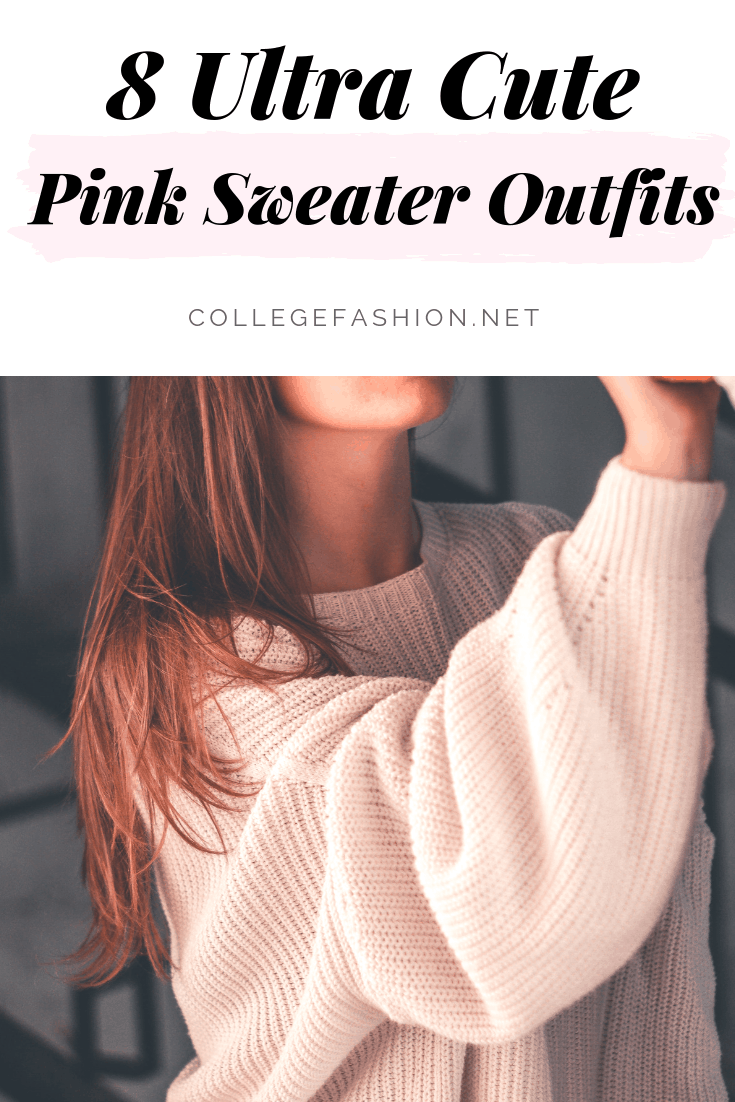 Bright colors are not just for spring and summer, they can — and should — be worn into the fall and winter months, too. Want to stay warm in the fall and winter in a colorful way? Consider investing in a pink sweater.
Pink sweaters are trending for the fall and winter. They add a touch of femininity to your look while keeping you warm, and they're a great way to stand out in a sea of neutral and dark colors.
There are many variations on the pink sweater in stores right now. You can find one in all colors on the pink spectrum, from fuchsia to dusty pink. You can try an oversized one or a cropped one. Yours can be short-sleeved, long-sleeved, or even sleeveless. The pink sweater can even have a hood or be in the form of a dress. There's a pink sweater for every style.
Below, I'm sharing 8 ways to wear a pink sweater with some cute pink sweater outfits sure to get your inspiration going!
Ultra Cute Pink Sweater Outfits That You Should Try
The 2018 Way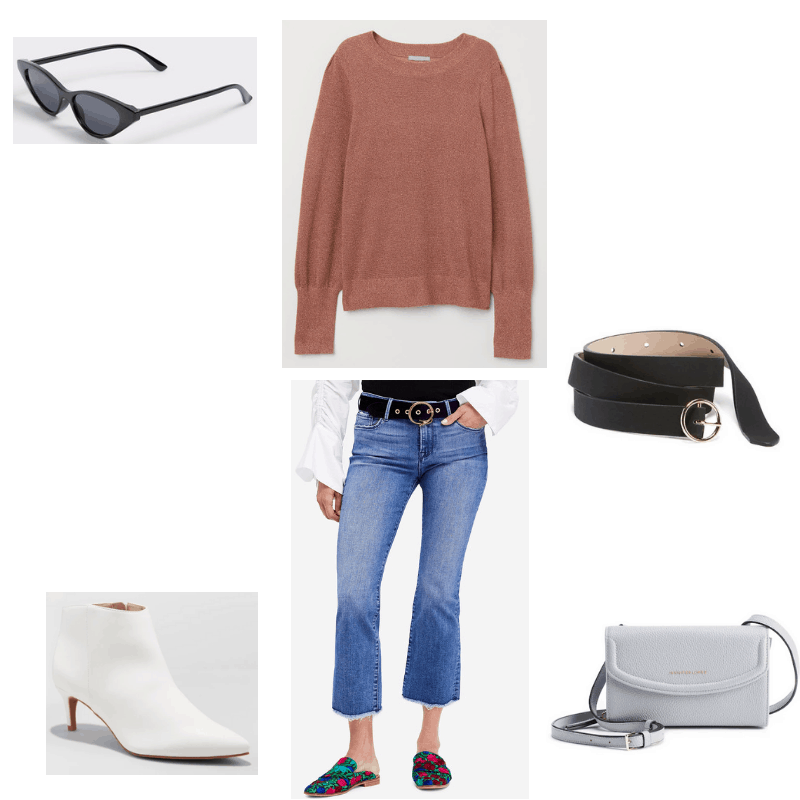 Products:
This pink sweater outfit includes some of the hottest trends of 2018, such as white boots, a mini bag, little cat eye sunglasses, and frayed jeans.
Start off with a dusty, warm pink sweater and frayed jeans. White kitten heel booties look great with this look. Keep your accessories neutral so the focus stays on the sweater. An O-ring belt, tiny cat-eye sunglasses. and a mini crossbody are all simple but trendy accessories. Now you have an Instagram-ready pink sweater outfit!
'80s Vibes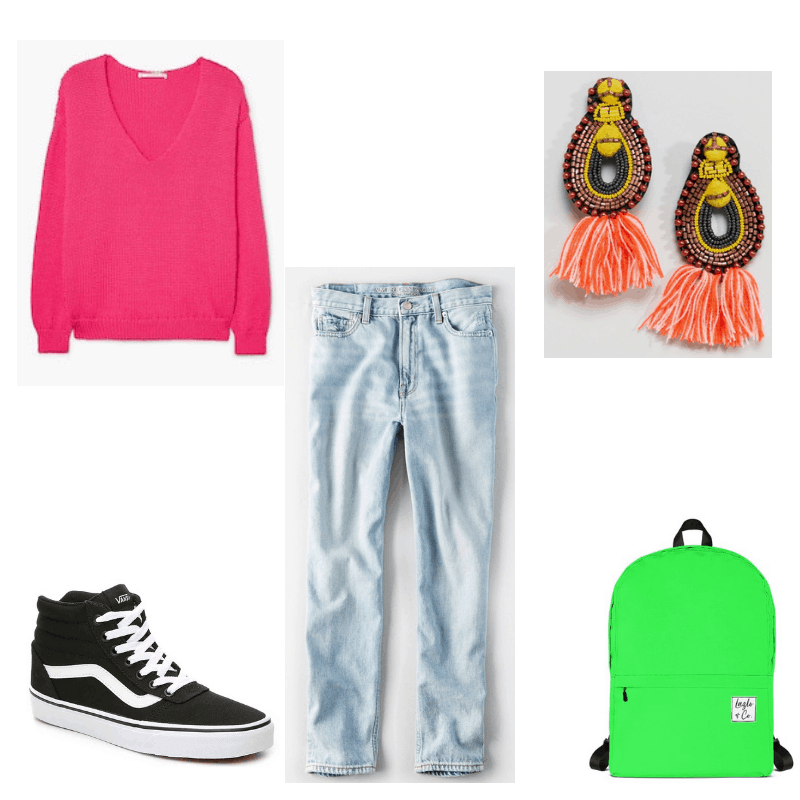 Products:
The '80s are making a fashion resurgence for the Fall, especially the decade's bright colors and bold attitude. This pink sweater outfit combines '80s vibes with a touch of athleisure for a look that's perfect for class.
Start off with a neon pink v-neck sweater and mom jeans, another '80s trend that's made a comeback. High-tops were popular shoes in the 80s and Vans can be found in college students' wardrobes so these high tops are a perfect pick. The black-and-white color scheme on the shoes tones down the look.
'80s accessories are bold, bold, bold and while these bead and tassel statement earrings are trendy and quirky, they're also great for an '80s aesthetic. A neon green backpack carries all your essentials while adding in another pop of color.
Disney Princess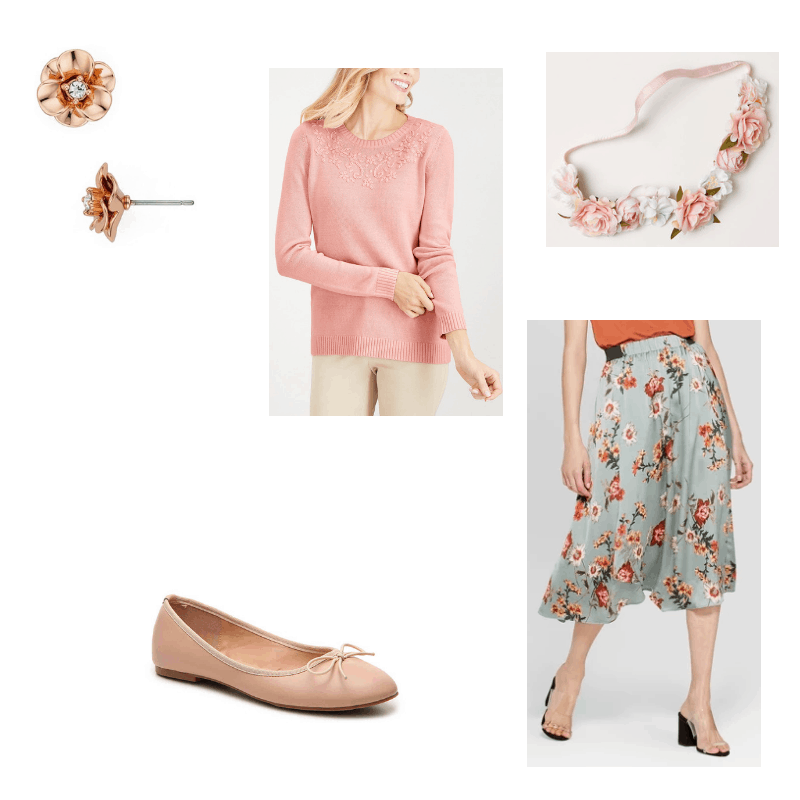 Products:
Pink is the girliest color out there and a pink sweater is the perfect choice for a girly girl. Because of this, it's a perfect piece for creating a feminine, romantic outfit like this one.
A pink floral embroidered sweater and a blue floral midi skirt form a girly outfit combo. The look gets even girlier with simple pastel ballet flats with bows. Rose gold flower earrings and a flower headband will do to finish the look (or choose one of these for a more toned-down feel).
Sporty Girl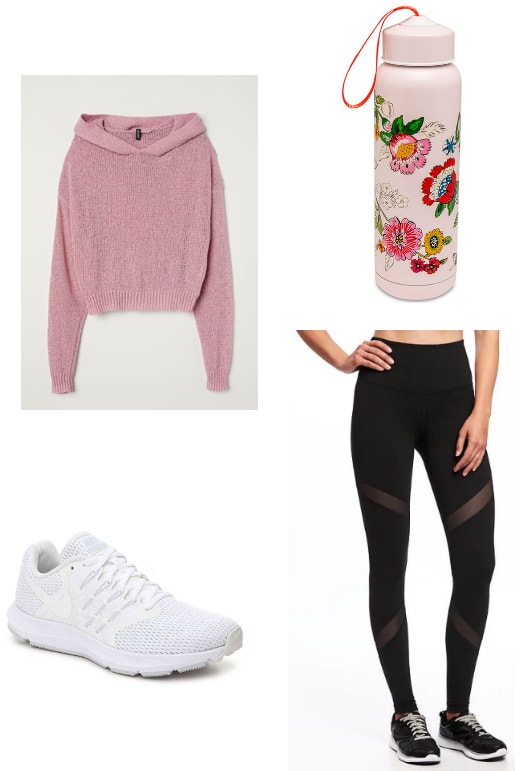 Products:
Create an on-trend athleisure outfit by pairing a cropped pink hoodie sweater with mesh panel leggings. These white Nike sneakers are a bit of an investment, but they're versatile, comfortable, and in style, plus they look great with almost any outfit. A floral water bottle adds a pop of pattern and encourages you to drink water throughout the day.
Simple for Class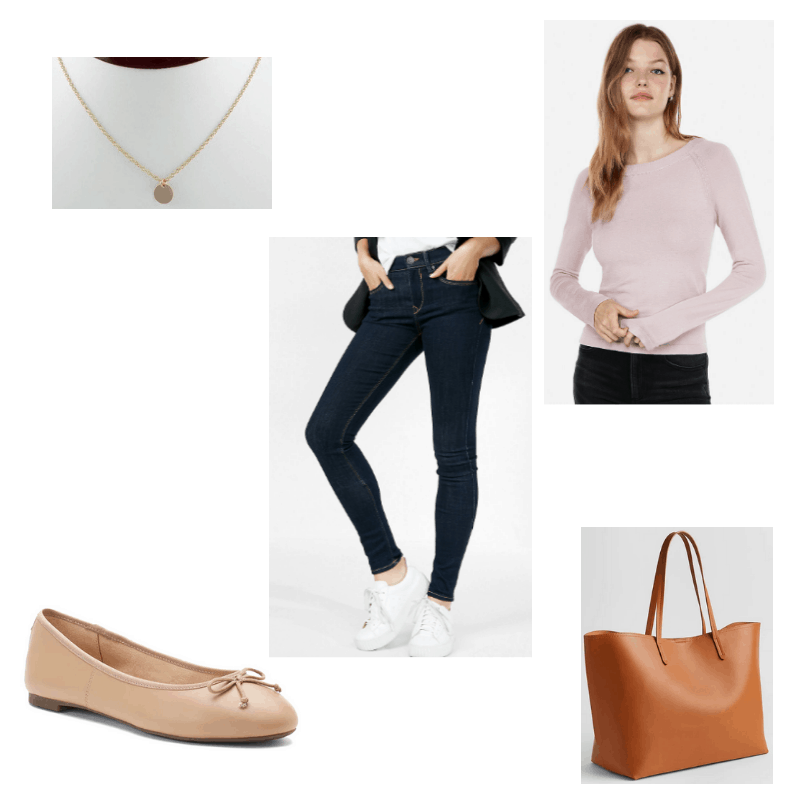 Products:
This outfit is a take on one of our outfit formulas in the article What to Wear to a College Class. This version features a pale pink sweater and stretchy jeggings, a perfect combo to be used as a blank canvas. A gold disc necklace and nude ballet flats and are simple and girly. The cognac tote bag is oversized and versatile, making it ideal for carrying books, folders, and other essentials around campus.
Fall to Winter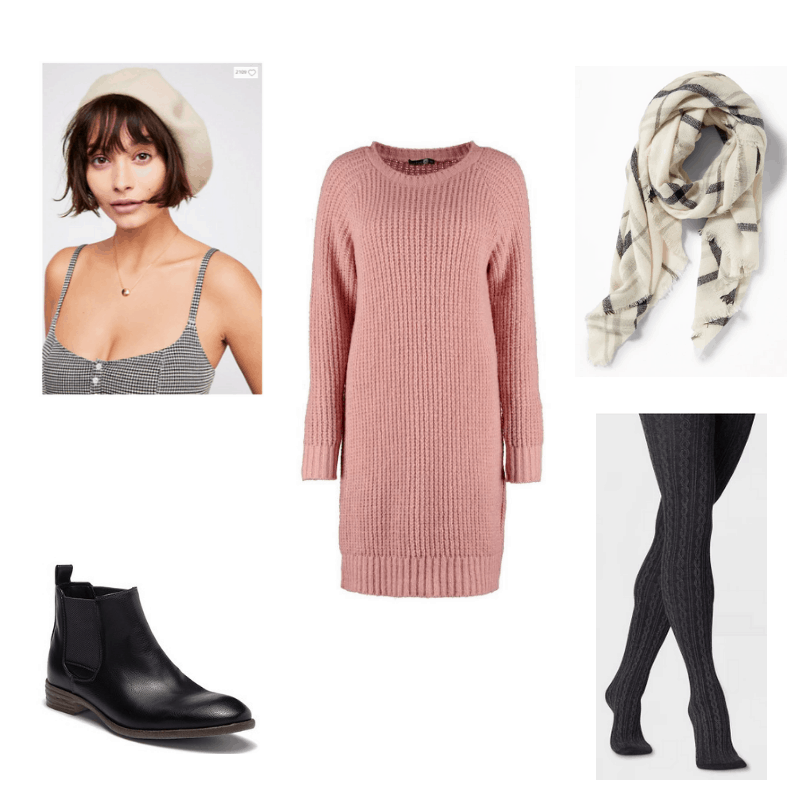 Products:
The Fall to Winter transition obviously involves the cold, so here is a transitional outfit that incorporates a pink sweater. A sweater dress, a beret, a scarf, Chelsea boots, and tights can be worn in the Fall, but they can also be worn in the Winter. All of these items above will help keep you warm due to their fabrics and textures.
While this is an article about pink sweater outfits, I decided to include a sweater dress to mix things up. This soft knit sweater dress is a great way to stand out in a sea of dark colors this winter. (The version linked is the "tall" size, as the regular is sold out, however here is the link to the regular size in case Boohoo restocks soon.) A plaid scarf adds a pop of pattern and is ideal for keeping your neck super cozy. Cable sweater tights will keep your legs warm and help you transition into Winter. Finish off the look with leather Chelsea boots and a wool beret.
Barbie Girl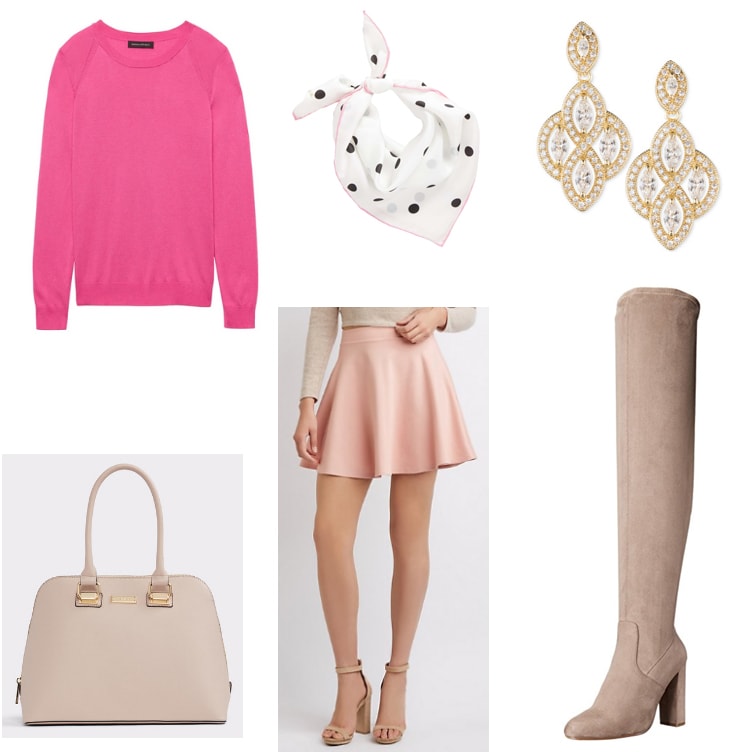 Products:
A pink sweater is a perfect opportunity to wear a Barbie-inspired fall outfit; Barbie is all about pink! Pair a hot pink sweater that screams Barbie with a lighter skirt for color contrast. The sweater above is a little pricey, but it's classic and statement-making. If pink is your color, it's worth the money. Add some sass to the look with over-the-knee boots and a pink top handle bag.
Add some glam to the look with crystal drop earrings, and finish with a Kate Spade scarf that practically screams retro Barbie.
Holiday Party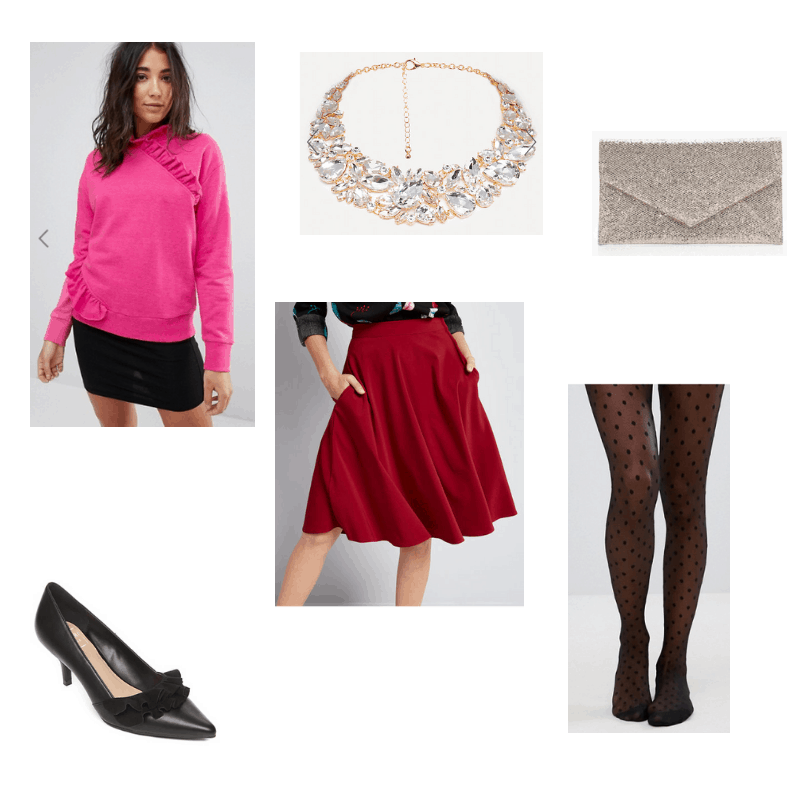 Products:
This pink sweater outfit is perfect for any holiday party that you might attend. A high-neck pink ruffle sweater looks great with a scarlet a-line skirt. Polka dot tights will keep you warm in chilly temperatures.
Now it's time for accessories. These heels are cute and comfortable, plus they boast a kitten style that makes them easy to walk in. A crystal statement necklace and a glitter envelope clutch will finish the look with some sparkle.
Pink Sweater Dress Outfit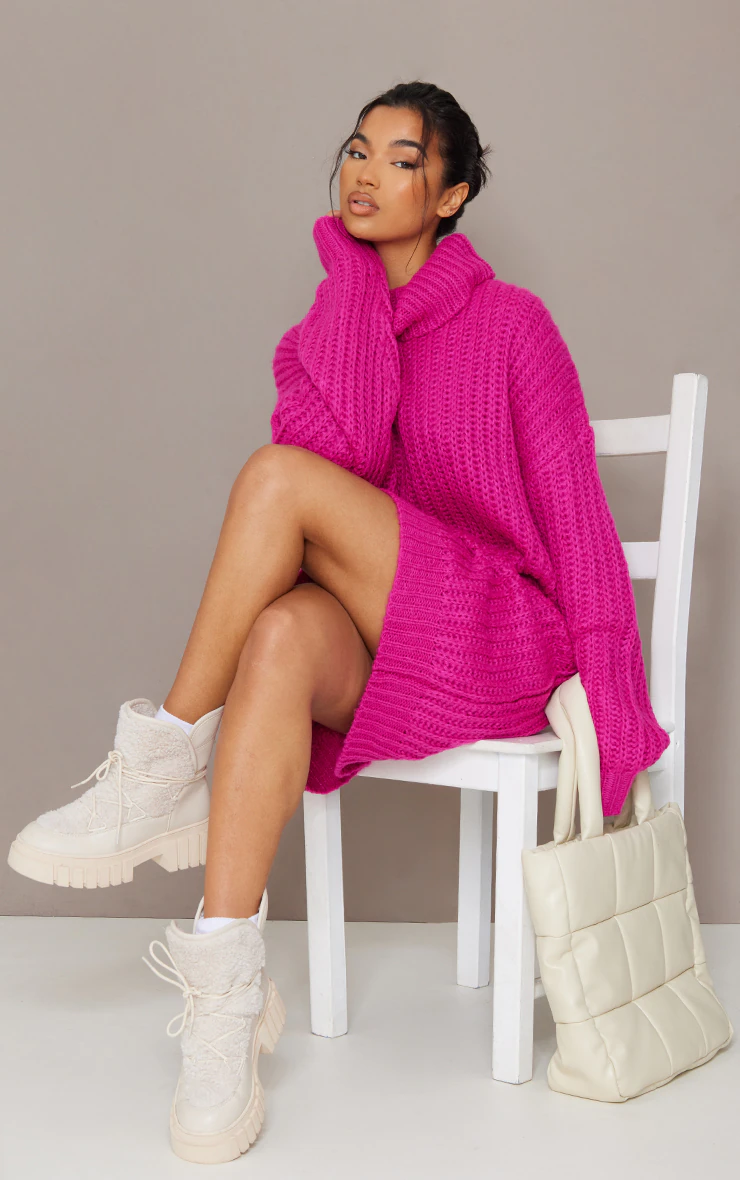 An oversized pink sweater makes the most perfect sweater dress look for the fall, winter, and spring seasons. (I especially love this one for Valentine's Day!) Just pair your oversized sweater with some statement boots (these chunky white ones are so cool) and add a matching bag in cream. This look doesn't include any jewelry but you could definitely rock a pretty earring with this for a little something extra.
Chunky Outfit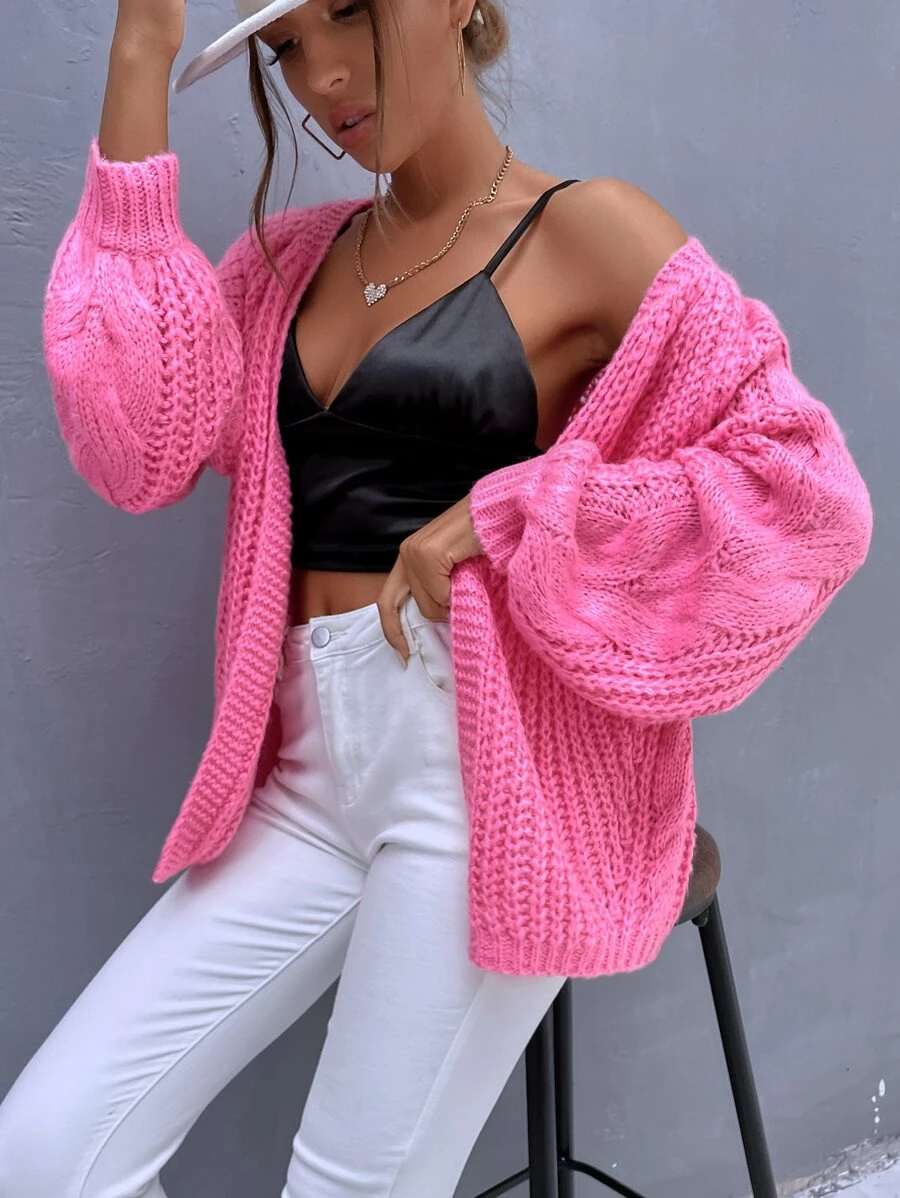 It's that time of year again, when we all want to bundle up and stay warm. But we don't want to sacrifice style while we do it! This chunky pink cardi is the perfect mix of glam and cozy, and I love it paired with a slinky satin cami and white jeans. Add yellow gold jewelry and a hat for extra interest and you have the perfect winter to spring transition outfit.
Corporate Style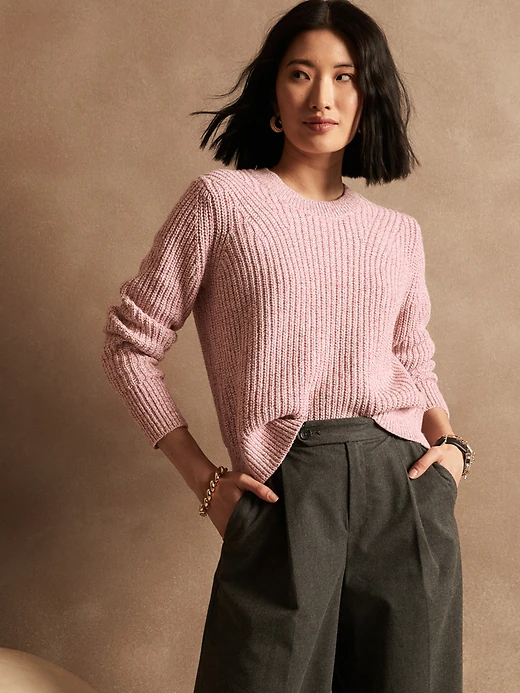 Well, you're mistaken if you think pink isn't the best color for a workplace. This pretty marled pink crew neck sweater is not only warm and sophisticated; it looks so chic paired with wide leg slacks for work. Just add a simple necklace and black chunky loafers for a cool girl office look. You can also layer this crew neck over a white collared shirt for extra interest.
Chic Everyday Look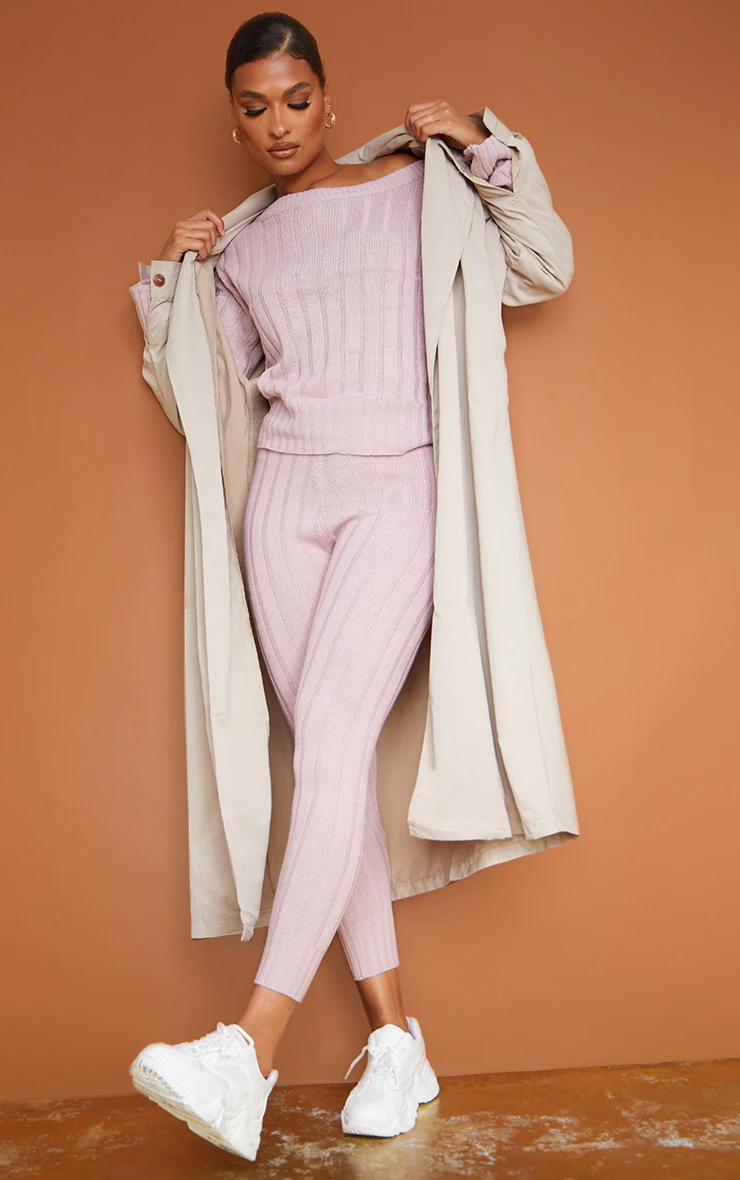 I love a pink sweater lounge set for days at home or just running errands around town. (You could also pair any pink sweater with the leggings of your choice; I just love the idea of a matching set like this one.) To really give this look some extra style, layer a long wool coat over top, add a beanie, and throw on some chic white sneakers. So simple, so cozy, and so cool.
Pastel Pink Sweater Casually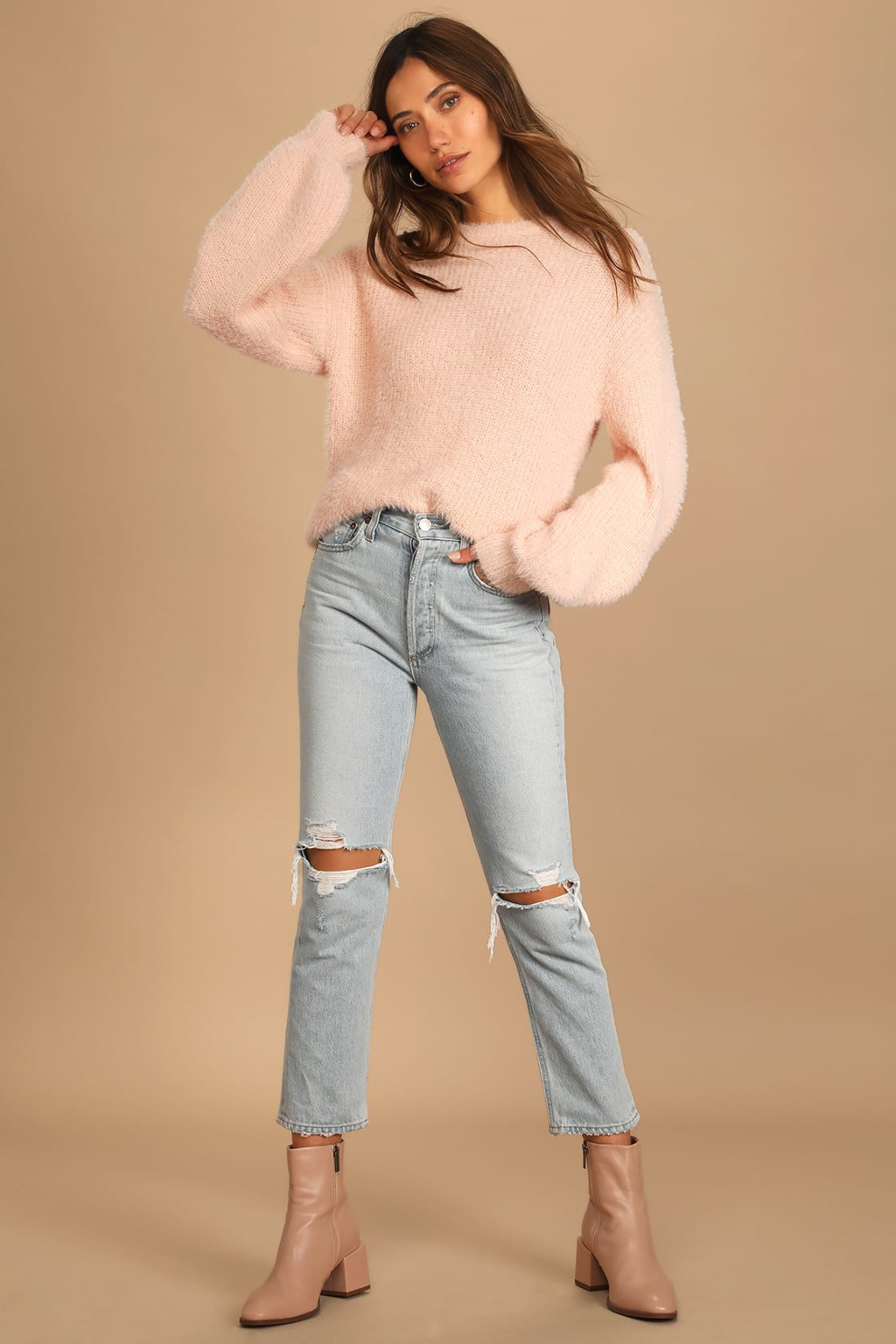 Pastel pink sweaters are perfect for winter; they add a little cheer to a warm outfit and remind us that spring is on the way. For a cute casual pastel pink sweater outfit, pair this cozy pullover with straight leg jeans and nude ankle boots. Add the jewelry of your choice and toss on a beige or tan crossbody bag. Layer on a light gray beanie and camel coat for extra warmth and fashion points.
Date Outfit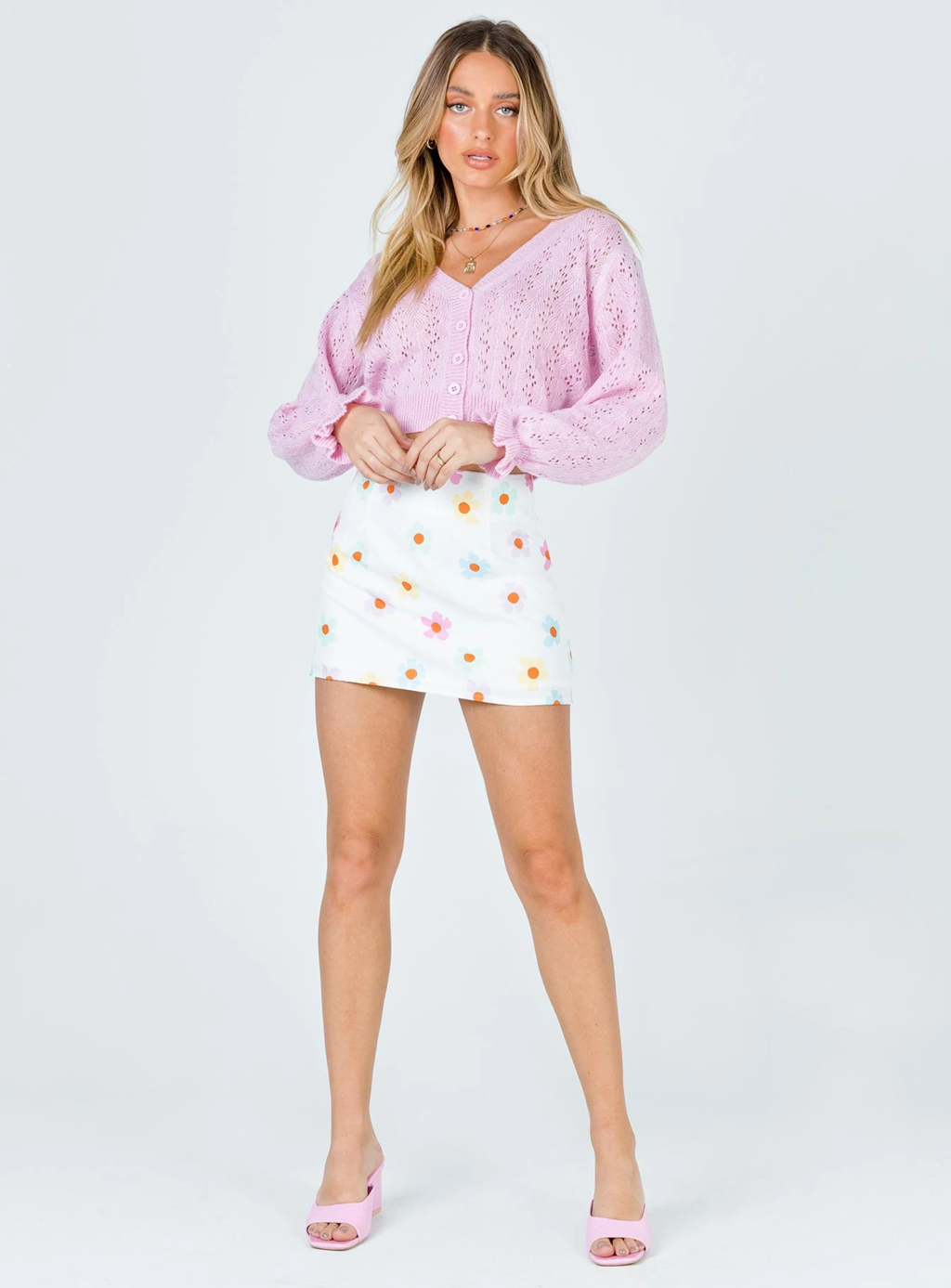 I am seriously obsessed with this sweet date night outfit! It's so girly and romantic, perfect for a dinner date. All you need is a pink sweater (this one is a cardi but you could also do a cropped pullover) and a high-waisted mini skirt in a pattern that coordinates. Here, they paired the look with pink heels for a super sweet and romantic vibe. All eyes will definitely be on you in this pretty look.
Preppy Outfit for School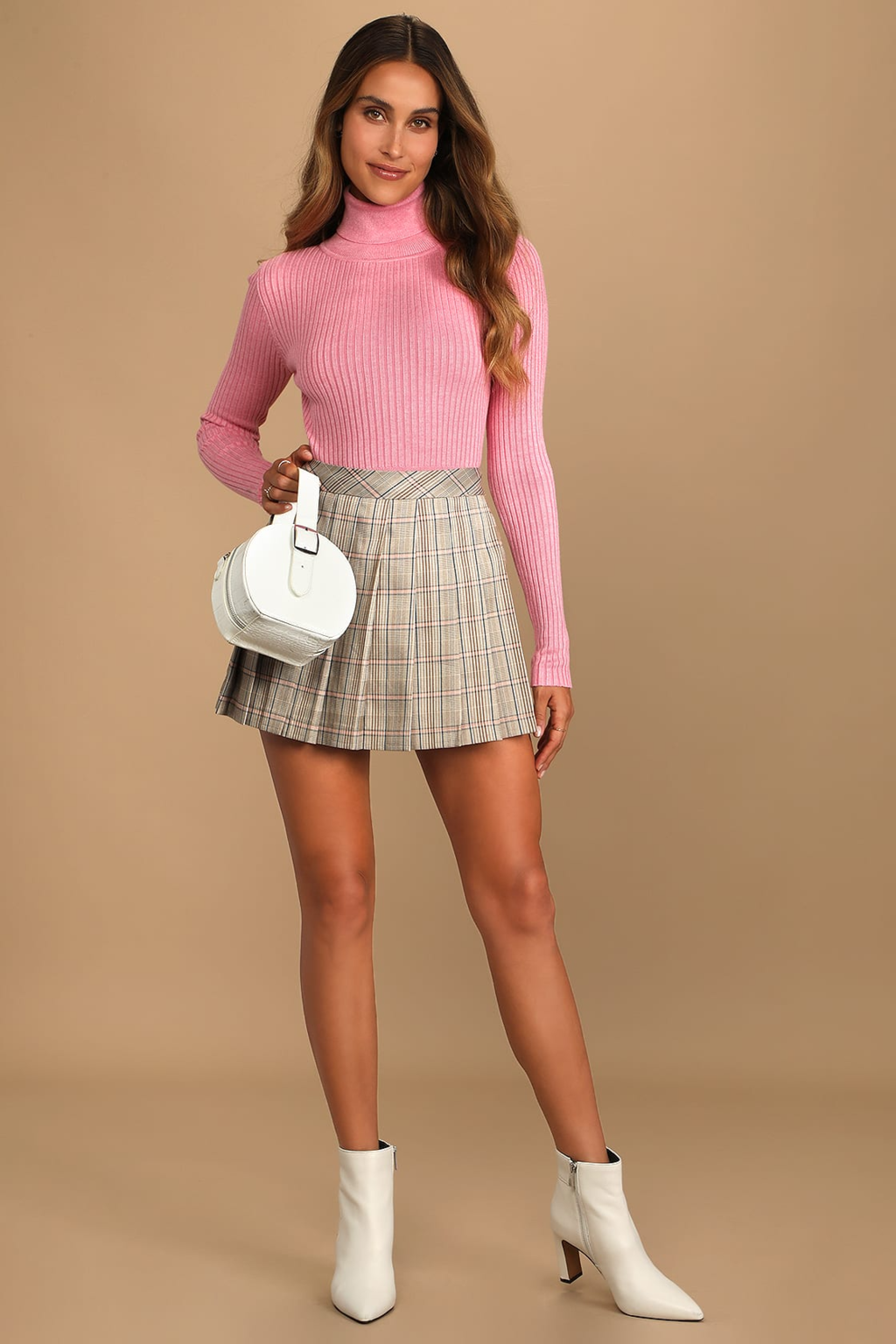 You can be the most fashionable girl in class in this super cute pink sweater and mini skirt combo. The plaid skirt and pretty pink turtleneck sweater will make you look like a model straight out of Vogue, while the heeled ankle boots make your legs look mile long. You could also swap in basic white sneakers for comfort; this outfit would be just as cute sans-heels.
Did it help you?
How do you style a pink sweater? Did any of the pink sweater outfits appeal to you? Would you wear any of them? I want to know your thoughts in the comments.
If this article gives value to you, you might want to consider the related posts below: