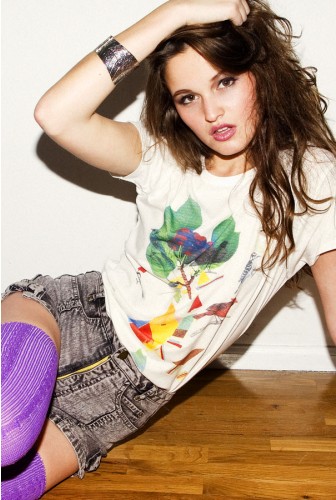 For my first ever Clothes for a Cause post, I'd like to introduce you to Wiloh, a brand new "ecosocial apparel" company, whose mission is "to promote environmental and social awareness through sustainable streetwear," according to their website.
What makes Wiloh so great?
Unlike most companies, which usually have one primary designer, Wiloh collaborates with creative people from all over the globe to design limited edition t-shirts. The hip designs are printed using vibrant water-based inks on tees made of eco-friendly bamboo and organic cotton. And it gets better: Everything on the site is $30 and under. That's definitely a number college girls can appreciate!
Who is involved?
Wiloh's design cohorts are a small collective of the globe's most inspiring creatives, running the gamut from trained artists to first-time designers. Every month, Wiloh selects a featured designer from its ranks. Currently, this designer is Tokyo Candies, aka Rubens Cantuni, a self-taught Italian artist whose designs are heavily influenced by Asian culture.
However, when Wiloh's next line debuts tomorrow, (10/10/10!) a new designer will take the stage. Zoetica Ebb, whose projects include work as Coilhouse magazine's co-founder and a Suicide Girls photographer, announced on her blog this week that her work will appear in the new collection. With every new designer comes a fresh vibe for the Wiloh lineup–and more cute tees to choose from!
If you'd like a peek at the new designs, you can peep Zoetica's post about her work with Wiloh here. Plus, if you're an artist, designer, musician or blogger, Wiloh is always looking for fresh talent to help with future collections.
The Cause: Wiloh + K.I.D.S.
So what makes Wiloh different than any other eco-conscious clothing company? As a whole, WIloh is about much more than selling t-shirts. From its very grassroots beginning (the two co-creators met via social networking!), Wiloh has teamed up with K.I.D.S. (Kids in Distressed Situations) to create the "Tee for Tee" program.
"Tee for Tee" works just the way it sounds: For every tee purchased on the Wiloh web site, K.I.D.S. will provide a specially-designed tee to a child in need. Thank you, Wiloh, for giving us absolutely no reason to feel guilty about snatching up more than one design.
Wiloh-Inspired Outfit
Tees are a staple in every college girl's wardrobe (or should be!), so you probably know plenty of ways to work a printed tee into your wardrobe. But just in case you're tired from one too many midterms, here's an outfit I created with my fave current Wiloh design: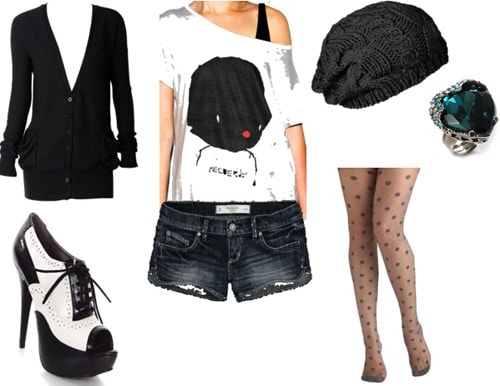 Product Information:Tee, Cardigan, Shorts, Tights, Booties, Ring, Beanie
What do you think?
I really like Wiloh and think the company gives fashionistas an innovative and positive new way to think about sustainable style. What do you think about Wiloh's approach to eco-friendly style? Do you like Wiloh's designs? Would you wear any of their tees? Let us know with a comment!