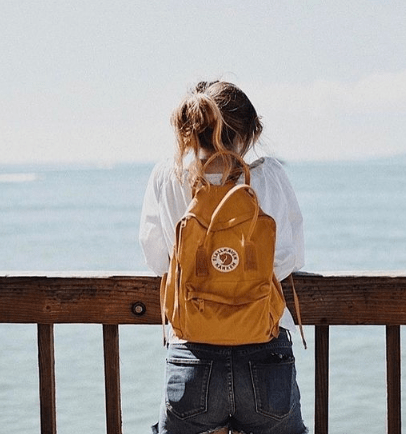 If you haven't heard the Environmental Protection Agency's (EPA) statics and facts on municipal waste in the United States, then you're probably living under a rock.
After researching landfills and recycling efforts, the same facts were repeated over and over again:
In 2014 (the most recent year with data), the US generated 258 million tons of waste.
Americans represent 5% of the world's population, but generate 30% of the world's garbage.
US disposal costs exceed $100 billion annually.
The average American throws away 4.4 pounds of trash every day.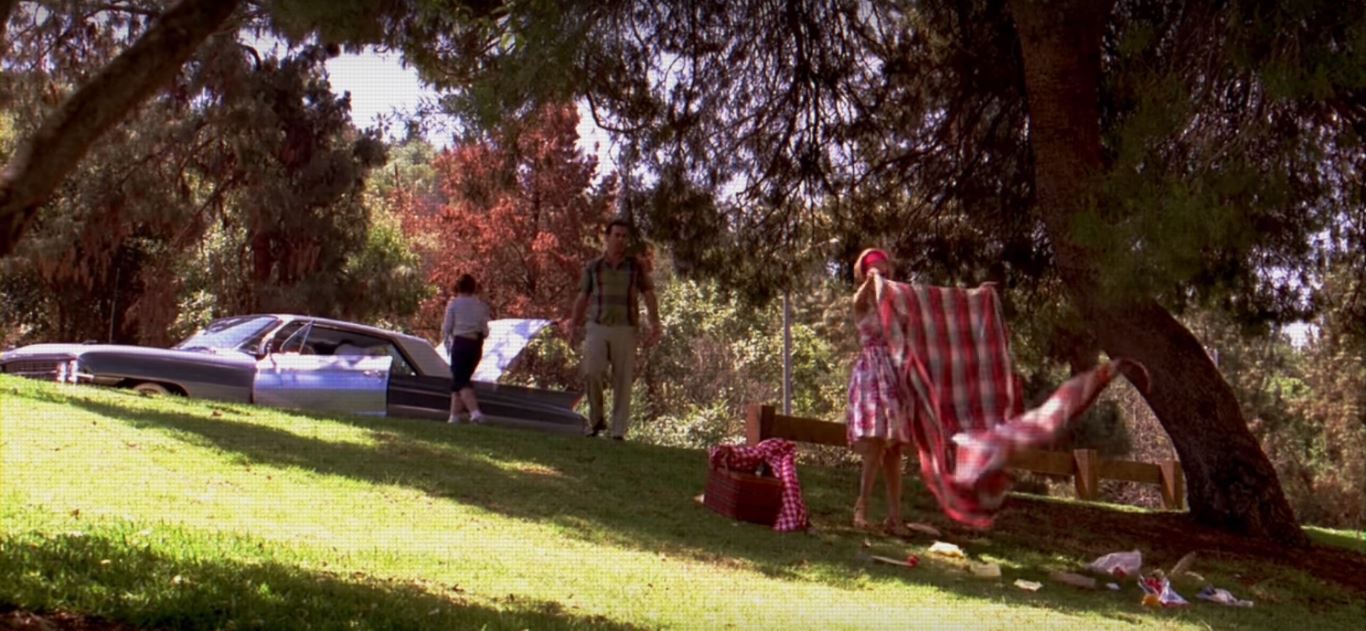 These facts are alarming, but it's hard to change our ways when throwing things away has become so deeply embedded in our culture.
You're probably thinking, "There's no way I'm one of the people contributing to that large amount of waste." But think about it… The bottled water you bought at the convenience store, the fast food you grab in between classes, and the coffee you had to have for your afternoon pick-me-up all generate waste! (With a slim chance of being recycled.)
Packing material accounts for one-third of all the waste in the U.S. and 10% of that waste is from single-use discard items (paper coffee cups, styrofoam containers, plastic bottles, and plastic utensils).
It's easy to ignore the issue because, in the U.S., we have an amazing waste management system. So, you don't have to see the trash on the streets and you're not sailing across the Pacific Ocean trying to navigate in marine debris. The issue is so far out of sight, it's hard to perceive it as a threat.
The facts aren't lying, though, and it's time for us to change the narrative!
You've probably noticed the booming popularity of the zero-waste movement or at least have seen Laura Singer's Ted Talk. (Over three years since starting the zero-waste movement, she managed to keep her total amount of trash in a single mason jar.)
However, you don't need to become a Zero Waste Consumer overnight. Heavens knows I couldn't change any habit overnight.
But you can start improving your waste habits in small strides and the best part about reusable backpack essentials is that they look way cuter than their plastic throw-away counterparts.
The first thing you need to do is…
Start By Using a Reusable Water Bottle
Not only does using a reusable water bottle keep plastic out of landfills and bottle caps off the ocean floors, it's also easier on your bank account. 
On my campus, bottles of water are $2 a pop! My incredibly frugal grandma would be slapping me upside the head if she knew I was paying $2 for water.
Paying ten to thirty dollars for a water bottle might seem crazy, but in the long run, you will be saving money and the earth! Here are my top picks for reusable water bottles!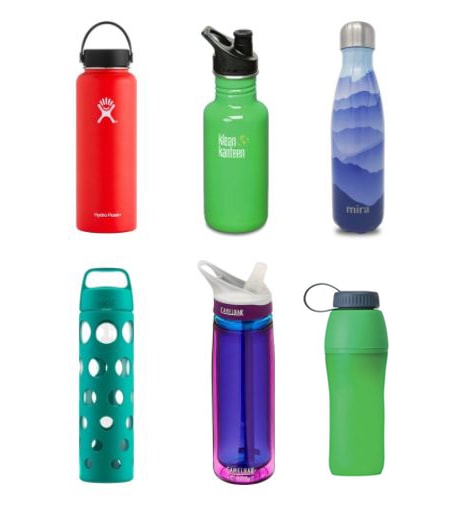 Products: Top left – Hydroflask; Top middle – Klean Kanteen; Top right – Mira; Bottom left – Ello; Bottom middle – CamelBak; Bottom right – Platypus
In my opinion, the best water bottles are of the insulated stainless steel variety. This is because they don't sweat like other water bottles do!
Since my major requires me to bring a laptop every day, I quickly realized that the condensation on the outside of water bottles and electronics don't mix. By having an insulated stainless steel water bottle, I don't have to worry about throwing it in my backpack with my books and laptop.
My top picks for stainless steel water bottles are the HydroFlask and Klean Kateen. They both come in wide variety of colors, have interchangeable caps, and have loops for easy carrying. (What more can you ask for?)
Mira water bottles also made my list because of their sleek design and fun patterns. They look just like the insanely popular S'well bottles but at just half the price! I personally have two knockoff S'well bottles that I've used for three years and they still look great. Other honorable mentions are the Ello Pure Glass Water Bottle, CamelBak Insulated Bottle, and the Platypus Collapsible Bottle.
Bring Your Own Coffee Cup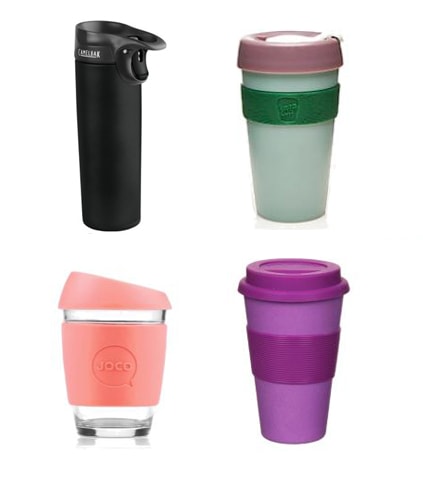 Products: Top left – CamelBak; Top right – KeepCup; Bottom left – Joco; Bottom right – Eco Cup
Check with your local coffee shop to see if they offer a discount for bringing your own mug. (A lot of places do!) Again, you're not only saving the environment but your wallet too.
My top pick for coffee on-the-go is the CamelBak Insulated Travel Mug because it keeps coffee hot or cold and has a locking mechanism, which is important if you're particularly clumsy like me. (Seriously, I could be one of those people from infomercials who is constantly spilling something.)
Other honorable mentions are the Keep Cup, Joco Cup, and Eco-cup because of their bright, fun colors and durable materials.
Branch Out to Replacing Other Single-Use Items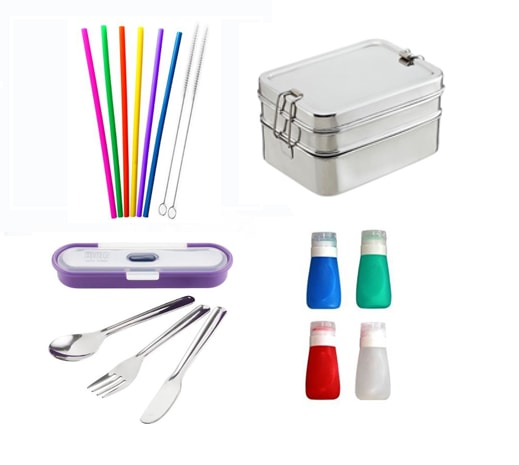 Products: Straws – Amazon; Bento box – The Container Store; Utensils – The Container Store; Condiment containers – Amazon
Now that you have a reusable water bottle and coffee tumbler. Think about other single-use items you use every day and come up with ways to replace them.
Plastic straws, utensils, styrofoam food containers, and little condiments are all single-use items that we normally give little thought to, but take up valuable space and are extremely slow to decompose.
I found these extra long reusable silicone straws on Amazon and they even come with brushes for easy cleaning (definitely needed if you're using these straws to drink a smoothie).
Ask your school cafeteria if they allow you to bring your own container for food. If they say no, consider bringing your lunch instead. School food is extremely pricey anyways.
Just say no to plastic cutlery! These are the most infuriating single-use items because fast food restaurants will give several to you without asking. The container store has a set of small utensils with a to-go case that will easily slip into your purse.
Lastly, skip the little condiment packets and bring your own in some cute little reusable condiment containers. You will never use the 15 little ketchup packets at the bottom of your bag anyway.
When picking out reusable items, do your research:
Ask yourself, is this item easy to clean? If you don't like cleaning your new reusable water bottle, you'll never use it (kind of defeats the purpose).
Will I need to put this container in the microwave? If you need to microwave your lunch on a daily basis than a stainless steel bento box wouldn't be a good idea.
What material do I want my reusables made of? Stainless steel, glass, and plastic all have there pros and cons. Although I won't get into that debate, you can read about the difference in the post: Steel, Glass, and/or Plastic Bottles: What is the best choice? 
Let us know what you think!
What are your opinions on the zero-waste movement? What efforts do you make to reduce trash? And what are your favorite reusable products? We love to hear from you, so leave a comment below!