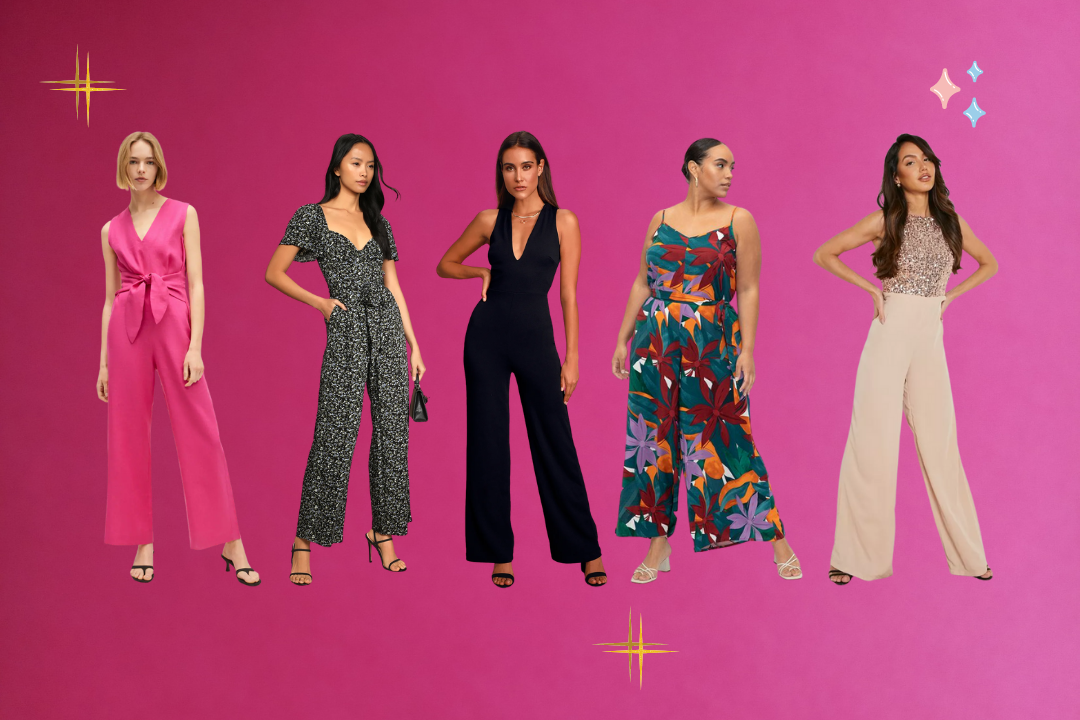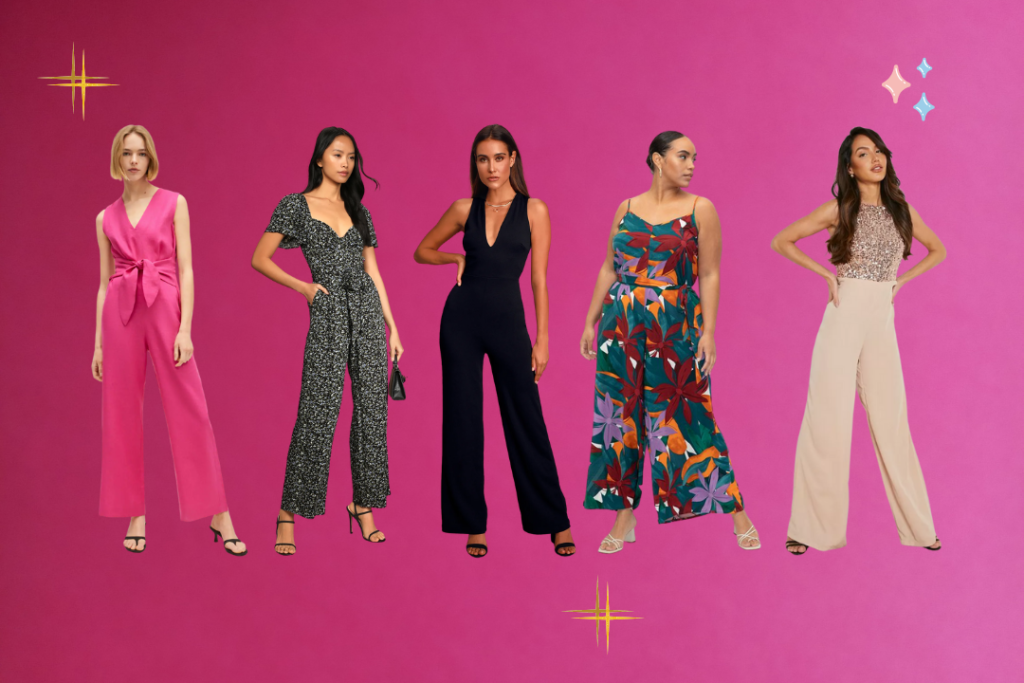 Dressy jumpsuits are so underrated. While most of us opt for dresses whenever we have an event to attend, a dressy jumpsuit is an unexpected yet super stylish alternative. A jumpsuit is cool, it's comfortable, and it always makes a statement.
With this in mind, I've put together a list of fashionable, dressy jumpsuits for weddings and all four seasons.
The best part is that everything you'll see is $100 or less, so you don't have to spend a lot to add a jumpsuit to your wardrobe.
RELATED POST: 19 Gorgeous Wedding Guest Dresses for 2022
I've got some choices for different occasions, from going to summer weddings to museums in the fall to holiday parties. So keep reading for some fashion-forward options!
Best Dressy Jumpsuits for Weddings
To start, here are some dressy jumpsuits for weddings. You'll be ready to look great and have a good time with these cute outfits!
1. Black Backless Jumpsuit
One of the reasons I love jumpsuits is that they are one-piece, so easy to wear. For a wedding, try this gorgeous backless black jumpsuit. It shows some skin without being too revealing, and you can always throw a jacket over it for the evening.
Grab a statement bag and heels, and you'll be ready to celebrate the occasion.
2. Navy One Shoulder Jumpsuit
One-shoulder jumpsuits look classic and elegant, and that's a great vibe for a wedding.
Try a simple and chic one-shoulder jumpsuit like this navy one. Layer on your favorite jewelry and slip on some strappy heels, and you'll be ready to mingle.
3. Green Off The Shoulder Jumpsuit
This jumpsuit has an off-the-shoulder cut and would look great for an outdoor wedding in any season. Just put on some black heels and earrings, and you'll look chic that day and for the reception afterward!
4. Pink Jumpsuit
For the last dressy jumpsuit for weddings, we have a bold and head-turning option. You'll stand out in a hot pink jumpsuit, but you won't look over the-top thanks to this piece's modest cut.
Style with neutral pieces like black heels and a simple purse, and you'll look fantastic dancing all night long.
Spring Dressy Jumpsuits
With spring ending soon, it's not too late to try on some dressy jumpsuits like these, so celebrate the last few weeks of the season in these cute options.
5. Blue Floral Jumpsuit
Florals are always associated with springtime, so why not try a floral jumpsuit for your next spring event? Pair it with some beige heels, and this outfit look will be great for brunch or church (if you attend).
6. Beige Jumpsuit
I have been wearing lots of neutrals lately, and I like beige, cream, and ivory as fresh alternatives to white in spring. A beige jumpsuit like this would be great if you don't want to wear a white one. Pair it with heels, and you can go to a rooftop party or dinner.
This piece would also make a great canvas for any colorful accessories you want to add!
7. Multi-Color Floral Jumpsuit
This patterned print floral jumpsuit is perfect for a vacation if you are traveling or any time you want something extra fun to wear. Pair it with white heels or wedges, and you'll be fashionable wherever you go.
8. Red Floral Jumpsuit
Here's another take on spring florals, this time with a bolder, vintage-inspired jumpsuit. Wear some brown platform heels with this look, and this '70s-inspired look will be perfect for a dinner, a party, or even a date night.
Summer Dressy Jumpsuits
Summer's almost here in just a few more weeks, so to get ready for some summer activities, here is some outfit inspo featuring dressy jumpsuits.
9. Sage Green Jumpsuit
Step out for drinks or dinner in this green jumpsuit. Add a bit of sparkle with a belt like this, and finish with some clear or nude heels. Also, feel free to throw on a white denim jacket for those cooler summer nights.
10. Blue Denim Culotte Jumpsuit
Got a picnic or bbq coming up and want to look cute? Wear a denim jumpsuit and some sandals or wedges. A baseball cap and white sneakers can make this look more casual too!
11. Pink Culotte Jumpsuit
This cute, feminine pick might be my favorite jumpsuit on this list. A pink jumpsuit like this would be great for a party or going to a lounge, especially paired with some cute square-toe pink heels.
To make this outfit more casual, wear a white button-up over top and swap the shoes for white sandals.
12. Yellow Plaid Jumpsuit
Here's another cute look for summer. This yellow plaid jumpsuit is perfect for shopping, brunch, or as a cute outfit on vacation. You will look adorable with a green shoulder bag and white sandals or sneakers to complete the look.
Fall Dressy Jumpsuits
In the fall, you can indeed wear jumpsuits too. It's just about taking inspiration from the moody, earthy tones we associate with the season. Here are my favorite fall jumpsuits:
13. Brown Zip Front Jumpsuit
If you want to rock a dressy jumpsuit in the fall, give this brown 70s-inspired one a chance. It would look great with wedges for a retro feel for an event!
Or wear it with black sandals or black boots and throw on a denim jacket, and you can head to a museum or a coffee date in this outfit.
14. Black Tailored Jumpsuit
This tailored jumpsuit is cool and unexpected and has an androgynous feel. You could wear this jumpsuit for an event with heels or for a casual day of thrifting with boots, as seen above.
Pro tip: I recommend adding a pop of color, like a green bag to make your outfit more interesting.
15. Paisley Print Jumpsuit
I love this paisley print jumpsuit. The colors give off fall vibes too! Wear this dressy jumpsuit for a museum date or see an art exhibit with black boots, and you'll be so cute and comfortable.
16. Black Floral Jumpsuit
I love wearing florals in the fall, but I always opt for darker pieces similar to this black floral jumpsuit. I think this piece would be great for a comedy show or dinner date. Some black heels and a black purse will pair well with this look!
Winter Dressy Jumpsuits
And lastly, for winter, you can still wear your jumpsuits! Whether you go glam with metallics or moody with dark colors, you'll look amazing. And don't forget to layer on your favorite jacket on your way to the event.
17. Sequin Beige Jumpsuit
Sequins make me think of glamorous holiday parties, so that this sequin jumpsuit will make a great statement at a soiree or dinner and a play. Put on some black heels and a warm coat for a beautiful, winter-appropriate look.
18. Sleeveless Black Velvet Jumpsuit
This velvet jumpsuit is subtle yet interesting, thanks to its soft black velvet fabric. It would be a great option for holiday parties!
This jumpsuit would also be good to layer over a white long-sleeve top or white knit sweater for extra warmth. Pair with some white boots, and wear this to see holiday lights.
19. Blue Velvet Jumpsuit
I don't have a velvet jumpsuit yet, but I might have to buy this one while I can — it's so beautiful and feminine.
The blue velvet of the jumpsuit makes me think of the winter months. Throw on a black coat and heels or black boots to head on a night on the town or celebrate New Year's Eve.
20. Red Off The Shoulder Jumpsuit
Red is a quintessential winter holiday color so that a bold red jumpsuit will be eye-catching at a holiday party with friends and family or Valentine's date. Slip on some black heels, and you'll be a fashionista at the dinner table.
What do you think of these dressy jumpsuits?
Will you try adding jumpsuits to your wardrobe this season? Which of these dressy jumpsuits was your favorite? Let us know in the comments!
For more dressy jumpsuits for special occasions like this, you might want to check out our related posts below –