This is a sponsored post written by me on behalf of Kohl's. All opinions are 100% mine.
Welcome to the third and last post in our "Back to School with Kohls.com" series. (In case you missed them, see part 1 and part 2.)
Today's look is quite different from the first and second outfits in the series in that it sticks to a single color palette and introduces a fun trend: see-through clothing.
Sheer fabrics have always been popular, but they're trending hard right now. The charm of see-through clothing is simple: it allows you to add another cool layer of dimension to your outfit without hiding the underlying clothes or creating unwanted bulk.
Monochromatic looks are also becoming trendier and I love the vibe. Wearing one color head-to-toe is essentially creating your own shirt and pants set in whatever color you prefer. Super easy and super inexpensive.
So should we see how it works?
See Through Me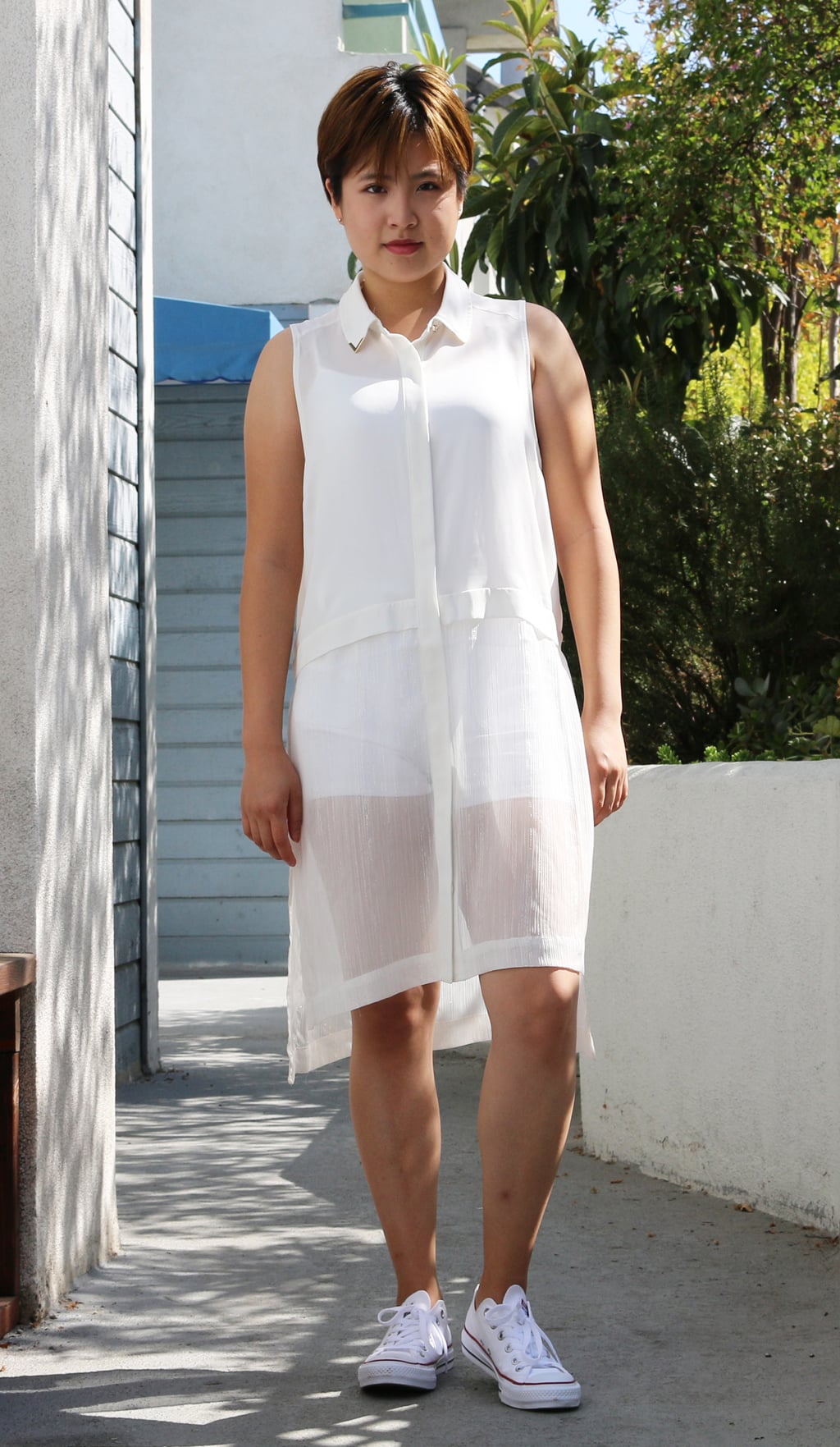 The monochrome look always appears as if you tried extra hard to look good but truthfully; it just took three pieces to pull off sophistication. The underlying clothes create a good, tight base for the main focus, the see-through tunic.
Let's Break it Down…
Top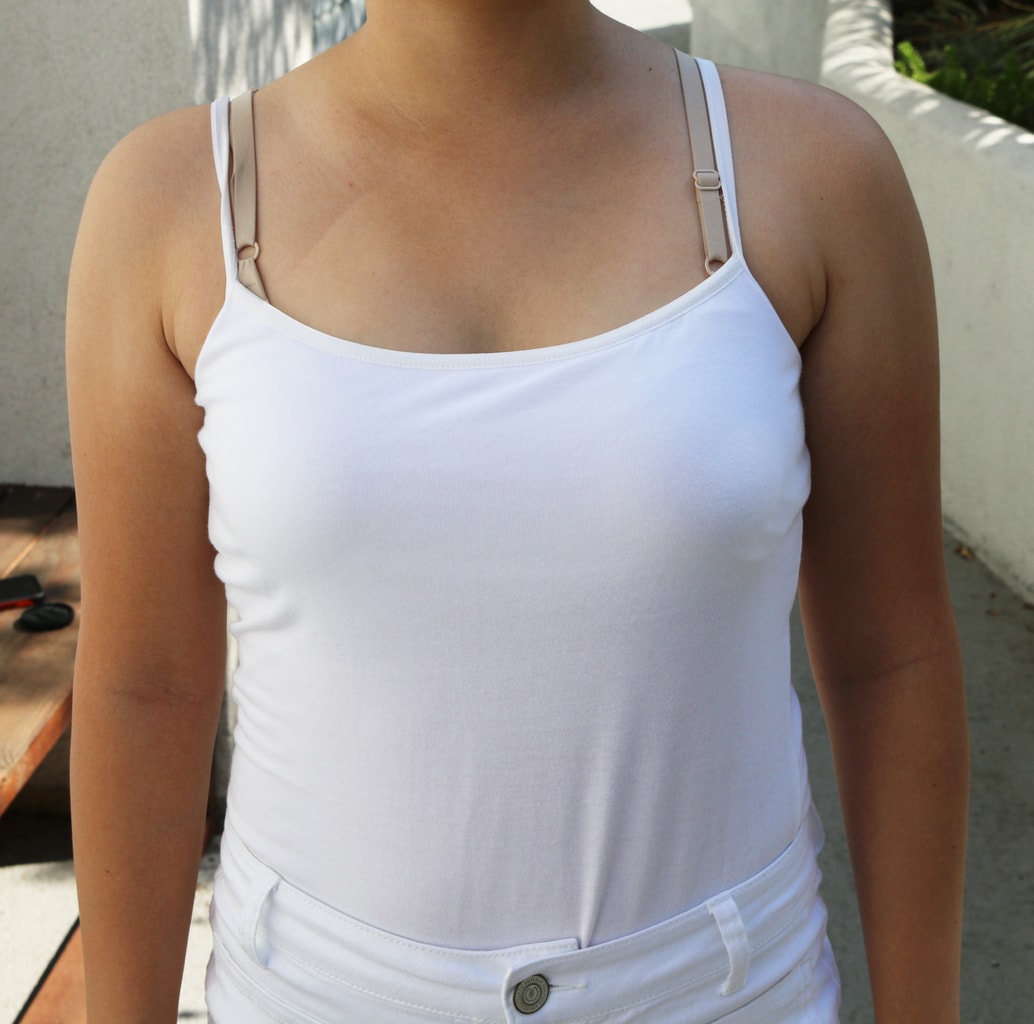 Camis are necessary basics in college women's closets. They're perfect for layering under clothes for extra coverage and/or warmth. You can also wear them as tops for a simple, fitted look.
In order to keep with the all-white palette, I chose a white cami. In this outfit, the cami is not the main focus but simply part of the base that streamlines white for the tunic. It still plays an important role, however, since the cami can be seen through the tunic.
SO's Seamless Cami is perfect – it isn't too sheer or too thick. It even has a built-in bra layer that makes it possible to go bra-less or allows you to wear a non-nude bra without worrying about it peeking through.
The length is fantastic since it's long enough to tuck into your pants and avoid any unwanted slips of skin. The material is also soft and stretchy, making it comfortable to wear. Like I said, this cami is perfection!
Bottom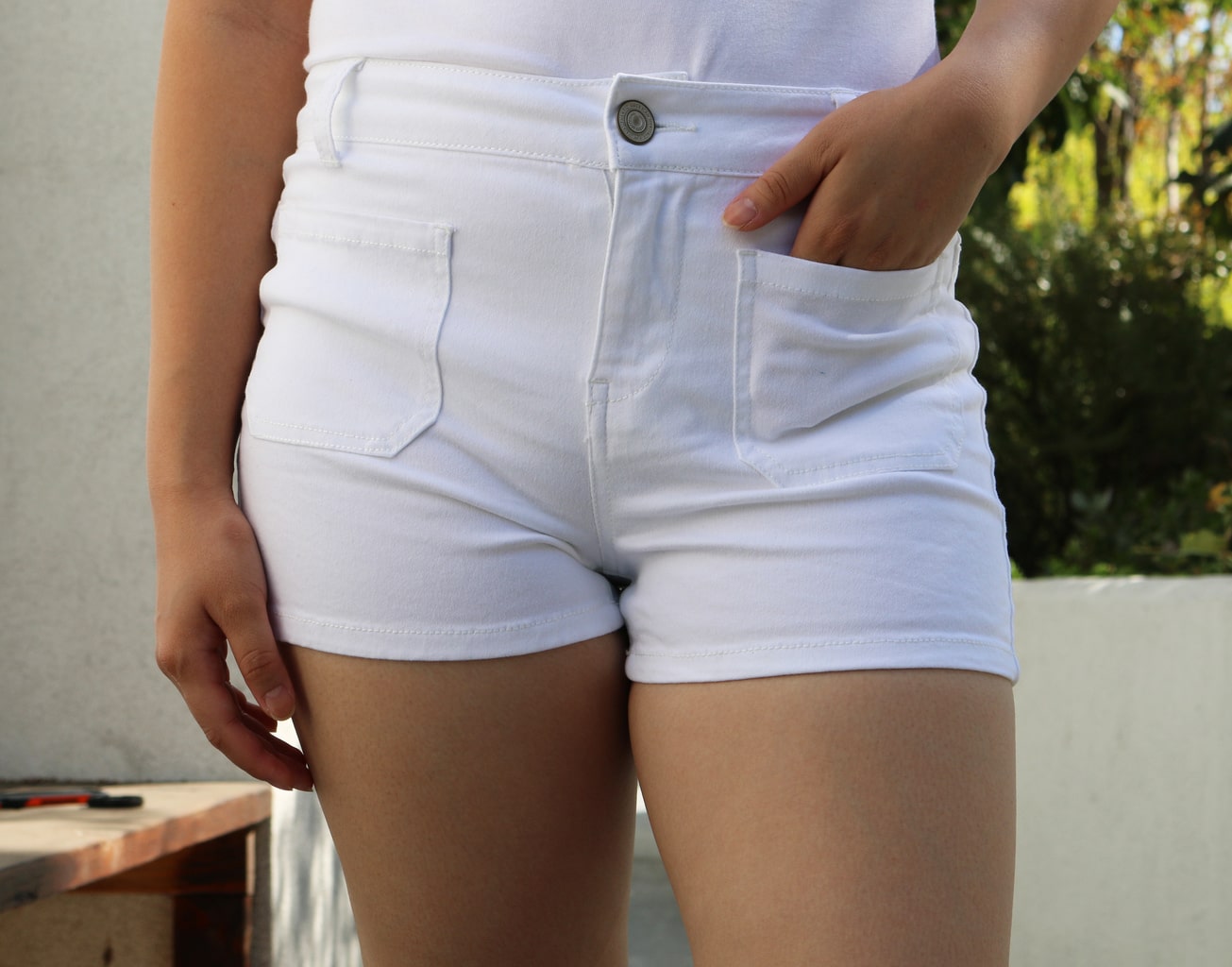 High-waisted pants and shorts are definitely here to stay. They are extremely flexible styling pieces that go well with everything while helping girls not blessed in the height department to fake a higher waistline.
These SO white Shortie shorts are amazing in that they're tight (as they should be to layer under a tunic) but not uncomfortably so, showing off my curves without sacrificing my comfort.
The material is also quite thin which is great for those not looking to add bulk to their bottom area, but not so thin that your underwear could be seen.
A good, comfortable yet cute pair of high-waisted shorts is always a great choice.
Outerwear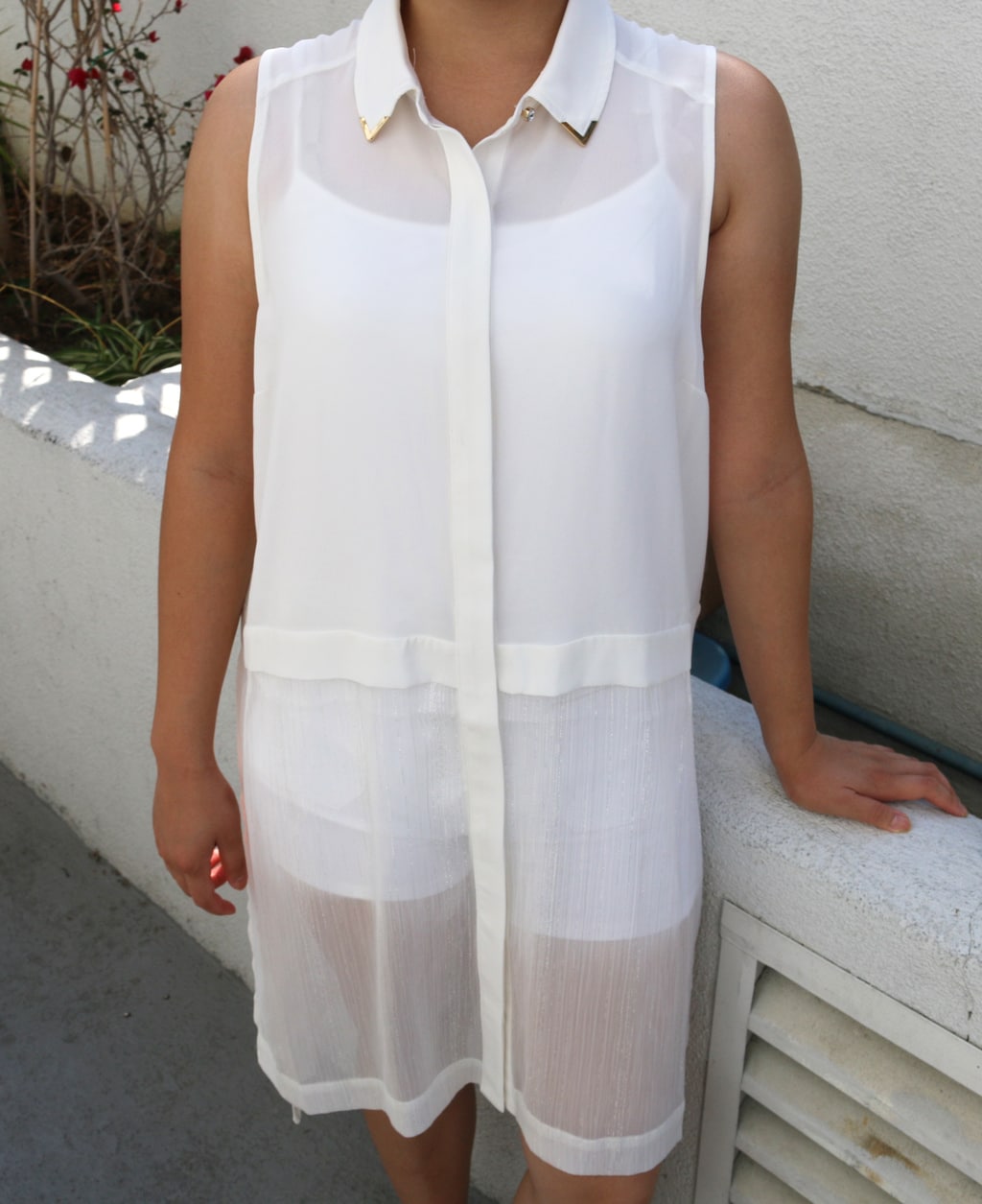 With see-through outerwear, your shirt and other base clothes also get their time to shine. However, because there is a certain sexiness to see-through clothes, you may need to incorporate some traditionally formal pieces to make it more appropriate for school and/or work.
Candie's sleeveless white tunic totally fits the bill since its collar immediately lends a more formal feel to the outfit. Since it's not too sheer, it isn't too revealing or inappropriate for school.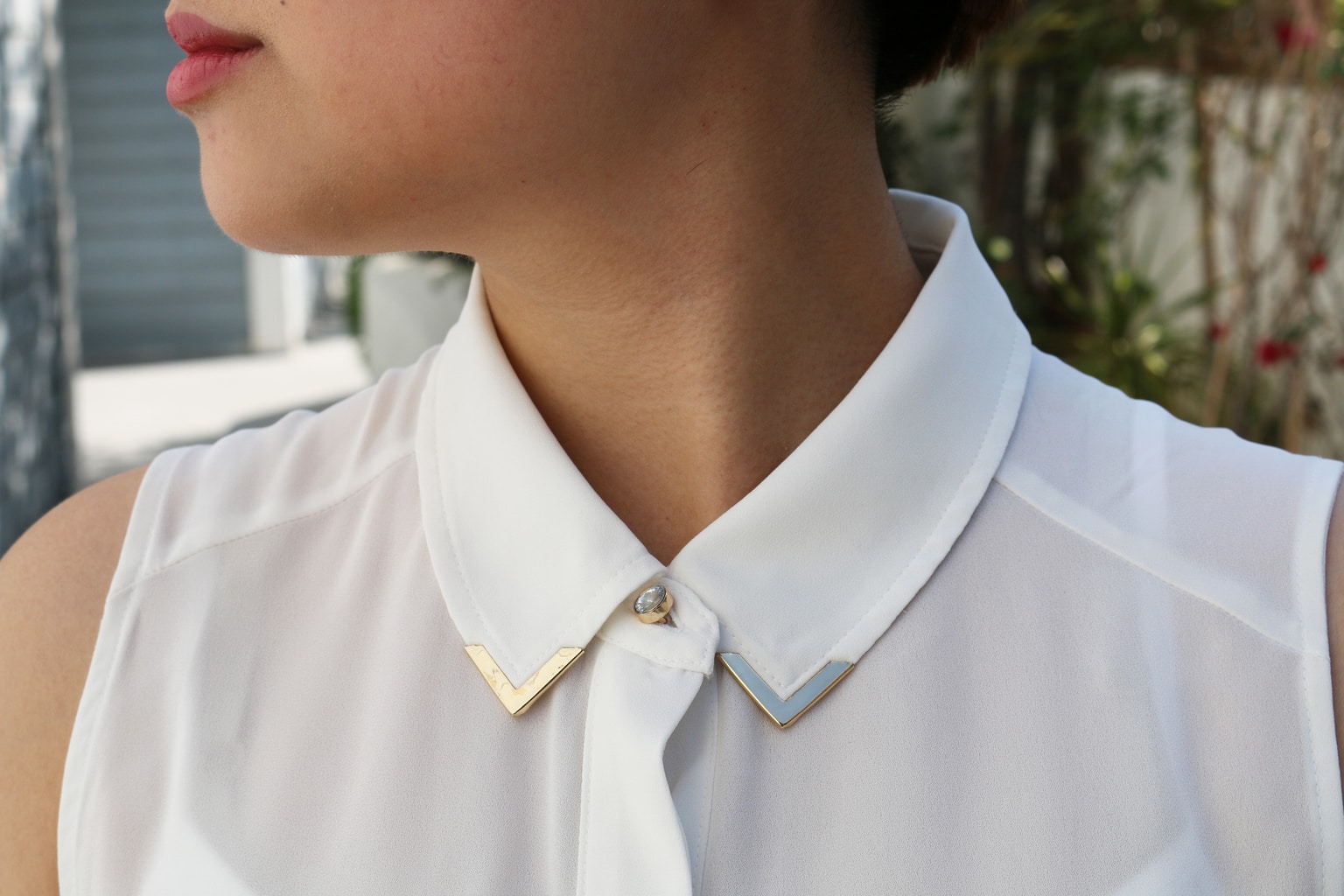 The gold detail on the collar as well as the silver threads on the skirt area really make the tunic more stylish and elegant.
Another great aspect of this tunic is that the top part is cropped, giving the illusion of a longer bottom half. You know what this means? Longer-looking legs. It's obvious by now that if a fashion item makes my body look more proportionate, I am all for it.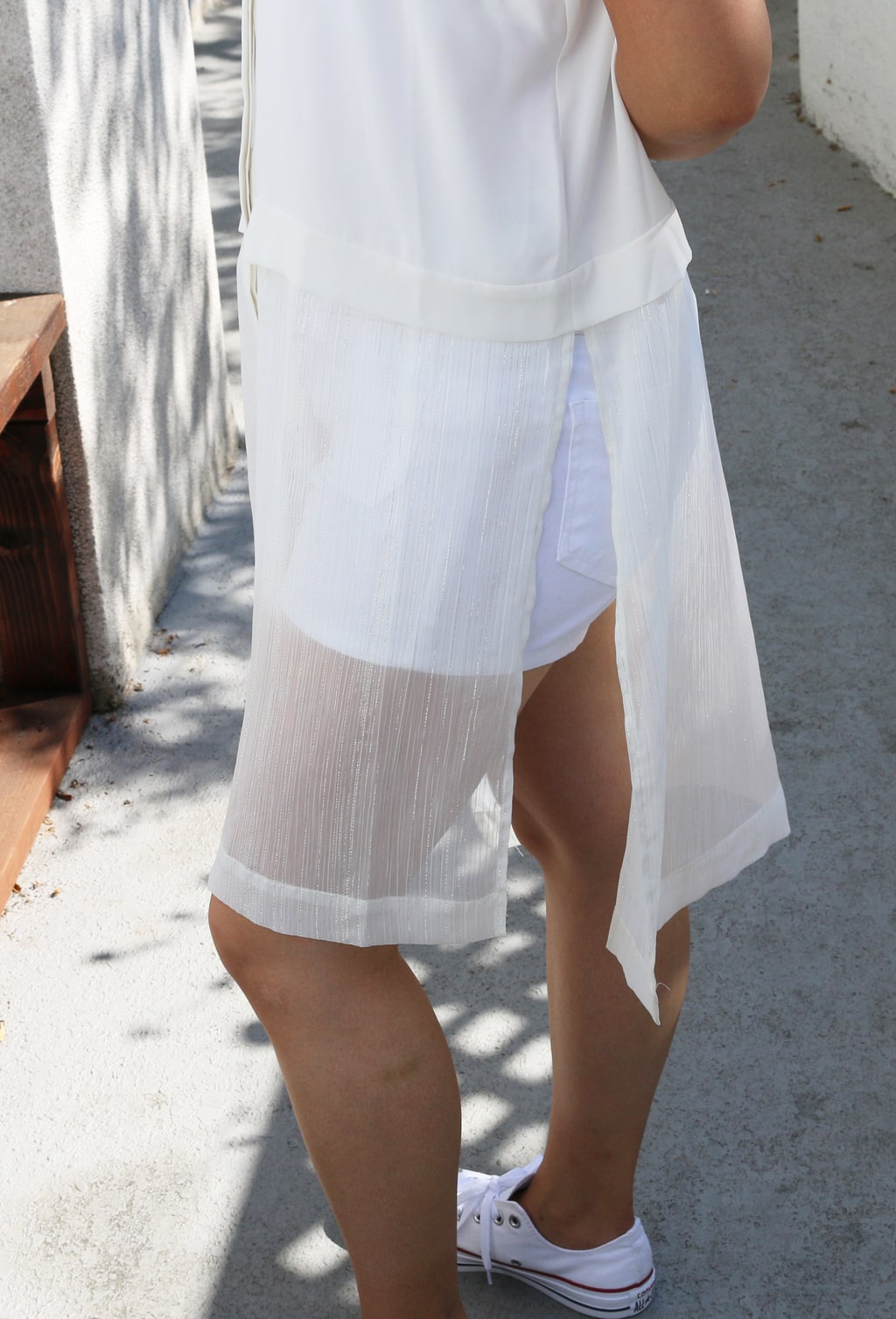 The slit on the sides also make it less stuffy and more like a top than a full dress. It also elongates my body more by letting me show more skin on the legs.
Shoes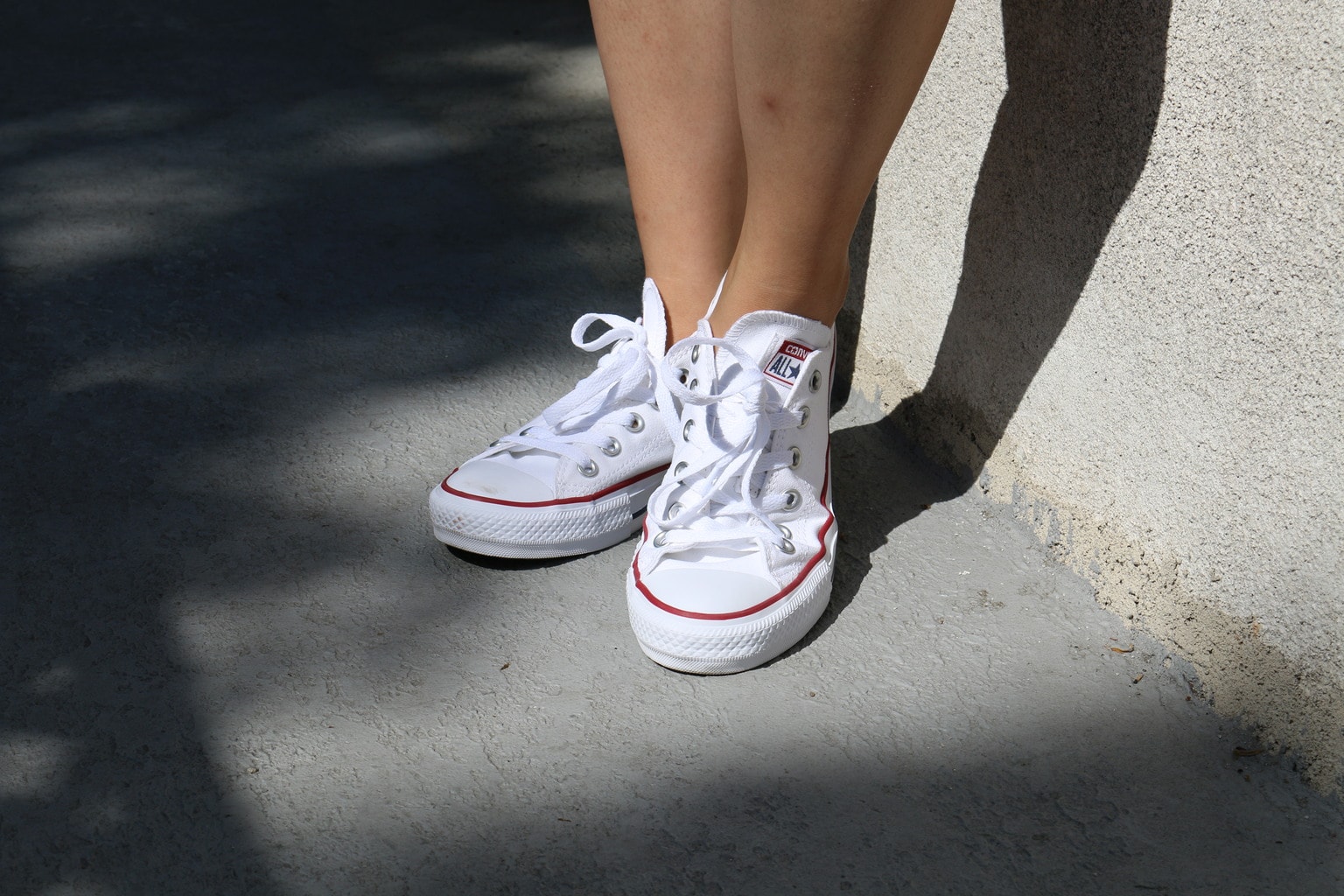 I have once again brought back the Converse-All Stars from the first and second posts. This just goes to show how well they match with every type of outfit. I especially liked them with this one because the sporty nature of Converse really contrasted with the flowy, feminine look of the tunic.
Again, is there a shoe out there than can beat the comfort of sneakers while walking on campus?
Shop Kohl's Back to School
If you're now inspired to step up your back-to-school wardrobe, click over to the Shop Kohl's Back to School section. Also, be sure to take a look at the Kohl's Juniors Apparel Page.
You can also check out their hashtag #BigPlans on social for pictures of people rocking their collections!
Your Thoughts?
Do you think that wearing one color for your entire outfit is too much or do you enjoy the monochrome vibe? Do you rock see-through items?
Please let me know in the comments below!
Disclosure: This post was sponsored by Kohl's. The opinions, as always, are our own. For more information, please see our Disclosure page.