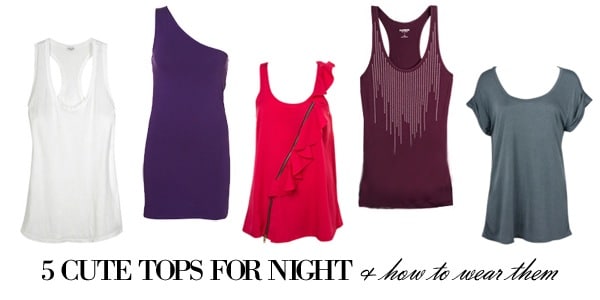 Cute tops are an essential component of any great wardrobe, as well as a must for back to school. A pretty top can glam up a simple pair of jeans, dress down an otherwise over-the-top miniskirt, or even add sparkle, rendering jewelry unnecessary.
In college, where denim is practically the uniform, cute tops for night are even MORE important to own. That's why I've scoped out five stylish and versatile options for your back to school shopping – from basic to standout and everything in between.
Of course, these tops aren't strictly for nighttime wear – they can be dressed down for day as well. I've also written about other cute daytime outfits for fall '09.
As far as prices go, the tops shown are each around $50 or less, but I know even $50 can be a lot when you're in college. So feel free to substitute your favorite inexpensive basics for the simpler tops – you can always find cheap basic tops at stores like H&M, Target, American Apparel, etc. The ones featured here are just examples.
1. A Racerback Tank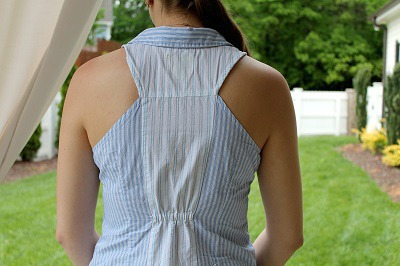 Splendid Racerback Tank – $49 at ShopBop
The racerback tank is a sexy summer staple, but it's equally wearable year round if you know how to layer. If you don't own a racerback tank yet, run out and get one ASAP! I think it's one of those basic pieces every girl should have in her wardrobe.
Outfit Inspiration:
We talked about the visible bra look a while back, and although many of you thought it was hideous, there are cute ways wear it without looking like you're posing for Playboy. This is one of them.
A lacy bra (please, NO push up bras) layered under a baggy racerback tank will give you the sexy peek-a-boo effect minus the whole "I'm starved for attention" thing. I added ripped jeans here but you could wear basic skinny jeans if you don't want to show that much skin. For night, heels or boots give this look a badass vibe. Finally, a cobalt blue clutch mirrors the colors in the bra and lets everyone know that your look is on purpose.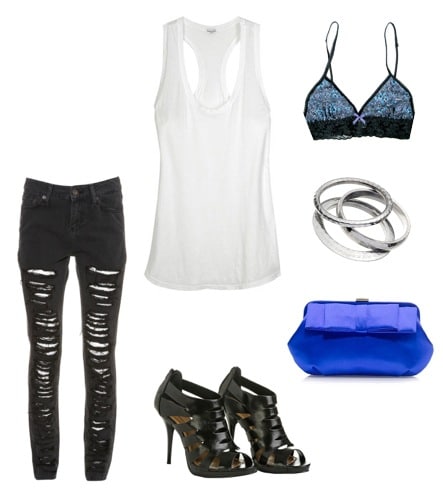 Product Information: Jeans – TopShop, Gladiator Heels – Arden B., Bralette – Hanky Panky at Scoop NYC, Bangles – Dorothy Perkins, Clutch – J. Crew
2. A One-Shoulder (Asymmetrical) Top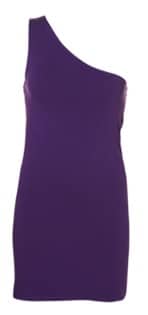 Basic One Shoulder Tunic – $24.00 at TopShop
One of the top fall 2009 trends, an asymmetrical top is a fun throwback to the 80's and an easy look for anyone to wear. You can keep it simple and pair your one-shoulder top with jeans or layer it under a high-waisted skirt to mimic the look of a more expensive dress. Depending on the accessories, this top could work for a warm day on campus as well.
Outfit Inspiration:
This look was inspired by an outfit Emma Stone wore a while back (see the look here) – I love how it's pretty, age-appropriate, and sophisticated at the same time.
You can buy dresses that look like this, but using separates to get the look means more versatility in your closet. For accessories, I added a studded belt for some sparkle, simple silver hoops and classic patent pumps. The addition of a Louis Vuitton-esque graffiti clutch is a fun accent that would be perfect for a party – swap it for a simpler bag if you want a more grown-up look.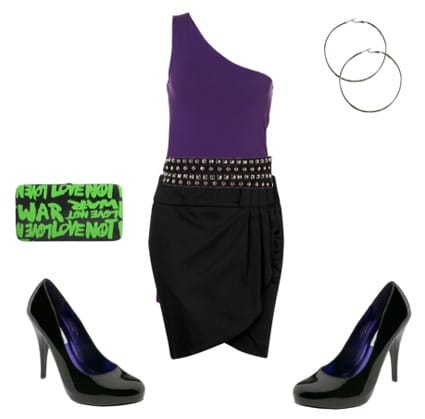 Product Information: Tulip Skirt and Belt – Dorothy Perkins, Heels – Steve Madden 'Trinitie', Clutch – Wet Seal, Earrings – Forever 21
3. A Neon Pink Top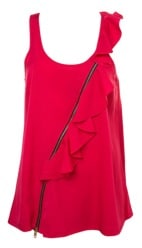 Asymmetric Zip Frill Vest – $55 at TopShop
As I'm sure you all know, the neon trend is huge for fall, and hot pink was THE neon shade of choice on all the Fall '09 Ready-To-Wear runways. A neon pink top like the one above is a fun way to incorporate the trend into your wardrobe.
Outfit Inspiration:
One easy way to wear a hot pink top for night is with your hottest pair of dark wash skinny jeans – it's a look that's cute, comfortable, and oh-so chic. Stacks of silver bangles add sparkle while a black chain purse holds your belongings in style. Blue suede heels offset the pink in an unexpected way without competing for visual attention.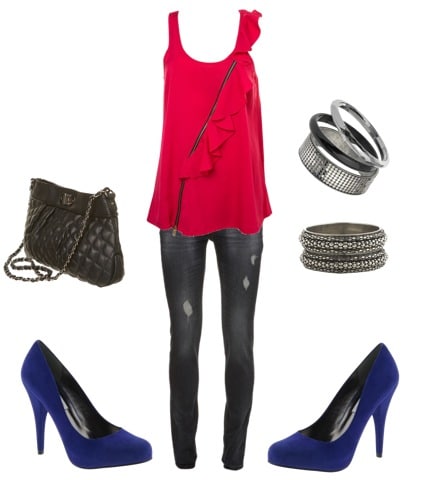 Product Information: Purse and Skinny Jeans – TopShop, Blue Suede Pumps – Steve Madden at Piperlime, Bangles – Miss Selfridge (top), and Wet Seal (bottom)
4. An Embellished Tank
Racerback Stud Tank – $24.50 at Express
A basic tank embellished with studs, sparkles, or sequins mixes comfort and glamour. I'm a huge fan of embellished tanks because they're SO easy to wear and work for almost any occasion – dress them up with dark wash jeans and a blazer or down with casual shorts and a cardigan. And embellished tanks make accessorizing a cinch: when your top has this much sparkle there's no need to worry about jewelry.
Outfit Inspiration:
Anyone could pull off this easy look. When your top is this embellished, there's no need to go nuts with the rest of your outfit, so keep it simple! Skinny jeans, a boyfriend blazer, and some fabulous shoes are all you need to make a statement.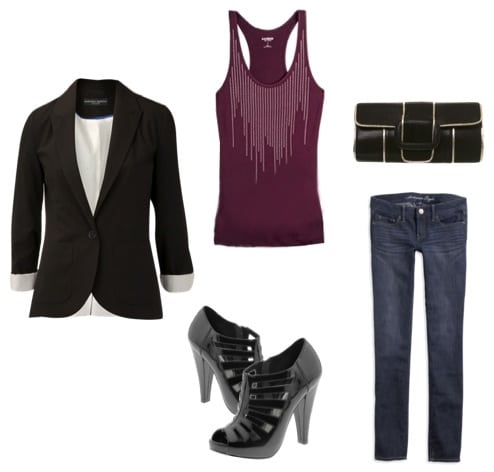 Product Information: Blazer – Dorothy Perkins, Heels – Steve Madden at Piperlime, Clutch – Miss Selfridge, Skinny Jeans – American Eagle
5. A Loose, Oversized Tee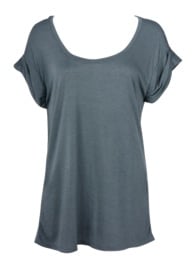 Oversized Heather Tee – $7.49 at Charlotte Russe
A baggy tee is another great piece that can be worn a million different ways for day or night. It looks great tucked into a high waisted skirt, layered under a well-cut jacket, or simply worn alone with skinny jeans for a look that's so Alexander Wang.
Outfit Inspiration:
For a fun take on this basic, take a risk and wear your oversized tee with a pair of liquid leggings (yes, they're still in – at least for right now). You could wear the tee by itself, but a blazer adds warmth for a cool fall night and creates a longer visual line. Funky gold jewelry and standout heels bring this look beyond basic, although a brighter colored tee shirt would warrant fewer accessories.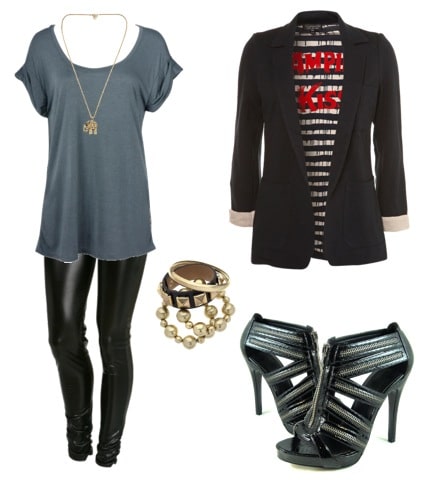 Product Information: Necklace – Forever 21, Liquid Leggings – Charlotte Russe, Boyfriend Blazer and Bracelets – TopShop, Heels – Wild Diva at FlyJane.net
What do you think?
You've seen a few of my nighttime outfit ideas, now I'd like to hear yours.
Do you own any of the 5 tops featured here in your own closet? If so, how do you wear them? Which outfit is your favorite? Let's hear it in the comments!