Like many other College Fashion writers (and readers!), I love to shop. And from carefully thought-out splurges to cheap-thrill impulse buys, I made quite a few purchases over the course of 2017.
In this post, I'm recapping my top 10 best fashion and beauty buys of the year. I've worn them, used them and loved them, and these faves will also be making repeat appearances throughout 2018. Check 'em out below.
1. Graphic Tee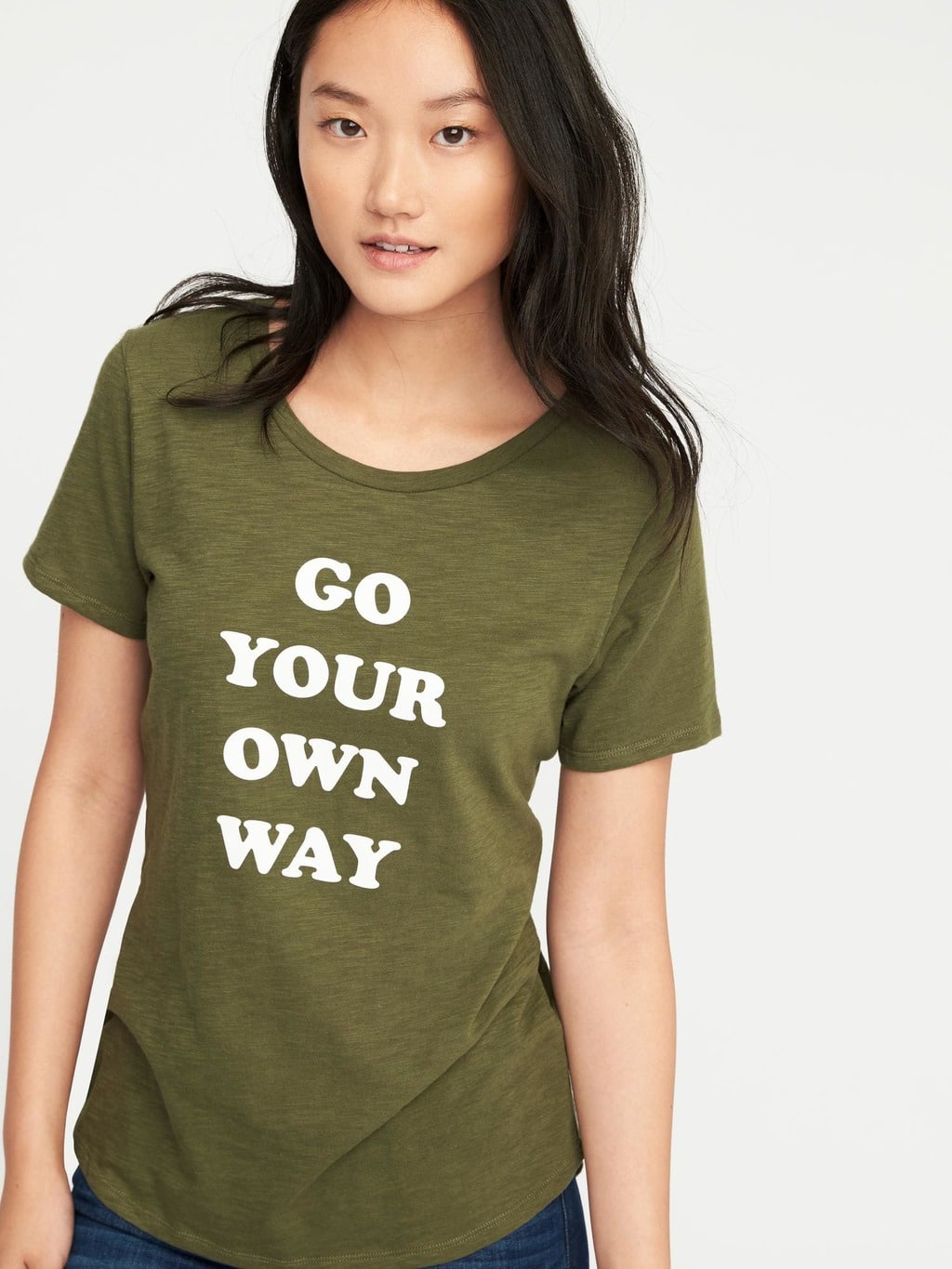 I'm a sucker for a good statement tee, so when I spied this one at Old Navy, I knew I had to have it. The olive hue, bold lettering, and subtle nod to Fleetwood Mac lend a vintage vibe that pairs well with everything from distressed jeans to pleated skirts.
2. Lysse Leggings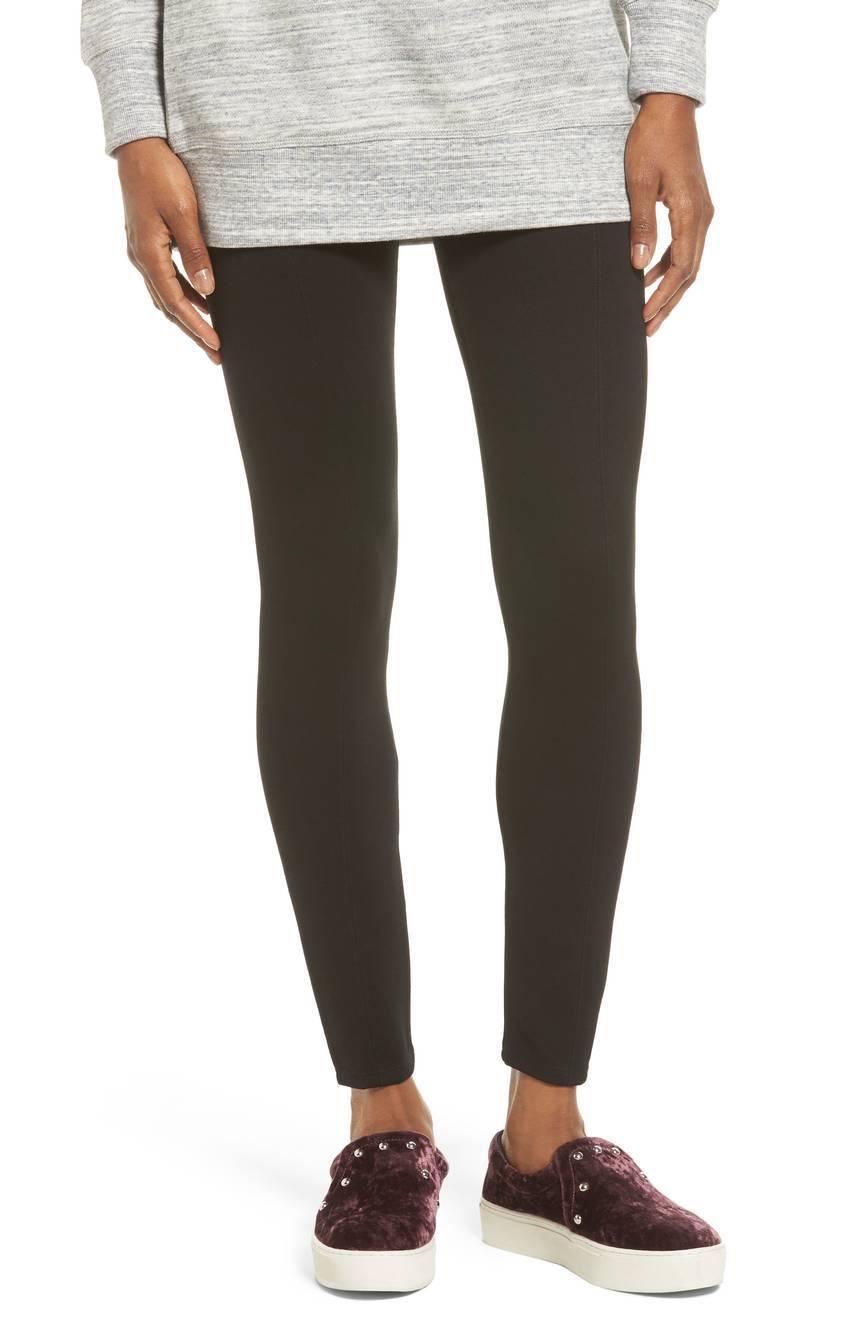 I'd heard about Lysee leggings for years, but always thought the price point was out of control. I mean, $70+? For leggings?!
Then, on a whim, I decided to try on a pair while shopping. The quality is phenomenal. Most Lysee leggings are made of a thick ponte material that is not only warm, but also smooths out e-v-e-r-y-t-h-i-n-g, making them ultra-flattering.
I decided to bite the bullet and splurge, buying this basic black pair, since they'd give me the most bang for my buck. I'm a total convert now!
(Tip: Check Lysee's sale section or Nordstrom Rack stores for discounted leggings!)
3. Thin Hoop Earrings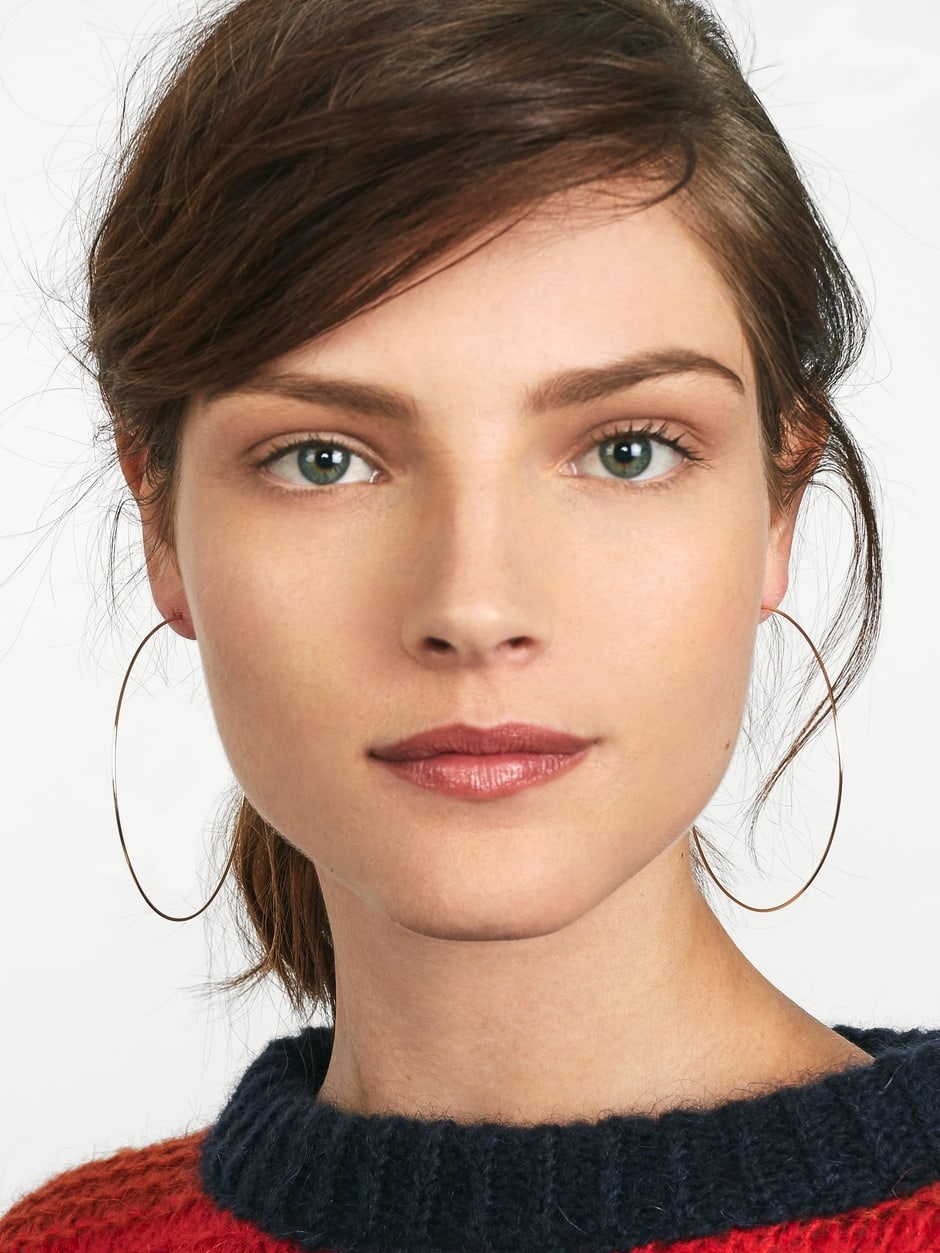 My middle school self wore hoop earrings pretty much every day, so I was secretly thrilled to see them becoming trendy again. But instead of Claire's hoops, I purchased this $32 pair from BaubleBar. The size is bold, but the thin profile makes them lightweight and easy to wear.
4. Biossance Squalane + Antioxidant Cleansing Oil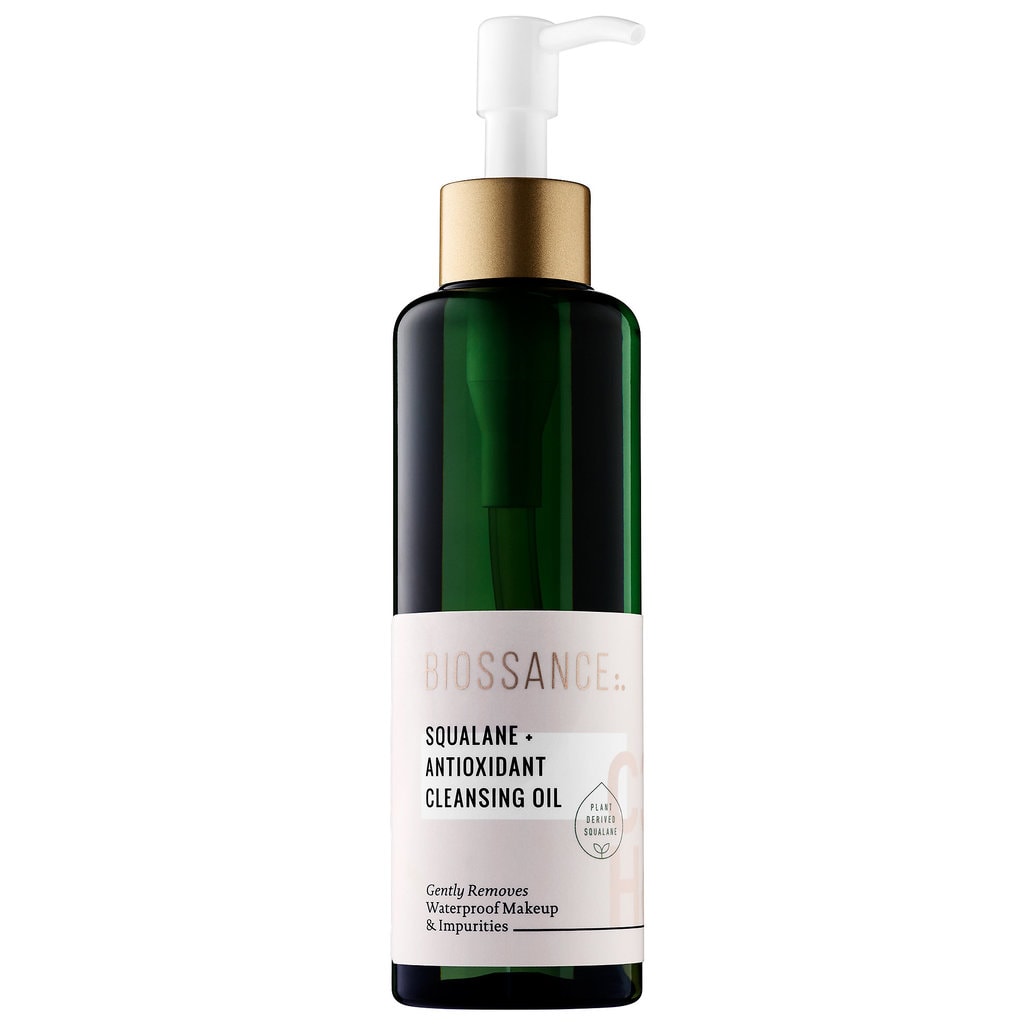 As someone with oily skin, I never thought using a facial oil could be beneficial. I was wrong. A coworker recommended I try Biossance's cleansing oil, saying it "cleans skin like a dream." It does that and more.
The plant-based formula is gentle on skin and even removes the most stubborn of waterproof makeup. Since my skin is oily, I decided to use it as part of a double cleansing routine. I use the Biossance, then follow with my go-to water-based cleanser. There's absolutely no greasy residue left behind.
If you're looking for an oil-based cleanser, you should definitely give this one a try.
5. Hunter Green Bucket Bag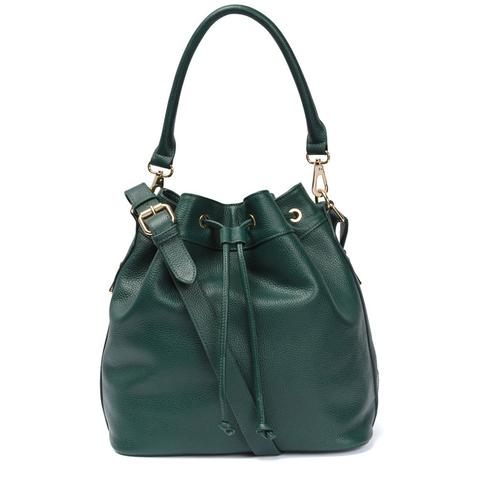 I've been searching for a bucket bag for years, but could never find the perfect one. So, when I randomly stumbled upon this Ora Delphine handbag at an outlet store, it felt like kismet. It had the perfect silhouette, standout gold hardware, and a unique hunter green hue. SOLD.
It's the type of purse you can wear with everything and the workmanship is superb. In fact, I've carried it pretty much every day since September and it still looks brand-new.
(Psst – here's a link to a less expensive faux leather bucket bag.)
6. Chenille Sweater
(Not me, but it is the exact same sweater I found at Marshall's!)
Every so often, I find a hidden gem at my local Marshall's. Most recently, it was a gorgeous chenille sweater by Cynthia Rowley. The rust-red color is fabulous, but the fabric is even better. It's like walking around wrapped in a soft and cozy blanket … albeit a much chicer version.
Since Marshall's doesn't offer online shopping, I can't link you to the original sweater, though I found a similar style at their sister store, TJ Maxx.
7. Minnetonka Moccasins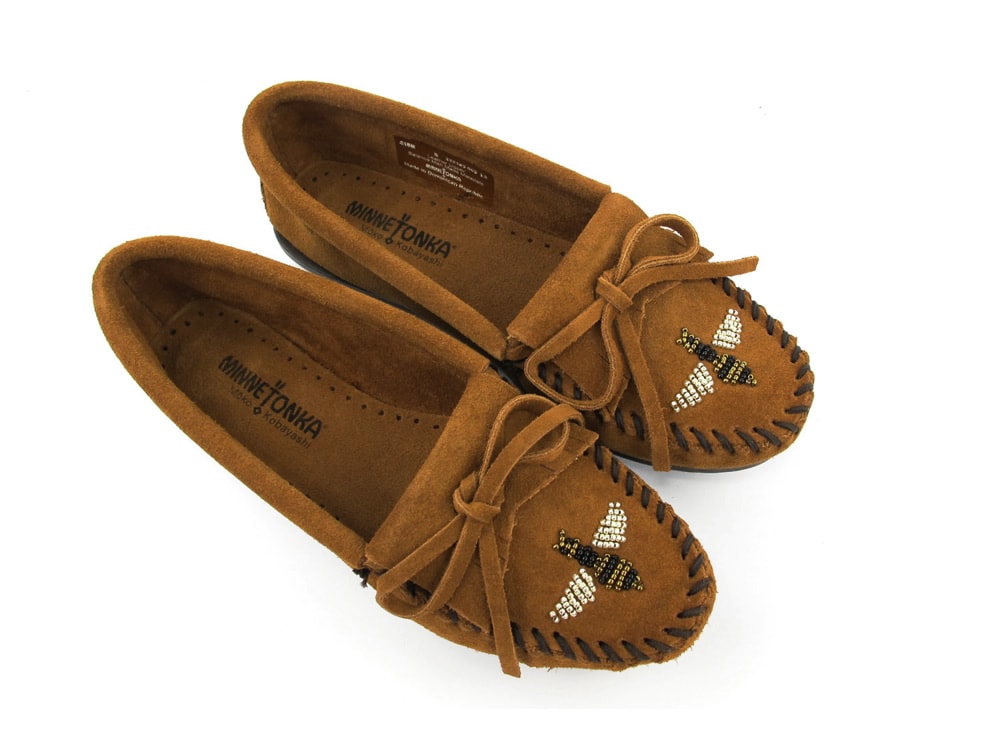 I've been a fan of Minnetonka moccasins for years now, and can't say enough about this brand. Their shoes are ridiculously comfortable yet offer a good amount of support; the kind of shoes you can wear all day long with no complaints.
My super-old mocs needed to be replaced this year, and I ended up choosing this pair, which feature adorable beaded bumblebees. If you're looking for a casual and comfy flat shoe, check them out. Promise you won't be disappointed.
8. Velvet Scrunchies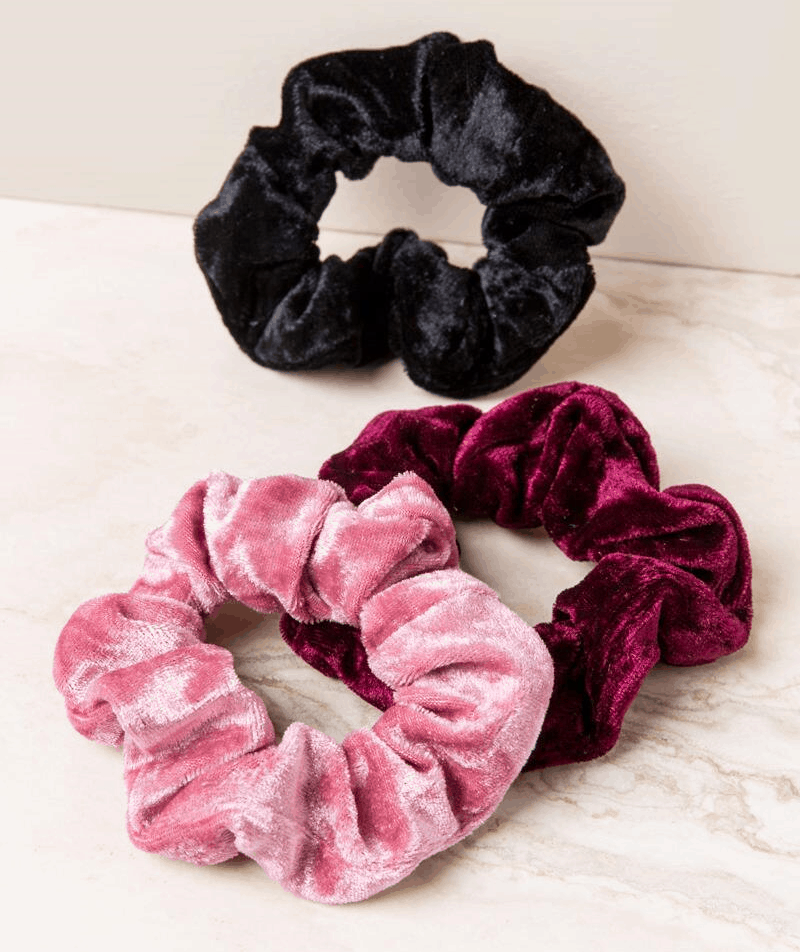 I already waxed poetic about the return of scrunchies, so I'll try not to repeat myself, but this 3-pack set was a game-changer for me.
Originally, I bought them to wear around the house, but now I proudly wear them everywhere. They hold my hair in place much better than hair elastics and the velvet material is right on trend.
9. Smith & Cult Nail Polish
As a self-described nail polish junkie, I thought I'd tried them all, but then I discovered Smith & Cult polishes. The colors are truly one-of-a-kind and the formulation is better than most big-name brands I've tried.
My favorite shade (so far) is 1972 — a gorgeous rose gold with a chrome finish. I'll likely splurge on more Smith & Cult polishes in the new year, so keep your eyes peeled for an in-depth review here on CF.
10. Sequin Dress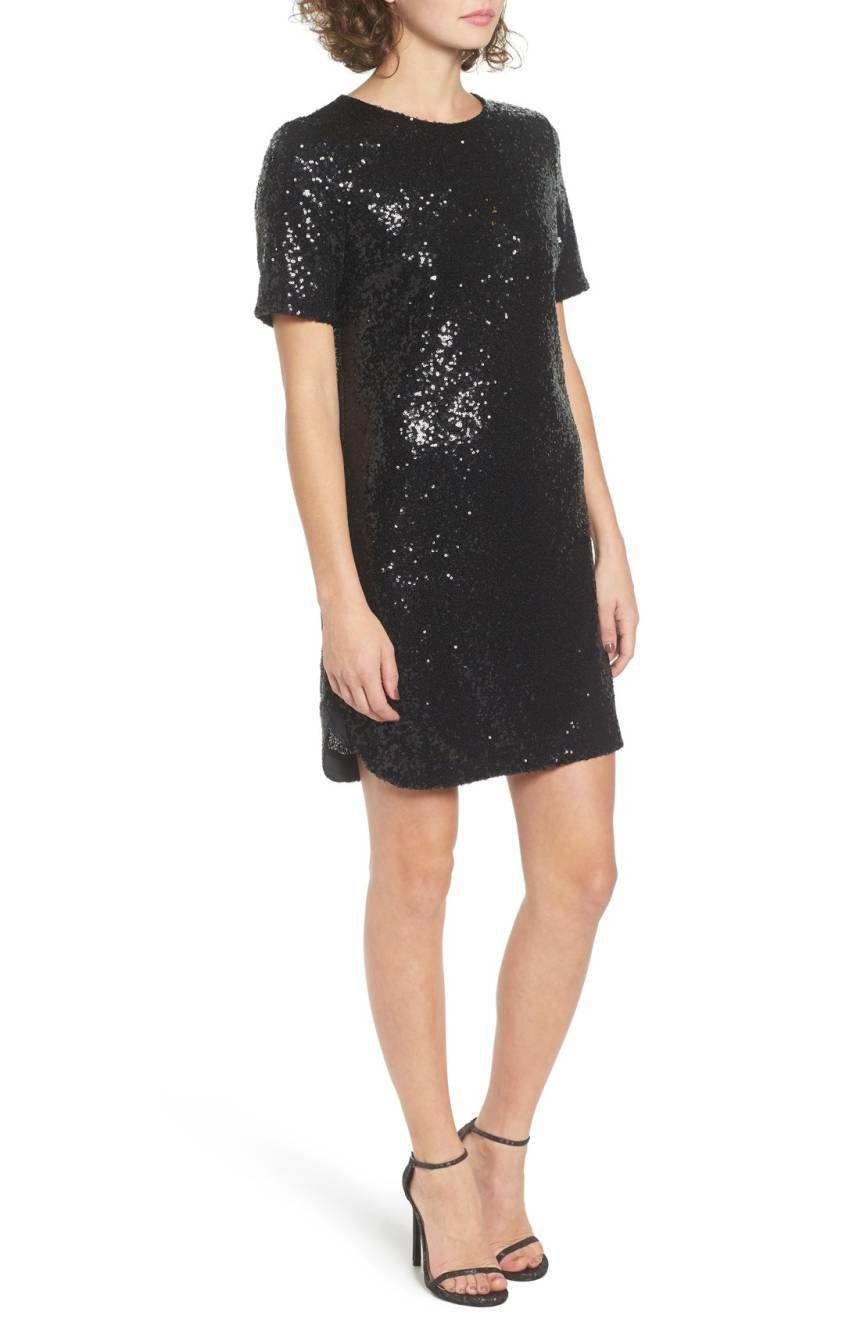 In November, I attended my high school reunion and, of course, had to buy a new look to commemorate the occasion. Ultimately, I opted for this sequin t-shirt dress. (It's sold out in black now, but Target and JCPenney both have lookalikes in stock.)
The dress is sparkly, fun and super-comfortable. I also loved that it was dressy but not overly stuffy for the semi-formal event. Can't wait to wear this one again on New Year's Eve!
Your turn!
What was your fave fashion buy of the year? Any beauty products rock your world? Do you own anything similar to my picks? Which items are you looking forward to buying in 2018? Sound off in the comments section!