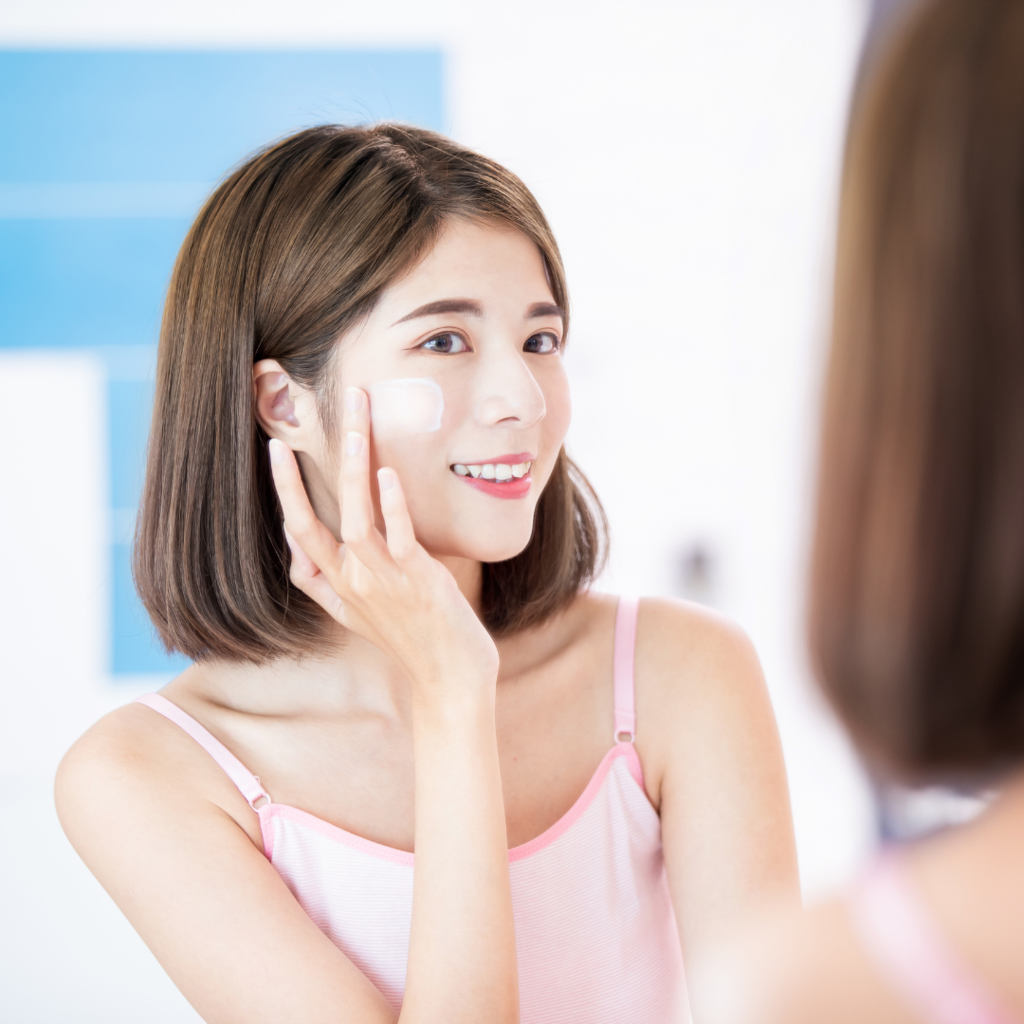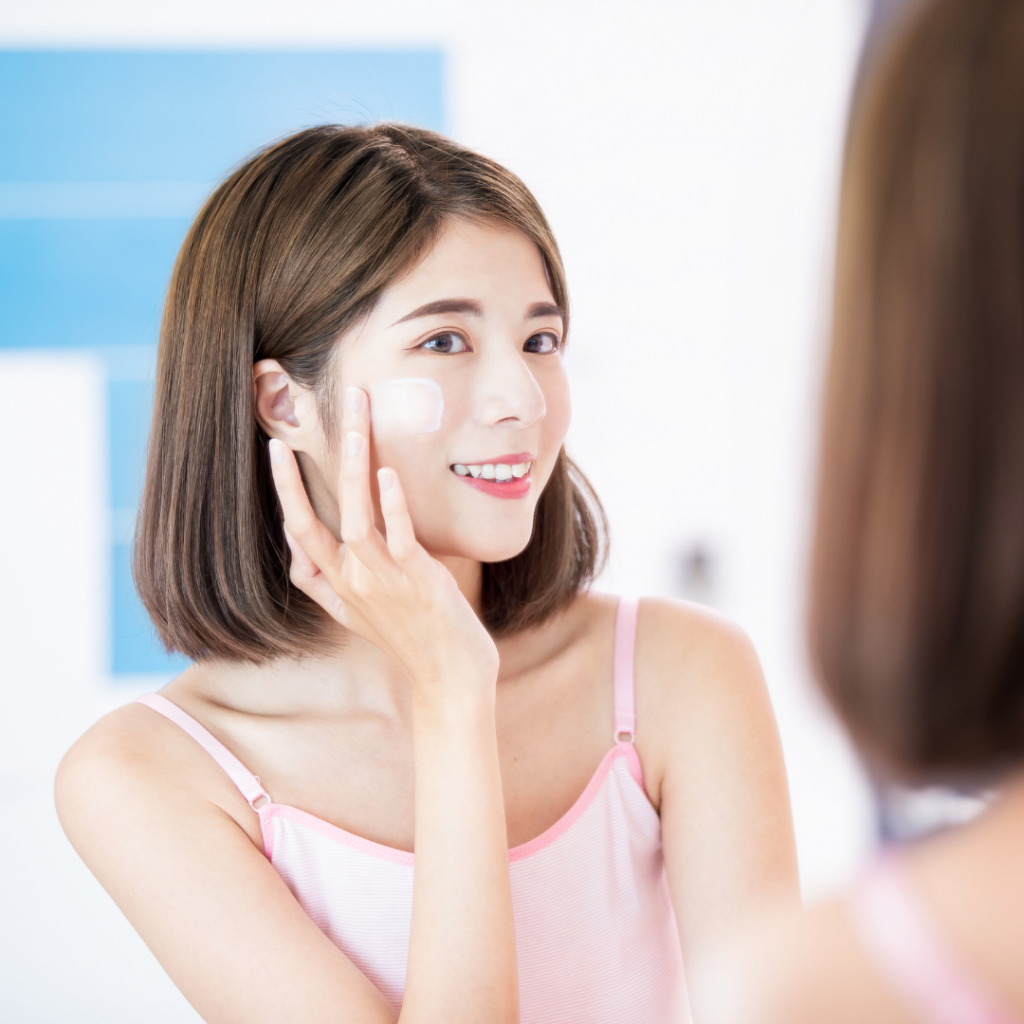 The famous 10-step Korean skincare routine is definitely not for the faint of heart. As you might guess, it includes ten detailed steps, encompassing cleansing, treating, and hydrating twice a day, nearly every single day.
As someone who used to skip washing her face in the morning (I know, I know), I wasn't initially sure I could handle it all. However, as a Korean girl who loves beauty, I decided to give the routine a try… and I haven't looked back.
Want to learn more about the Korean skincare routine and how I do it? Below, I've explained the Korean skincare routine step by step, with recommendations for my go-to products. Let's get to it!
Part I (Steps 1-3): Cleanse Me!

Products: Oil Cleanser, Water-based Cleanser, Exfoliator
Step One: Oil Cleanser
I skip this step if I'm not wearing makeup but if I am, I always make sure to use an oil cleanser to melt off my makeup.
The Korean method involves using oil to remove makeup – and though it may sound weird, it works. Nothing I've used so far has been as effective as oil cleansers for makeup removal. (My fave is The Face Shop Rice Water Bright Cleansing Oil.)
To do this step, I just apply the product all over with clean hands and massage it into my skin. Afterwards, I wipe the oil off my face with a cotton pad. (This is more effective than just splashing water. Water and oil don't mix!)
Step Two: Water-based Cleanser
Not a fan of oily residue? Me either, so I always make sure to follow up my oil cleanser with a water-based cleanser. Koreans call this "double cleansing."
Some people find foam cleansers too drying, but I've never had a problem with the Etude House Baking Soda Foam Cleanser. It's also formulated for makeup removal which is an extra plus in my book. I like to know my makeup is completely removed.
Step Three: Exfoliation
I exfoliate 1-2 times a week since I have combination skin (cursed with oiliness and dry patches…). Exfoliating dead skin cells leads to clearer, smoother skin that makes a better canvas for further skincare or makeup.
A popular Korean exfoliator that I love is the Skin Food's Black Sugar Face Scrub. It's made of natural ingredients so it's gentle enough for all skin types. Whenever I use this, my skin feels so smooth; it's unbelievable.
Part II (Steps 4-6): Feed Me!

Products: Toner, Essence, Serum, Ampoule
Step Four: Toner
Toner not only balances your pH levels but it also clears away any leftover impurities while prepping your skin for more products. Though some may think toner is unnecessary, I personally love how clean and refreshed my skin feels afterwards.
Lightly soak a cotton pad with toner (I use Cosrx AHA/BHA toner) and sweep it across your face. One of my guilty pleasures is checking the cotton pad afterwards for any sneaky leftover dirt.
Step Five: Essence
Okay, so you've probably heard of everything so far, but essence? Essence is basically the love child of serum and toner, hydrating and repairing the skin at the same time.
If you had to choose between investing in a toner or an essence, I'd recommend an essence. Some essences have the same watery consistency of a toner, but with many more added benefits.
I like to pour my Missha Time Revolution Essence into a small spray bottle so I can spritz it onto my skin instead of wasting product by dabbing it in with my fingers.
Step Six: Serum and Ampoules
Serums and ampoules are essentially the same, but ampoules are generally more concentrated. Both, however, have active ingredients that treat certain conditions like aging skin, acne scarring, etc., so their job is a lot more specific and catered than the other skincare products'. Their consistency tends to be thick, almost like oil, giving you that extra hydration.
Since I suffer from hyperpigmentation, I look for serums and ampoules to counteract discoloration and help heal my dark acne spots. (Currently I use Klairs Freshly Juiced serum but Mizon Snail Repair ampoule is a popular choice.) Just gently dab and pat serums and ampoules on the skin.
Part III (Steps 7-9): Moisturize Me!

Products: Sheet Masks, Eye Cream, Moisturizer
Step Seven: Sheet Masks
Sheet masks are all the rage right now. From animal patterned sheet masks to gel masks, there is a huge variety out there right now.
Hands down the best sheet mask I've ever used, however, is the Innisfree's HydroGel Mask. Gel masks adhere to your face a lot more than paper ones, almost like a second skin that locks in the moisture better than a regular sheet mask. Make sure to choose the type that caters to your own skin troubles!
Step Eight: Eye cream
Okay, this is where I cheat: I actually don't use eye cream, but Koreans religiously use eye cream to prevent wrinkles, sagging, and discoloration.
I've actually had my eye on (pun intended) the Missha Misa Gold Snow Radiance Eye Cream for a while now due to its popularity amongst Koreans. I haven't tried it yet but it has fantastic reviews. (Have any of you used it?)
All you do here is dab and gently pat the eye cream around the eye area, covering the edges, under eyes, lids, etc.
Step Nine: Moisturizer
If you had to choose one word to enlarge on a skincare advertisement, it would be moisture. Seeing as how one of the Korean beauty trends is having dewy skin, moisturizer is super important.
An all-around great moisturizer is the Innisfree Orchid Intense Cream. This baby saved me during freezing Seoul winters, and if this can keep my skin hydrated even in 16 degrees Fahrenheit, it's more than good enough for California nights.
Part IV (Step 10): Protect Me!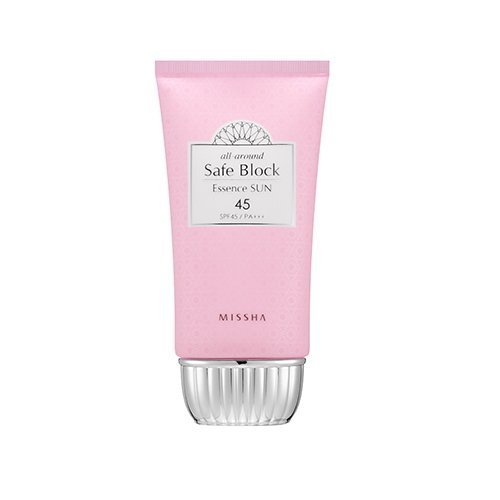 Product: Sunscreen
Step Ten: Sunscreen
Korean beauty is all about having bright and youthful skin. As you can guess, this can be achieved with the help of one product: sunscreen. SPF is huge in Korea: Pretty much every Korean foundation, BB cream, CC cream, etc., has a high level of sun protection.
Protect your skin from UVA and UVB rays with Korean sunscreen, which unlike its US counterparts is formulated more as a moisturizer than a tacky, smelly sunscreen. I'm not kidding when I say that in my experience, Korea makes the best, most lightweight and effective sunscreens, my favorite being the All-Around Safe Block from Missha.
Conclusion
Okay, so now that I've detailed the whole routine, it's reality check time.
While I love the super detailed steps, I realize most of us don't have the money or time to do the whole 10-step routine. We have classes to attend, after all! Therefore, a more practical approach is to find the K-beauty products that work for you and adapt the routine to fit your lifestyle.
For example, even though I do have my fair share of essences, serums, and ampoules, I only use those a couple times a week as opposed to every day. I also only buy Korean products with functions that are seriously lacking in my routine.
At the end of the day, I like my skincare routine, but I don't take it too seriously. Is it really necessary to have a serum and ampoule when they're pretty similar? I mean, does my skin really need all that hydration? I'm not sure. However, I do know that this routine has made me enjoy taking care of my skin, and that's why I am going to keep up with it.
Related post: The Best Korean Cushion Foundations You Need to Try
Your Thoughts?
Would you ever try a 10-step Korean skincare routine? Were any of the products familiar? What are your favorite Korean skincare products? What is your skincare routine like?
Please let us know in the comments below!