This post may contain affiliate links, which means we may receive a commission if you purchase through our links. Please
read our full disclosure here
.
A new school year is creeping up around the corner and that means we're older, wiser (hopefully), and more fashionable than we were the year before.
To help you style a more grown-up wardrobe this fall, I have compiled a list of timeless, classic, and simple pieces that every college gal should own to make mixing and matching much easier. By having these pieces in your wardrobe, you can look chic and fashionable every day, with minimal effort.
Creating outfits with these pieces is just as easy as making instant mac and cheese.
The Striped Shirt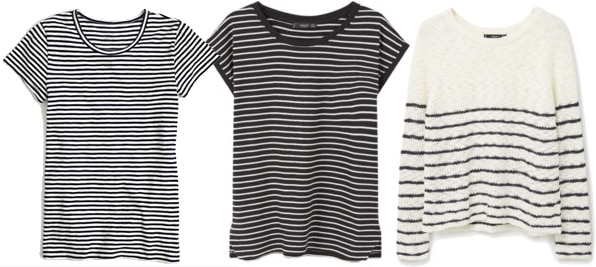 Products, left to right: 1, 2, 3
The striped shirt is the mother of all shirts! It's the under-appreciated hero!
This piece is considered a neutral so it will literally go with everything — even those hot pink J.Crew shorts you have stuffed in the bottom of your drawer. I dare you to find something that doesn't work with this top!
Styling Ideas
For a summer day, wear with denim shorts, sandals, and a lightweight floral scarf (florals and stripes work great together).
If you want a classic look, pair your shirt with black jeans, a red lip, and a sleek bun.
Black jeans, converse, and a denim jacket or chambray shirt give off a cool street style vibe (bonus points if you add a statement necklace).
The Chambray Shirt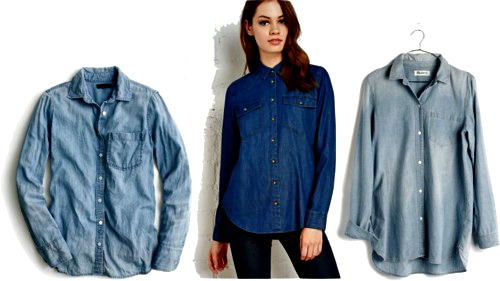 Products, left to right: 1, 2, 3
The chambray shirt has been around forever, and it's here to stay. I didn't know how much difference this simple shirt would make in my closet, until I finally got one and started reaching for it more than 3 times a week!
No more needs to be said. Go get yourself a chambray shirt and let it do all the talking!
Style Ideas
Don't be afraid to wear denim on denim and rock a chambray tucked into jeans. Contrast the shades to look fashion-forward, and pair this look with Converse sneakers.
Wear your chambray over your maxi dress for a cute, comfortable and fast outfit!
Go Serena Van der Woodsen style and wear it with a sequined skirt and nude shoes. XOXO.
The Oversized Flannel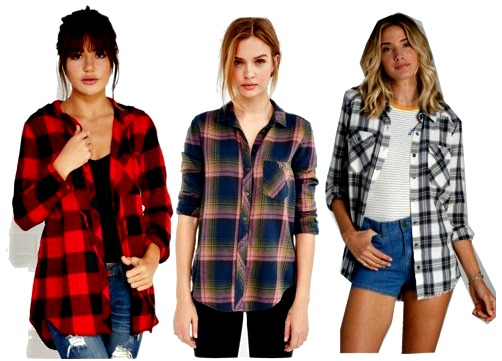 Products, left to right: 1, 2, 3
For this, you may have to make a trip to a men's store, but the payoff is worth it. This shirt is a necessity for long study sessions in the library, or throwing on for a fall lunch with your friends.
This is a piece that is a little boyish, but can look chic when styled the right way!
Styling Ideas
Layer your flannel under a v-neck sweater with jeans and flats for a preppy, cool look.
For a casual day, wear it unbuttoned over a crop top or tee shirt, high-waisted shorts, and casual sneakers.
Look fashion-forward by wearing a flannel with an all black outfit. Yes, please.
White Long Sleeve Blouse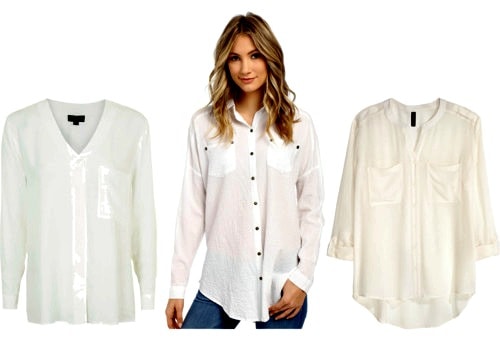 Products, left to right: 1, 2, 3
Professional or party? Edgy or flirty? You can change the look of a blouse blouse with just one accessory. Wear it for a job interview and say "I'm on a mission", or wear it out and say "I'm timeless and chic". In a sense, the blouse is a blank canvas for any type of look.
Styling Ideas
For work, tuck this shirt into a maxi skirt and finish off with a thin belt and pumps.
If you have a date, go for the timeless look. Half tuck the blouse into either black or light ripped jeans. Pair this look with flats or heels.
For a breezy outfit, wear with printed shorts and sandals.
Military Jacket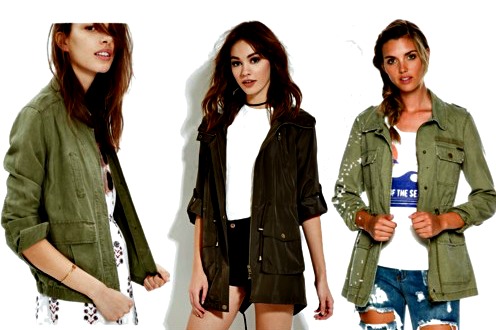 Products, left to right: 1, 2, 3
Now I'll tell you a love story involving a jacket in green. The romance lasted all four seasons, over the course of many, many years. Providing warmth through the chilly fall days, and lightly layering throughout spring, this jacket was a constant companion to a stylish woman. This is a romance that will never end.
Styling Ideas
For fall weather, wear over a flannel with jeans and riding boots. Perfect for the pumpkin patch!
Keep it simple by wearing your jacket with a white tee shirt, cuffed jeans, and sneakers.
Go for preppy and cool with a chambray shirt, black skirt, and flats.
Leather Jacket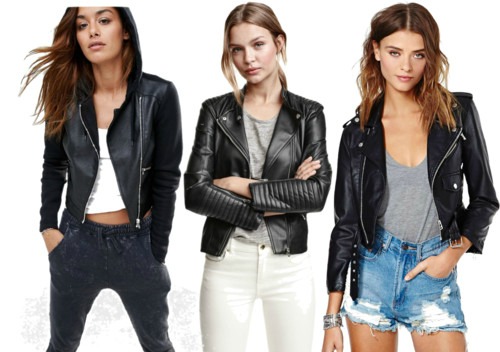 Products, left to right: 1, 2, 3
This jacket started out as a piece for rebels, but now has turned into a basic that can be worn by everyone. Now this can be a bit more of an investment piece, but I've included some mid-priced jackets in the set above. I prefer my leather jacket cropped at the waist–it just feels cooler that way.
Styling Ideas
Wear it with a plaid shirt and ankle booties for a cute fall look.
A leather jacket adds extra oomph to your leggings, riding boots, and sweater. Make it look even cuter with a thick knit scarf.
Look feminine and edgy by pairing this with a lacy dress and moto boots.
Chunky Sweaters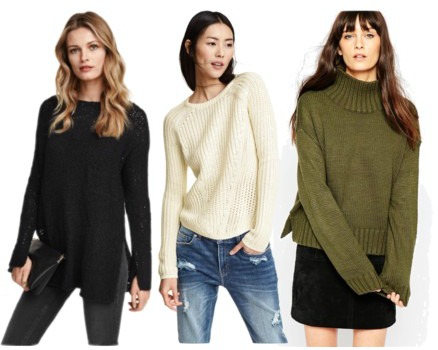 Products, left to right: 1, 2, 3
Chunky sweaters are my favorite. You can never have enough of these in your closet. I like sweaters a little loose, and in neutral colors to make them more versatile. Plus, who doesn't want to feel oh so cuddly and oh so cozy?
Styling Ideas
For a relaxed and preppy look, layer the sweater over a button-down shirt, and pair with jeans and casual sneakers.
Wear a skirt and booties with your favorite chunky sweater to make the outfit a little more girly.
If you're feeling out of the box, then wear your sweater under a faux fur vest and belt it.
Basic Tops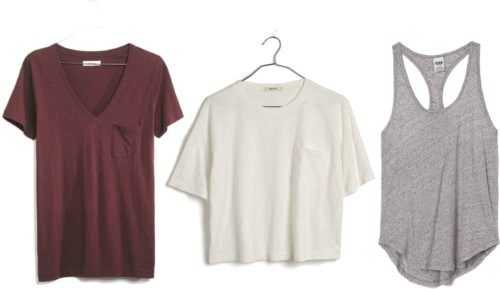 Products, left to right: 1, 2, 3
I don't need to explain this one. Your closet should be centered around these! Short sleeve, long sleeve, cropped, v-neck, scoop neck, round neck, etc. – the choices are unlimited! Basic tops are building blocks for almost every outfit. Experiment with sleeves and neck cuts to figure out what you like!
Styling Ideas
For a rocker look, pair a causal tee with a leather jacket.
If you want to look more polished or sophisticated, throw a blazer on top and pair with ripped jeans.
Wear under a cardigan and leggings to be ultra-comfy and cute at the library.
T-Shirt Dress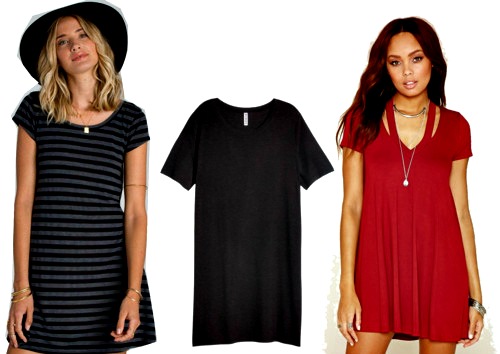 Products, left to right: 1, 2, 3
This lovely piece combines two irresistible things (a cozy tee and a dress), to make a winning combination. This piece is the solution to every wardrobe conundrum. Don't know what to wear? Throw on a t-shirt dress. Want to look put together? Throw on a t-shirt dress. Just want to chill? T-shirt dress.
Styling Ideas
For days when you want to cover up, wear this with tights, combat boots, and a cardigan (or sweater).
Tie a flannel or chambray around your waist, slip on sneakers, and layer a few necklaces for a '90s grunge look.
Pair with ankle booties, a leather jacket, and fedora hat to give your outfit some attitude.
Printed Shorts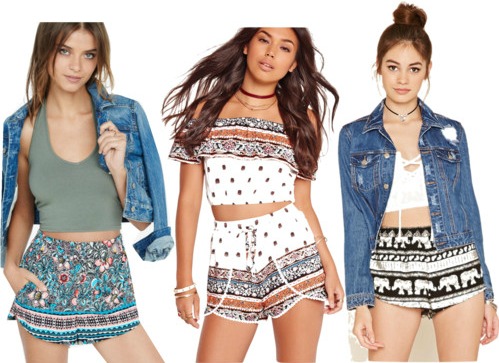 Products, left to right: 1, 2, 3
The best part about the printed short is that you can have fun with it! Yes, neutral tones are important to have in your wardrobe, but so is a pop of color.
The simple key to wearing multi-colored shorts?Just match a color from the shorts to your shirt. The more colors, the more versatile the shorts are!
Styling Ideas
Make your outfit dressy by wearing the shorts with a neutral and simple colored tank, a bold necklace, and either heels or wedges.
If you're feeling a little rocker, then pair your shorts with a graphic tee and booties.
Mix prints by wearing floral shorts and a zigzag patterned shirt. Don't worry about the prints, just make sure the colors coordinate!
Durable Black Leggings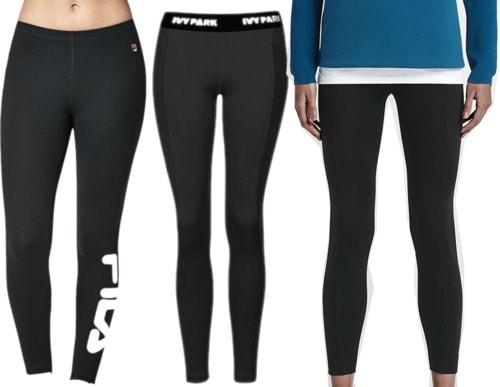 Okay, so in reality you probably don't put lots of effort in every single day. For the days that you're feeling lazy, nylon leggings are your saviors.
I personally prefer nylon because they last longer compared to cotton and are often thicker and more opaque. (See through leggings are not OK with me!) Slip on your leggings for a sporty look at school or for a workout at the gym.
P.S-Nike always has great leggings on sale.
Styling Ideas
For a relaxed look, wear with a crop top, denim jacket or chambray, and sandals.
Throw on a sweatshirt, baseball cap, and tennis shoes for studying.
Channel your inner Gigi Hadid and take this outfit to the streets with sneakers and a leather jacket.
Denim Shorts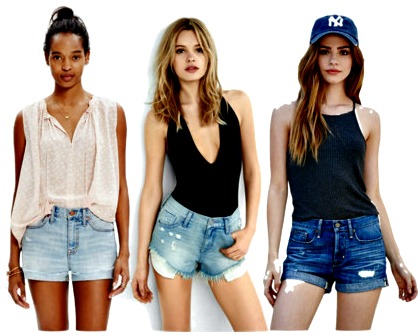 Product left to right: 1, 2, 3
Although denim shorts are more of a summer piece, you should still have them in your closet. Blue denim shorts for summer are the equivalent of chunky sweaters for the fall and winter months!
Styling Ideas
Wear your denim cutoffs with ankle booties and a lace top for a boho look.
For something fierce, wear them with a graphic tee, flannel tied around your waist, and sandals.
Don't be afraid of casual outfits! Tuck in a white button-down and pair with wedges or heels.
Joggers/Harem Pants
Products, left to right: 1, 2, 3
For those days when you are lazy, but still want to look cute, joggers are the way to go. They're not your typical sweatpants because they can be paired with more than just a t-shirt, hoodie, and sneakers.
Styling Ideas
Keep the look sporty with a vibrant tee, denim jacket, and some slip-on sneakers.
Take your sweats for a night out on the town with a cute blouse and some strappy heels.
Need an outfit for class? A tee, blazer, and flats go great with joggers as well.
Black Jeans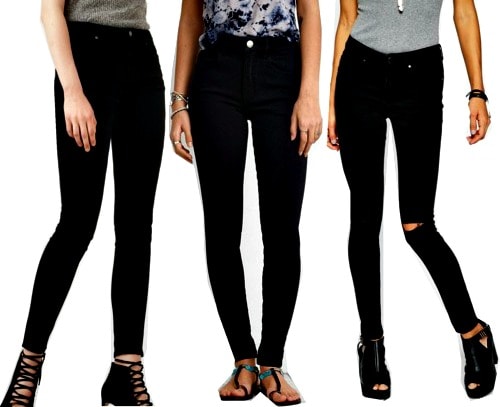 Products, left to right: 1, 2, 3
Alongside your classic blue jeans, you should also have a black pair. Why? The first reason is that we all get bored with our plain blue jeans sometimes. Secondly, we all love black and these are insanely versatile.
I love my black jeans. They make my outfits more 'sleek' and edgy and are oh-so flattering!
Styling Ideas
Go business casual with a tucked in button-down and some polished ankle booties.
For an everyday look, pair your jeans with a casual tee, ballet flats or sandals, a scarf, and a cute jacket.
If you're feeling edgy, throw on a blouse, fedora hat, and Converse to complete the look.
Suede Skirt

Products, left to right: 1, 2, 3
Skirts are great for when you want to be a little more girly, and the bonus with a suede skirt is that it can be worn all throughout the year, day or night. Plus, '70s clothing is making a huge comeback, so this is a fashion girl's must-have right now.
Styling Ideas
For something simple, tuck in a striped shirt, layer with a chambray button-down, and pair with whatever shoes you want.
Put on a cute blouse and wedges for a night out.
For the chillier days, wear with tights and a sweater to keep warm.
So what are your tried-and-true basics?
What do you think? What is the one clothing item you can't get enough of? Do you have any extra styling tips for these pieces? Let me know in the comments below!