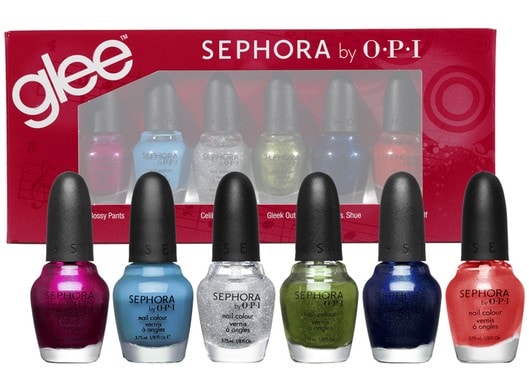 Sephora recently announced that they would be producing a limited edition nail polish collection inspired by the TV show Glee.
According to WWD, the Sephora by OPI Glee collection will include seven shades available for individual sale: Slushied, an opaque blue; Hell to the No, a bold purple; Gleek Out, a glittery lime green; Diva-in-Training, a poppy pink; Who Let the Dorks Out, a peacock green; Miss Bossy Pants, a rich raspberry, and Mash-Up, a pearlescent green gray. Each polish will cost $9.50.
A mini set of six polishes (pictured above) will sell for $22 and include Miss Bossy Pants, Gleek Out and Slushied, along with three additional exclusive colors: Celibacy Club, a glimmering, diamond top coat; Express Yourself to Yourself, a shimmery coral shade, and Sue Vs Shue, a navy blue.
The collection will be available in stores and online in February and will even be featured on the Feb. 8 episode of Glee.
Thoughts?
What do you think of this nail polish collection? Do you like the colors? Will you be checking it out in stores? Are you a fan of Glee? Be sure to leave a comment and let us know!