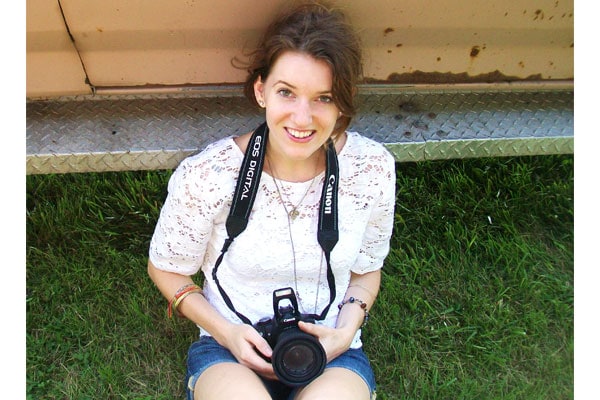 Photo Credit: Tori Telfer
If you've been wondering what it's like to work at two of the hottest start-ups on the web, CF's got you covered. Bleacher Report's Bryan Goldberg's foray into women's media – Bustle – is one of the most buzzed-about new sites on the Net, while super-cute online boutique Keep has something for everyone on your holiday shopping list.
Here, writer Tori Telfer spills about why she doesn't think you need an internship to make it in fashion, gives her best tips for crafting the perfect pitch, and teaches you how to jump start your career as a freelance writer.
The Interview:
College Fashion: Did you go to college? If so, what did you study? What was your college experience like?
Tori Telfer: I went to Northwestern University and majored in creative writing (fiction)—it was a subset of the English major, but focused on craft more than analysis. Before college, I had no idea that you could major in fiction; I wanted to be an English-Theater double major.
After a brief stint in the terrifying department of Performance Studies, I discovered the amazing entity that was the creative writing major, and everything got a lot better. I loved my creative writing classes more than anything else in school, and I took as many as I could—poetry, nonfiction, magic realism, a class about epiphanies, etc. I had the chance to study under some amazing writers there and am incredibly grateful for that training.
CF: What was your style like in college? How would you say it's changed?
TT: In college, I was really into wearing shrunken t-shirts from the boy's section of Target—I had an X-Men one, a SpongeBob one, a Spider-Man one, and a Crazy Frog one. I usually wore them with Urban Outfitters/thrifted mini-skirts.
I still wear the same beaten-up red Converse that I wore everywhere in college, and I'm still drawn to grungy silhouettes, shrunken pieces paired with oversized ones, and the whole thrifted/vintage/Steven Tyler/Kurt Cobain kind of androgynous girl look, but hopefully I appear a bit more grown up.
Today, my go-to outfit is patterned skinny jeans, Converse or loafers, and some sort of baggy shirt. At night, I pile on the bangles and switch out my shirt for something vintage and sequined.
CF: Did you have any internships or jobs in college? What were they like?
TT:I had a brief internship with a now-defunct music website called Pensatos, where I wrote album reviews and short music-biz pieces. Aside from that, all my jobs were in the service industry: Starbucks, catering companies, Forever 21.
I completely empathize with anyone in college who feels insecure about their lack of fancy internships, but take heart, friends. In the post-college world, I never felt like my lack of internship experience held me back. You learn just as much about life and work ethic by slinging cappuccinos. And you get paid!
CF: How did you get your start working in the fashion industry?
TT: Just this summer, actually! I definitely consider myself a writer/editor first and an iconic fashion-industry guru second (wink).
When I graduated from college, I worked in children's publishing for three years, which gave me a ton of English-major-type experience: editing, proofreading, dealing with authors, putting together issues, brainstorming new ways to improve the magazines, and so forth. Then I went to Indiana University and did a year of grad school. Throughout it all, I always had at least one freelance writing or editing gig on the side.
So finally I decided that I wanted to cut to the chase and get paid for writing, instead of approaching the idea of writing from all these different angles, and I left grad school to become a freelance writer. I applied to write for Bustle, got the job in July, and since then, other opportunities have popped up.
I didn't have any previous experience working in fashion, but when I applied, I told them—wait, let me find my cover letter—"Here are three writing samples. The content isn't so much fashion-based as woman-based, but I hope my large collection of vintage sequin jackets (not pictured) and my general vibe will convince you that I'm the girl for the job." Side note: is there anything more embarrassing than reading old cover letters? But happily, fashion writing has been a decently good fit for me, since I've always been interested in art, design, and style on a personal level, if not a professional one.
CF: What's your favorite part of your job?
TT: I really appreciate that I'm allowed to be funny and use my own voice when I write—I've been inserting more and more personal details into my Bustle articles, trying to create a cult of personality around myself. No but seriously, it's a luxury to be able to write sentences like "I can't see what the back of my head looks like, so it might as well not exist" (which I wrote today—pretty sure a print publication would have edited that craziness out).
I also love that I get to occasionally sample beauty products for free. I'm hoping one day that Chanel's PR person will email me asking if I'd like to "sample" their spring line for free.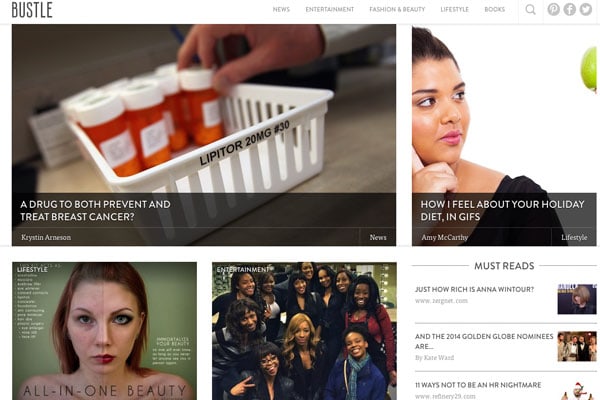 Photo Credit: Screenshot
CF: What's your least favorite part of your job?
TT: SEO-optimization. It is the devil. It's ruining the art of the title, but everyone has to do it if they want to appear in Google search results. There are definitely some major downsides to writing on the internet and SEO is one of them. The internet can really be a depressing content mill (see: Ehow) and it's very disconcerting after studying literature and taking classes on writing "craft."
It can also be difficult to produce multiple articles a day, but you gotta pay the bills somehow.
CF: What's been a standout/favorite moment from your career? Is there a project you're particularly proud of?
TT: Writing legitimately original content is definitely my favorite thing to do (as opposed to product round-ups or news pieces, though those can be fun, too). Some favorites: I interviewed professional photographers about the art of the selfie. I asked Millennials how they felt about shopping and materialism. I speculated on the ethics of wearing makeup after the Reddit before/after makeover picture heard 'round the Web.
All three of these articles were enjoyable to write and required me to do a little independent thinking—what more could an existential 20-something want?
CF: What's a typical day like for you?
TT: Wake up with much agony and a serious lack of concerted effort. Attempt to have breakfast before crawling over to my computer. Begin writing. I start my Bustle articles around 8:30 AM and try to finish them by 1:30 PM, taking breaks for coffee/email/blog-reading along the way.
Then I attend to my other jobs and projects—I write for Keep, I'm a submissions editor for Cricket Magazine Group, and I try to write, revise, and submit my own fiction as often as possible. I'm still figuring out the ideal way to structure a freelance day. I think it probably involves a private island.
CF: What's your favorite piece in your closet?
TT: Ahh! Can I pick more than one? I love my ancient Converse so much and I'm terrified that one day they'll just die. I have a couple of very nostalgic pieces—a sweater that my mom bought in Norway, a pair of bell-bottoms from my teenage years that I can't give away.
My current obsession, as in I-wear-it-every-day-and-should-probably-wash-it-more-often, is an oversized denim button-down that I found at a thrift store. It was supposed to be part of my Halloween costume (John Bender from The Breakfast Club) but it turned out to be this chic, slouchy, androgynous piece that goes with everything.
I also have this intensely bright floral t-shirt dress (Prabal Gurung for Target) that I wore every night during a trip to Cartagena, Colombia, and I'll always associate it with sensual beach breeze, ceviche on the roof, hot nights, and wandering ancient streets in search of the arepa cart.
CF: What advice would you give to a College Fashion reader that wants your job?
TT: Curate a writing portfolio that you're really proud of. Writing jobs usually ask to see samples, so make sure you have 2-3 really strong pieces to send out.
Start pitching articles to websites in college, if you have time—some of Bustle's writers are in college! Pitching is hard and feels thankless, but it's a key skill to have in your writing arsenal if you want to freelance. And when you write, practice a voice that sounds like a fantastic and slightly evolved version of you. There is SO MUCH derivative writing out there, especially on websites aimed at women: the same old jokes, the same old rehashed content, the same old syntactical formulas (you've heard them before: "Like, a lot." "Because, America.").
And sometimes you have to write that stuff to pay the rent—I've definitely written my share of filler, ack. But I'm learning that you have to hold yourself to a higher standard than most of what's being written on the Internet. And when you do, people take notice.
Your Thoughts?
Do you find Tori's career inspiring? Do you read Bustle or Keep? Who do you want us to interview next? Let us know what you think in the comments section!