For this week's Fabulous Find, I chose an adorable black floppy sun hat from Forever 21. At only $13, how can you pass it up!? Whether you're wearing it at the beach to shield yourself from the sun or simply just to run some errands on a warm day, you'll be super cute and right on trend with this amazing hat!
The Hat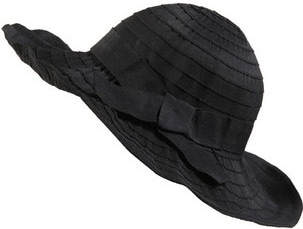 Sun Hat – $12.80 at Forever 21
Outfit Inspiration
Here are three ways to wear this perfect summer staple.
1. Urban Casual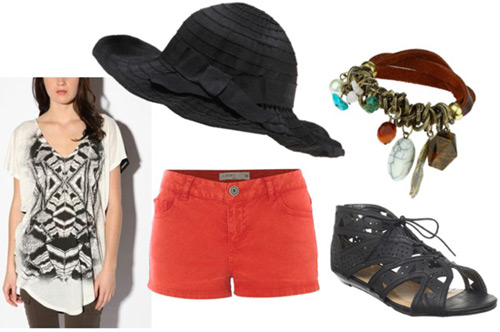 Hat, Shirt, Shorts, Sandals, Bracelet
This outfit is the perfect example of how to wear more than one trend at once – here, I've mixed bright denim, a bold print, lace-up sandals, and last but certainly not least – a big, floppy hat. With this printed tee tucked into these slightly high-waisted coral shorts, then paired with cool black cut-out/lace-up sandals, you're bound to make a bold statement. Top it all off with this eclectic charm bracelet and the black hat for the ultimate laid-back summer look.
2. Edgy Feminine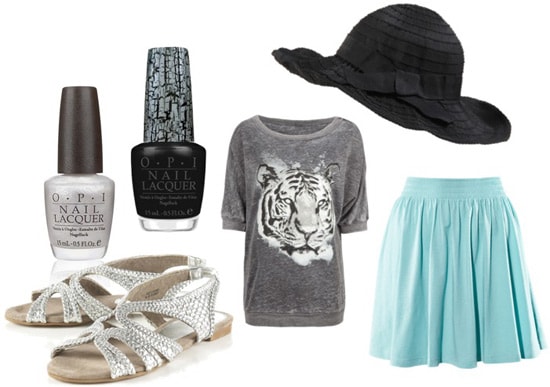 Hat, Shirt, Skirt, Sandals, OPI nailpolishes
This is a cute look for hanging out with friends, a casual lunch, or running errands. This interesting, slightly acid-washed tiger tee toughens up the pretty blue skirt, while the metallic sandals add a little much-needed shine to the ensemble. To play off the color palette, I decided to throw in some fun OPI nail polish: a cool silver metallic shade and of course our favorite Black Shatter to put on top. Finish off the look with our favorite black floppy hat and you're good to go!
3. Sassy Sophisticated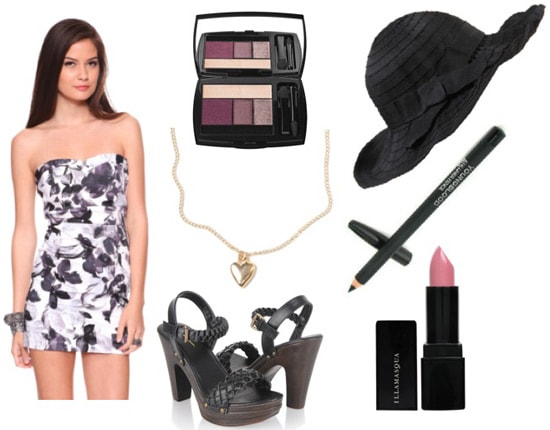 Hat, Dress, Heels, Necklace, Lipstick, Eyeliner, Eyeshadow
This is the perfect dressy look for a hot summer afternoon or night. This time, I paired the hat with a pretty grayscale strapless sundress and a pair of braided leather heels. To play off the gold studs on the heels, I chose a dainty gold necklace. The hat tops off the outfit, while some black eyeliner, a smoky eyeshadow palette (Editor's note: By coincidence, Katie chose the same Lancome palette for this look that was featured in our College Fashion x Lancome video!), and some pretty pink lipstick finish off the look.
Your thoughts?
So there you go – these are just three of the hundreds of ways you could wear this adorable, versatile black floppy hat! What do you guys think? Are you loving this hat? Which is your favorite look? Let me know by leaving a comment!