Over the past few months, we've been interviewing some of our favorite fashion bloggers and finding inspiration in their styles. In case you missed them, see our past interviews with Maria of Lulu Letty, Elizabeth of Delightfully Tacky, Georgina of Cupcake's Clothes, Tieka of Selective Potential, Rebecca of The Clothes Horse, Keiko Lynn, Kendi of Kendi Everyday, Sally of Already Pretty, Mel of Idee Geniale, La Carmina, Julie of Orchid Grey, Alicia of Cheetah is the New Black, Andrea of Blonde Bedhead, Emily of Cupcakes and Cashmere and Blair of Atlantic Pacific.
Today we're meeting the enviably stylish Rachel of That's Chic.
About Rachel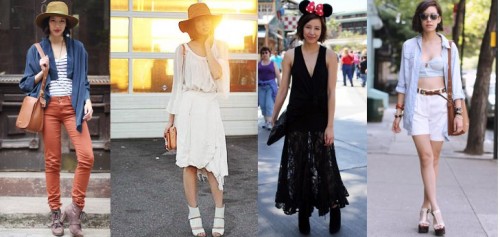 We've been fans of Rachel's blog since around the time CF got started… almost five years ago! So it's safe to say we were extremely excited to finally chat with her about That's Chic.
One thing we love about Rachel's blog is that it's so much more than just photos of her outfits – regular features like Tasty Tuesdays, Wishlist Wednesdays, Thoughtful Thursdays and Fashion Fridays keep things fun and interesting. She also includes lots of lovely photographs of her life and experiences. The blog's design is really beautiful, almost like a magazine, and Rachel herself is, of course, a stylish lady and a constant source of inspiration. Let's meet her!
Our Interview with Rachel
1. Tell us a little bit about yourself (who you are/what you do/where you're from etc.)
I'm Rachel. 21 years young, full Vietnamese living in Orange County, and on my last year at University of California, Irvine.
2. How would you define your style?
I don't like having to pinpoint a description for my style because I'm an emotional dresser. Not that I wear all black when I'm feeling dumpy, but I kind of work around one piece I feel like wearing that day. I'm all over the place from girly to punky; though I've been told by many I'm sort of California casual eclectic – I can stick to that.
3. How did you find your style?
Considering I don't even know how to define my style, I'm not sure if it's something I've found yet. Growing up made me feel more comfortable in my skin and with who I am. To me, style is confidence, not the literalness of what you're wearing. I love experimenting with clothes and accessories, and whether they actually go together or not, you just have to feel good in it, and that's what style is.
4. What inspired you to start a style blog? What motivates you?
Dude, I started my blog ages ago – like senior year of high school. I'm a super senior right now at UCI, so that's five years!! I grew up so much with my blog; it wasn't originally a style blog though. A lot of my earlier entries (that all 'magically' disappeared…heh) were fragments of my thoughts and ideas intending to be more of a style forecasting blog. Outfit shots were originally clothes laid out on the floor. Now, it's so much more developed and I feel personally in-tune with my readers. Also, I'm inspired by all the friends I've met through blogging. It's just an amazing community and what's what keeps me going.
5. Did you go to college? What was your college experience like?
I went to a junior college straight out of high school for three years, and then transferred to where I am now, UCI. My experience has been plagued with my focus on studies and blog work. Also, I got too used to the commuter life to adjust to being active at school. In hindsight, I wish I had done the whole dorming thing earlier.
6. Where do you like to shop?
I hate to be generic and say everywhere, but everywhere! I try not to shop at the fast fashion stores because as tempting as it is to buy stuff, I know I'll get tired of it sooner than later. My favorite pieces have actually been found through consignment stores and thrift shops! eBay is also an amazing place to find cheap, used designer items. I still can't justify paying full price for things… nearly everything I buy is pre-owned or mega-discounted!
7. What advice do you have for being stylish on a college budget?
Invest in pieces you know you will wear and love to rags, and – maybe I'm being dramatic – but even think as far ahead as giving it to your daughter. That's how much you need to love something to justify buying it! You can fluff the rest of your closet with consignment shops and thrift stores finds.
8. What are your favorite pieces in your wardrobe?
To name a few: a vintage camel-toned, wool Ralph Lauren blazer, a white All Saints dress, a black pleated vintage skirt, Chloe S/S 2008 booties, and my Le Petit Petit leather jacket.
9. Who/what inspires you?
I just met (designer) Kelly Wearstler! Being a fan of her for a while, getting to know her renewed my respect for the woman. She is a super-being with an incredible eye for boldness and color. But not only is her style – both interior and clothing – immaculate, she is so grounded and chill given all her accomplishments… her biggest one yet is being an amazing mom to two young boys.
10.What are the pieces you couldn't live without?
Ankle boots and slinky tank-tops.
11. What advice do you have for new bloggers or people considering starting a blog?
Like anything else, do it with confidence but don't confuse confidence with snootiness and arrogance. More importantly, know your unique voice. This will help you stand out of the sea of bloggers out there! Lastly, never be someone else's perfect.
How to Dress Like Rachel
1. Think "pretty casual."
"Pretty casual" is the simplest way to describe Rachel's style. As she says in her interview, she doesn't like to define her style and I agree – her style is very eclectic and hard to pin down. That said, her look is always feminine and girly, and she always keeps it "done" with her use of jewelry and accessories, but it's also all about simple, California-casual pieces.
2. Rock long skirts and short shorts.
With midi and maxi skirts being huge at the moment, Rachel's blog is a great source of inspiration for how to wear them! She also has a great way of making shorts look very classy and sophisticated – perfect for those of you in the southern hemisphere.
3. Play with floaty layers.
Rachel's style is very laid back; she loves incorporating lots of open, loose layers. She also doesn't tend to belt her layers or wear many fitted pieces, which gives everything a really relaxed vibe.
4. Boots, boots, boots!
Even in the middle of summer, Rachel can be found rocking boots. So take a cue from her and add tough lace-up boots to your ensemble – they're a great way to balance out a girly outfit. In addition, they look so hot and on-trend with ankle or knee socks.
5. Utilize clean, simple lines and colors.
Rachel's look is never too fussy. She keeps her outfits simple, wearing mainly neutrals and splashes of color, and utilizes white really well in her outfits. She also loves smooth, clean, minimalist pieces. These items keep her look coordinated but incredibly effortless at the same time.
Outfit Inspired by Rachel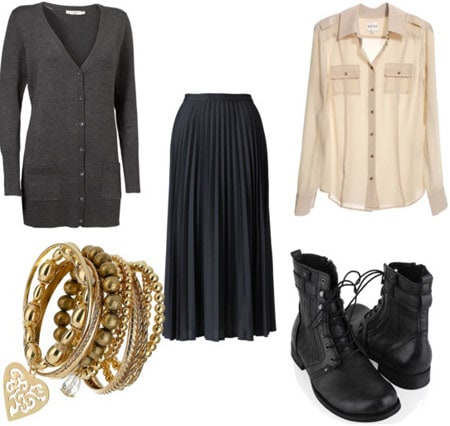 nude shirt (similar style)/midi skirt/boots/cardigan/bangles
To recreate Rachel's style, I started with this black midi skirt – the style is perfect for fall, and mimics the long skirts Rachel often rocks. I paired the skirt with this beige blouse, a nod to Rachel's love of nude and pastel hues. Next, while Rachel loves to rock heeled boots, I chose these flat ones for running around campus, and added this chunky cardigan for some warmth. Finally, Rachel often accessorizes with bracelets, so I chose these layered gold bangles.
Your thoughts?
Are you a fan of Rachel's blog? Do you agree with her fashion philosophy of investing in wear-it-forever staples? Do you have a signature style, or do you find yours a little tougher to pin down? Leave your thoughts in a comment below!