This post may contain affiliate links, which means we may receive a commission if you purchase through our links. Please
read our full disclosure here
.
Over the past few months, we've been interviewing some of our favorite fashion bloggers and finding inspiration in their styles. In case you missed them, see our past interviews with Maria of Lulu Letty, Elizabeth of Delightfully Tacky, Georgina of Cupcake's Clothes, Tieka of Selective Potential, Rebecca of The Clothes Horse, Keiko Lynn, Kendi of Kendi Everyday, Sally of Already Pretty, Mel of Idee Geniale, La Carmina, Julie of Orchid Grey, Alicia of Cheetah is the New Black, Andrea of Blonde Bedhead and Emily of Cupcakes and Cashmere.
Today we're meeting another blogger who you guys requested over and over – Blair of Atlantic-Pacific.
About Blair
While many of the bloggers we've interviewed have had diary-style blogs with anecdotes and stories about their lives, Blair's blog is a little different – it's all about the visual. Atlantic Pacific is full of gorgeous style inspiration and it reads like a photo diary. She lives in San Francisco and her photos really display the beauty of the city…and her fantastic wardrobe.
Our Interview with Blair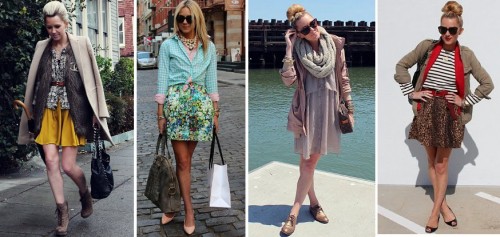 1. Tell us a little bit about yourself (who you are/what you do/where you're from, etc.)
I am from right outside of Washington DC, but I am currently living in San Francisco. I run my blog as a side hobby and by day I am a merchant for a major specialty retailer, which I love. Working in retail I am constantly surrounding by inspiration and creative people who fuel my love for fashion and styling.
2. How would you define your style?
I would say my style is 'moody'. I play with many different trends, silhouettes, and brands all depending on what I am feeling in the moment. I do tend to gravitate towards pieces that are more feminine and have a preppy undertone.
3. What inspired you to start a style blog? What motivates you?
Like I mentioned earlier, I work in retail and that played a large role in the creation of Atlantic-Pacific. I turned to blogs for inspiration more and more and suddenly had the urge to start one myself with a very simple concept. My boyfriend was more than happy to help me and without him the blog would not exist – he takes all the pictures! My blog is my release and that is what motivates me to post. During busy weeks and sometimes busy months it feels daunting to keep up both a day job and the blog, but I have so many lovely readers and supporters who make it all worth it.
4. Did you go to college? What was your college experience like?
I did go to college. I am a proud alumna of the University of Florida – 'Go Gators'! I went to a big state school that taught me very early on the importance of self motivation. There is no one there to make sure you came to class or check in on you if you haven't turned in your homework in a while. You have to be disciplined and motivated to push yourself, knowing there is no one else there to do it for you. Outside of education, a large school gave me the opportunity to meet so many new and interesting people. (With over 50K undergrad students you meet new people ALL the time!) I met some of my best friends in college and now as far as California I meet gators all the time.
5. Where do you like to shop?
I love H&M, ZARA, Bloomingdales, J.Crew and my local boutiques. Online, I love ASOS, Shopbop, and Topshop.
6.What advice do you have for being stylish on a college budget?
Use sites such as Shopittome.com and Shopstyle.com to search for deals online! Outside of actually finding deals you should also consider versatility when buying – can you wear the item in a couple different ways or for multiple occasions? If it is a 'one time wear' then I would reconsider. Also it is great to clean out your closet every 6 months and consign those goods to fund a couple new pieces for your closet. I am personally always on the hunt for style inspiration that brings new life to old pieces I have!
7. Who/what inspires you?
I am inspired by my fellow bloggers every day. I also have style icons such as Joanna Hillman, Taylor Thomasi Hill and Sienna Miller. You can find inspiration anywhere and for me I find most inspiration through color and prints. I love blogs such as http://pantonism.com/c/orange and http://color-collective.blogspot.com/ to find new color loves.
8. What advice do you have for new bloggers or people considering starting a blog?
Do it because you love it – show passion and be authentic.
How to Dress Like Blair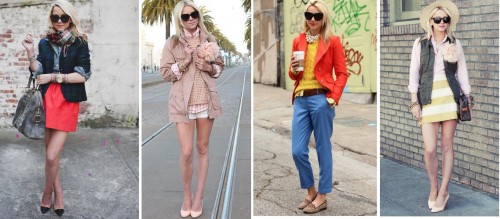 1. Layer, Layer, Layer

One of my favorite aspects of Blair's style is her incredible ability to layer. San Francisco can be chilly, and Blair uses the temperamental weather to make her style her own. She layers shirts, sweaters, coats and vests for a completely unique look. Layering is the perfect way to look stylish in fall, and it's a great way to add fun and texture to any look.
2. Rock Jackets and Blazers
Blazers and jackets are easy ways to add color and texture to an outfit, and Blair utilizes them to her advantage, rocking blazers in colors ranging from bright orange to white, and military jackets in a plethora of hues.
3. Play with Color

Blair uses color really well in her outfits, whether she's adding a splash to a simple ensemble, or going all-out with color blocking as seen in the bright outfit above. She also adds plenty of neutrals, especially beige and nude tones, to create great balance. I also love her all-neutral outfits which are anything but boring.
4. Don't Forget the Fabulous Shoes
Blair is almost always in heels which add polish to any outfit, and even when she wears flats, they are always pretty and fabulous. So take a cue from Blair and don't forget the impact a great pair of shoes can have on an outfit.
5. Mixed Prints and Styles
Blair's look is very multifaceted – she'll often pair masculine and feminine pieces, leather and lace, and a mix of patterns and textures in one outfit. Let her be evidence of this rule: Don't ever be afraid to experiment with things that you don't think will "go" – you might just love what you come up with.
Outfit Inspired by Blair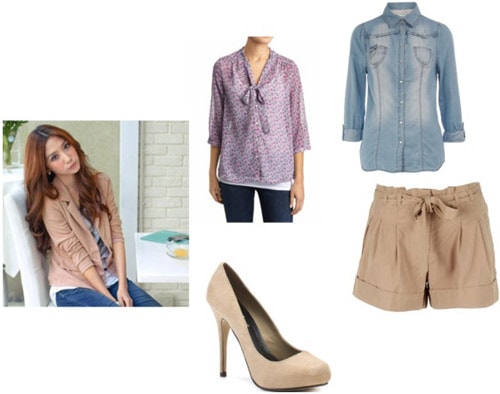 floral blouse / denim shirt / nude blazer / shorts / pumps
For a look inspired by Blair, I created a fairly neutral, but incorporated lots of Blair-esque layers. I love this nude-hued blazer, which I've paired with these fall-perfect pleated shorts. I then added a loose floral blouse and a light denim jacket for contrast. I love all the textures and elements going on here – they help give the look a luxe, interesting feel. Wear this outfit now, or transition this look into winter or late fall by swapping the denim jacket for a fur vest and adding tights and boots.
Your thoughts?
What do you think of Blair's style? Do you agree with her budget shopping philosophy? How cool are her outfits? Let us know with a comment, and remember to suggest any other bloggers you'd like to see featured next.