This post may contain affiliate links, which means we may receive a commission if you purchase through our links. Please
read our full disclosure here
.
Okay so don't tell anyone, but I'm a total sucker for a good love song. In looking for Style Notes inspiration this week, I considered many classic love songs, but ended up settling on something a little more modern.
So, in honor of Valentine's Day, this week, we're featuring a love song by the Lumineers. You've probably heard "Ho Hey", but if you haven't yet, check out the video below:
The Lumineers are comprised of Wesley Schultz, Jeremiah Fraites, Neyla Pekarek, Stelth Ulvang and Ben Wahamaki, and their sound is quirky but uncomplicated, and they never sound overproduced. As Fraites told The Crimson White:
"We're not reinventing the wheel or doing anything that different, the songs are super simple. The ideas themselves are very simple ideas. Anyone who can play an instrument can play a Lumineers song. I think there's a certain cinematic aspect of our music that I really like."
As modern love songs go, I love the charm of this track's simple melody, and I'm stoked that the Lumineers were nominated in this year's Grammys for Best New Artist and Best Americana Album. The Lumineers are a perfect inspiration for some date-worthy outfits!
You're My Sweetheart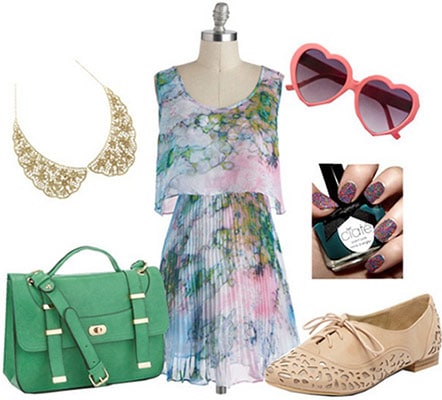 Necklace, Bag, Dress, Sunglasses, Nail Polish, Oxfords
Taking a cue from the confetti and stained glass at the end of the music video, this first look is all about color. Pair this gorgeous watercolor dress with neutral oxfords and a beautiful Peter Pan collar necklace. Add a trendy Ciaté caviar polish and fun, heart-shaped sunglasses for a quirky touch that echoes the video. Finish the outfit with a satchel that picks up on the greens in the dress, and you have a charming, whimsical look that would be perfect for a lunch date, or maybe a romantic walk in the park.
I Can Write a Song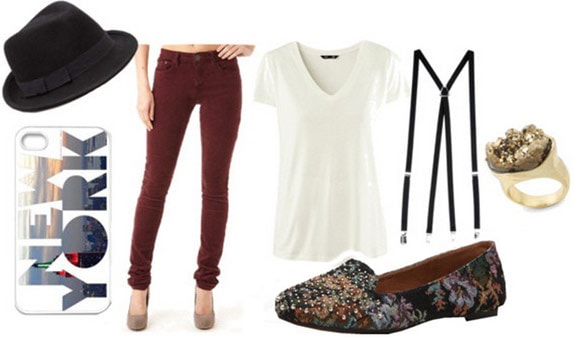 Hat, Phone Case, Corduroys, Tee Shirt, Suspenders, Loafers, Ring
Take a cue from Jeremiah Fraites and several of the video's extras and rock suspenders over a white tee with a black trilby hat. To add a more fashion-y touch, mix skinny cords with some amazing tapestry-print smoking loafers, and a dazzling druzy ring. A New York phone case references the places mentioned in the song. This outfit is super comfy, but also crazy stylish.
I Belong With You, You Belong With Me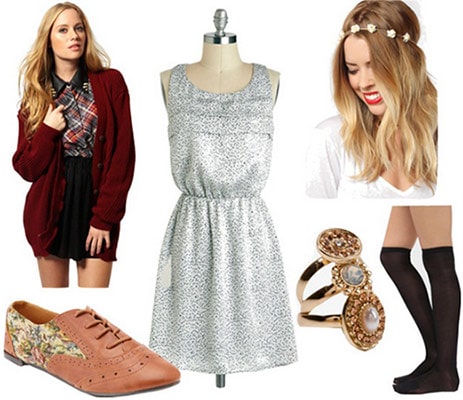 Cardigan, Oxfords, Dress, Rings, Headband, Socks
Neyla Pekarek's soft look in the video provides the inspiration for this last outfit. Pair this lovely blue printed dress with adorable Oxfords and knee-high socks for a look that evokes schoolgirl-chic, matching perfectly with the song's innocent feel. Delicate stacked rings and a playful flower crown finish out the look, while a chunky maroon cardigan grounds the look and adds a little warmth. This feminine outfit is simply lovely.
What do you think?
Have you heard of the Lumineers? What's your go-to love song? Would you wear any of these outfits? What did you do for Valentine's Day? Don't forget, my lovely readers, to leave any thoughts, suggestions and questions in the comments below and just so you guys know, I would love to be your Valentine 😉