This post may contain affiliate links, which means we may receive a commission if you purchase through our links. Please
read our full disclosure here
.
We're back again with another personality quiz. With all the great holiday parties coming up, this week's quiz will tell you what type of holiday party fits your style. And as always, each result will have a corresponding example outfit.
Just take this fun quiz below to find out your holiday party style. Once you get your answer, find your letter and corresponding result below for a sample outfit based on your personality type.
Quiz: What's Your Holiday Party Style?
Quiz Results – No peeking!
Below are the results of the quiz. Don't look if you haven't taken it yet! I've created one outfit for each result to help give you some ideas for what to wear. Enjoy!
Mostly A's: Casual Kickback
Product Information: Scarf, Sweater, Earrings, Jeans, Boots, Bag
For a casual holiday party, grab a striped sweater and pair it with a printed winter scarf. Simple jeans and black boots are comfortable and classic additions to the look. Finally, accessorize with some festive bow studs and a chocolate-colored handbag.
Mostly B's: Formal Affair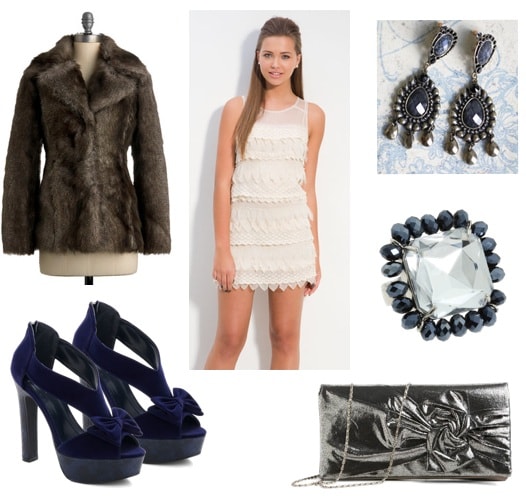 Product Information: Jacket, Dress, Earrings, Ring, Bag, Shoes
For a formal holiday party, start the look off with a cream dress with ruffled details. Once you have this solid base, spice it up with interesting accessories. Blue chandelier earrings, a cocktail ring, and heels are a great addition to the dress. Faux fur is all the rage right now, so get in on this trend by pairing this coat with the look. Finish the look with a silver metallic bag.
Mostly C's: Rockin' New Years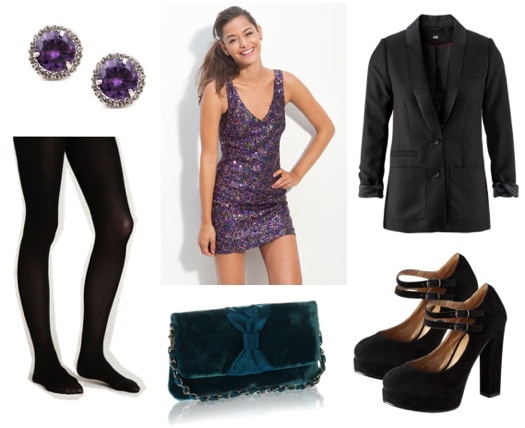 Product Information: Earrings, Dress, Jacket, Shoes, Bag, Tights
Your holiday style is all about the glam. So what better way to embrace this spirit than with a multi-colored, sequined mini dress? To balance out the glitz and glam of the dress, pair it with a classic boyfriend blazer and some opaque tights. Complete the ensemble with a pair of black heels, simple purple studs, and a teal velvet clutch that picks up on the colors in the dress.
Mostly D's: Ugly Sweater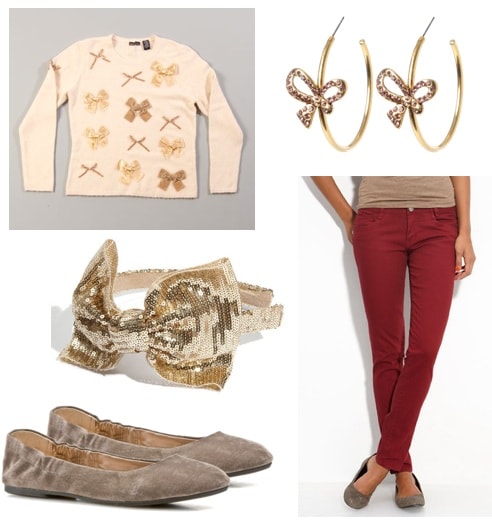 Product Information: Sweater, Earrings, Pants, Shoes, Headband
You have a sense of humor and you enjoy having fun. The next time you have an ugly sweater party to attend, try out a look similar to this. A bow sweater like this is tacky, but somehow still finds a way to be cute — plus it would be an easy DIY project. To amp up the cheese factor, add on some bow accessories like these hoop earrings, and an oversized sequin headband. To complete the look, pair the sweater with some wine-colored pants and some neutral flats.
What do you think?
What was your result? Do you think your result matches your holiday party style? Which one is your favorite outfit? How do you plan on getting dressed up for the holiday season? Please be sure to leave a comment below and let us know what you think!