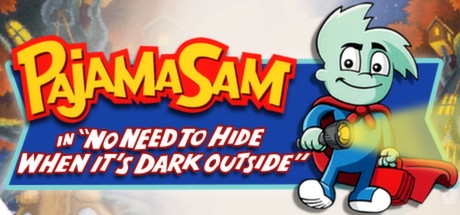 So, we've tackled all of the Humongous Entertainment games over the last couple of posts. (See: Freddi Fish, Spy Fox, and Putt Putt.) However, I've saved the best for last as our fashionable trip down memory lane comes to a close. This week we're drawing style inspiration from Pajama Sam.
This point-and-click adventure game was initially released in 1996 for the PC and Mac. It stars our young hero, Sam, as he ventures off into the land inside his closet in order to escape his fear of the dark. This game received critical acclaim, which spurred many sequels and even a line of children's books.
Not only is this game beautifully animated and creative, but it teaches kids valuable lessons from a character that's seemingly not so different from them.
Unlike Spy Fox, Freddi Fish or Putt-Putt, who are all animals or inanimate objects, Sam is a young boy with hopes, dreams, and fears that players can relate to. This game stems off of Sam's fear of the dark, which, as a kid, was quite relatable for me. Sam shows kids that there's nothing to be afraid of and that "Darkness", which the game conceptualizes as a character, is something that's surprisingly normal.
Read on to see three outfits inspired by this childhood throwback video game:
Pajama Sam
Though most of us would love to walk around in our pajamas all day, it's just not practical. Pajama Sam, to his credit, makes it work. However, for those of that have to clock in at the office, I created an outfit that combines comfy and chic: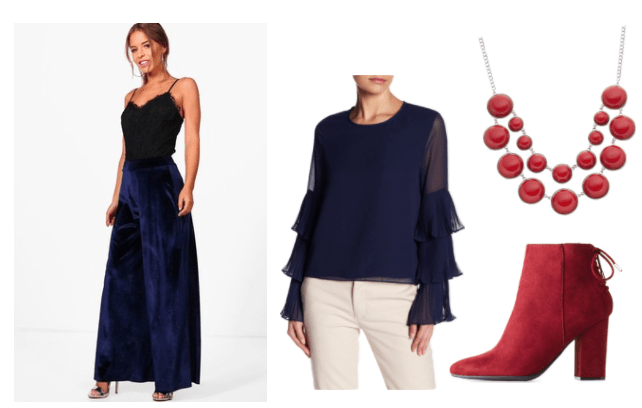 Products: Pants – Boohoo, Top – Nordstrom Rack, Necklace – Kohl's, Shoes – Charlotte Russe
These velvet trousers have the look and feel of pajama pants without actually being pajamas — win, win! I also threw in a matching navy ruffled blouse that gives the outfit a pajama vibe, without looking frumpy. Ditch Sam's red cape and be your own superhero by adding bold, bright red booties and a red bubble necklace.
Darkness
Darkness is introduced to us through Sam's eyes as a scary villain that we need to confront. However, in the end, he's revealed to be a lonely character who just wants a friend. Sam ends up befriending him and they play a nice game of Cheese and Crackers (Tic, Tac Toe, for us regular people).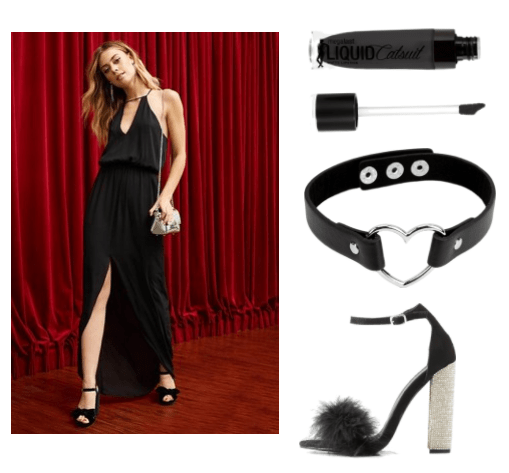 Products: Dress – Forever 21, Shoes – Charlotte Russe, Choker – Amazon, Lipstick – Wet N' Wild Beauty
For this look, we'll be donning all black just like Darkness. Start off with this dramatic black maxi dress. Pair it with these funky fur-trim heels, as well as this heart choker. While both of these elements are dark in color, they're expressive pieces that are fun and light-hearted, just like Darkness.
The trend of wearing black lipstick has returned, so I threw in this dark, grey lip to finish it off. So smile big and bright (just make sure none of the lip color gets on your teeth).
Florette
Featured as one of the more prominent (and adorable) characters in Pajama Sam 2: You Are What You Eat From Your Head to Your Feet, Florette represents the vegetable group at the Peace Conference in the Food Pyramid. Well, she was supposed to before she was arrested and thrown in jail with Sam.
Sam springs them from jail only to find himself tasked with finding the other delayed delegates, which sets up the rest of the game.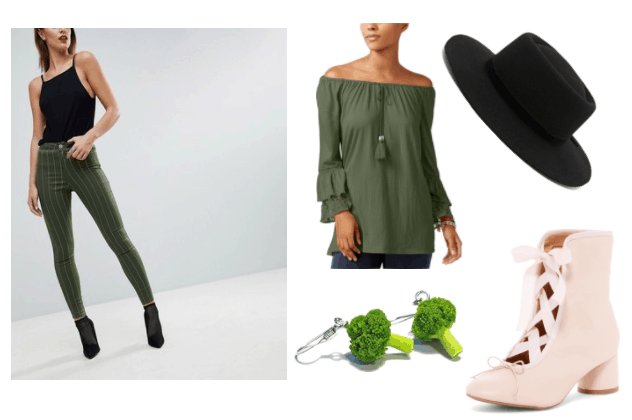 Products: Jeggings – ASOS, Top – Macy's, Earrings – Amazon, Hat – Forever 21, Booties – Nordstrom Rack
Begin with a pair of striped green jeggings and a matching off-the-shoulder crinkle top. As Florette is literally a piece of broccoli, green is obviously her color. And don't forget to accessorize with these these adorable broccoli earrings!
Most of us can't really wear a bow on the top of our heads with a bowler hat, so ditch the pink bow for these pale-pink corset booties that are much more unique. Tie the look together with Florette's signature bowler hat.
What do you think?
Don't you just love Sam? Which of the children's games that I've posted about is your favorite? What should I do next? Let me know in the comments!