Malaysian-born singer-songwriter Yuna has gifted the world her third studio album, "Chapters". Yuna's skill and talent has garnered her many awards and a lot of attention over the years. Her new album features Usher and Jhene Aiko, which is just the cherry on top of masterpiece of a record.
Yuna's lilting, saccharine voice takes you on a smooth ride with melodies that wrap you up in warm, calm, milky notes. Her music falls into the category of R&B, but she draws influences from so many genres, including indie, soul, hip-hop, electronic, and more. Yuna's music is something you have to experience for yourself, because words can't quite do it justice.
The best time to listen to her music: When you want to be swept away by a melody
Here are three outfits inspired by "Chapters" by Yuna:
Mannequin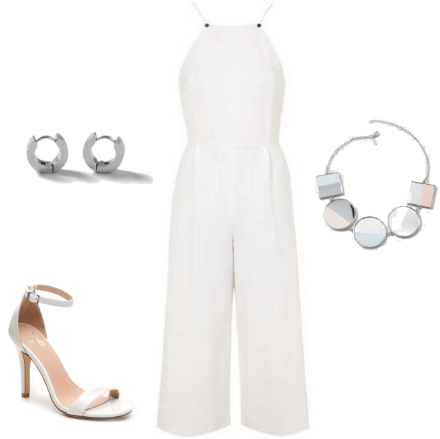 Products: Necklace, Jumpsuit, Heels, Earrings
Sentiments of devotion and an outpouring of emotion will wash over you as you listen to this track. Swept away in love and struggling to find a voice, the lyrics describe a girl caught up in trying to please someone else, but not herself. Sad and crooning, the melody and vocals create a soothing wave with you, the listener, a passenger caught in its tide.
Devoid of color, this outfit exudes stoic austerity. An all-white jumpsuit is sharp and classy. A mirrored necklace reflects back upon anyone who looks at it. Small hoops and white sandals complete the look.
Crush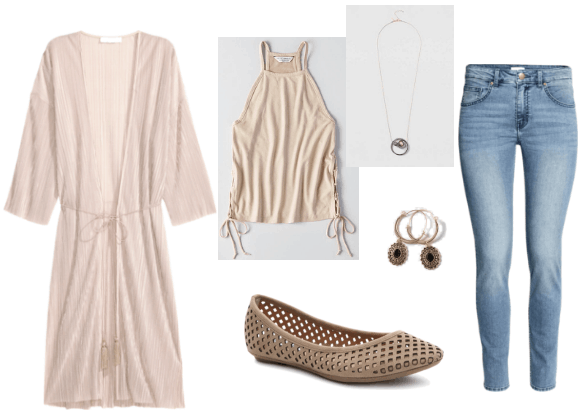 Products: Necklace, Jeans, Earrings, Shoes, Kimono, Top
Never before has the trauma of a crush sounded so good. This song features Usher, and the combination of his and Yuna's voices together fills the soul and paints a beautiful picture of flirting and seduction.
For a casual day spent hanging out with that special person, jeans and a tan tank work great. Feminine, muted colors channel the sweet and calming song. A blush pink kimono is a sweet, romantic choice. Finish the look with cute flats, a long necklace, and statement earrings.
Used To Love You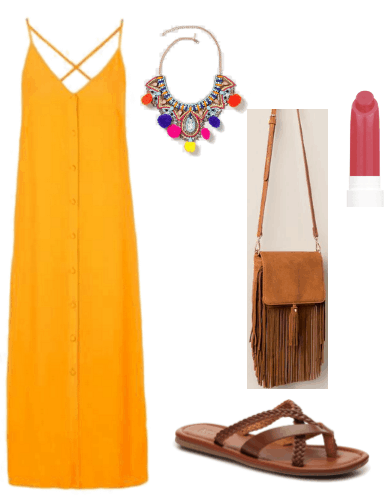 Products: Necklace, Bag, Lipstick, Sandals, Dress
Bad experiences can be the catalysts you need to find your best self. This collaboration between Yuna and Jhené Aiko embodies that notion and brings it to another level with the artists' equally matched vocals and melody that makes you want to melt into a puddle.
Loving yourself is a freeing experience. Express that sentiment in this light and colorful boho-chic look. A sunny yellow maxi dress reflects inner happiness, while an embroidered statement necklace adds complexity and fun to the simple dress. A rosy lipstick is sure to complement any skin tone and give you a reason to smile. Complete the look with a tassel crossbody bag and braided sandals.
"Chapters" by Yuna is available now. Listen to it here.
What do you think?
Do you like Yuna's music? What do you think of the outfits? Let me know in the comments!