MAX has talent to spare. He has spent time on broadway, starred in a Nickelodeon television show and movie, toured with Victoria Justice, and now he is back with a amazing new album "Hell's Kitchen Angel."
The New York native has poured his heart and soul into this album and it definitely shows. He recently became label mates with Fall Out Boy and Panic! At The Disco, so I think it's safe to safe that his latest album is just the beginning of great things to come.
"Hell's Kitchen Angel" is great because all the songs have this intoxicating infusion of pop and R&B. MAX's vocal range only adds to the experience by surprising you with high notes one minute and then lulling you in the softest key the next. His tracks cover everything from love to self reflection to turning up, so there's something for everyone.
The best time to listen to this music: when you are tired of waiting for Nick Jonas' new album, this will more than satisfy you.
Here are 3 outfits inspired by the songs on the album "Hell's Kitchen Angel" by MAX:
Gibberish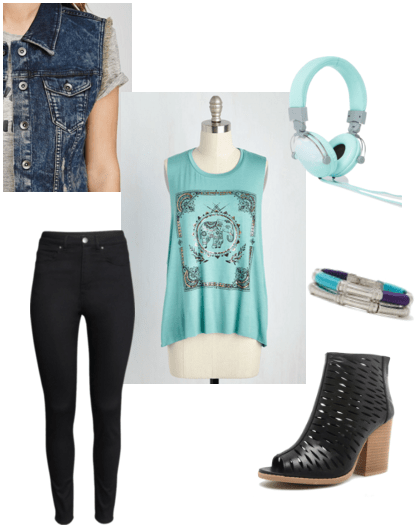 Products: Headphones, Bracelets, Booties, Top, Jeans, Vest
I highly recommend dancing and singing to this song if you need a cathartic experience. The tempo is booming and the lyrics flow so well… yes, even the part that's gibberish. Never has nonsense sounded so good.
Block out all the gibberish around you with a pair of adorable headphones. Add a matching sleeveless top and black jeans. An edgy denim vest exudes a don't-mess-with-me vibe. Complete the look with some cute bangles and peep toe booties.
Basement Party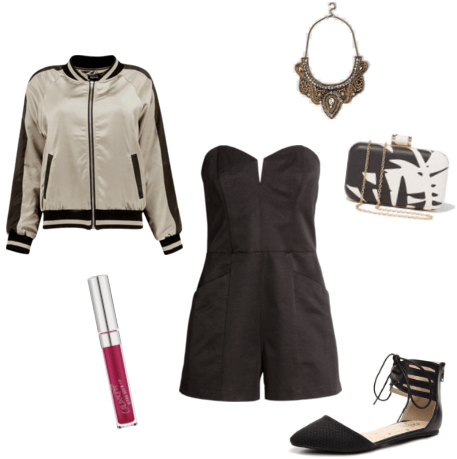 Products: Necklace, Clutch, Shoes, Romper, Lipstick, Jacket
Sensual and dancefloor-ready, this song makes you want to find a basement party and have the best time of your life. You don't need a fancy club or bottle service to have a good time. All you need are your friends, good music to dance to, and maybe a really cute outfit.
A romper is perfect for this party outfit because it is versatile, simple, and this one even has pockets! Dancing in heels is not easy so opt for cute flats. Upgrade this simple look with a blingtastic statement necklace and a chic bomber jacket. Finish the look with a raspberry matte lipstick and clutch to store that lipstick in case you need to touch it up throughout the night.
Hell's Kitchen Angel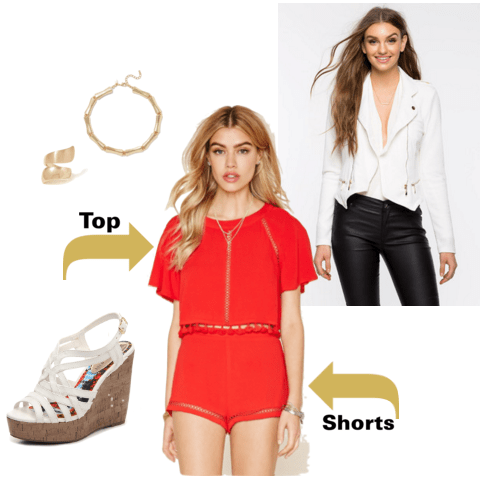 Products: Jacket, Top, Shorts, Wedges, Ring, Necklace
It's good to be bad every once in a while. That's what this song is about. Have an adventure, fall in love, get in to trouble (but not too much!). Live life to the fullest and do what makes you happy. Do what makes you feel unique, this track urges.
You are sure to stand out in this scarlet crochet co-ord set. Strut your stuff in white cork wedges. A white moto jacket ups the edginess factor. Finish with some gold jewelry and you are on your way to conquer the world with this ensemble.
"Hell's Kitchen Angel's" by MAX is available now. Listen to it here.
What do you think?
Do you like MAX's style of music? What do you think of the outfits? Do you want more suggestions for artists similar to one you already love? Let me know in the comments!