"Rising star" doesn't seem an apt enough phrase to describe Gallant. Perhaps "musical genius," or maybe even "future icon" would suit him better. Take notice now, so that in 10 years when his concerts are sold out, when he has more Grammy awards than limbs, and when his stardom has catapulted him into the stratosphere you can say that you have been a fan since the beginning.
After Gallant (that's his real last name!) graduated from NYU, he moved to Los Angeles to chase his dreams. It only took a few years for him to see success: He is currently signed to Mind of a Genius Records, which puts him in good company with acts such as ZHU, with whom he is currently on tour.
Gallant's debut album, "Ology" is a look into his mind and emotions. His songs are best described as poetry set to soul-stimulating melodies. Ology is considered R&B, but it draws inspiration from so many different places (the '90s, rock, electronic music) that it becomes much more. His album shows no restraint, melding different influences and styles, even including a track featuring Jhené Aiko. Gallant's genre-splicing, spirit-awakening album is a work of art worth experiencing.
The best time to listen to this album: when you are looking for something new and fresh
Here are 3 outfits inspired by Gallant's album "Ology":
Bone + Tissue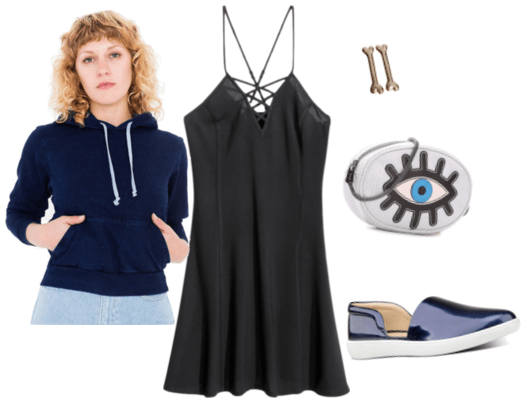 Products: Earrings, Purse, Shoes, Dress, Hoodie
The lyrics in this song are heartfelt and emotive. They make you think about life and your place in it all. Gallant wants his life to be more than the trivial and the petty; he wants to be more than bone and tissue.
This outfit starts off with a simple and chic black dress. Accessories like bone-shaped earrings and a purse with an eye on it reference the lyrics of the song. Add a pair of cute metallic slip-ons, then tie a cropped hoodie around your waist or your shoulders to complete this outfit.
Miyazaki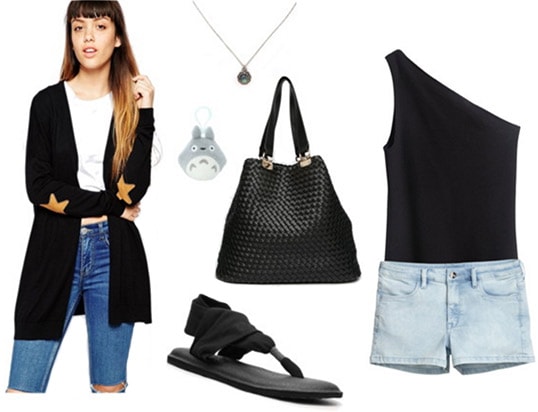 Products: Necklace, Top, Shorts, Sandals, Bag, Keychain, Cardigan
There are so many things I love about this song. First, it samples "Tell Me" by Groove Theory, a quintessential '90s R&B song. It's also named after the amazing Japanese animator Hayao Miyazaki. The melody soothes while Gallant's crooning takes you to a magical place.
This outfit is simple, but just like the song, its details make it special. Basic shorts go well with a one-shoulder tank. Cover up with a cardigan that has cute star shaped elbow patches. A necklace with a multi-colored center goes well with the look. Add a cute Totoro keychain to a plain tote as a nod to the title. Finish off the look with comfy sandals.
Weight in Gold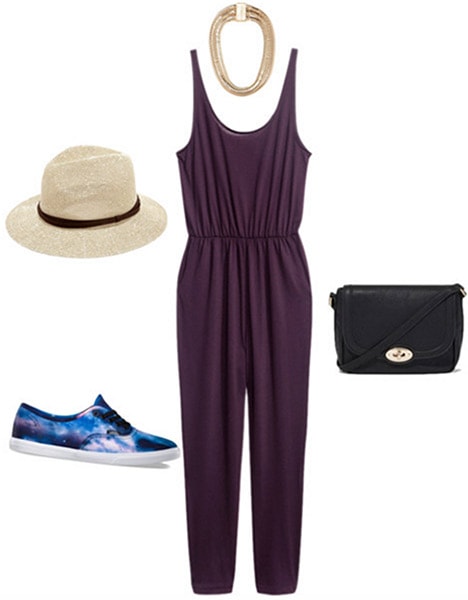 Products: Necklace, Jumpsuit, Bag, Sneakers, Hat
Gallant's strong vocals make you feel every ounce of his struggle. This song is beautiful, moving, and inspires empathy for the plights Gallant describes in his lyrics.
A deep purple jumpsuit is pretty and easy to wear when you have a lot on your plate. This song features a few references to space, so some galaxy sneakers play on that. A black crossbody bag will keep your hands free; finish off with a gold statement necklace and a straw fedora.
What do you think?
"Ology" by Gallant is out now. Listen to it here.
Do you like the outfits? Do you love R&B? What do you think of Gallant's style of music? Let me know in the comments!