Welcome to the latest edition of Looks from Books, which aims to prove that you can look smart, while still being book-smart, too. Fashion inspiration can be found between the pages of your favorite stories, on well-designed book covers, and in your favorite characters… if you read closely enough.
This week, we're focusing on The Catcher in the Rye, a classic novel that most of you have probably read, whether for school or for pleasure (or maybe a bit of both). Let's get started!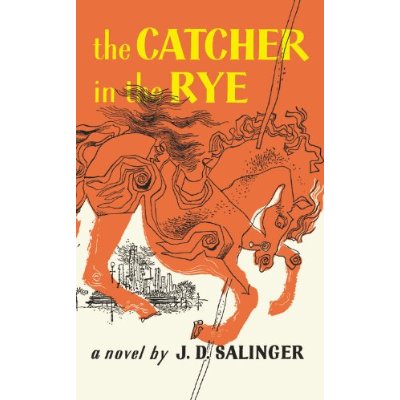 Catcher in the Rye book cover via Amazon
Inside Cover: A Little Bit of Background
The Catcher in the Rye is an iconic mid-20th-century novel by J.D. Salinger. This coming-of-age story follows the narrator, sixteen-year-old dropout Holden Caulfield, as he wanders around New York City for three days in December, attempting to avoid telling his parents he's been kicked out of yet another school. After a series of mishaps and misunderstandings, Holden, in the end, learns more about himself, and begins to understand the process of growing older.
Published in 1951, the controversial novel has earned its place as a bookshelf favorite, and has garnered more than a few cries for censorship due to its depictions of sexual deviancy, prostitution, and underage drinking, as well as its excessive use of profanity. Now the calling card for rebellious kids everywhere, the book was originally intended for adults, which explains the heavy subject matter. However, this doesn't stop the more "hip" English teachers from assigning it in high schools across the country.
A Fashionable Literacy
The Catcher in the Rye has never been adapted for film, at the deliberate request of the author. True to the rebellious nature of the book, J.D. Salinger would not allow anyone – even the likes of Steven Spielberg, Harvey Weinsten, Jack Nicholson, and Leonardo DiCaprio – to attach themselves to the story, despite the ever-increasing popularity of the book. In his will, Salinger left the rights to the novel, as well as any potential for a large-screen adaptation, to his wife and daughter, glad to provide for his family after death, and especially glad that he'd never have to see anyone pretend to be Holden.
However, that isn't to say that the teenage rebel look hasn't made its way into the mainstream. Prep school staples like varsity jackets and peter pan collars have proved popular on the runways, while both Christian Dior and Stella McCartney sent off-kilter menswear down the runways for Spring 2013. Both of these trends bring to mind the slightly-skewed attitude of our favorite jaded teen cynic.
How to Add Holden to Your Wardrobe
By integrating key themes from the novel, as well as allusions to the book's notorious and enthralling history, into your daily outfits, you can pay homage to the mildly-misanthropic teen, without sacrificing too much of your own sense of optimism (but please, everyone, stay in school!).
A Contrast of Attitudes: Mature V. Immature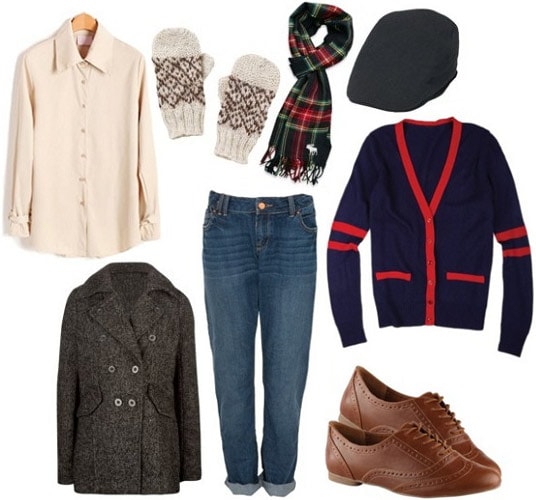 Product Information: Varsity Cardigan – Delia's, Oversize Blouse – Chicnova, Tweed Peacoat – Tilly's, Boyfriend Jeans – New Look, Oxfords – Aldo, Hunting Cap – Yesstyle, Knit Mittens – People Tree, Plaid Scarf – Abercrombie & Fitch.
In true bildungsroman form, Catcher focuses primarily on Holden's aversion to the adult world, and his affinity for, and need to protect, the unspoiled and innocent; in other words, the Mature versus the Immature.
This contrast of attitudes stems mainly from Holden's disillusionment with life, and his desire to find meaning in the process of growing up. He wants no part of the "phoniness" and superficiality he sees around him, and comes to idealize the simplicity of youth. Fearful of change, and confused by the feelings in himself that he condemns in others, Holden is the unlikely protagonist, while time, and its unstoppable nature, is the ultimate antagonist.
This outfit represents Holden's battle with age by incorporating classic preppy styles, alluding to prep school uniforms, while wearing them as a kid might, with oversized fits and loose tailoring. The outfit's many textures and patterns – denim boyfriend jeans, a knit varsity cardigan, leather oxfords, a plaid scarf, and a tweed coat – represent a youthful take on the sophisticated silhouettes of the adult world. The whimsical mix of fabrics, colors, and patterns, constrained to the uniform of Adults, mirrors Holden's own internal struggle with growing older.
Teenage Angst and Rebellion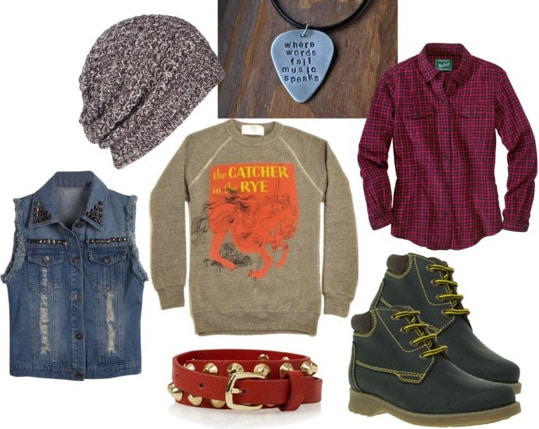 Product Information: Plaid Flannel Shirt – Woolrich, Denim Vest – SheInside, Hush Puppies boots – Debenhams, Handstamped Necklace – Etsy, Beanie – All Saints, Studded Belt – Topshop, Catcher in the Rye Fleece – Out of Print Clothing.
Teen angst, adult disparagement, and a partial subplot involving a quest for the perfect record tie Catcher to a music genre that followed a little less than 50 years after the book's publication: grunge.
It's easy to see the parallels when you look: Over the course of the novel, Holden smokes, fights, drinks, and behaves badly all across New York, leading the life of a pseudo-rock-star, all while bemoaning the "phonies" of the world. Holden's bad attitude and dark outlook on the world may have inspired the likes of Kurt Cobain, who was said to have been carrying a copy of the book, as well as wearing a red hunting cap (Holden's signature accessory) in the weeks prior to his untimely suicide.
Reference Holden's attitude and angst in your look by incorporating elements of grunge fashion, with enough fleece, flannel, leather, and knitwear to warm New York City at Christmastime. A guitar pick necklace, a knit beanie, and a studded belt add a little edge to your everyday attire, while the inclusion of a plaid button-down, a studded denim vest, and/or Hush Puppy boots will help you step away from the campus status quo. (Of course, The Catcher in the Rye fleece from Out of Print Clothing might accomplish this in a more obvious fashion.)
Unexpected Use of Language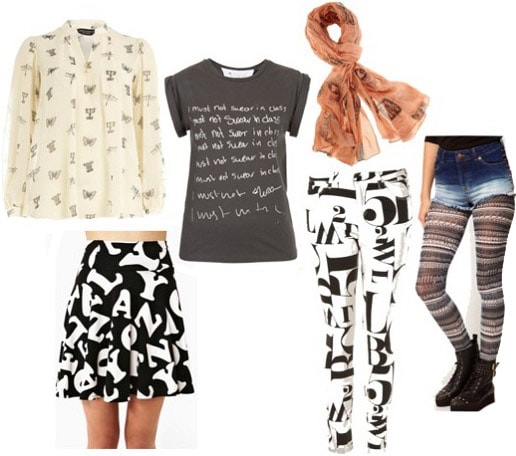 Product Information: Letter Print Blouse – Dorothy Perkins, "I Must Not…" Tee – Topshop, Letters Skater Skirt – Nasty Gal, Moto Print Skinny Jeans – Tophop, Letter Pattern Tights – Asos, Peach Vintage Letters Scarf – Dorothy Perkins.
While lauded for its fresh and engaging voice, Catcher in the Rye is also notorious for its use of unacceptable language, expletives and curse words, as well as its unstructured tone, which is often criticized as juvenile and repetitive. Regardless of your take on his narration style, Salinger's unexpected use of language has proved to be very influential – many contemporary teen novels, like Stephen Chbosky's The Perks of Being a Wallflower, have adopted his unstructured style.
Employ Catcher's unexpected use of language within your own wardrobe by wearing pieces that integrate words and letters in a creative way. Above, the scarf and blouse display a more restrained take on the trend, while the skirt, pants, and printed tights are more uninhibited and brash in their use of language. Alternatively, you can reference the novel's legacy directly, with a shirt that reluctantly states, "I must not swear in class."
What Do You Think?
Have you ever read The Catcher in the Rye, or any other book that has gained so much notoriety? Did you read it for school? What did you think of it? Do you believe it to be worthy of such widespread censorship? What do you think about the outfits and styling tips? Let me know, in the comments below!