This post may contain affiliate links, which means we may receive a commission if you purchase through our links. Please
read our full disclosure here
.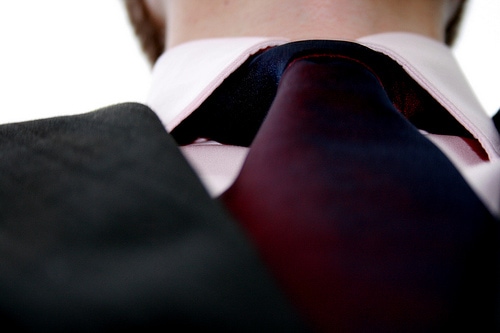 I'm sure we can all agree that there's nowhere quite like a college campus during the fall. With the changing leaves, old buildings, and academic ambiance, I can't help but feel like I'm at Hogwarts or on the set of Dead Poets Society. Football games and chilly weather especially make me want to bundle up in a peacoat, sip hot cocoa, and figure out how lacrosse works. (In my dear ol' Oklahoma, sports like field hockey, lacrosse, and rowing are almost impossible to come by.)
These reasons, among others, probably explain why I'm so intrigued by the look and feel of the prep schools I've come to know through TV shows, movies, and books. Something about preppy, athletic, and tailored styles leaves me feeling so inspired in the fall!
Below, I've put together four prep school-inspired looks for you to rock on your college campus. Enjoy, girls!
A Few Tips on Getting the Right Look
Keep it simple. Preppy, "varsity" type looks are characterized by clean lines, tailored cuts, and solid colors. Avoid anything too baggy or tight.
Utilize patterns. Horizontal stripes are a staple of this look — think sailor shirts and striped scarves. Plaids and tiny polka dots are good, too, for that preppy, academic look.
Play with color. During the spring and summer, preppy style is all about pastels and seersucker material. In the fall and winter, deeper shades like maroon, navy, army green, and charcoal take over.
Cuff your pants. An easy way to get some prep school charm is by rolling up your jeans or khaki pants. Rolled up pants look awesome with a boat shoes, Converse, or penny loafers.
Rock a varsity jacket. Some girls think letterman jackets feel more "Midwestern" than "East Coast Prep," but I think that they give off the same classic, throwback, "All-American" vibe that penny loafers and seersucker shorts do. Plus, they look both classic and trendy at the same time. A varsity jacket or letterman cardigan will look great with jeans and ballet flats.
Don't go overboard. A cardigan, plaid skirt, knee socks, loafers, and pigtails worn all together will look more Britney Spears circa 1998 than chic. Make the look your own by adding a piece of edgy jewelry, a biker jacket, or an eye-catching pair of shoes.
Outfit Inspiration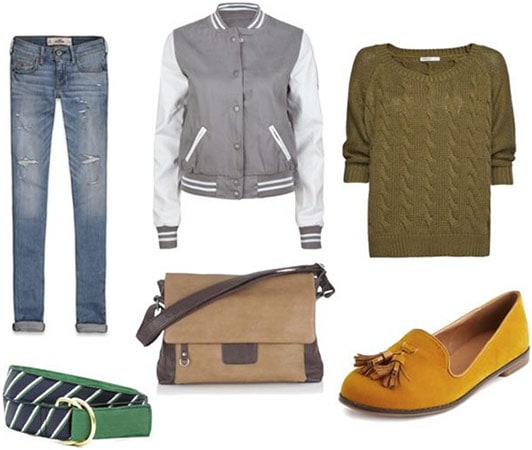 Jeans, Jacket, Sweater, Bag, Shoes, Belt
Nothing screams "prep" quite like a cable-knit sweater and a D-ring ribbon belt. Round out the look with a pair of skinny cuffed jeans (boyfriend jeans would look just as chic if that's more your thing), a pair of loafers, and a messenger bag. To keep yourself warm, throw on a varsity jacket like this one or grab your favorite trusty peacoat.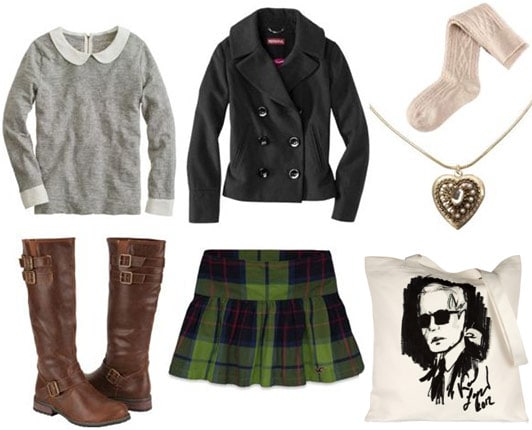 Top, Skirt, Boots, Coat, Bag, Necklace, Socks
Although this look is reminiscent of a Catholic school girl uniform, you can put a trendy spin on the classic style by wearing riding boots with your knee-high socks. This shirt is awesome, too, because the Peter Pan collar is already attached! Finish the look with a warm coat, a necklace, and a fun book bag. (Hi, uncle Karl!)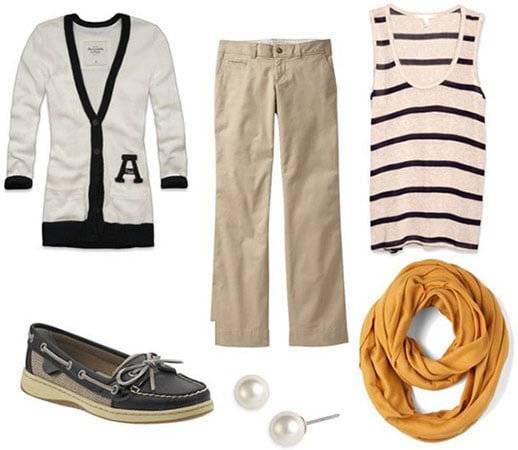 Sweater, Khakis, Tank, Shoes, Earrings, Scarf
Here at CF, we're crazy about cardigans, and how awesome are all of the popular letterman styles we've been seeing lately? Wear a cardigan like this with a striped tank and khaki pants. Finish the look with boat shoes, an infinity scarf, and pearl studs.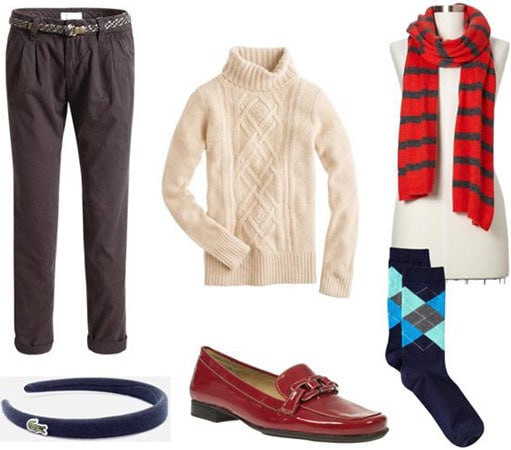 Pants, Sweater, Scarf, Shoes, Socks, Headband
Confession: I love turtlenecks! Call me crazy if you want, but I think they look so elegant, wintery, and perfectly preppy. Pair one with tailored trousers and a belt for a classic vibe. Prep the look up by adding a striped scarf, loafers, argyle socks, and a headband. (Lacoste headbands like the one pictured above are crazy hot on my college campus!)
What Do You Think?
Is your style preppy? Do you like adding a prep school vibe to your fall looks? Did you go to private school or a prep school? How did kids at your school dress? What other fall styles are you interested in? Leave a comment and tell us what you think!