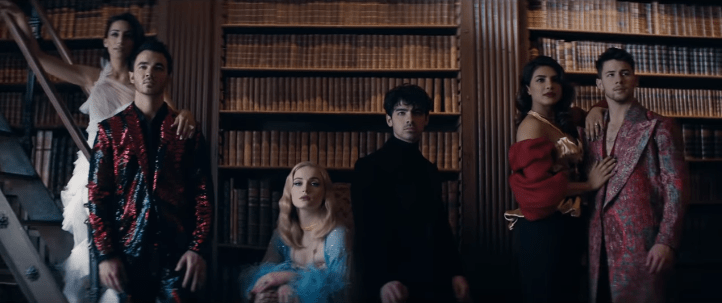 As you probably know if you listen to the radio, former Disney Channel alums the Jonas Brothers have reunited after a six year hiatus. The band's new single Sucker has enjoyed major success since its release in February of this year, proving that Kevin, Nick and Joe still have what it takes to dominate pop charts.
Consequently, the trio have enlisted the help of their fabulous wives (congratulations to Sophie and Joe on their recent nuptials!) to add even more star power to this raucous music video. The video sees Danielle, Sophie and Priyanka flirt outrageously with each of their respective husbands, all the while wearing fabulously over-the-top outfits.
I got a request to cover this music video on last week's K-pop post, so hi, Nav! This week's summer wedding inspiration lookbook is for you!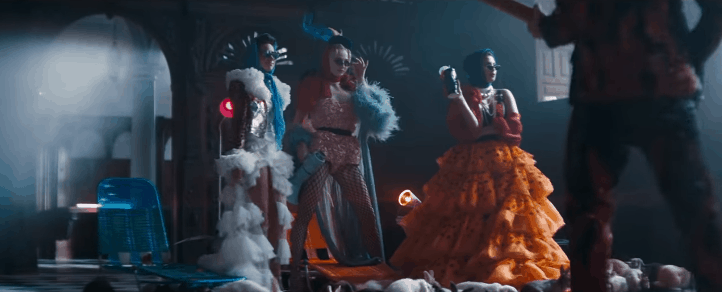 If you haven't already, check out the music video for Sucker below. Also check out the director's cut version, which features even more quality Mr and Mrs Jonas (x3) content!
Summer Wedding Outfits Inspired by Sucker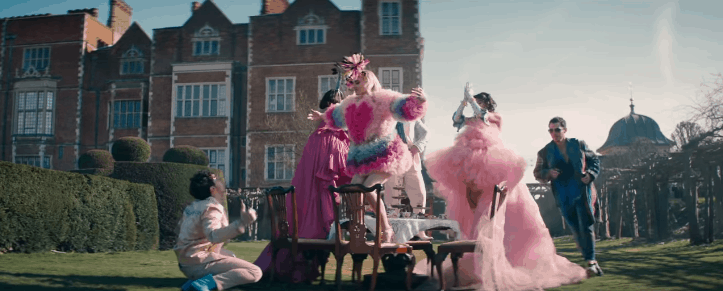 Look 1: Priyanka's Pink Ruffle Bardot Dress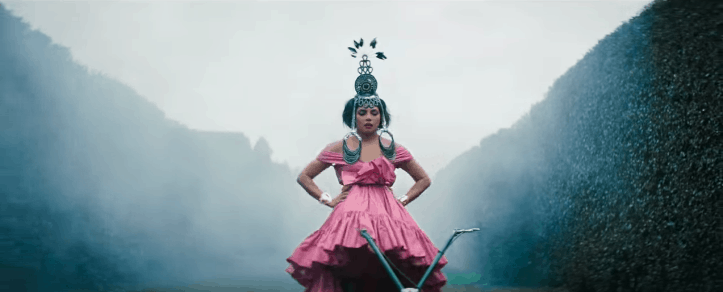 Ruffles seem to be a staple of Summer 2019, with designers deciding to 'go big or go home' with their formal wear. Obviously, Priyanka's gorgeous gunmetal headpiece may be a little dramatic (and expensive) for the average college woman. Therefore, I decided to incorporate this aspect of her outfit using silver accessories.
ASOS has many lovely variations on this pretty pink ruffle dress. I chose this style because the bardot neckline is similar to Priyanka's; exposed shoulders are the sexiest way to show some skin whilst keeping your look wedding-appropriate. In terms of beauty, look no further than Huda's The New Nude for an eyeshadow palette that delivers on both pigmentation and blendability.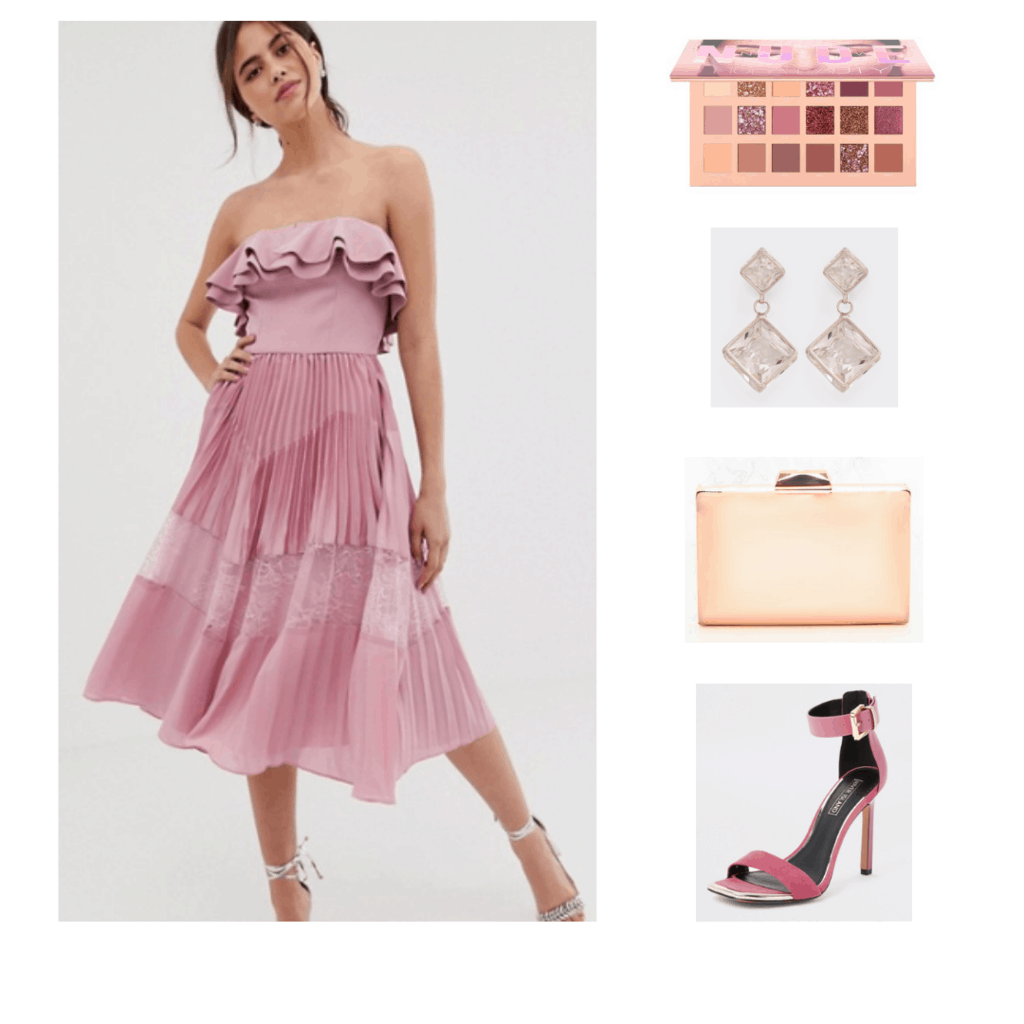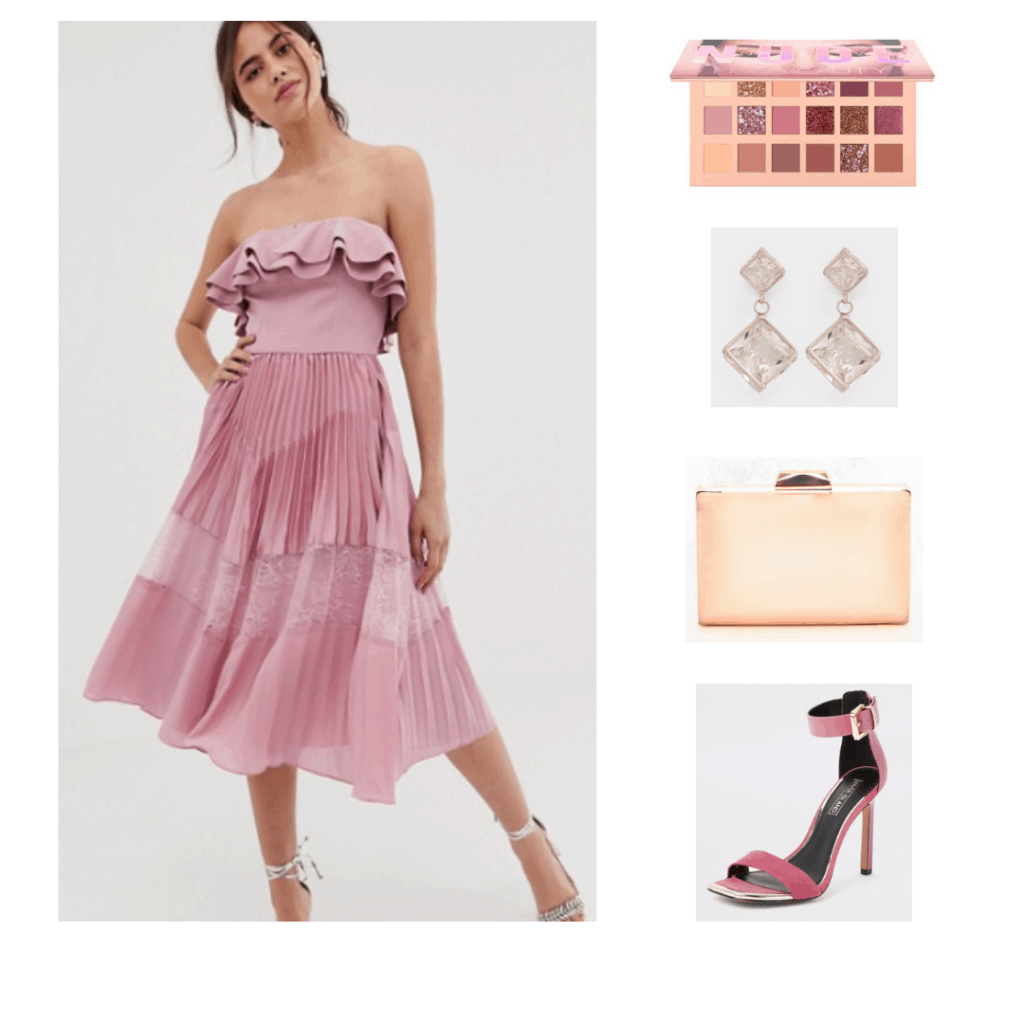 Products: Dress – ASOS, Bag – Pretty Little Thing, Earrings – Aldo, Palette – Huda Beauty, Shoes – River Island.
Look 2: Danielle's Frothy Pink Tulle Dress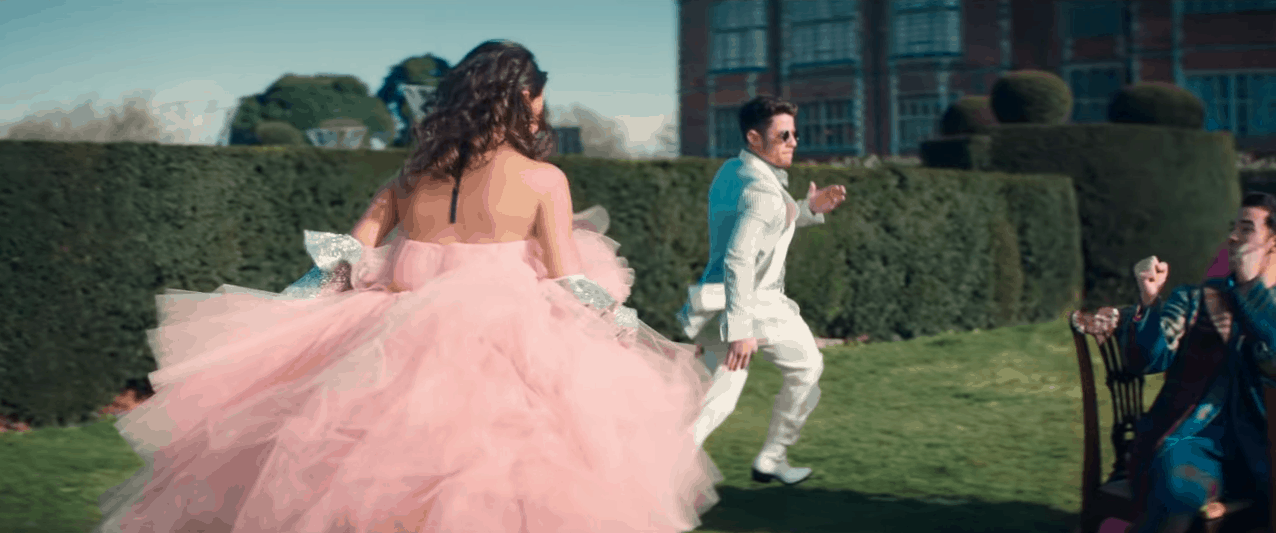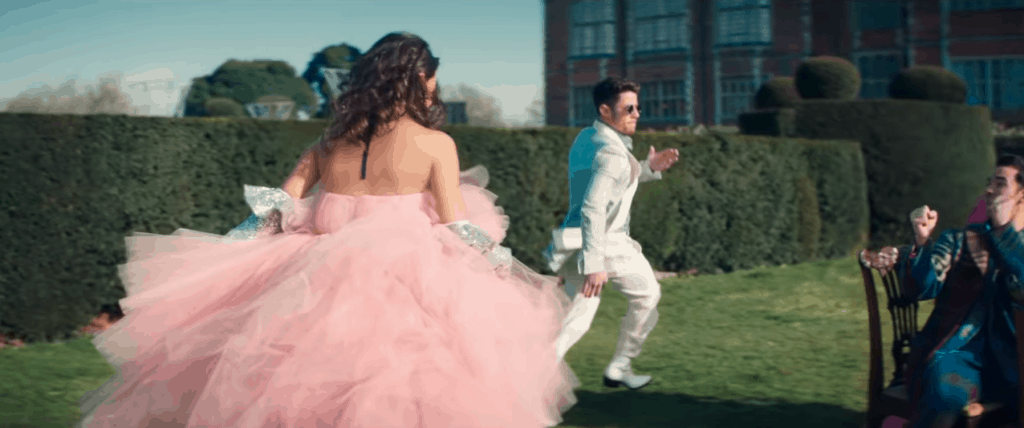 As all of you college fashionistas out there probably already know, pink is having a major fashion moment. In fact, VOX even went as far as to declare it the camp color of 2019's Met Gala. Elle Woods' favorite hue can be found across catwalks, in music videos and in your favorite stores.
It's no surprise, then, that Danielle also rocks pink in an exuberant, frothy tulle dress complete with train.
Danielle's look, if worn to a wedding, would most definitely be seen as an attempt at upstaging the bride! So, I've scaled it back by choosing a tulle detail full skirt and a plain white bodysuit. This creates a more subtle touch of the same exuberance.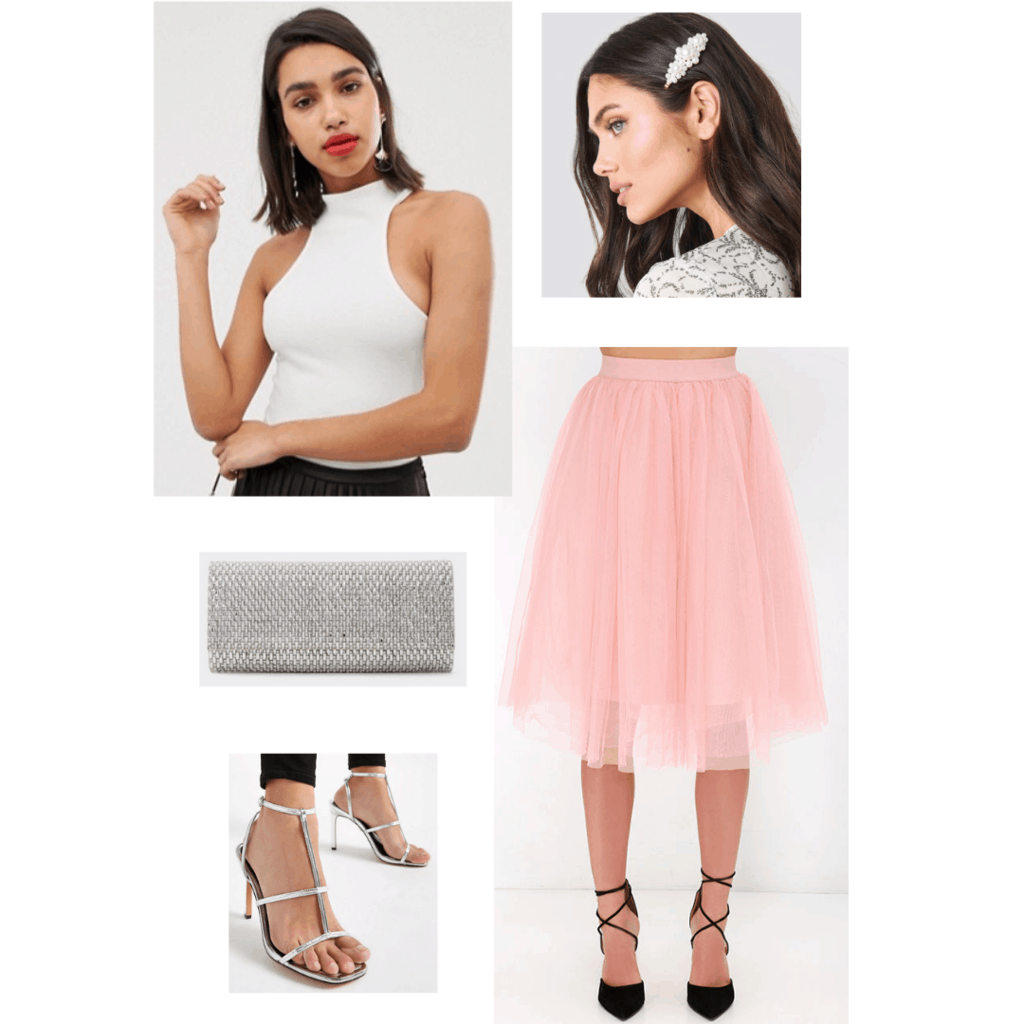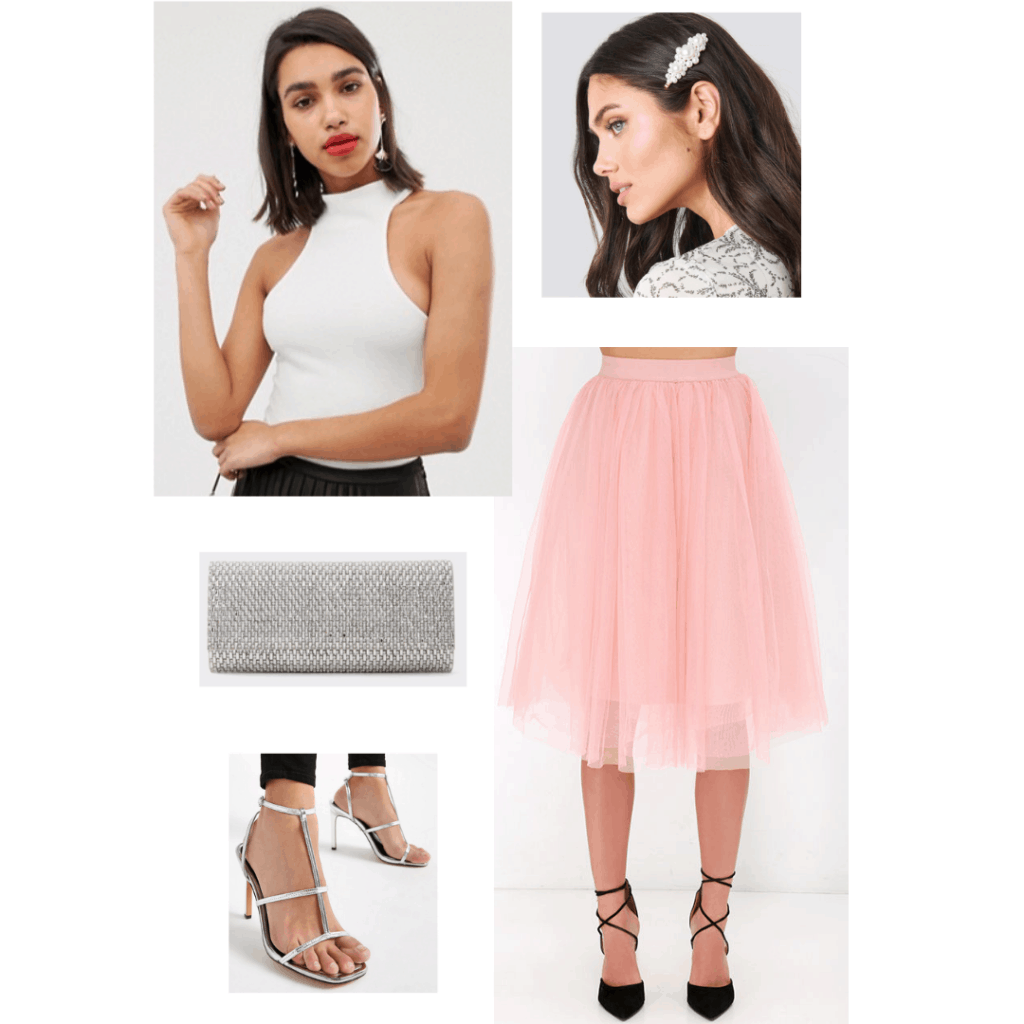 Products: Bodysuit – River Island at ASOS, Hair Clip – NAKD, Skirt – Lulu's, Bag – Aldo, Shoes – River Island.
Look 3: Sophie's Blue Feather Detail Maxi Dress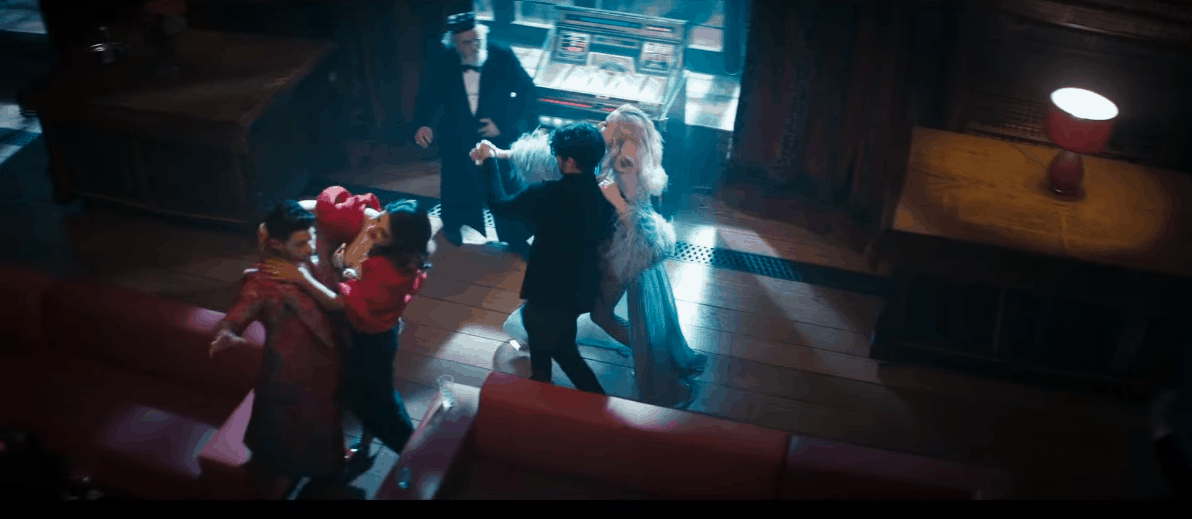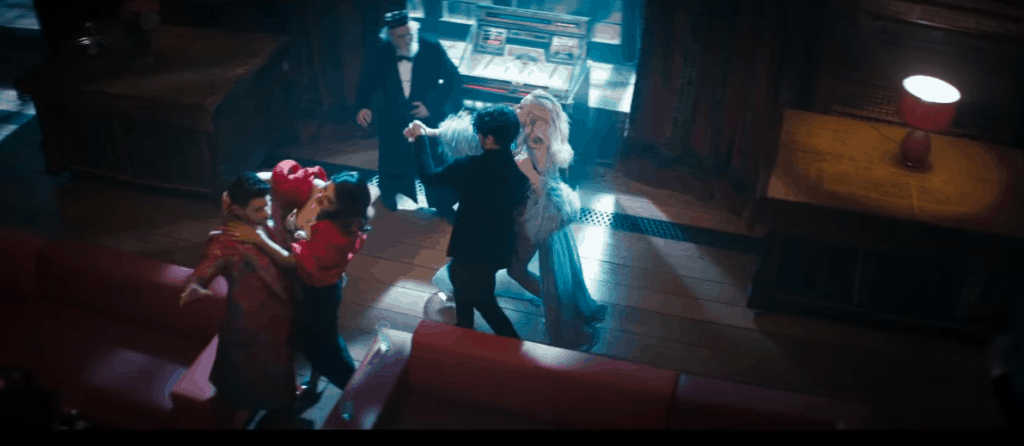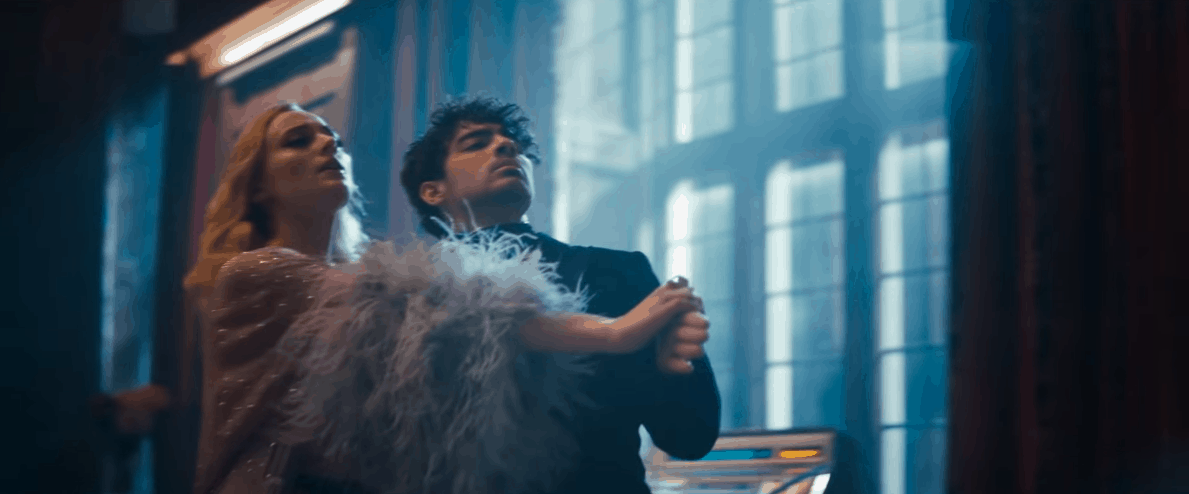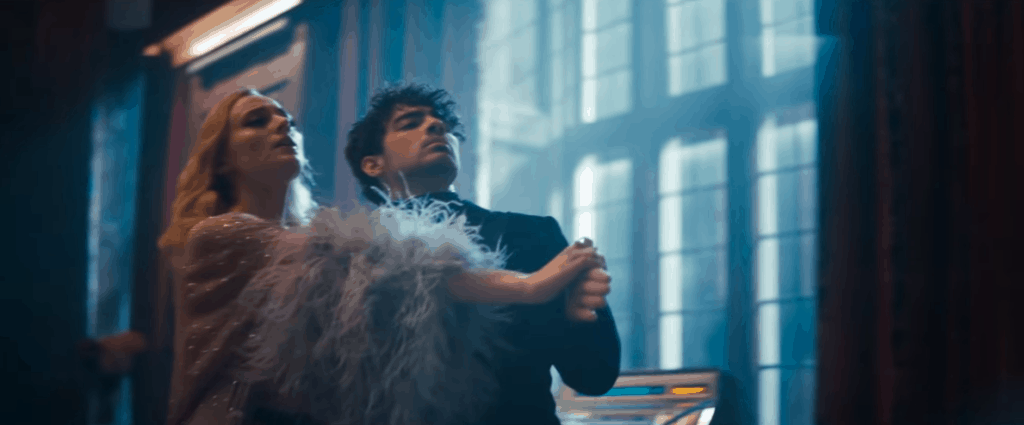 This next look is inspired by Sophie Turner's blue maxi dress with sequin embellishment and feather detailing. If blue is your color, then this PLT maxi is the perfect addition to your summer formal wardrobe. The silver feather earrings below echo the feather detailing on Sophie's sleeves and this stunning Chi Chi London clutch is a nod to the dress's embellishment.
In terms of beauty, Sophie complements her luscious blonde locks with simple makeup. To add some wow factor to your look, consider Anastasia Beverley Hills' cult highlighting kit, Moonchild for an iridescent glow that's bound to turn heads.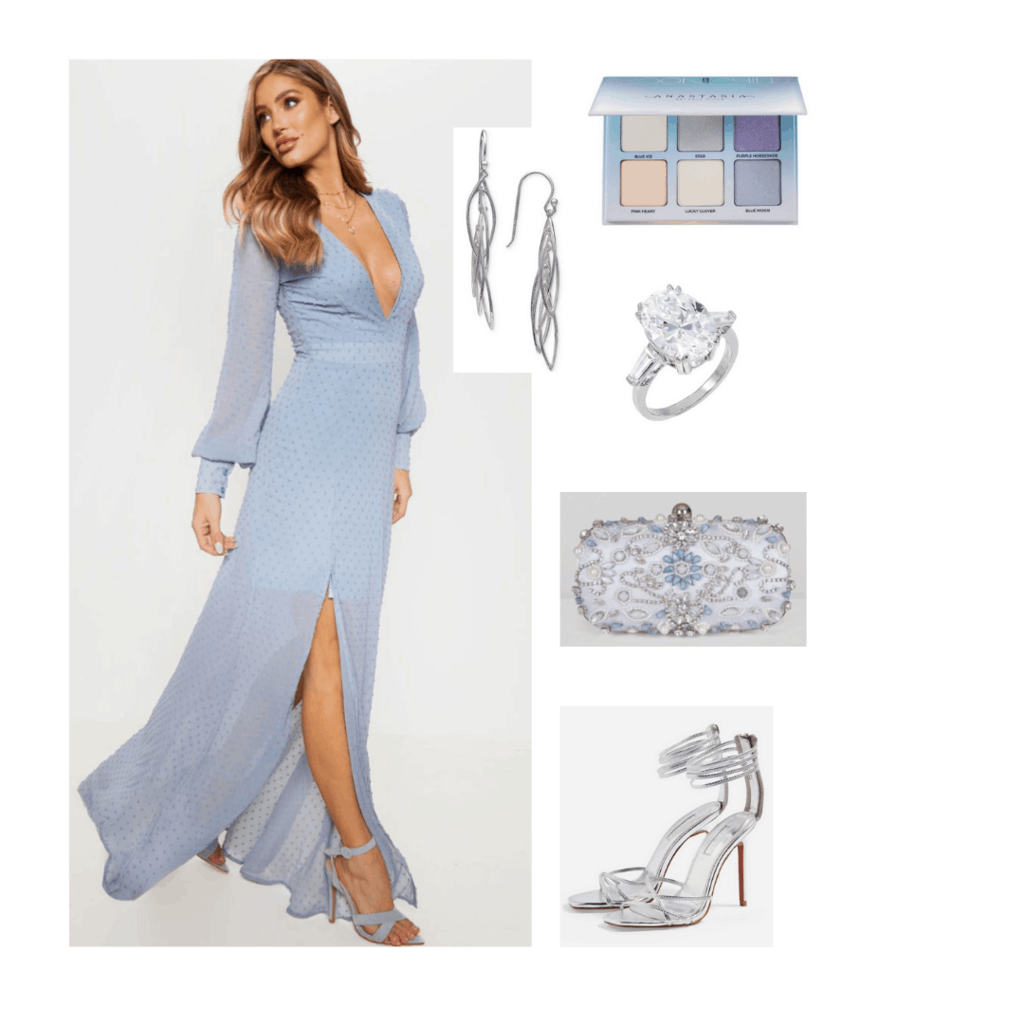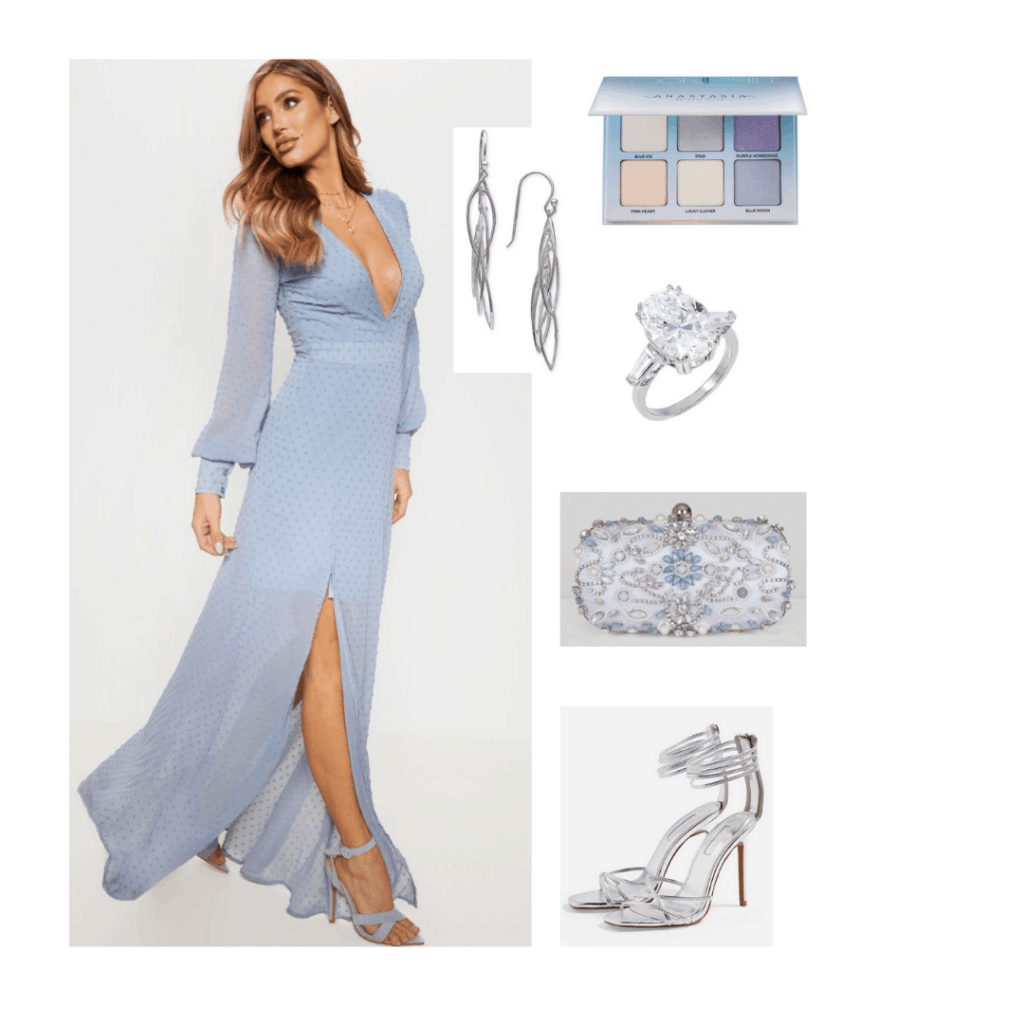 Products: Dress – Pretty Little Thing, Bag – Chi Chi Clothing, Glow Kit – Anastasia Beverly Hills, Earrings – Macy's, Ring – Adina's Jewels, Shoes – Topshop.
Look 4: Priyanka's Gold Maxi Dress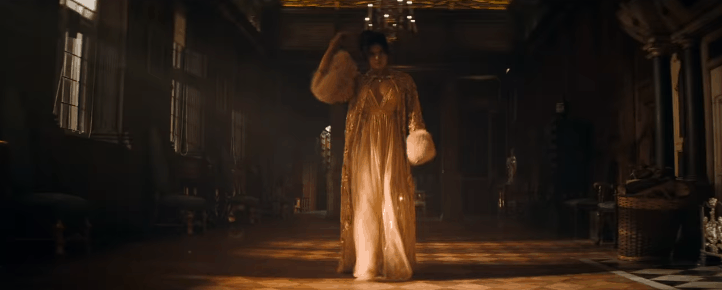 Priyanka's stunning sheer gold dress is the inspiration for this next occasion look. Centered around a cleavage-baring maxi dress, Priyanka's look is dramatic and echoes that of a Greek goddess.
I found this similar dress on Pretty Little Thing, adding a nude slip dress underneath to make the look more wedding-appropriate. Then I added a goddess-inspired headband, a pair of ultra-high metallic gold stilettos and a classic clutch bag to complete the look.
If you're looking for a more dramatic, statement look for your next event, this is it.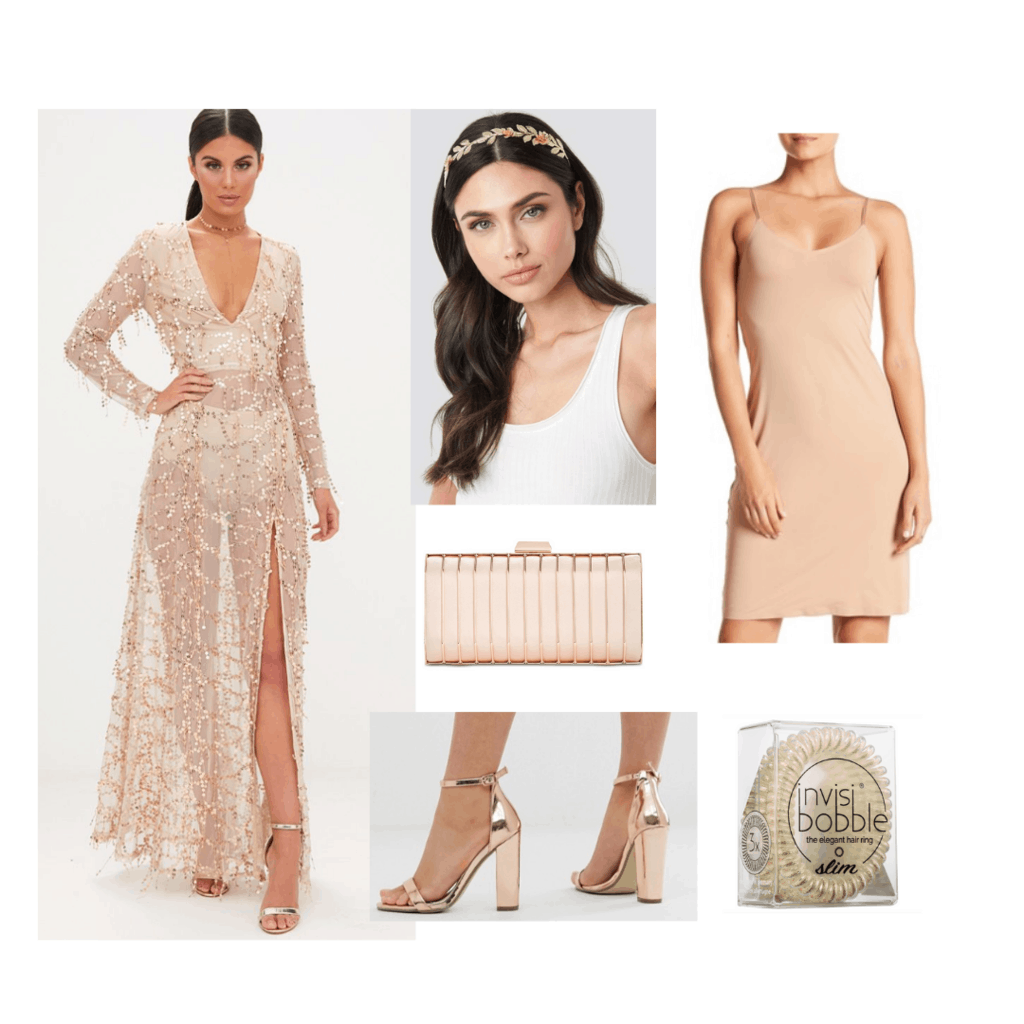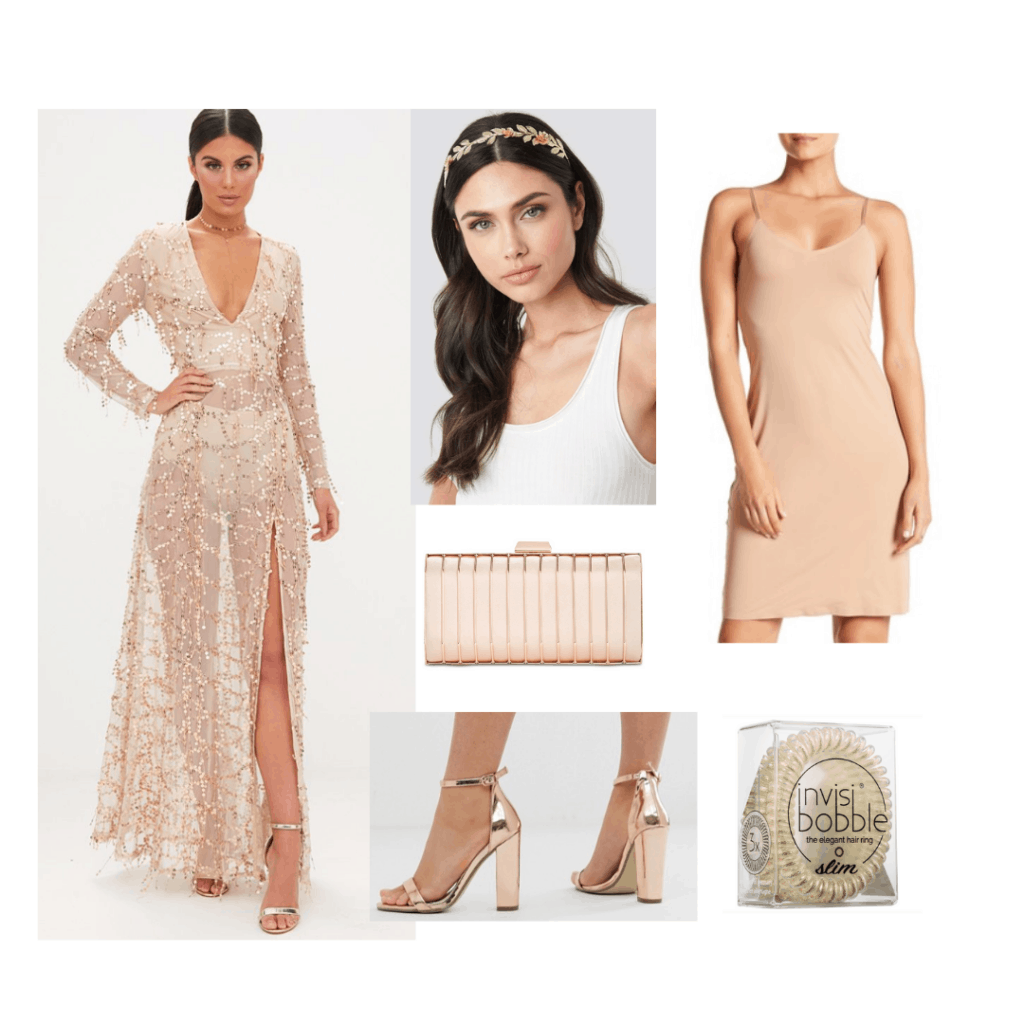 Products: Dress – Pretty Little Thing, Slip – Nordstrom Rack, Headband – NA-KD, Invisible Hair Ring – Sephora, Bag – Macy's, Shoes – Missguided at ASOS.
Look 5: Danielle's White Tiered Ruffle Ensemble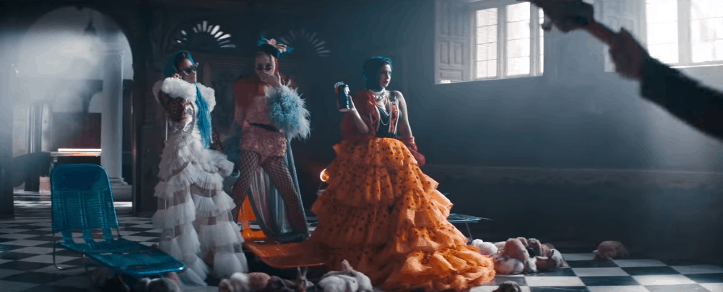 Invited to an all-white themed wedding this coming Summer? Or maybe you're a bride looking to make a statement at your upcoming bachelorette party? Take inspiration from Danielle Jonas's all-white tiered ruffle outfit.
This look is definitely one of my favorites from the music video — how stunning is Danielle's ruffle-detail designer jacket?
To emulate this fabulous outfit, I paired a tiered ruffle maxi skirt with a matching lace bodysuit. I then added simple accessories to complete the look, as the skirt is such a statement piece that it should take center stage.
Paired with an elegant updo, this lace-detail outfit is a sexier take on the classic all-white bridal look.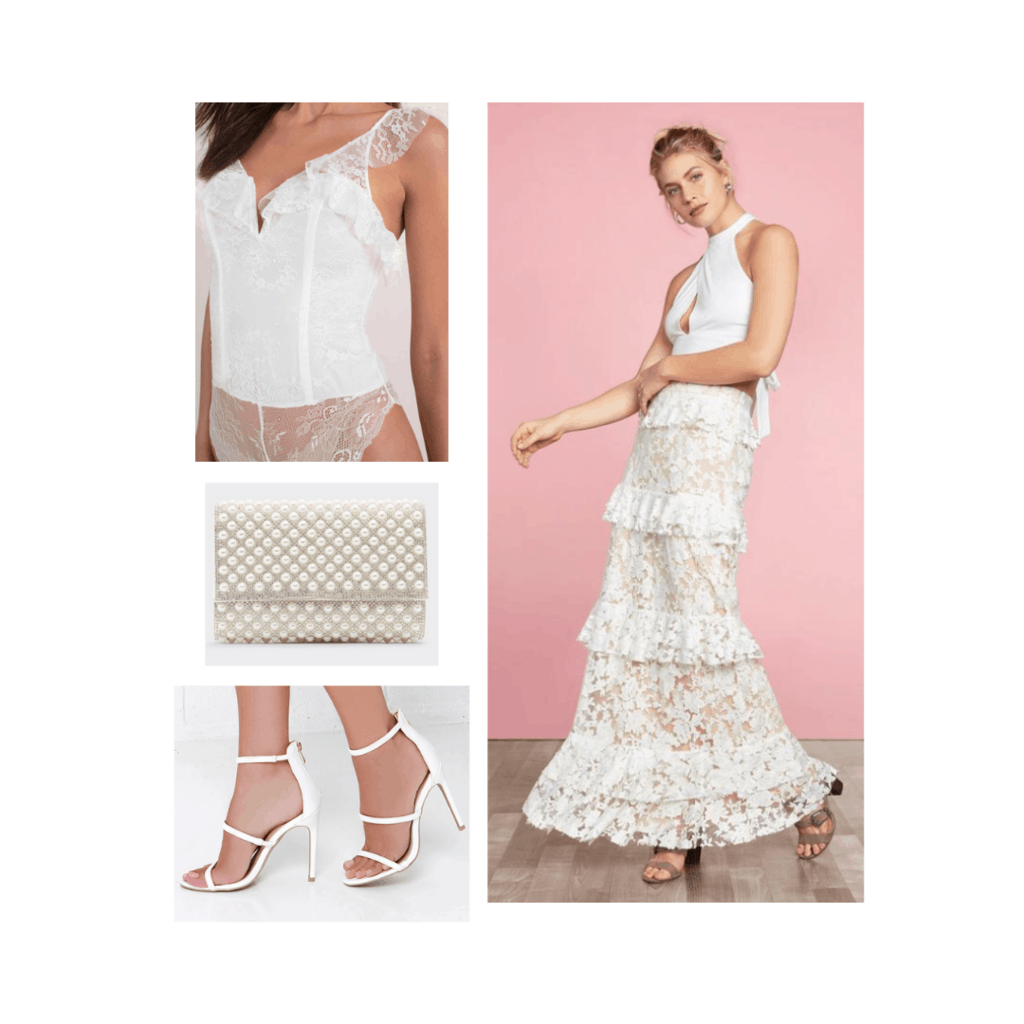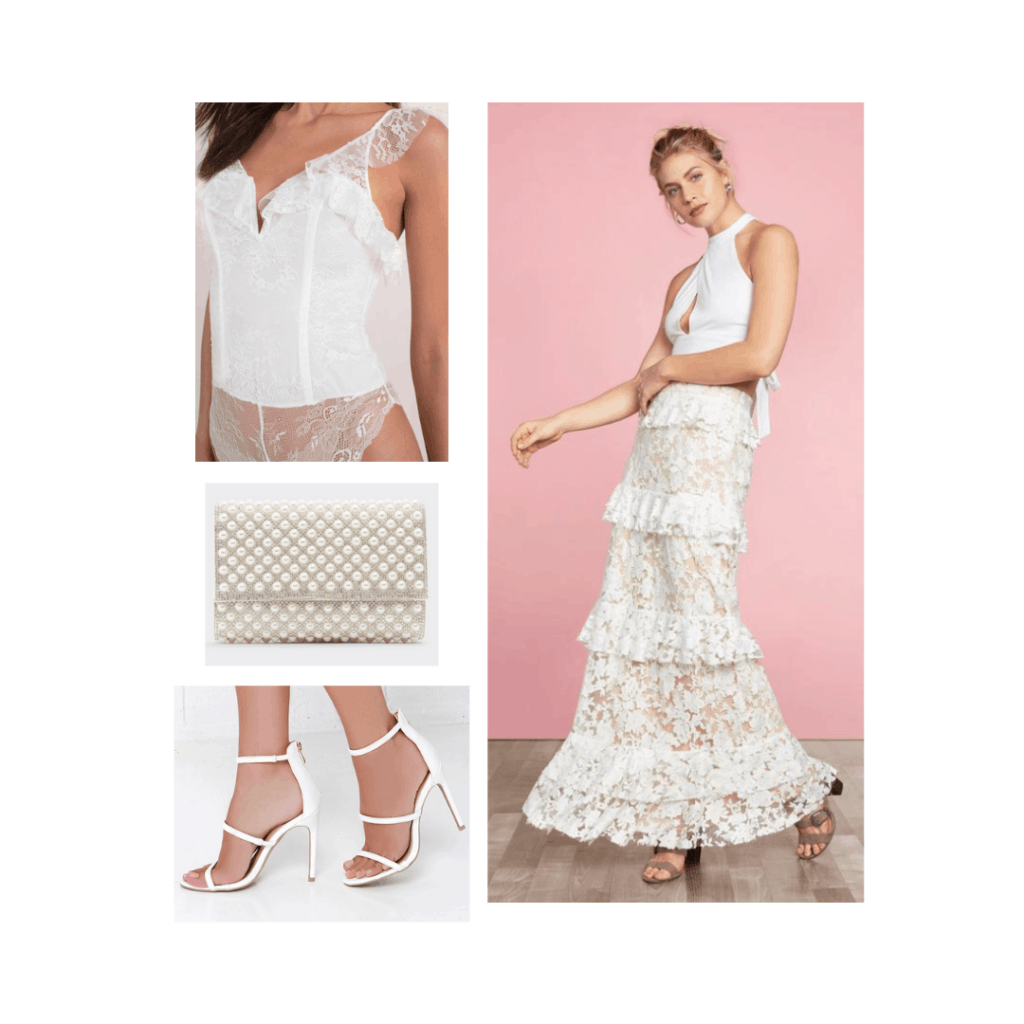 Products: Bodysuit – Tobi, Skirt – Willow and Clay, Bag – Aldo, Shoes – Lulu's.
What Do You Think of Our Sucker-Inspired Summer Wedding Fashion Guide?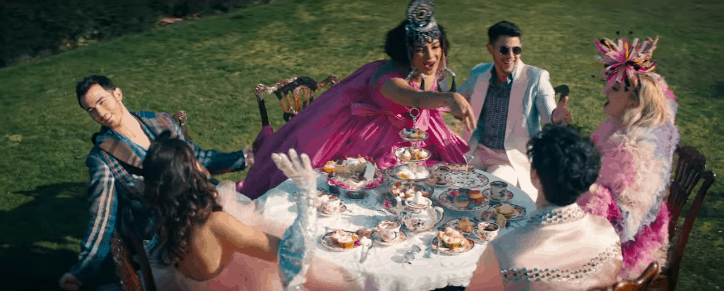 Which of these Summer occasion looks was your favorite? Are you excited about the Jonas Brothers triumphant return to music? Let me know in the comments below and send in your requests for music videos that you would like me to cover next!