This post may contain affiliate links, which means we may receive a commission if you purchase through our links. Please
read our full disclosure here
.
Backpacks don't get the love they deserve.
In high school, there was a distinct moment when girls just stopped wearing backpacks. We shrugged off those sturdy dual straps and picked up a tote bag instead. And for the most part, we haven't looked back since.
However, over the last few seasons, designers and retailers have started to acknowledge the undeniable practicality of backpacks and have put into production bags that can hold an entire day's worth of necessities while also being remarkably adorable.
Nowadays, if we need a reliable bag, we aren't talking about your standard, bulky Jansport or L.L. Bean; we're talking about new sleek incarnations featuring eye-catching prints and luxe fabrics. This modern generation of fashionable knapsacks has all of the elements of your middle school favorite—compartments galore, even weight distribution— but with lots of added pizzazz.
Cute, trendy backpacks are the perfect union of utility and style. They add an undeniable "cool girl" vibe to any outfit while simultaneously freeing up your arms for maximum efficiency. Unlike their predecessors, the current class of backpacks aren't relegated to a life of solely academic pursuits; they were meant for so much more. The right backpack can be suitable for all occasions and styles.
3 Ways to Wear a Casual Backpack
Today I've put together three outfits featuring fashion-forward, affordable backpacks that highlight the versatility of the bag.
Sleek Modernist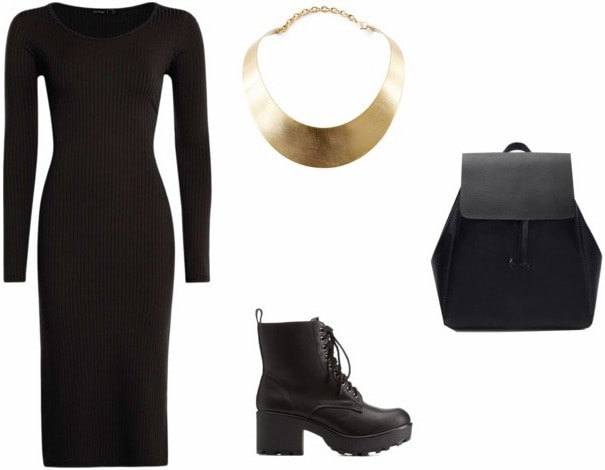 Products: Dress, Necklace, Booties, Bag
For a modern, utilitarian look that screams sophistication, start with a flattering ribbed midi dress in a neutral color. Choose a minimalist backpack in the same color family of your ensemble to add a hint of effortlessness. Finish off the look with a simple, metallic collar necklace and military-inspired heeled booties.
This look is simple, powerful, and worthy of both a modern art gallery and New York Fashion Week.
Casual Cool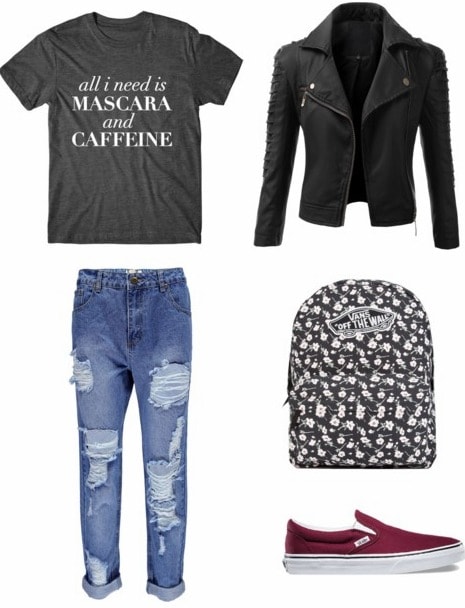 Products: Tee, Jacket, Jeans, Bag, Sneakers
Although the bag featured in this outfit may seem structurally identical to the classic Jansport, its arresting print makes it far more appropriate for extracurricular activities than for your average day in class (though it's great for both).
For a chill look, throw on a pair of distressed boyfriend jeans and a perfectly worn-in graphic tee. Layer with a chic motorcycle jacket and finish the look with a comfy pair of slip-ons. The casual vibe of the canvas backpack accentuates the laid-back style of the rest of the ensemble.
Flirty and Girly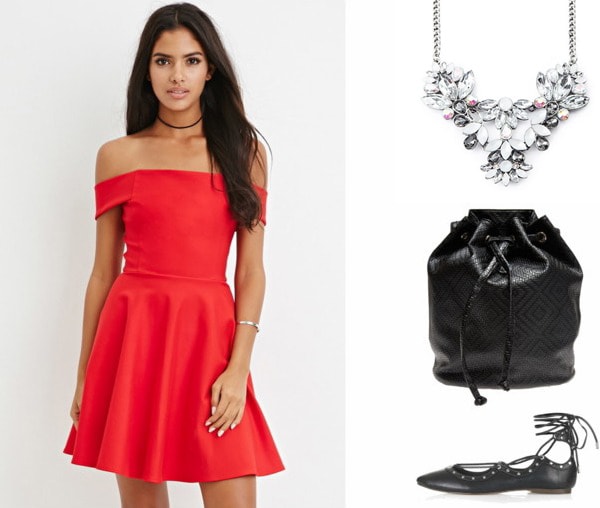 Products: Dress, Necklace, Bag, Flats
Next time you find yourself reaching for a small cross-body bag, challenge yourself to bring a petite drawstring backpack instead. It'll toughen up even the girliest of outfits and the dichotomy of the two styles will create an unexpected look.
Use a flirty fit and flare dress with and an off-the-shoulder neckline to form the basis of your look. Add a chunky statement necklace and dainty lace-up flats to polish off this charming, feminine look. By pairing this ensemble with a boyish backpack, the outfit goes from cute to fierce instantly.
What Do You Think?
Do you prefer backpacks or purses? Do you wear backpacks outside of school? What's in you bag? Let us know down below!