Ah, nothing says summertime like a movie theater stacked with crowd-pleasing superhero blockbusters! Hot on the trail of last month's Captain America: Civil War is the newest installment of the X-Men saga. X-Men: Apocalypse picks up ten years or so after the events of X-Men: Days of Future Past (2014) and introduces us to the younger versions of favorite characters like Jean Grey (Sophie Turner), Cyclops (Tye Sheridan), and Nightcrawler (Kodi Smit-McPhee)
Outfits Inspired by X-Men: Apocalypse
Apocalypse Now
Apocalypse (Oscar Isaac, aka Poe Dameron, aka bae) is the Big Blue Bad guy of the movie. He's the very first mutant; after spending centuries imprisoned, he's broken free and is hell-bent on "saving the world"….by destroying it.
After five years of writing Geek Chic columns, I'd kind of like to implore the costume designers of sci-fi and comic book movies to try something new for supervillain costumes: is there truly no other way to convey evil-ness than with a dark color scheme and angular, metallic body armor? (Apocalypse looks like he could be Ultron's cousin.)
Okay, design rant aside, Apocalypse's look does translate nicely to real life. Pair an intricately patterned high-necked dress with a sharply tailored jacket, then add cool accessories like a pair of studded boots and futuristic-looking jewelry.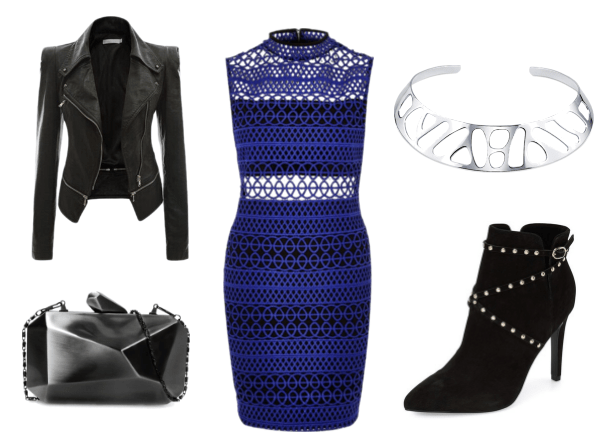 Products: Jacket, Dress, Heels, Choker, Clutch
The Four Horsemen
Apocalypse is always flanked by four loyal followers, known as the Four Horsemen. In X-Men: Apocalypse, he recruits four powerful mutants: the psychic katana-wielding Psylocke (Olivia Munn), the winged Angel (Ben Hardy), the weather-controlling Storm (Alexandra Shipp), and the metal-manipulating Magneto (Michael Fassbender).
For an outfit inspired by elements of each of the Horsemen, stick to a similar purple, black, red, and silver color scheme. Pair a structured crop top with a matching pencil skirt, then add a pair of cool cut-out boots. A glittering silver capelet is reminiscent of Storm's outfit, while wing-shaped earrings reference Angel's mutation. Finish off the look with a swipe of deep purple lipstick.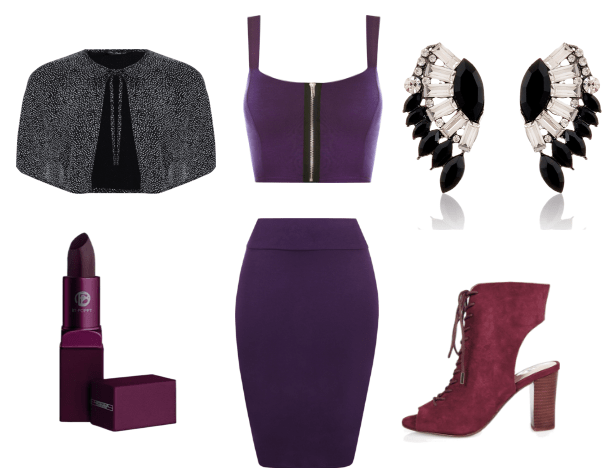 Products: Capelet, Top, Skirt, Boots, Earrings, Lipstick
Totally 80s
While Jubilee (Lana Condor) doesn't play a very large part in the film, she's perhaps the most vivid visual reminder that the film is set in 1983. Jubilee is a student at the X-Mansion and a mall-loving teenager. In the comics, she has the ability to generate high energy "fireworks."
Bring Jubilee's peppy style into the 2010s with her signature yellow jacket in a cool motorcycle cut. Next, add a pastel crop top and a pair of bleached boyfriend jeans. Retro sneakers and mirrored pink lenses add to the quirky look, while starburst earrings allude to her power.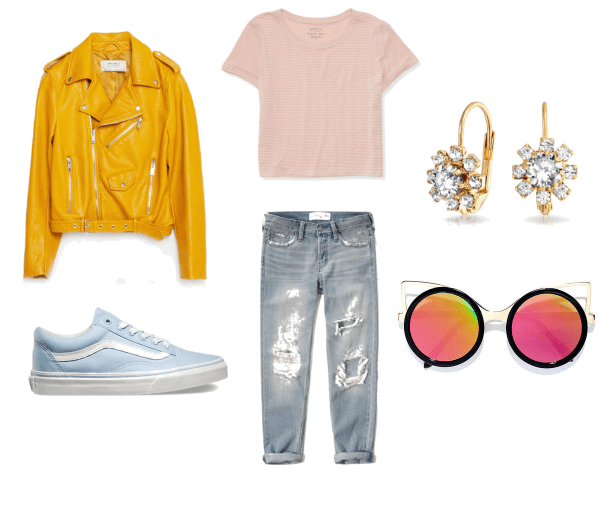 Products: Jacket, Top, Jeans, Sneakers, Earrings, Sunglasses
What did you think?
Would you wear these outfits? Have you seen X-Men: Apocalypse? What other geeky inspirations would you like to see? Let us know in the comments!