Damn, Marvel! Back at again with the thoughtful yet wildly entertaining smash hits! I'm referring, of course, to Captain America: Civil War, the third installment in the stand-alone saga of Steve Rogers. Directed by the Russo Brothers, who also helmed 2014's Captain America: The Winter Soldier, Civil War pits our favorite Avengers (plus a few new faces) against one another in a moral and physical struggle that threatens to tear them apart forever.
Mild spoilers ahead, for those who haven't seen the movie yet!
Know Your Geek: About Civil War
After an Avengers mission goes awry and results in the deaths of many innocent civilians, the U.N. decides that it's time for the superheroes of the world to be put in check.
Tony Stark/Iron Man supports the Sokovia Accords, which will regulate the Avengers' operations, while Steve Rogers/Captain America is distrustful of the government's intentions and judgment.
When Steve's childhood best friend Bucky Barnes/The Winter Soldier enters the equation, the disagreement escalates into all-out war and the other Avengers must choose sides.
Captain America: Civil War is based on the 2006 comics series Civil War, written by Mark Millar.
The film introduces two new characters to the MCU: Black Panther and Spider-Man.
Outfits Inspired by Captain America: Civil War 
Even if you're not ready to choose a side, you can definitely side with style! Read on for three outfits inspired by characters from Civil War.
Black Panther/T'Challa
Black Panther/T'Challa (Chadwick Boseman) is a prince from Wakanda, an isolated [and fictional] African country known for its advanced technology and for being the only source of vibranium. Although he is drawn into the fight to avenge his father's death, unlike the Avengers, his agenda does not lie with either Tony's or Steve's.
Get Black Panther's sleek, modern look for yourself by donning a black jumpsuit. Accessorize with bold silver accessories like a metal belt and a bejeweled panther bracelet. Instead of a mask, opt for a pair of gray sunnies and some statement-making tasseled earrings.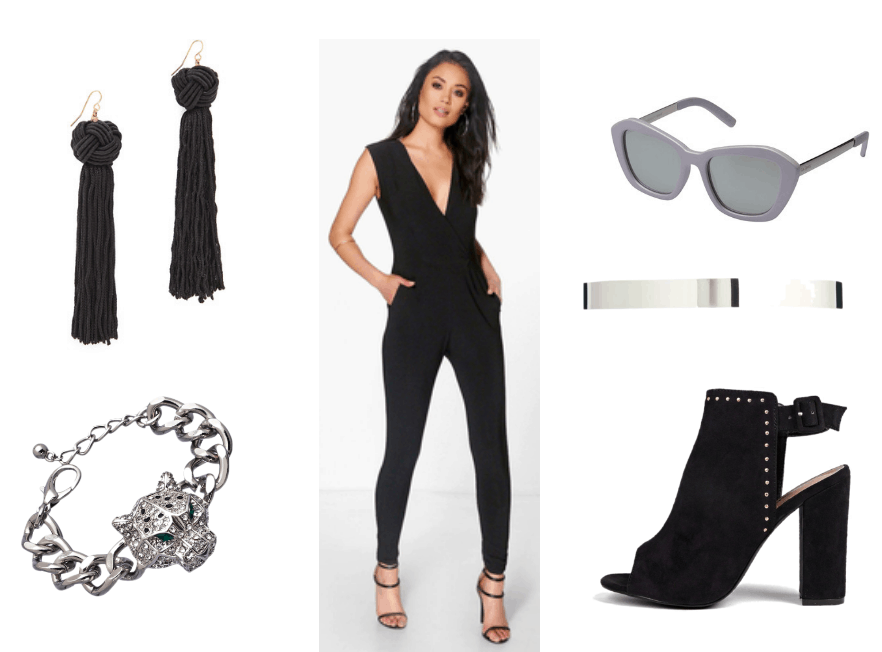 Products: Jumpsuit, Heels, Earrings, Bracelet, Belt, Sunglasses 
Falcon/Sam Wilson
Sam Wilson/Falcon (Anthony Mackie) is a former pararescueman trained in aerial combat using a mechanized pair of wings. (He's also one of Steve's closest friends; as you can imagine, he and Bucky Barnes run into their fair share of BFF jealousy.)
Let your style take flight with an outfit inspired by Sam's "bird costume". A geometric-patterned batwing cardigan and red blouse are reminiscent of the wings, while some aviators replace Sam's flight goggles.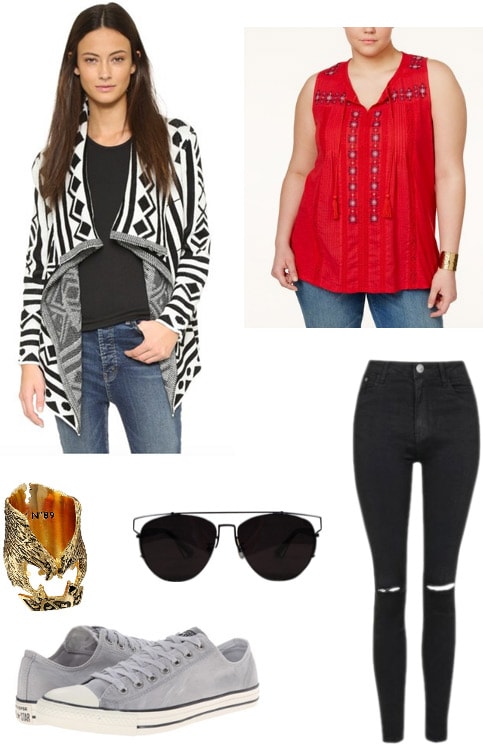 Products: Cardigan, Top, Jeans, Shoes, Ring, Sunglasses 
Agent 13/Sharon Carter
Agent 13/Sharon Carter (Emily VanCamp) is Peggy Carter's niece and a CIA agent who used to work for S.H.I.E.L.D. Although she works for the government, she's allied with Captain America.
I really like Agent 13's classic, no-nonsense look. While it's not the most exciting, it's definitely reliable – she wears the kind of outfits I reach for when I'm rolling out of bed late. All you need are a few closet staples to recreate her look: a tunic shirt, quilted vest, and your favorite dark-wash jeans. Jazz it up with ankle boots or flat riding boots, then add practical accessories like a hardy computer backpack and rubberized watch. As a final touch, pay homage to Peggy Carter (RIP) with a swipe of the same red lipstick that Hayley Atwell wears onscreen.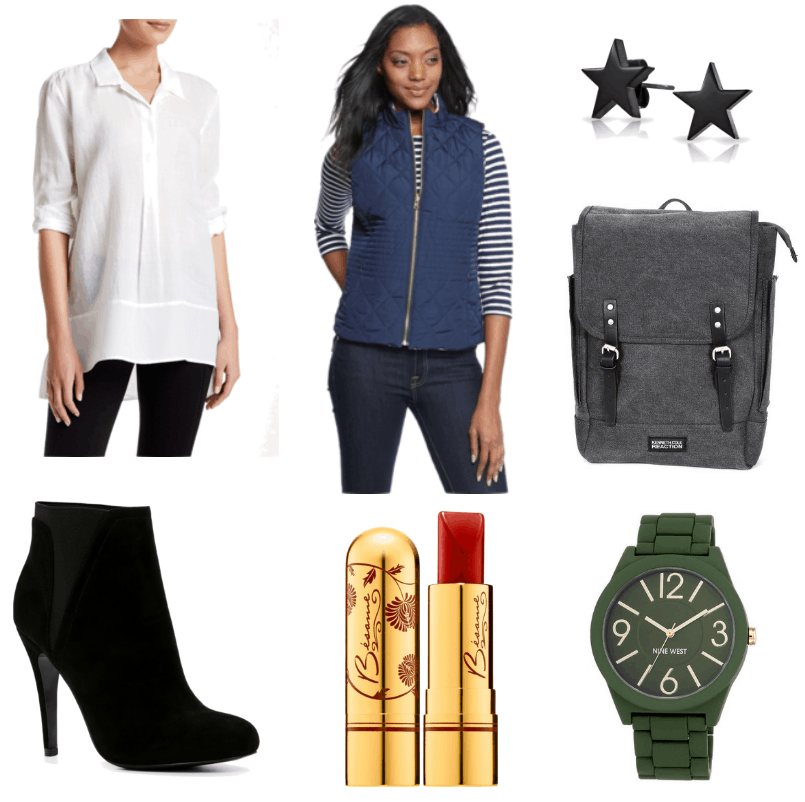 Products: Top, Vest, Boots, Earrings, Watch, Lipstick, Backpack
What did you think?
Have you seen Captain America: Civil War? Would you wear these outfits? What other geeky inspirations would you like to see? Let us know in the comments!