This post may contain affiliate links, which means we may receive a commission if you purchase through our links. Please
read our full disclosure here
.
Official Film Poster
The latest film in Marvel's Cinematic Universe is Captain America: The Winter Soldier, the sequel to 2011's Captain America: The First Avenger. The film catches back up with Steve Rogers (AKA Captain America), Natasha Romanoff (AKA Black Widow), and Nick Fury, who are still helping to defend America and the world.
But now, a new and mysterious enemy – the Winter Soldier – is launching a major attack on S.H.I.E.L.D.. With Black Widow's help, the Captain must face ghosts from his past in order to stop this new threat. See more in the trailer below:
When Captain America, Black Widow, and the Winter Soldier are busy fighting each other in over-the-top action scenes, they're typically dressed in practical military-style uniforms. So, my fashion inspiration came from some of the characters' personal styles, and what they might wear in their off-duty time. For three action hero-inspired ensembles, scroll on:
Steve Rogers/Captain America
When he's not on a mission for S.H.I.E.L.D., Captain America likes to dress in casual, utilitarian pieces. To get his look, pair khaki cargo pants with a navy utility jacket and a comfy gray tee. A cool pair of buckled boots with American flag detailing hints at Cap's patriotism. Lastly, accessorize with a slightly masculine leather belt and a motorcycle charm bracelet (as a nod to Steve Rogers' favorite form of transportation).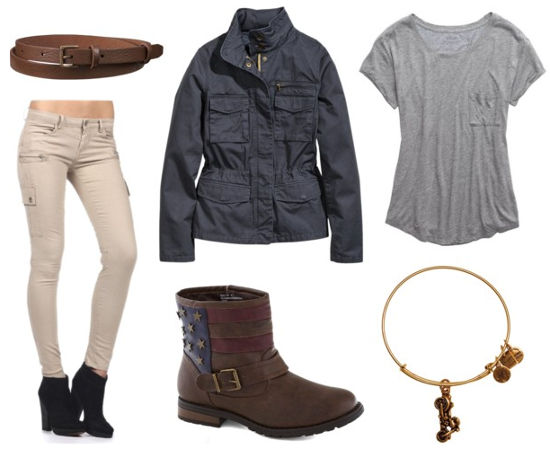 Product Info: Tee – American Eagle, Jacket – H&M, Pants – Metro Park, Boots – ModCloth, Bracelet – Bloomingdale's, Belt – Uniqlo
Natasha Romanoff/Black Widow
Natasha Romanoff, also known as Black Widow, has a cool, tough-girl style that features lots of black and leather. For her look, start with black skinny jeans and a strappy black cami. Layer a fitted leather jacket on top, and slip on a pair of black ankle boots with buckle detailing. Add a spider pendant necklace as a nod to Natasha's alter-ego, then polish off the ensemble with pale pink lipstick.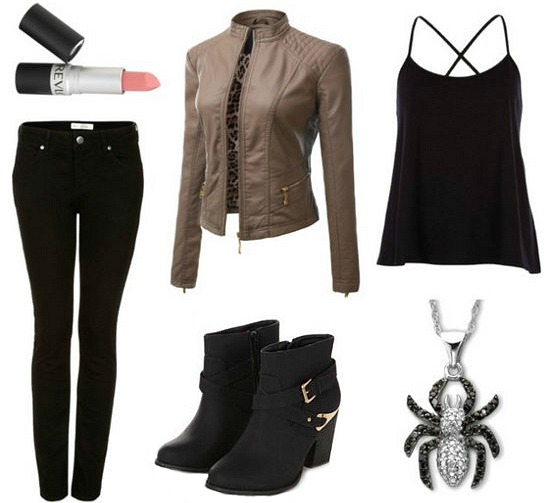 Product Info: Jeans – Topshop, Jacket – Amazon, Cami – River Island, Boots – New Look, Necklace – JCPenney, Lipstick – Revlon
The Winter Soldier
The Winter Soldier is always dressed in a tough, heavy-duty black uniform that's designed for battle. To get a night-out look inspired by his get-up, pair a black bandage dress with a moto vest and lace-up combat boots. Star earrings hint at the star painted on the Soldier's left shoulder, and instead of a full metal arm, try a large metallic cuff bracelet. Finish off the outfit with a dramatic smokey eye.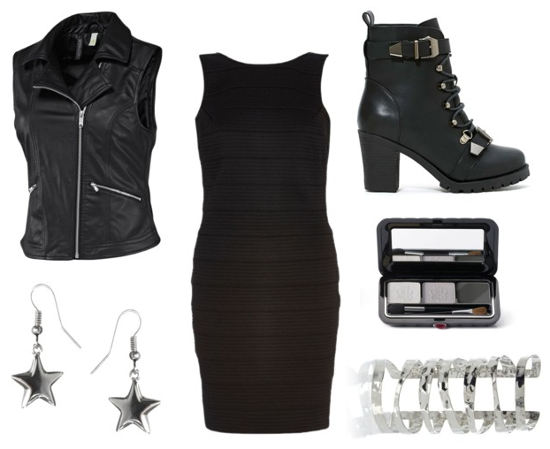 Product Info: Dress – River Island, Vest – Adidas, Boots – Nasty Gal, Bracelet – River Island, Earrings – ASOS, Eyeshadow – Lord & Taylor
Thoughts?
Have you seen Captain America: The Winter Soldier? Which character is your favorite? Which look would you wear? Let us know in the comments!