Ah, back-to-school season. That glorious time when summer lounging is starting to feel a little stale, you're getting an itch to see your friends again and actually be productive, and your new binders and notebooks are super organized because they're still, well, new.
Much as you may love your school, though, do you ever wish you could be zipping around on a broomstick instead? Or seeking out new life and new civilizations? Or battling the evil denizens of the Hellmouth? (Okay, probably not the last one.)
For this Back to School Edition of the Geek Chic column, we're featuring outfits inspired by some of your favorite characters and what they wore on their first days of (fictional) school.
Starfleet Academy
With such a chic, streamlined look, this is one uniform I'd be happy to wear every single day! The cadets of Starfleet Academy in San Francisco are training to be officers in Starfleet, the peacekeeping armada of the United Federation of Planets.
Emulate the Starfleet cadet uniform with a sleek pair of jeans in a rich burgundy color. Next, slip on a soft turtleneck and a structured peplum jacket to create a similar silhouette. Accessorize with a pair of black ankle boots and celestial earrings. Carry around your tricorder, communicator, and PADD (or, you know, your laptop, cell phone, and tablet) in a roomy satchel.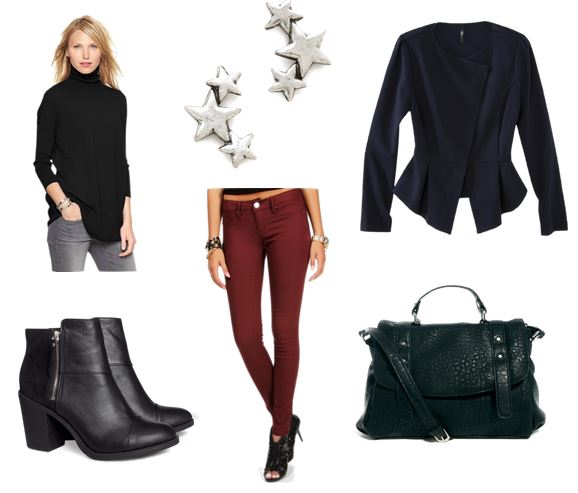 Product Information: Jacket, Top, Jeans, Boots, Satchel, Earrings
Sunnydale High School
Buffy's first day outfit at Sunnydale High is, like, totally '90s. (Can you believe that the show started airing in 1997?) Dated as the look might be, she still looks pretty darn cute with her chunky boots, puffy bangs, and crop tops.
Bring Buffy's tiny cardigan and even tinier skirt ensemble into the 21st century by swapping in a fun turquoise blazer and a timeless burgundy pencil skirt with a much more classroom-appropriate hemline. A studded blouse takes the place of Buffy's white cami tank tops. Knee-high boots are always popular; just make sure you go for a more modern style like this buckled pair. Finally, add a touch of animal print and a cross ring to ward off those pesky vampires!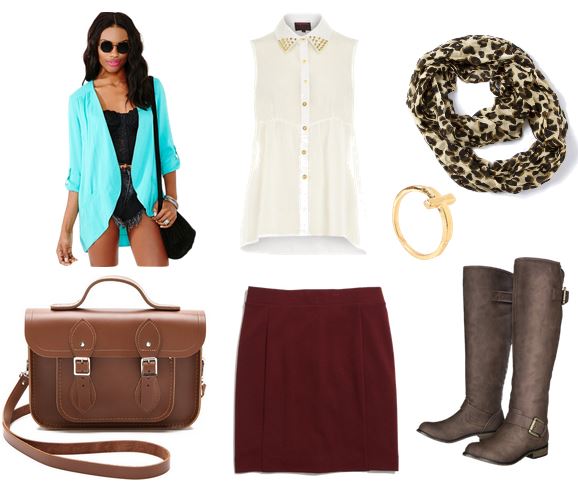 Product Information: Blazer, Top, Skirt, Boots, Bag, Scarf, Ring
Hogwarts School of Witchcraft and Wizardry
First of all, look how tiny and adorable they are!!
So maybe you never got that Hogwarts acceptance letter in the mail, and maybe you never got to take that awesome school supply shopping trip to Diagon Alley, and maybe the Sorting Hat never helped assign you to your destiny, and maybe you never got to experience a lavish feast with Yorkshire pudding and pumpkin pasties, and maybe you're just a teensy bit bitter. (Okay, maybe a lot.)
We might be Muggles, but we can still take the opportunity to make some magic with a comfortable and chic outfit inspired by these first year uniforms!
A soft gray dolman sweater with black skinny jeans is a casual take on the house sweaters and skirts/trousers that the students wear, while a black waterfall coat is a more fashion-forward version of wizarding robes. Slip on a pair of polished brogues to add to the "English schoolboy" vibe. Finally, pledge your house allegiance with a cute infinity scarf in the house colors of your choice. And remember: Draco Dormiens Nunquam Titillandus!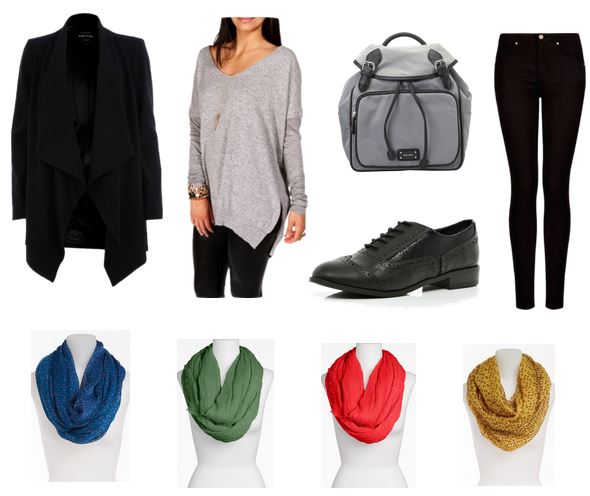 Product Information: Sweater, Jeans, Coat, Shoes, Backpack, Scarves
More Geek Chic!
Need more geekiness in your life? (Is that even a question? Of course you do!)
If you enjoyed this post, don't miss our previous articles in the Geek Chic series: Rise of the Guardians-inspired fashion, How To Train Your Dragon-inspired fashion, Loki-inspired fashion, What to Wear to SDCC, Doctor Who-inspired fashion (And parts 2, 3, and 4), Star Trek Into Darkness-inspired fashion, Buffy-inspired fashion (and Part 2), Castle-inspired fashion, Firefly-inspired fashion, The Hobbit-inspired fashion, Supernatural-inspired fashion, Bones-inspired fashion, Princess Bride-inspired fashion, The Dark Knight trilogy-inspired fashion, Pokemon-inspired fashion,  Star Wars Prequel-inspired fashion, Lost-inspired fashion, Sailor Moon-inspired fashion, Sherlock-inspired fashion, Star Wars Original Trilogy-inspired fashion, The Big Bang Theory fashion, the Lord of the Rings fashion, and Star Trek-inspired fashion.
What did you think?
Would you wear these outfits? Are you excited to go back to school? What fictional school would you attend if you had the choice? What are you planning to wear on your first day of classes? What other geeky inspirations would you like to see? Let me know in the comments!