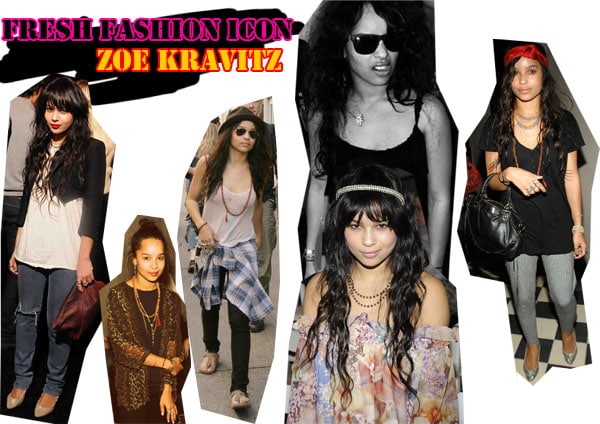 (Photo Source: All photos thanks to TheFashionSpot)
With musician Lenny Kravitz and actress Lisa Bonnet as her parents, raven haired Zoe Kravitz was born with rock n' roll and effortless fashion sense flowing through her veins. With a mix of grungy rocker chic style and a hint of fairytale boho, this chick makes fashion fun and feisty- yet still refreshingly understated and chic.
Want to know how to get style like Zoe's? Read on for tips and outfits to help you recreate her look.
Weekender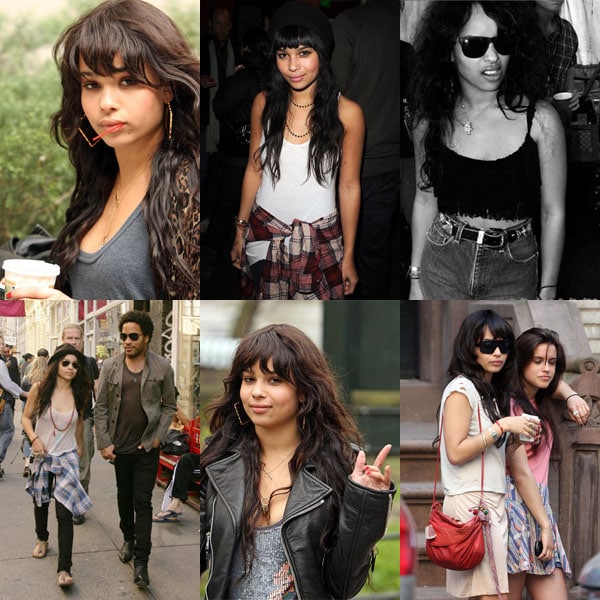 As I said before, Zoe has a great everyday look; she always looks cool as a cucumber, whether she's rocking a flannel button-up, leather jacket, headband or a pair of fashion-forward sunnies. Her outfits always have a breezy, "just-rolled-out-of-bed" vibe, yet she still looks very put-together and thoughtful.
Weekender Outfit Breakdown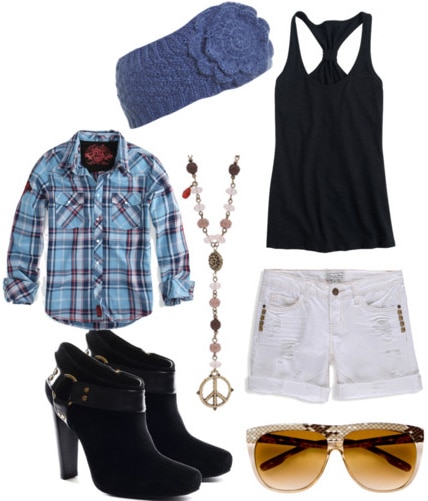 (Headband, Flannel, Heels, Necklace, Tank, Shorts, Sunglasses)
As I said before, Zoe's look is a mix of grunge, rock n' roll, and fearless style. So to start off the weekender look inspired by Zoe, I took a basic tank top and paired it with a pair of white shorts that are both distressed and studded. Then I found a nice boyfriend flannel in a baby blue color; it can be either wrapped around your waist (Zoe's favorite way to wear flannels), or thrown on your shoulders to keep you warm. Next I found a long chained peace necklace and then paired that with a great pair of snakeskin-detailed sunglasses. And finally to decorate your head and toes, I found a fun knit headband and some cute booties.
While this look has lots of components, it's so easy to pull off as well as throw on. Pop on this outfit when you're off to class or on a walk downtown; people will hear The Rolling Stones and Jimi Hendrix as you walk by- I guarantee it.
Boho Betty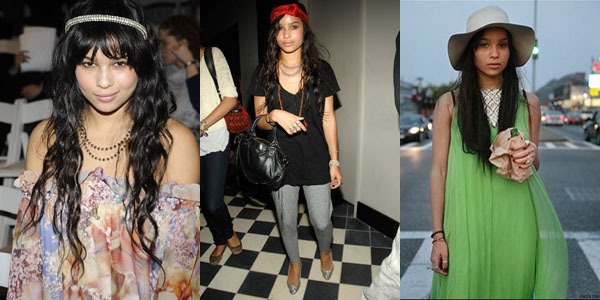 While Zoe loves to pile on leather and studs, she also has a softer side to her style. She can often be spotted wearing floaty dresses, hippie-esque headbands, and ethereal florals. To see how to mimic her more bohemian look, check out my outfit breakdown below.
Boho Betty Breakdown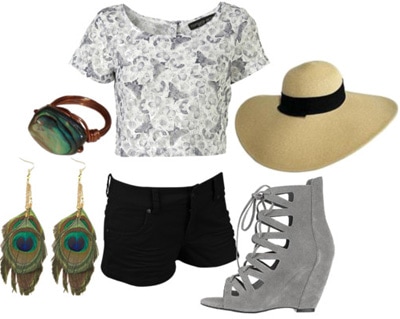 (Ring, Earrings, Tops, Shorts, Hat, Wedges)
Although many of you had mixed emotions on the crop top trend, I thought it was an appropriate trend to feature in this outfit because Zoe is definitely a fan. So first I chose a cute grey one with butterflies and paired it with a pair of black shorts, a sunhat, and some super-edgy suede wedges. While most of Zoe's garments are neutral, I went for pops of color in my accessory choices: a cool multicolored stone ring and some pretty peacock earrings.
Whether you're off to a festival, a picnic in the park, or a day in the city, this outfit is a perfect complement to the summer heat.
Night on the Town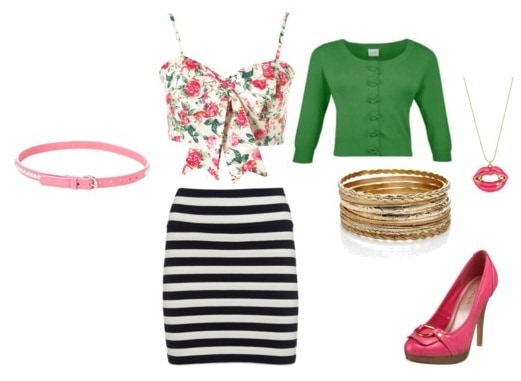 Zoe is definitely a night owl – most of her photos show her attending big social engagements and fashion shows; and while most people attending these events go for over-the-top dresses, Zoe is breath of fresh air in clothes that deviate from the norm. Want to see two outfit breakdowns inspired by Zoe's night looks? Scroll on down!
Night on the Town Outfit Breakdown 1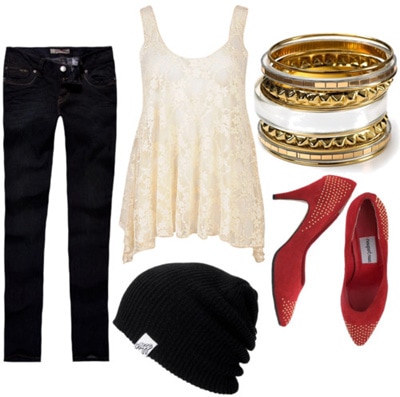 I like to go out and have fun as much as the next girl, but sometimes I forget that jeans and heels can look just as hot as that LBD I spent way too much on. That's why it's refreshing to see Zoe rockin' her skinnies at an event and looking fab.
To recreate her look, I started with dark jeans and a flirty top. Then, to elongate your legs, I chose a pair of sexy studded red heels. To adorn your arms, I chose a fistful of studded bangles. For the finishing touch, I chose a slouchy beanie. While beanies can often be percived as daytime-only accessories, I beg to differ – a beanie conveys a badass attitude and adds instant edge to your outfit. So just curl or straighten your hair and pull on a beanie for that finishing touch. I guarantee your nights out will be that much more interesting as you stand out amongst those boring dresses.
Night on the Town Outfit Breakdown 2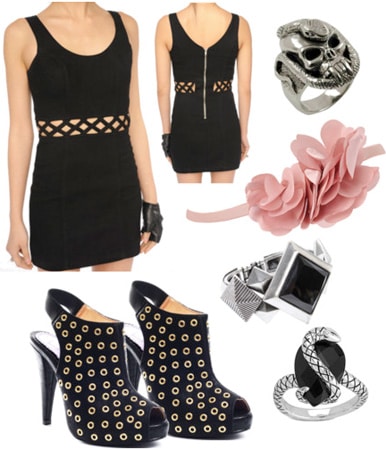 (Dress, Heels, Scull Ring, Headband, Stud Ring, Snake Ring)
You know when you say something and then immediately contradict yourself in the next sentence? Well, ironically, after I just preached about switching things up and not wearing a dress out at night, I decided to choose a dress for my second outfit breakdown. Contradictory, I know, but at least it's an awesome dress, right?
To start this look off, I chose a sexy cutout dress with zipper details on the back. Then I paired it with some sick studded booties that any rocker would be proud to strut around in. To complete the look, I chose a fun floral headband (the classic Zoe standby accessory) and then finally grabbed some sweet rings to decorate your fingers. Whether you're off to a rock concert or a red carpet event (because we go to those so often, haha) you'll definitely create ripples with this look.
Thoughts?
I have always liked Zoe because she seems very down-to-earth. You can tell she loves fashion, but she always stays true to herself and doesn't subscribe to trends. On that same note, I love that she isn't afraid to try different things. She's a breath of fresh air and a step apart from all the fashion clones in the business.
What do you think about Zoe? Do you like her style? What about my outfit breakdowns? Whatever your thoughts, let me know in the comments!