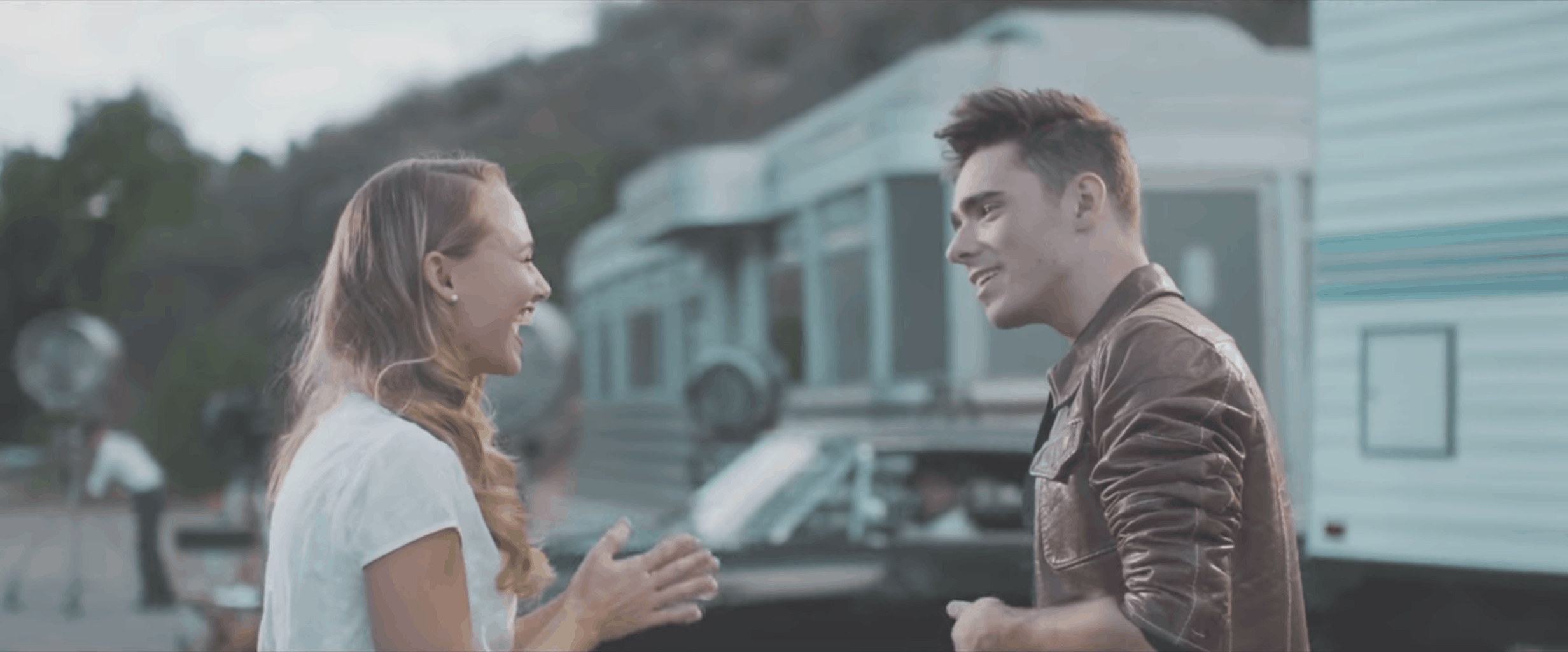 Ever since I started writing the "Fashion Inspired by Music Videos" column, I have wanted to feature a male artist. When I stumbled upon the video for "Famous," by Nathan Sykes, I knew that it would be the perfect foray into the world of menswear-inspired fashion (with an added feminine touch, of course!).
Between the romantic vibe and vintage-inspired outfits, it's hard to not be inspired by the looks that both Nathan and his on-screen love interest wear throughout the video!
If you haven't already, take a look at the video below, and then keep scrolling to see the "Famous"-inspired looks that I've put together.
Nathan Sykes - Famous (Official Music Video)
Outfit #1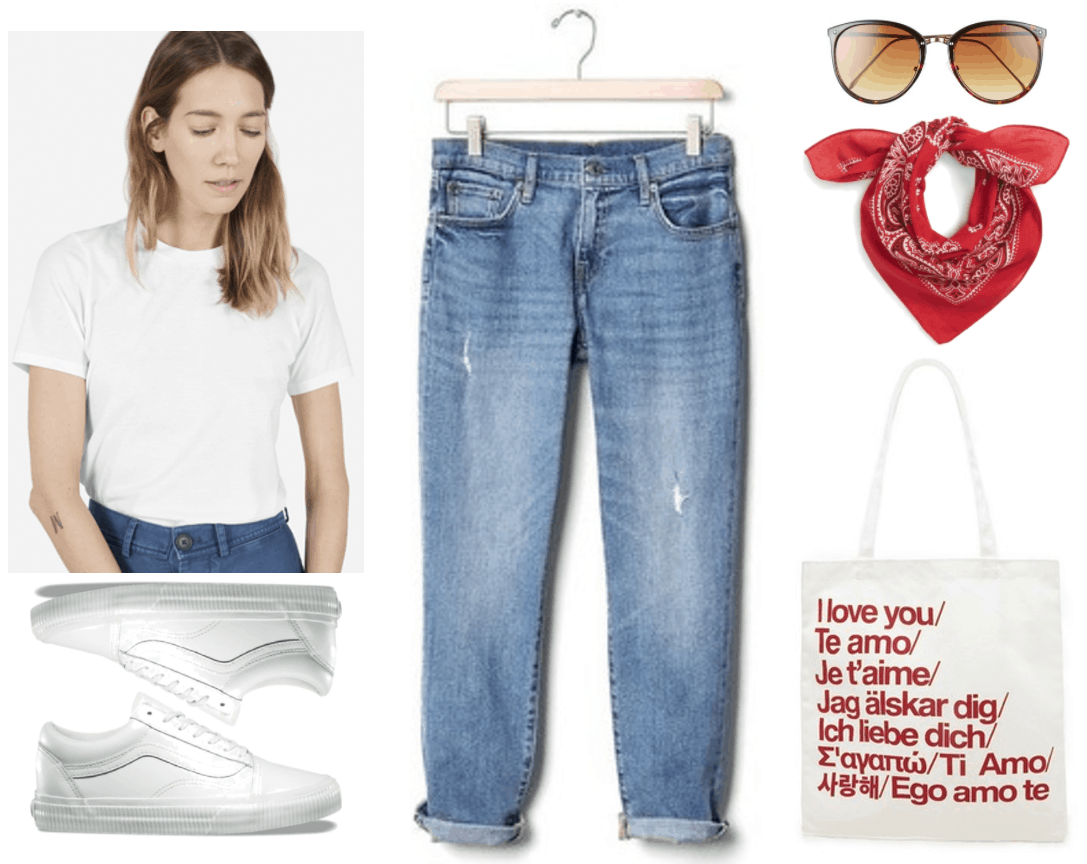 Products: T-Shirt – Everlane, Shoes – Vans, Jeans – Gap, Sunglasses – Nordstrom, Bandana – Nordstrom, Tote – Forever 21
When we first see Nathan in the music video for "Famous," he is fixing a vintage car in a very casual jeans-and-t-shirt outfit.
For a borrowed-from-the-boys look inspired by Nathan, start out by tucking a plain white crewneck t-shirt into a pair of light-wash loose-fitting jeans. (Don't forget to roll up the cuffs!)
Next, put on a pair of simple white sneakers to up the laid-back vibe.
In the video, Nathan wears a bandana in his pocket; however, for real life, I prefer the idea of tying it around your neck or around your bag for a feminine touch.
Lastly, put on some vintage-inspired round sunglasses, and grab a sweet printed tote that echoes the romance of the video.
Outfit #2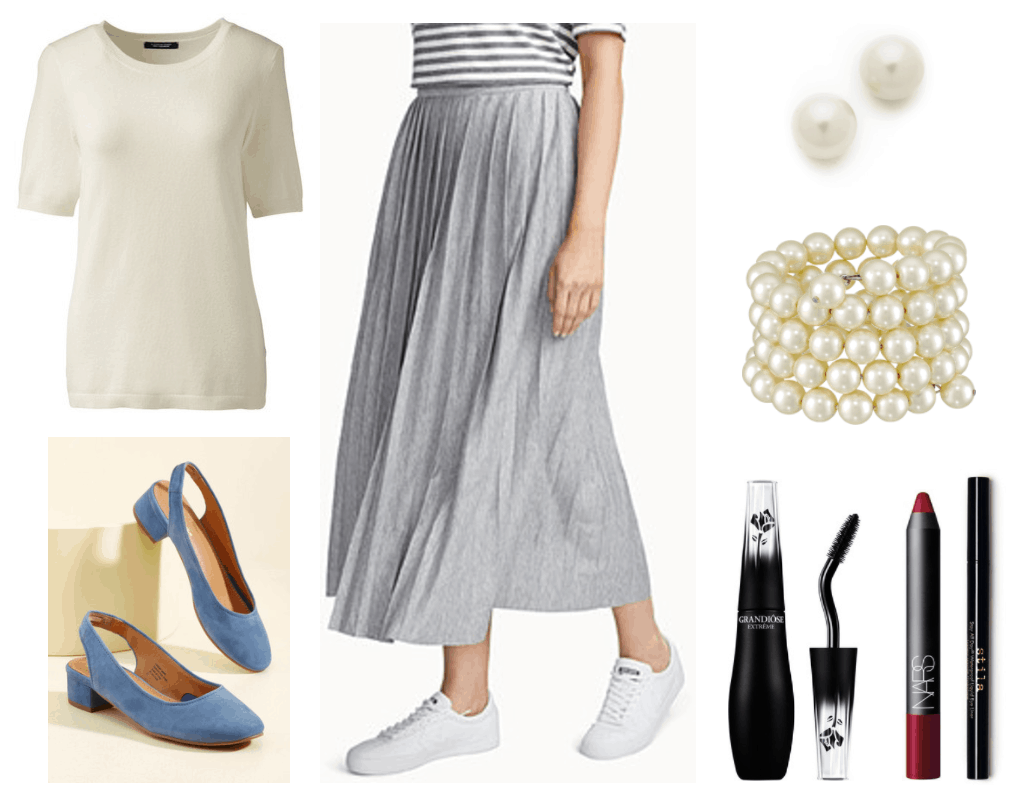 Products: Sweater – Lands' End, Shoes – Modcloth, Skirt – Simons, Earrings – Shopbop, Bracelet – Zappos, Mascara – Neiman Marcus, Lip Pencil – Saks Fifth Avenue, Eyeliner – Stila
This vintage-looking and romantic outfit is inspired by one of the looks worn by Nathan's on-screen love interest.
To get the look, pair a classic short-sleeved sweater with a flowy gray pleated midi skirt.
Next, add some lovely (faux) pearl earrings and a matching multi-strand bracelet that is similar to the one that Nathan's love interest wears.
As far as shoes go, if you want to get a truly retro-inspired look, put on a pair of sophisticated slingbacks with a small heel to help balance the length of the skirt.
Now for the makeup: In the video, Nathan's love interest rocks a timeless look involving black eyeliner, long, thick lashes; and red lipstick.
To recreate the look for yourself, line your eyes with a black liquid eyeliner. Next, apply a volumizing and lengthening mascara; I like Lancôme's Grandiôse Extrême Mascara. For the final touch, put on some bold red lipstick; the shade, "Dragon Girl" from Nars should do the trick.
Outfit #3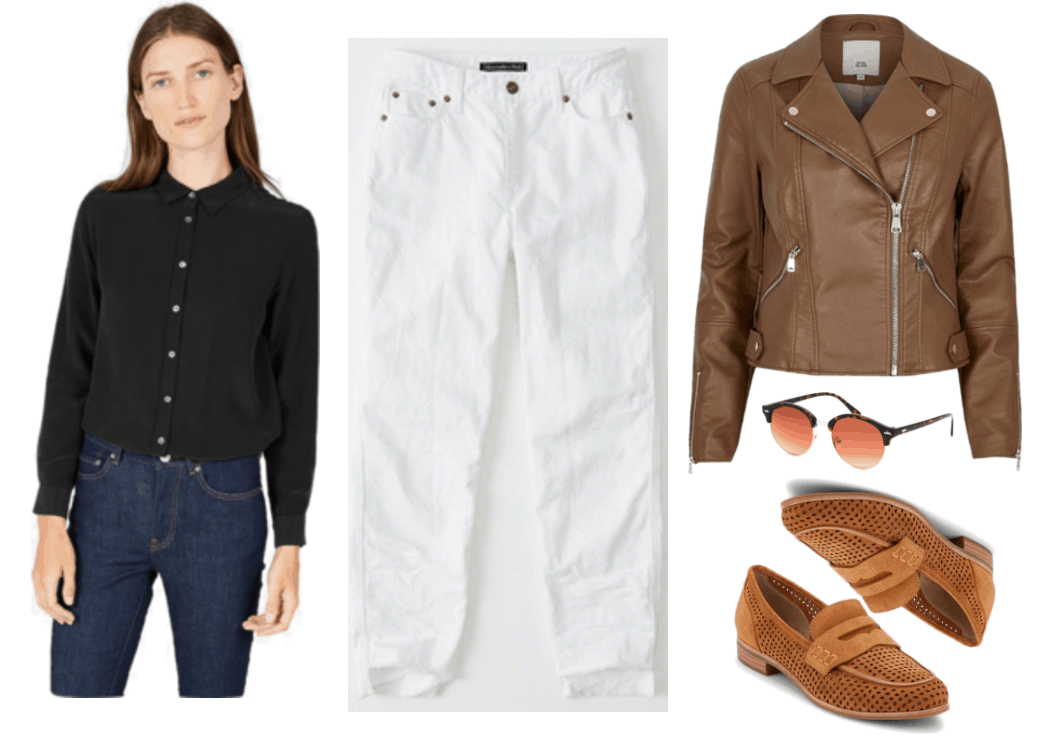 Products: Shirt – Everlane, Jeans – Abercrombie & Fitch, Jacket – River Island, Sunglasses – Tillys, Loafers – Belk
For the final look, I decided to put together a more modern outfit inspired by the one that Nathan wears throughout the "Famous" video.
Let's break it down:
First, tuck a black silk shirt into a pair of casual white loose-fitting jeans.
Next, throw on a cool (faux) leather biker jacket. (At $120, this one's a bit of a splurge, but it's definitely a great investment piece that you can wear with a variety of different looks; in fact, it would look great with either of the previous outfits shown here!)
For shoes, I decided to forgo sneakers like Nathan wears, and instead add a pair of trendy yet timeless perforated loafers for a dressy feel.
Finally, put on a pair of retro-inspired sunglasses that are reminiscent of the glasses that Nathan wears in the video, and you're all set to go!
What do you think?
Which music video should I cover next? Are you a fan of vintage-inspired fashion? If so, how do you incorporate it into your everyday look? Is your style more feminine or tomboy-ish, or do you like both? Let me know in the comments!