Although he's only 18-years-old, Canadian singer-songwriter Shawn Mendes possesses a unique vocal talent that is definitely beyond his years. And, having seen him live while opening for Taylor Swift during her 1989 World Tour, I can safely say that he is the real deal!
In the music video for his latest single, "There's Nothing Holdin' Me Back," (which features English actress Ellie Bamber as his on-screen love interest) Shawn combines his killer vocals with high-energy visuals to create a fast-paced and exciting musical experience.
If you haven't already, take a look at the video below, and then keep scrolling to see the "There's Nothing Holdin' Me Back"-inspired outfits that I've put together.
Shawn Mendes There's Nothing Holdin' Me Back Video: Outfit #1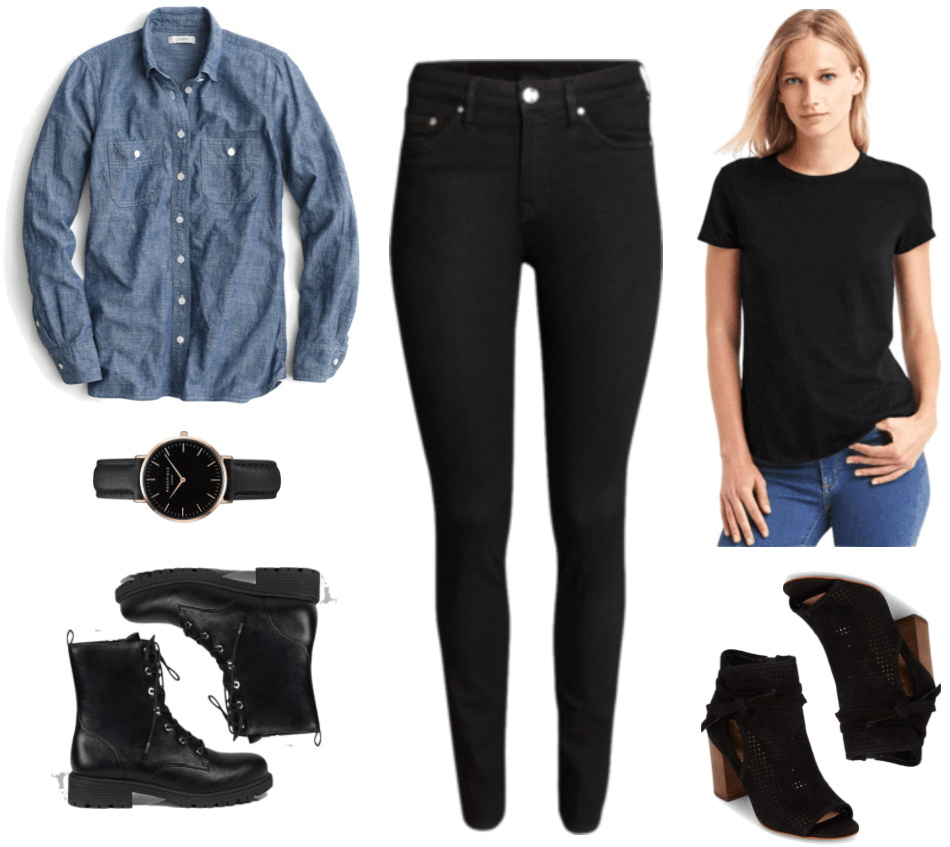 Products: Shirt – J.Crew, Watch – Topshop, Combat Boots – Forever 21, Jeans – H&M, T-Shirt – Gap, Peep-Toe Ankle Boots – Saks Off 5th
This tomboy-ish outfit is similar to the one we first see Shawn wearing in the video for "There's Nothing Holdin' Me Back."
To get the look, put on a classically cool chambray shirt, chic black skinny jeans, edgy black combat boots, and an investment-worthy watch.
However, since it's Summer and a long-sleeved shirt and combat boots might be too hot, I decided to create an alternate look, which simply involves swapping the shirt for a basic black short-sleeved t-shirt, and then tying the shirt around your waist for a grungy feel.
In addition, I've switched out the combat boots for a pair of versatile peep-toe ankle boots with a heel that looks sturdy enough to actually walk in.
Shawn Mendes There's Nothing Holdin' Me Back Video: Outfit #2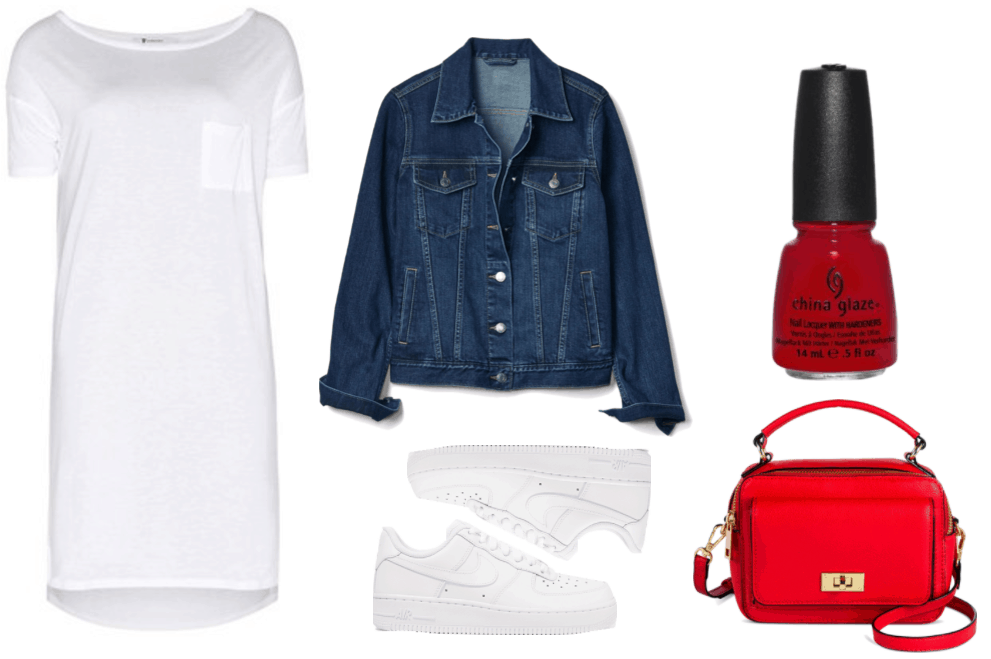 Products: Dress – mytheresa.com, Jacket – Gap, Sneakers – NET-A-PORTER, Nail Polish – Walmart, Bag – Target
This simple yet chic look, inspired by one of the outfits we see Ellie Bamber in, is absolutely perfect for Summer; not only is it easy to throw on and go, but the pops of red and blue make it stand out as well.
Just throw on a simple white t-shirt dress (at $75, this one's a bit of a splurge, but it also happens to be T by Alexander Wang and is on sale, so if you're looking for a wearable designer piece under $100, this would be a great one to pick up!), then layer on a classic denim jacket.
Next, put on a pair of all-white sneakers; finally, grab a bright red bag (inspired by the red bag that Ellie carries in a different outfit in the music video) and paint your nails red (inspired by the polish Ellie wears later).
Shawn Mendes There's Nothing Holdin' Me Back Video: Outfit #3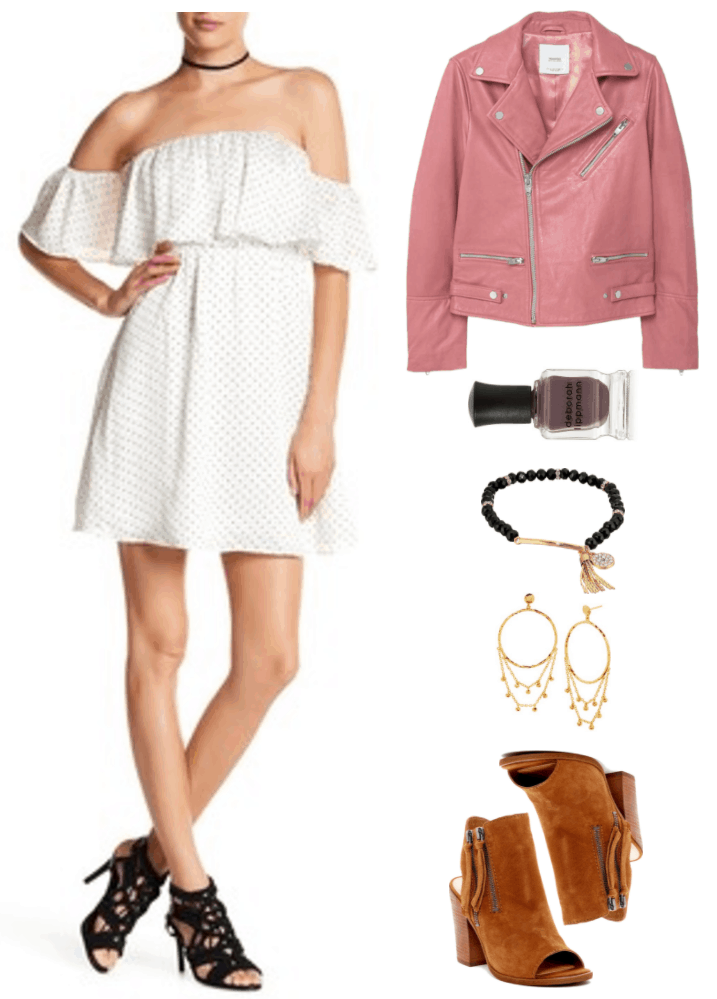 Products: Dress – Nordstrom Rack, Jacket – Mango, Nail Polish – NET-A-PORTER, Bracelet – Zappos, Earrings – Nordstrom, Peep-Toe Ankle Boots – Nordstrom Rack
This final look is primarily inspired by the off-the-shoulder dress and leather jacket pairing we see on Ellie throughout the video; to achieve a similar look, put on a feminine white off-the-shoulder dress with tiny black polka dots.
Next, add a medium-pink motorcycle jacket. (This one's pricey, as I was unable to find a cheaper motorcycle jacket in this particular shade of pink; however, it's a great investment if pink is your color, or you're looking to make a statement with your outerwear.)
In the video, we see Ellie wearing a pair of brown ankle boots, but, to make this look more appropriate for Summer, I used these cute peep-toe ankle boots instead.
To finish the look, put on a pair of dangly drop hoop earrings, a sleek black beaded charm bracelet, and paint your nails a beautiful shade of mauvish-gray.
What do you think?
Which music video should I cover next? Are you a Shawn Mendes/Ellie Bamber fan? Which of the looks in the video is your favorite? Let me know in the comments!