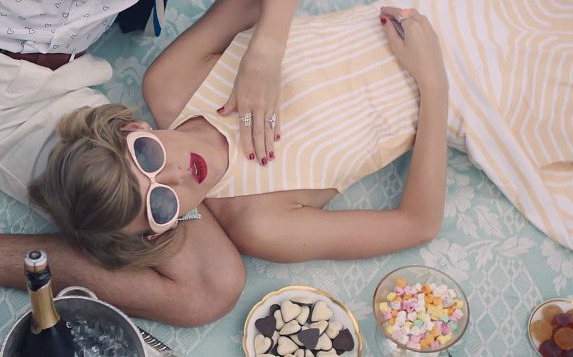 Photo Credit: Screenshot
"Blank Space" follows behind "Shake it Off"as the second single from Taylor Swift's new album 1989. The self-aware lyrics suggest a take on her own reputation for sour relationships with her exes, and it's clear that Taylor has a good sense of humor about it. Not only is the song clever and catchy, but the music video is beautifully done and has such a dreamy quality to it. And of course, all of the outfit changes are amazing.
In the music video, Taylor plays an extreme version of herself as she is often portrayed in the media: the "crazy ex-girlfriend." In the beginning, she and her handsome co-star frolic around a beautiful estate, happy and falling in love. But as soon as the relationship starts to go south, Swift begins to exact her revenge. Everything from destroying his clothes and sports car to giving him a poisoned apple.
If you haven't seen the video yet, check it out below:
Taylor Swift - Blank Space
Although there are so many gorgeous looks in the video to take inspiration from, I selected a few outfits that were more suitable for fall and winter. Below, I've created four outfits inspired by the song and music video for "Blank Space."Scroll down to see them!
Nice to Meet You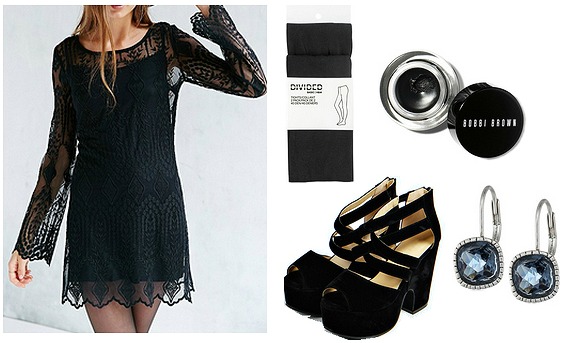 Product Information: Dress, Shoes, Earrings, Tights, Gel Eyeliner
In the beginning of the video, Taylor descends down an elegant staircase in a gorgeous black lace gown. If only everyone had a reason to look that glamorous, right? The shorter length of the dress featured here allows for a more casual vibe, but can still be dressed up with heels and sparkly earrings. Use gel eyeliner to achieve the bold winged-liner look Taylor is wearing, and throw on a pair of black tights for fall/winter comfort.
Cherry Lips, Crystal Skies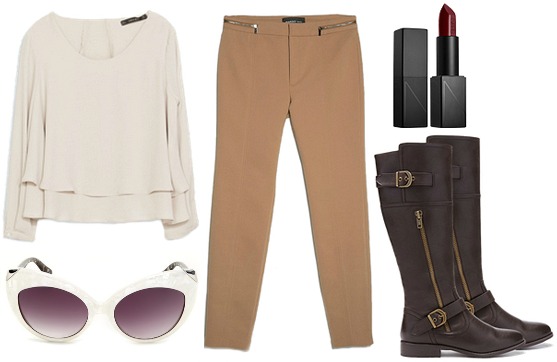 Product Information: Top, Pants, Shoes, Sunglasses, Lipstick
In another scene, Taylor rocks the perfect equestrian-style outfit as she and her man ride majestic horses down the property. Her sleek ensemble consists of a flowy cream-colored top with tan pants and riding boots. A pair of white cat-eye sunglasses and dark red lips complete the look.
Perfect Storms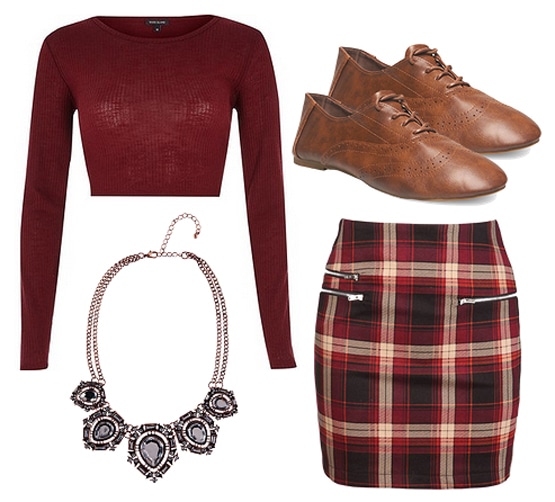 Product Information: Top, Skirt, Shoes, Necklace
At this point, Taylor is turning the tables and the couple is arguing and falling apart. She wears a maroon crop top and we get a quick glimpse of matching plaid bottoms. She accessorizes with a flashy statement necklace, and although we cant quite see Taylor's shoes, a cute pair of oxfords go nicely with the outfit and are a style she wears frequently.
They'll Tell You I'm Insane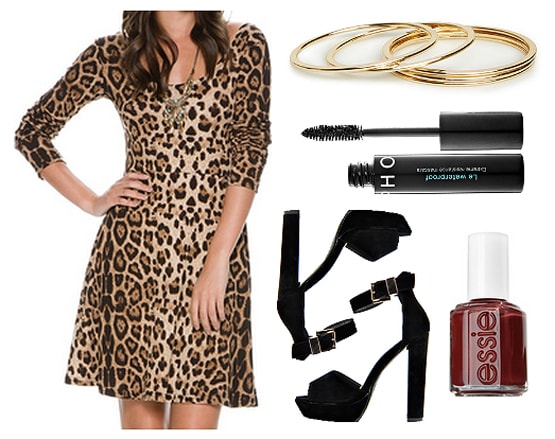 Product Information: Dress, Shoes, Bracelets, Mascara, Nail Polish
As Taylor spirals further into madness, she can be seen sitting on the floor with mascara running down her face. But as crazy as she gets, her outfits still remain on-point. In this scene, Taylor wears a short leopard print dress and ankle-strap heels, as well as gold bangles and red nail polish. Of course, unlike Taylor, you may want to opt for some waterproof mascara.
What do you think?
How do you like the music video for "Blank Space?" Are you loving Taylor's new album? Would you wear any of these outfits? Which look is your favorite? Would you like to see more posts like this in the future? Let me know in the comments below!