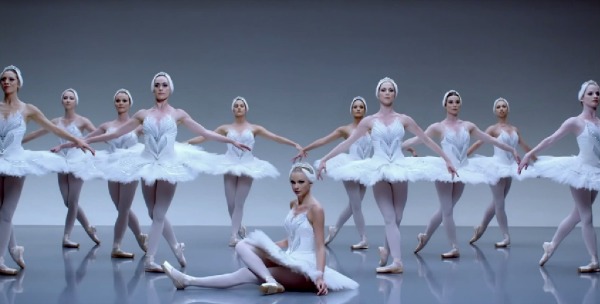 Photo Credit: Screenshot
Taylor Swift is back on the scene with brand new music, and this time she's… completely pop?! "Shake It Off" is the first single from T-Swift's upcoming studio album "1989." Not only is the album coming out this fall (October 27th, to be exact), but it will also be her "first documented, official pop album." The single is light, upbeat, carries a great message, and it's hard to resist shaking along to the beat!
In the music video, Taylor is endearingly awkward as she tries to move along with professional dancers – obviously being the odd one out, but still having fun. From ballerinas to a twerk team, the various dance groups get to show off their impressive skills, and some fans even get to shake it with Taylor. If you haven't seen the video yet, check it out below:
Taylor Swift - Shake It Off
The elaborate costumes and uniforms seen throughout the video serve as fantastic sources of fashion inspiration. Below, I've created four outfits inspired by the song and music video for "Shake it Off." Scroll down to see them!
Never Miss a Beat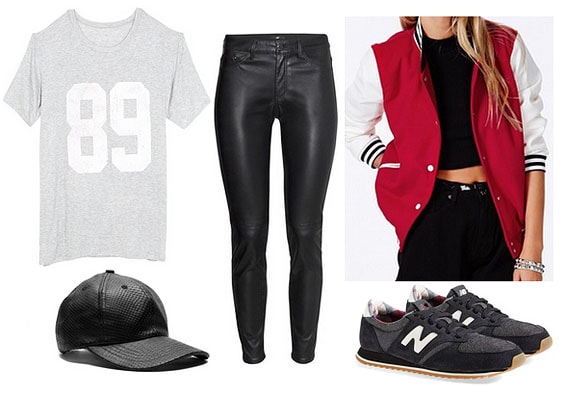 Product Information: Top, Pants, Jacket, Shoes, Hat
In one of her first outfits, Taylor tries an old school hip-hop/break-dancer look on for size. Although the outfit is based on an older style, the individual pieces featured in the video are very current and wearable.
You can get this cool look with trendy faux leather pants, a varsity-style jacket, and a graphic tee. Some sneakers, like these black ones that are similar to Taylor's, and a matching hat complete the ensemble (minus the boombox, of course).
Lightning on My Feet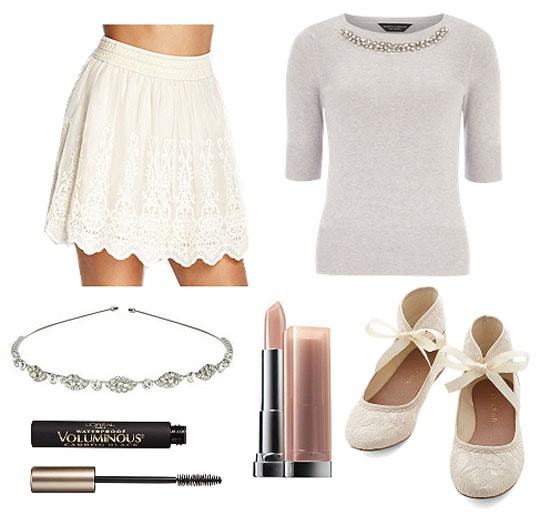 Product Information: Top, Skirt, Shoes, Headband, Lipstick, Mascara
Because this outfit is inspired by the dainty ballerinas, these white ballet flats with lace and bow details are a no-brainer. Pair them with an embroidered white skirt and embellished top to achieve the graceful and effortless vibe of a ballerina without having to sport a full-on tutu.
For most people, casually wearing a tiara is not a realistic option, so a sparkly rhinestone headband is a chic alternative. Neutral-pink lips and dark flirty eyelashes polish off this elegant look.
Dancing on My Own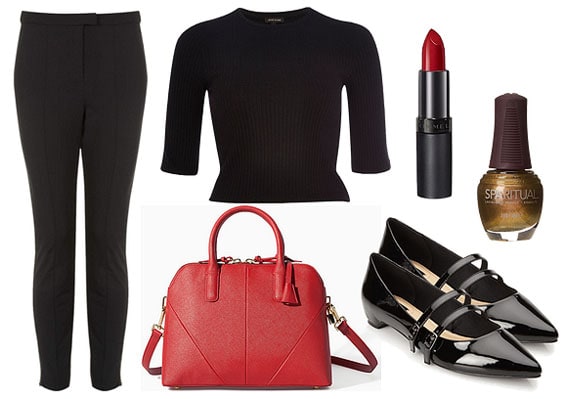 Product Information: Top, Pants, Shoes, Bag, Lipstick, Nail Polish
Whether or not Taylor gathered direct inspiration from Audrey Hepburn's Funny Face outfit, this all black look is truly classic. She wears a very simple silhouette consisting of skinny pants, a 3/4-sleeve top, and pointed flats as she jams with the backup band.
Taylor's signature red lipstick comes into play, along with some dark gold nail polish. As an added bonus, a cute red handbag fits the ensemble perfectly and incorporates another pop of color.
Can't Stop, Won't Stop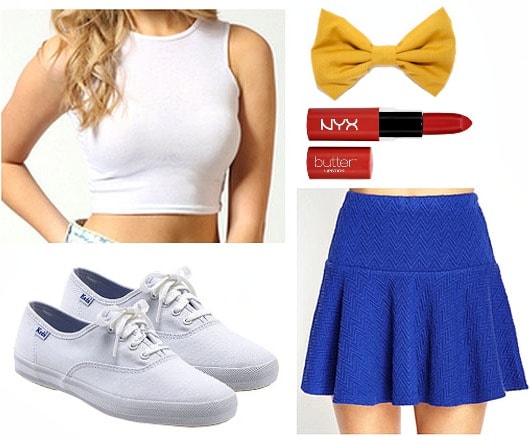 Product Information: Top, Skirt, Shoes, Bow, Lipstick
It's hard to pull off a cheerleader getup without it looking too much like a Halloween costume or like you belong to an actual cheer squad, but when you take away all of the extra stripes and frills you get something very clean and modern.
This stripped-down look consists of a basic white crop top, a royal blue skater skirt, and a pair of white canvas Keds. Once again, Taylor rocks those red lips, as well as some colorful hair bows that match her outfit.
What do you think?
How do you like Taylor's new single? Are you looking forward to her upcoming album? Would you wear any of these outfits? Which look is your favorite? Would you like to see more posts like this in the future? Let me know in the comments below!