Norwegian singer-songwriter Sigrid broke onto the music scene with her catchy debut single "Don't Kill My Vibe" back in February. And, although she hasn't yet released a full-length album (so far, she has released a four-song EP also called "Don't Kill My Vibe"), it's clear that she is a star in the making.
With her minimal, laid-back aesthetic and penchant for cool sneakers, it is clear that Sigrid is one to watch not just in terms of music, but in the style department as well!
If you haven't already, take a look at the video below, and then keep scrolling to see the "Don't Kill My Vibe"-inspired looks that I've put together.
Sigrid - Don't Kill My Vibe (Official Video)
Outfit #1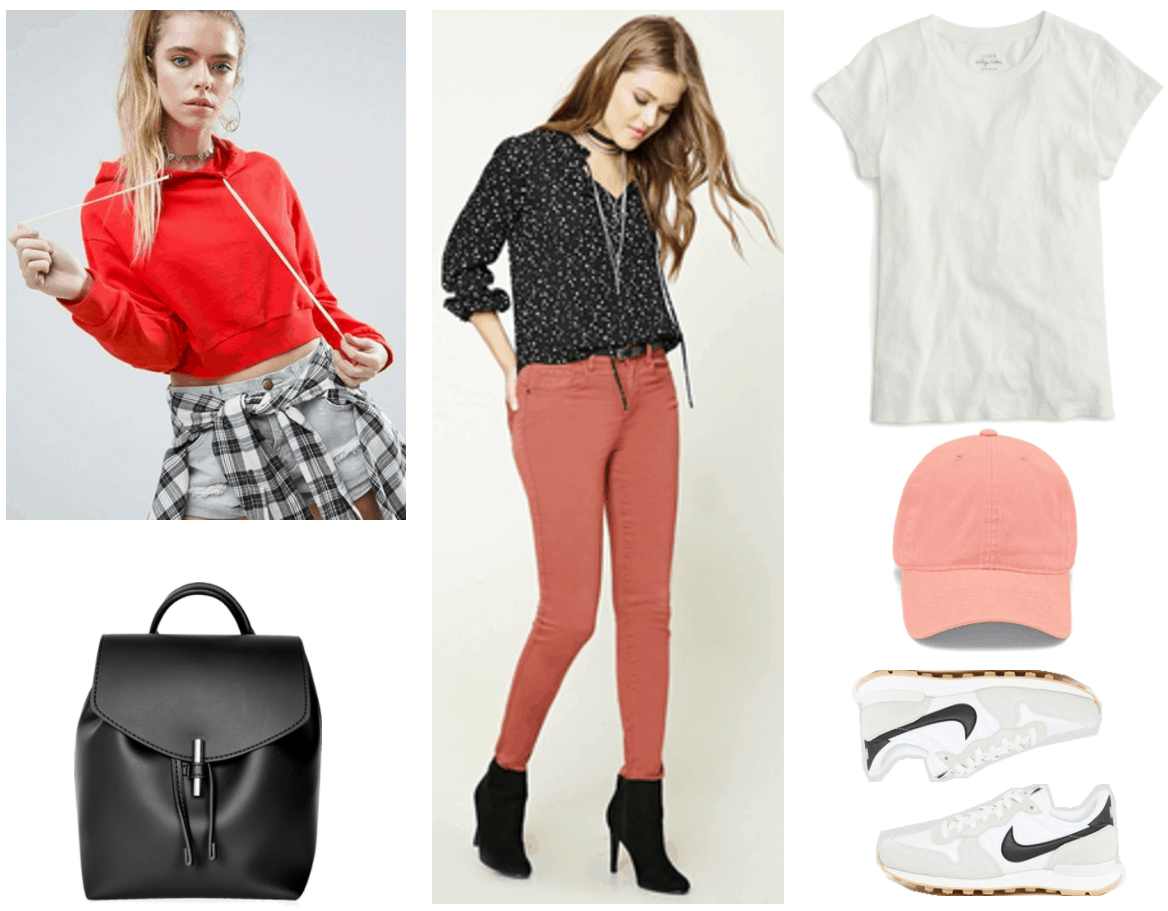 Products: Sweatshirt – ASOS, Backpack – Topshop, Jeans – Forever 21, T-Shirt – J.Crew, Baseball Cap – Forever 21, Sneakers – ASOS
This look is inspired by the first outfit that we see Sigrid wear in the video, which consists of a red sweatshirt, red cropped sweatpants, and Nike sneakers.
Since wearing head-to-toe red can be a little hard to pull off in real life, I have chosen to pair a cropped red hoodie from ASOS with a plain white t-shirt and rust-colored skinny jeans for a laid-back look.
Put on some simple and comfortable Nikes that are similar to the ones that Sigrid wears, and accessorize with an on-trend baseball cap and a black mini backpack, and you've got yourself a casual-chic look that is perfect for a day of classes or weekend errands.
Outfit #2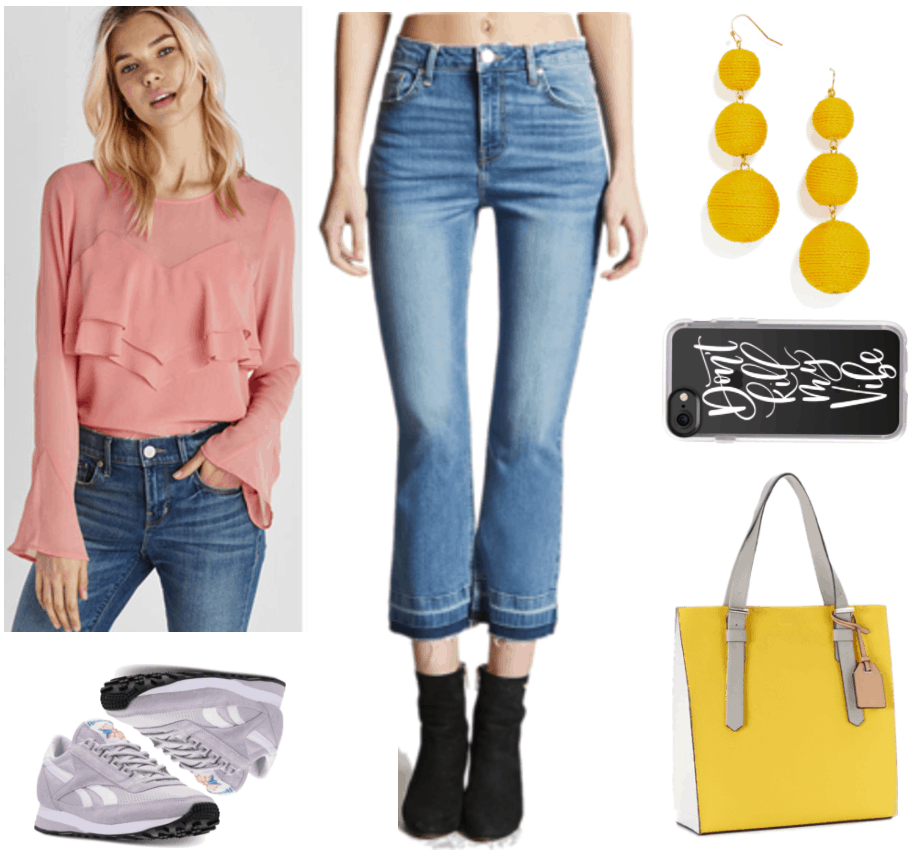 Products: Blouse – Express, Sneakers – Macy's, Jeans – Forever 21, Earrings – BaubleBar, Phone Case – Casetify, Tote – Kohl's
The second outfit that we see in the video for "Don't Kill My Vibe" is also my favorite; I love how it combines masculine and feminine elements for a stylish ensemble.
Start off by pairing a beautiful ruffled blouse with some fashion-forward released-hem cropped flare jeans. To tone the look down a little, add a practical but pretty pair of lavender sneakers.
I was inspired by the yellow background against which Sigrid performs to add a pair of cheery yellow drop earrings and a surprisingly versatile yellow color-blocked tote to the ensemble.
Lastly, to finish off the look, pick up this fun phone case that just so happens to bear the song's title, and you're all set to go!
Outfit #3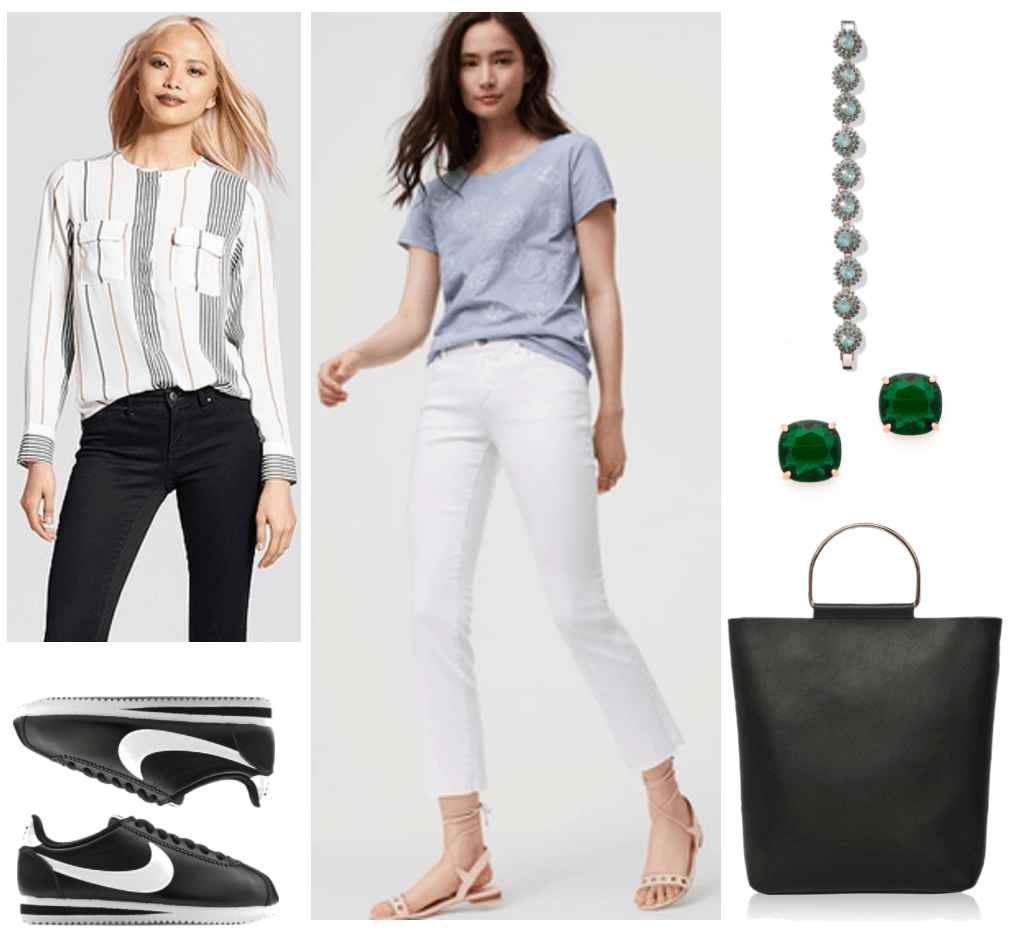 Products: Blouse – Target, Sneakers – STYLEBOP.com, Jeans – Loft, Bracelet – Banana Republic, Earrings – Shopbop, Tote – Topshop
The third look that Sigrid wears is slightly more eye-catching than the rest, but nonetheless fits in with her minimal aesthetic.
To get a similar look, put on a unique vertical-stripe blouse, and add a pair of crisp white cropped flare jeans.
Next, add classic black-and-white Nike sneakers that are just like the ones that she wears in the vid.
To pick up some of the green in Sigrid's outfit, accessorize with some green jewelry, like this chic pair of earrings and this statement-making bracelet.
To complete the outfit, grab a modern black tote that's perfect for storing all of your essentials.
Outfit #4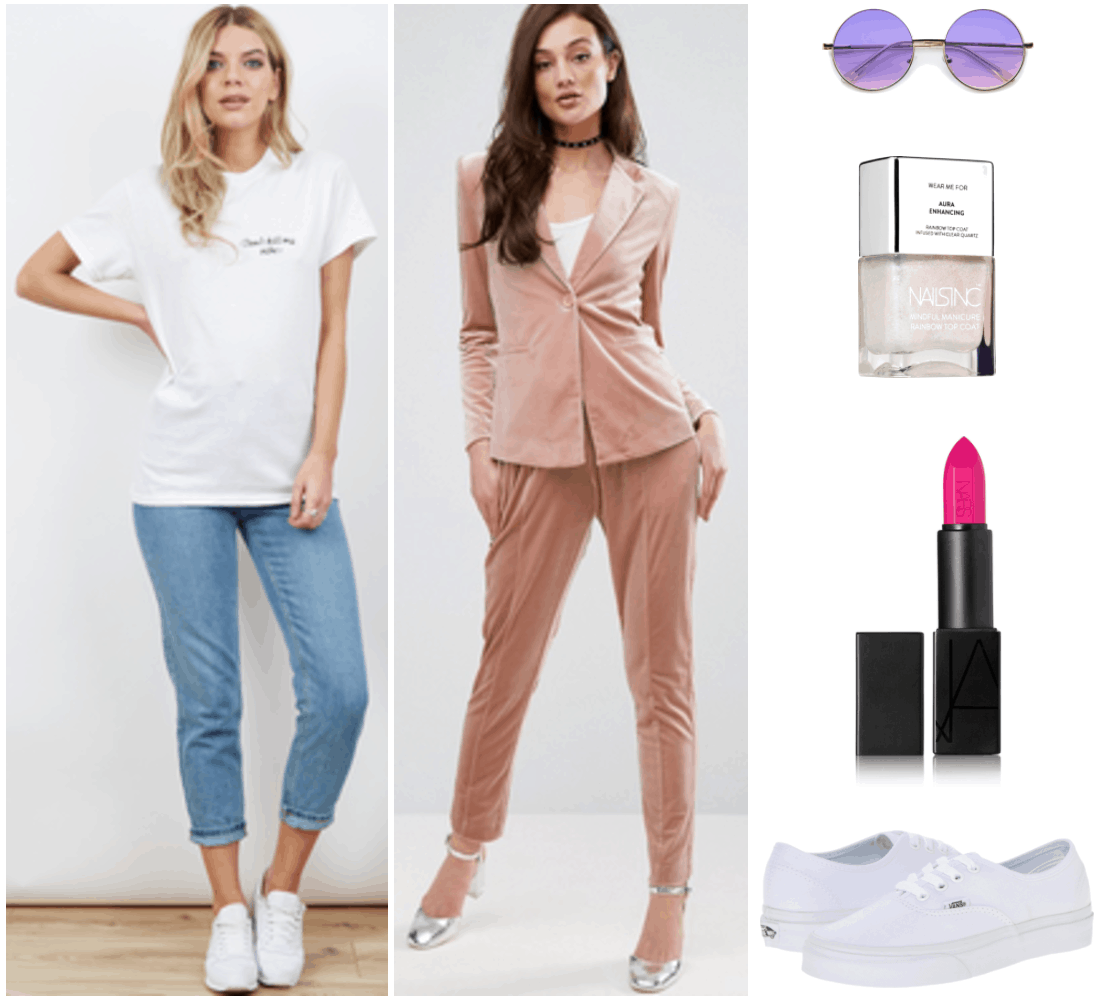 Products: T-Shirt – SilkFred, Pants – ASOS, Sunglasses – Popmap, Lipstick – Net-a-Porter, Sneakers – Zappos
This look is inspired by the fourth and final outfit that we see Sigrid wear in the video for "Don't Kill My Vibe." For a look that resembles hers, put on a cute t-shirt that has the song's title subtly embroidered on the top left corner, and pair it with some elegant loose-fitting velvet pants.
Next, add a pair of goes-with-everything white canvas sneakers to make the look more casual.
Finally, I was inspired by the awesome multicolored lighting that's in the background while Sigrid wears the fourth outfit, so I decided to complete the look with some fun pink and purple ombré-lens sunglasses, a sparkly topcoat polish (which could totally be worn on its own), and a gorgeous shocking pink lipstick.
What do you think?
Which music video should I cover next? Do you prefer a modern, minimal aesthetic like Sigrid? Which of the outfits from the video is your favorite? Are sneakers a staple in your wardrobe? Let me know in the comments!