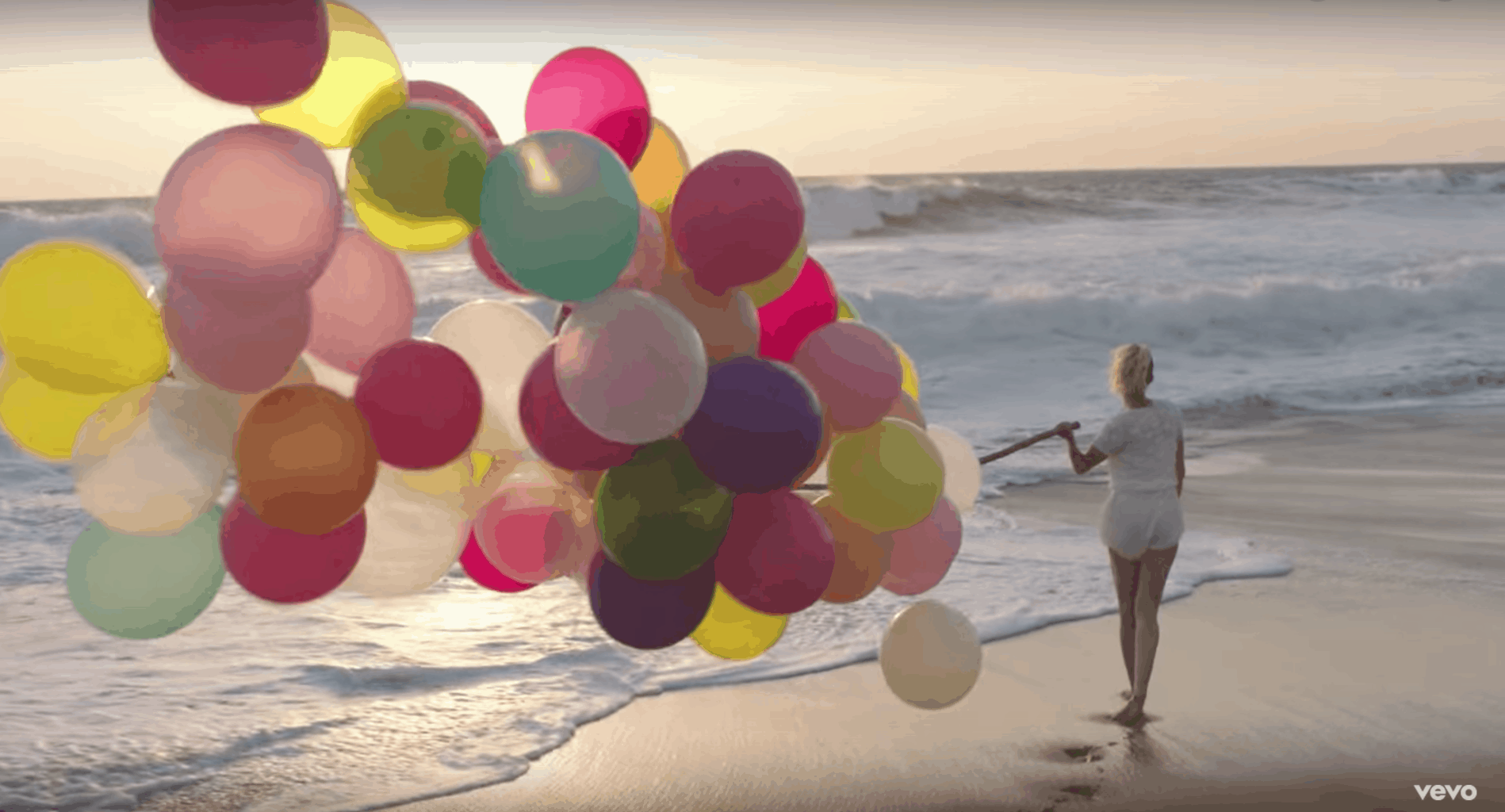 Over the years, we've watched as Miley Cyrus has transformed from an upbeat Disney star into a boundary-pushing and controversial performer.
These days, however, it seems as though Miley is going back to her roots and ditching her crazy-edgy persona in favor of a more mellow, down-to-earth aesthetic.
And, for the first time, I find myself looking to her as a potential source of fashion inspiration — particularly as she appears in her "Malibu" music video.
Seriously, though, I never would've believed you if, three years ago, you told me I'd be here, writing an article about how to dress like Miley! (…See what I did there?)
If you haven't already, take a look at the video below, and then keep scrolling to see the "Malibu"-inspired looks that I've put together.
Miley Cyrus - Malibu (Official Video)
Outfit #1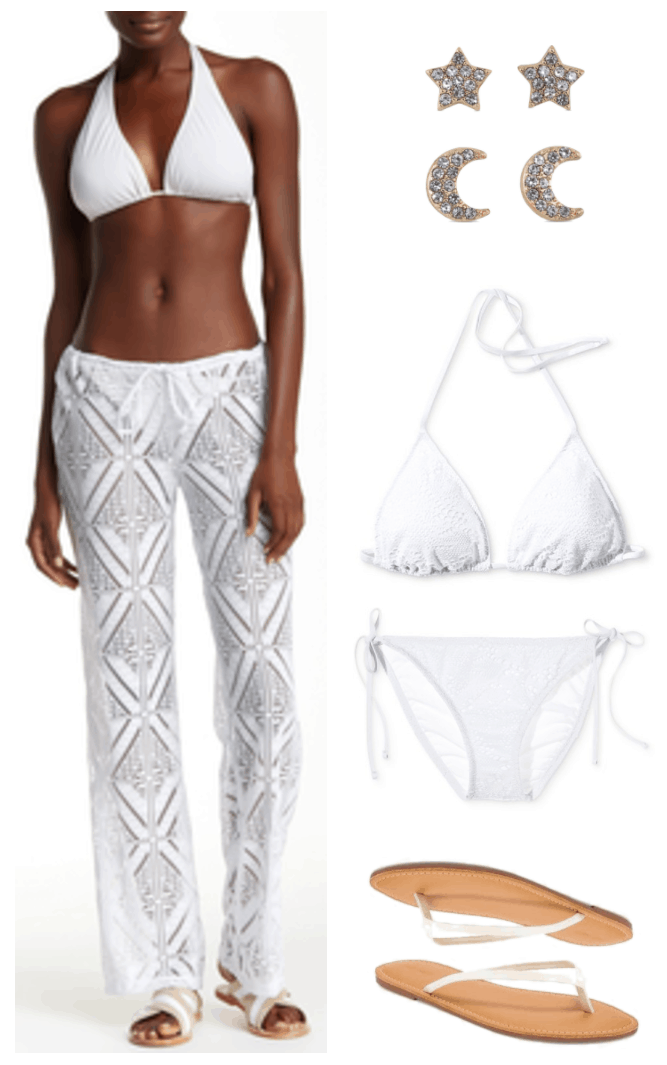 Products: Pants – Nordstrom Rack, Earring Set – Belk, Bikini Top – Target, Bikini Bottoms – Target, Sandals – Old Navy
If your Summer plans consist of strolling along the boardwalk (lucky you!), then you'll love this laid-back, bohemian look.
Start off by reaching for a crisp white bikini (bonus points if it's crocheted like Miley's). Instead of throwing on a pair of cut-offs or a dress as a cover-up, why not try a pair of crocheted pants, like Miley wears in the video? Seriously, these ones would lend such a fashion-forward vibe to any beach ensemble.
As for footwear, slip on these white sandals from Old Navy, which are a step above your standard rubber flip-flops (and just as comfortable, I'm sure!).
To complete the look, put on a pair of sparkly moon or star studs.
Outfit #2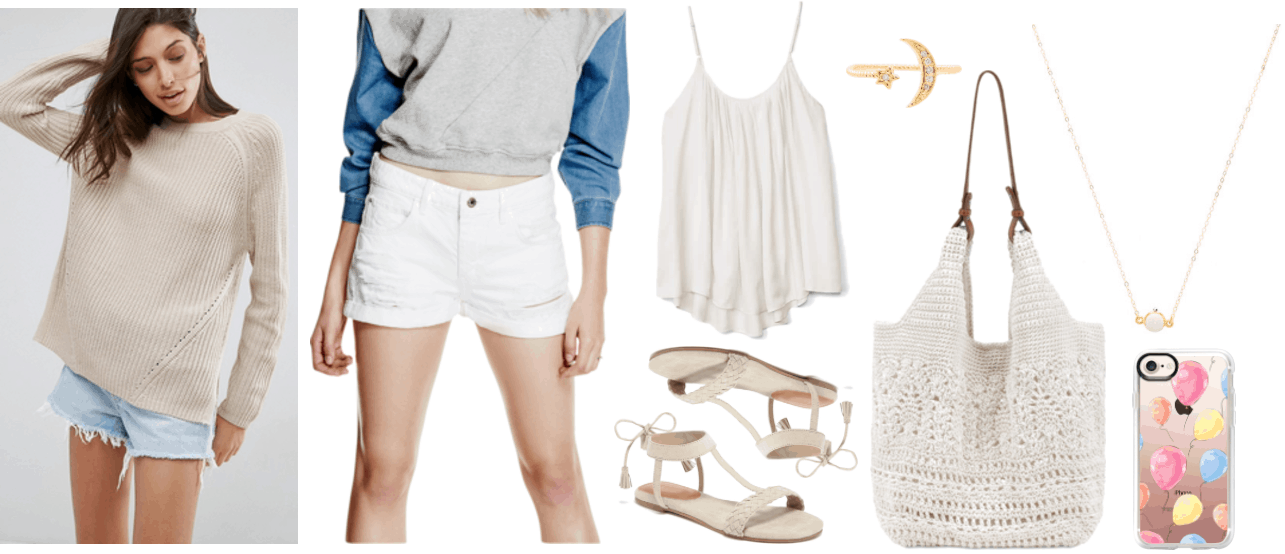 Products: Sweater – ASOS, Shorts – Guess, Camisole – Gap, Sandals – Old Navy, Ring – Revolve, Tote – shoes.com, Necklace – Revolve, Phone Case – Casetify
This laid-back outfit is perfect for chilly Summer days or nights — even if you aren't going to be spending time at the beach.
Pair a flowy off-white camisole with ripped white denim shorts for a casual look, and layer on a cozy beige chunky sweater if there's a nip in the air.
A braided pair of sandals adds a lovely bohemian touch, as does a large crocheted tote.
To add some shine, slip on a beautiful moon-and-star ring and a delicate druzy necklace.
Lastly, pick up a whimsical balloon-patterned phone case with a design that is reminiscent of the bunch of balloons that Miley carries in the video.
Outfit #3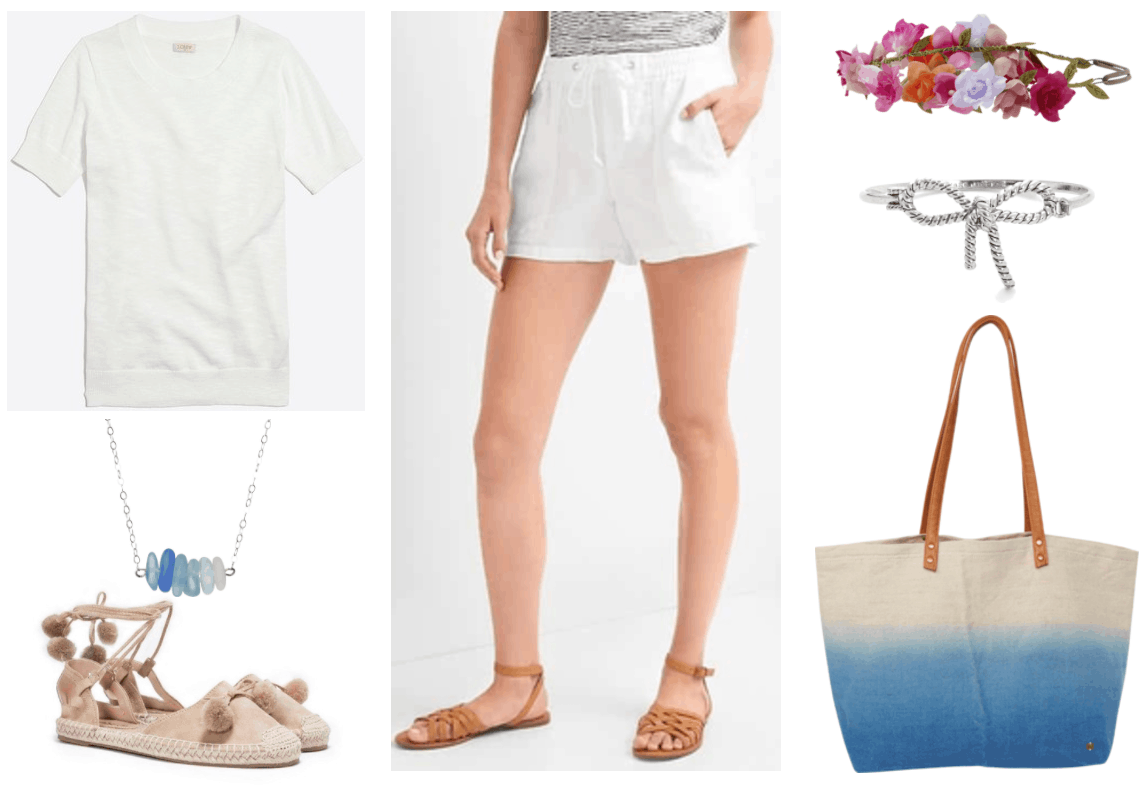 Products: Sweater – J.Crew Factory, Necklace – UncommonGoods, Espadrilles – Nasty Gal, Shorts – Gap, Flower Crown – Accessorize, Bangle – Nordstrom Rack, Tote – Billabong
This look is inspired by the short-sleeved bow sweater and simple shorts that Miley wears in the video for "Malibu."
While I was unfortunately unable to find anything similar to Miley's beautiful sweater, you can achieve a similar look by pairing a plain white short-sleeved sweater with white shorts, along with a silver bow bracelet for a feminine touch.
In terms of other accessories, I was inspired by the gorgeous natural scenery in the video to pick out a brightly colored bohemian flower crown, an ocean-hued necklace, and an ombré tote.
Add a fun pair of pom-pom espadrilles to evoke Miley's free-spirited vibe, and you're all set to go!
Outfit #4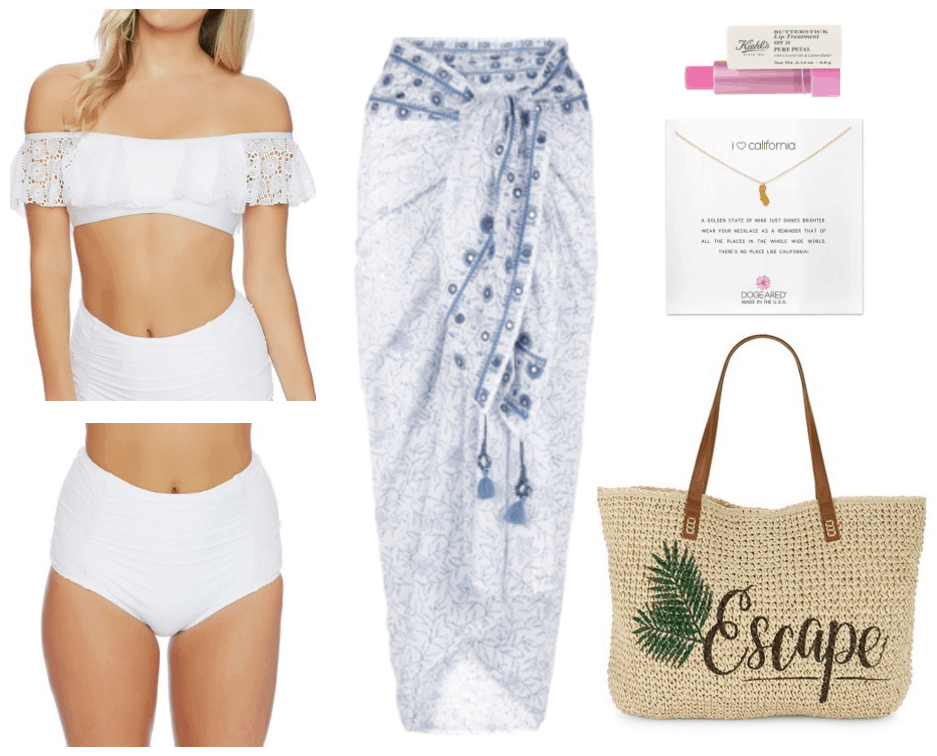 Products: Bikini Top – Lord & Taylor, Bikini Bottoms – Lord & Taylor, Sarong – Monsoon, Lip Balm – Saks Fifth Avenue, Necklace – Nordstrom, Tote – Lord & Taylor
Is your beach style feminine and romantic? If so, this final look is for you!
This retro-inspired, investment-worthy Ella Moss bikini is a great choice if you're looking for a trendy swimsuit that offers a little more coverage, while the beautiful floral-printed sarong from Monsoon is the perfect way to turn your beach ensemble into a statement look — even if you're just relaxing by the ocean.
A whimsical straw tote is perfect for stowing your essentials, while a dainty gold California necklace lets you show your love for the West Coast.
Finish off by applying a sheer pink-tinted lip balm with SPF — a pretty way to protect your lips from the sun during a day at the beach — and you've got yourself a classy, gorgeous look that is sure to draw a lot of (positive) attention!
What do you think?
Which music video should I cover next? What do you think of Miley's new sound and style? Do you plan to go to the beach this Summer? If so, what do you plan on wearing? Let me know in the comments!