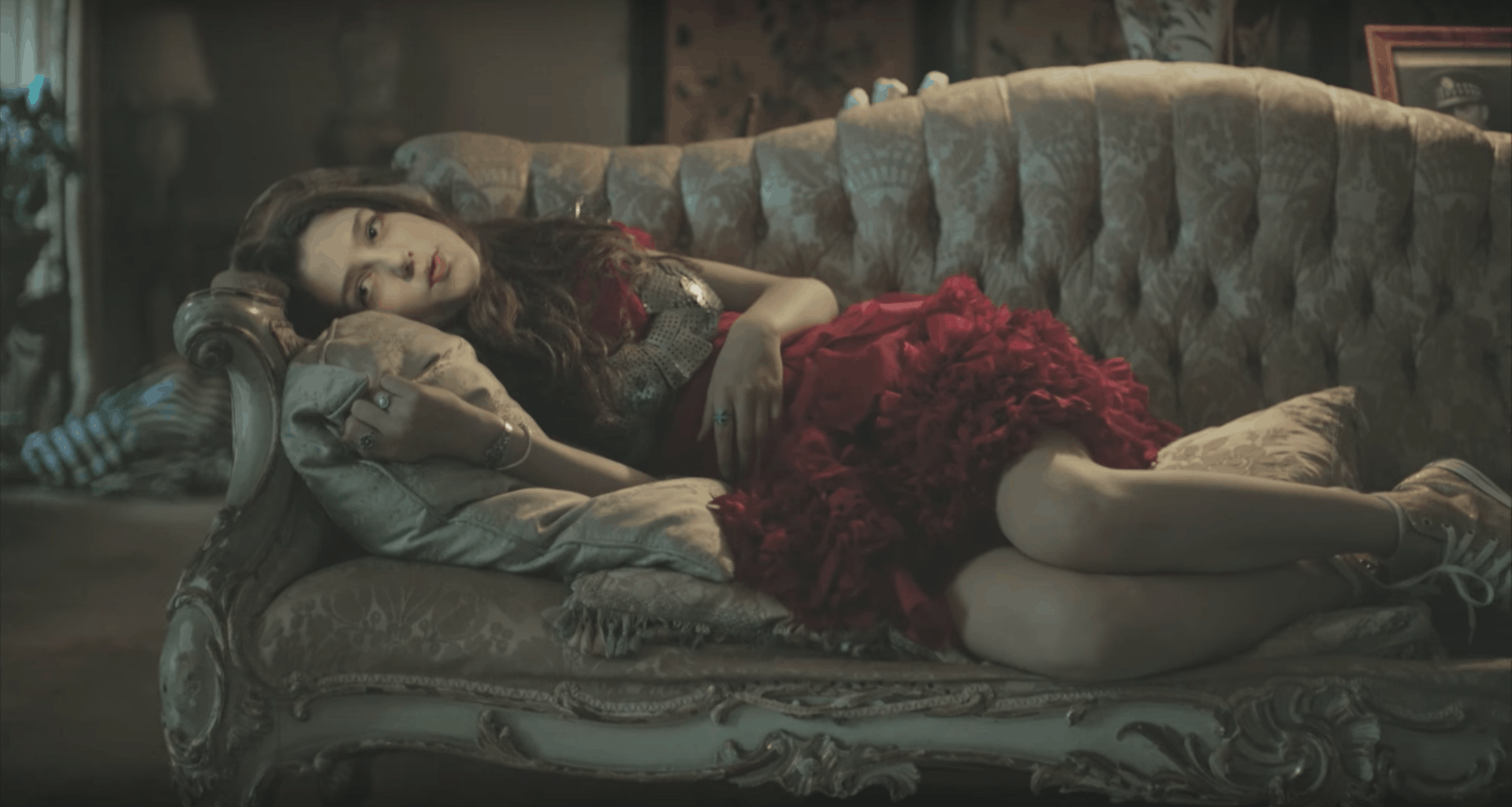 British singer-songwriter Birdy has one of those haunting, mature-beyond-her-years voices that lingers in your mind long after she has stopped singing. Therefore, it only makes sense that her music videos reflect her ethereal persona.
Take the video for her song "Wings": the whimsical, otherworldly costumes look like they were plucked straight out of a fairytale.
If you haven't already, take a look at the video below, and then keep scrolling to see the "Wings"-inspired looks that I've put together.
Birdy - Wings (Official Music Video)
Outfit #1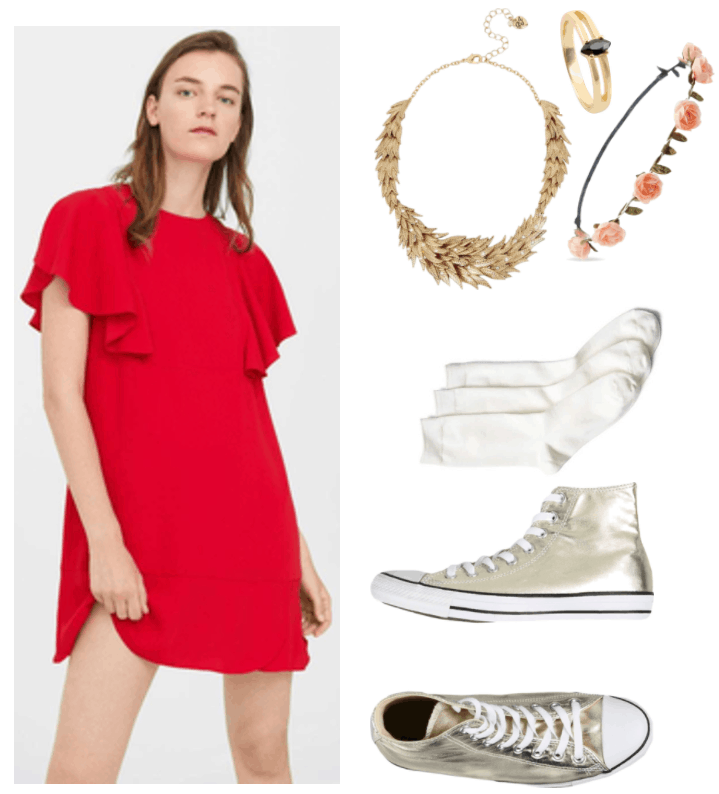 Products: Dress – Mango, Necklace – Betsey Johnson, Ring – Etsy, Flower Crown – Forever 21, Socks – Gap, Sneakers – Yoox (Additional sizes available at mytheresa.com)
This outfit is inspired by the one that Birdy wears in the music video for "Wings." To get the look, pair a ruffled red dress with your favorite Converse sneakers (bonus points if they're gold high-tops like Birdy's!) and a basic pair of white socks just peeking over the top.
As for accessories, I've kept things decidedly more low-key, opting for a gold "feathers" statement necklace — inspired by the song's title and the metal breastplate worn by Birdy in the video — in addition to a chic gold ring with a black marquis-cut stone.
If you're feeling a little more daring, add a dainty flower crown to the mix for a dreamy, boho look that is as unique as it is beautiful.
Outfit #2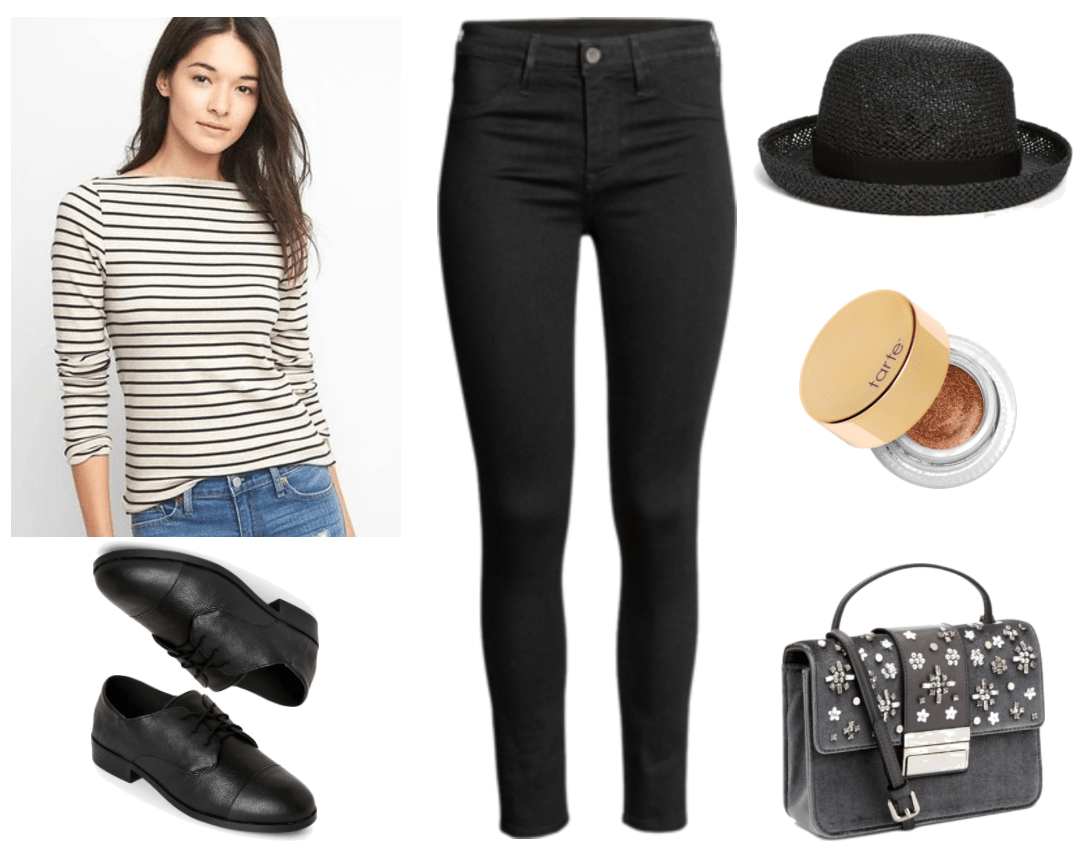 Products: T-Shirt – Gap, Oxfords – Century 21, Jeans – H&M, Hat – Nordstrom, Eyeliner – Sephora, Bag – Miss Selfridge
For this casual-cool outfit, I took some queues from the mime character, whom we first see sleeping on a couch (along with Birdy and the other characters in the video).
The basis of this look — a pair of black skinny jeans, a striped t-shirt, and black oxfords — is rather simple; however, it is elevated to street-style-chic when paired with a quirky straw bowler hat and an embellished bag.
Because the "Wings" video is so decadent, I decided to finish off the ensemble with some sparkly copper eyeliner, which pulls the look together by adding an element of surprise to an otherwise-neutral-toned palette.
Outfit #3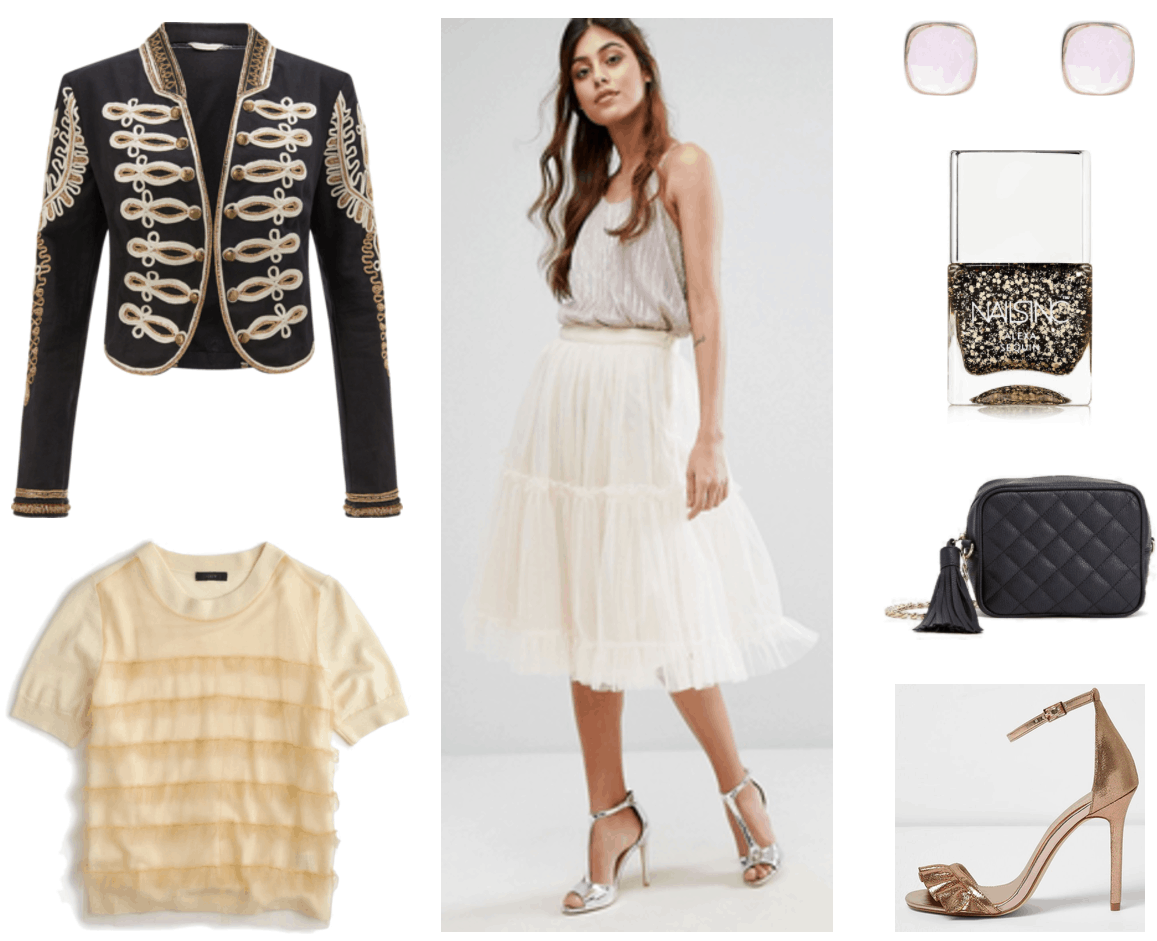 Products: Jacket – Monsoon, Sweater – J.Crew, Skirt – ASOS, Earrings – Wolf & Badger, Nail Polish – Net-a-Porter, Bag – JustFab, Sandals – River Island
This final look takes its inspiration from several of the characters we see in the music video for "Wings," and would be perfect for a formal event with a creative dress code!
Start off by putting on a pretty tulle-overlay sweater and a flouncy midi-length tulle skirt; I know that this seems like a lot of tulle, but since the style of the sweater is more preppy, while the style of the skirt is more dressy, and because both pieces are different colors, it works.
Next, throw on a luxe military-inspired jacket to bring the look back down to earth.
Some pretty rose quartz stud earrings complement the outfit perfectly, while a classic quilted bag adds some sophistication.
Put on a pair of rose gold sandals to complete the outfit — and, if you crave more shine, paint your nails with this mysterious black-and-gold sparkly nail polish.
What do you think?
Which music video should I cover next? Are you a Birdy fan? Which of the characters in the video inspires you most? How do you style whimsical and ethereal pieces? Let me know in the comments!