Our past few Fashion Inspired by Art posts have featured many bold and bright garments, but if you're more into classic pieces or if your wardrobe's go-to colors include cream and navy, this post is for you!
This week, we're featuring Austrian painter Egon Schiele and his portrait of Elisabeth Lederer. Read on to learn more about Schiele, and to see three outfits inspired by this work of art.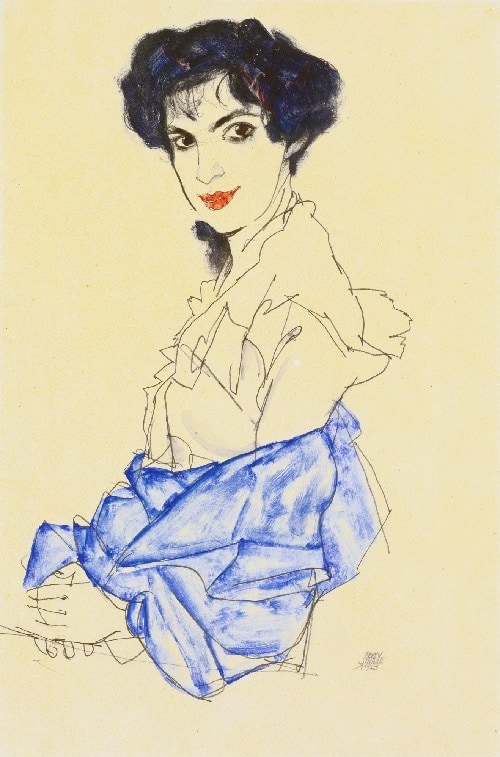 Egon Schiele's "Bildnis Elisabeth Lederer" (1913) via Wikimedia Commons
About Egon Schiele
Egon Schiele was born in the Austro-Hungarian Empire on June 12, 1890. Schiele is regarded as one of the notable figurative painters of the early 20th century, and was a protege of the renowned Gustav Klimt.
Schiele's paintings are known for his use of intense lines to illustrate twisted body shapes. These characteristics mark Schiele as an early interpreter of the modernist art movement known as Expressionism. He died at the age of 28 on October 31, 1918, only three days after the death of his wife, Edith. Schiele's last works were several sketches of her.
This post features Schiele's portrait of Elisabeth Lederer, a woman whose portrait he was commissioned to paint in 1912. The Lederer family was amongst the richest in Vienna at the time, and were also admirers of Gustav Klimt. Klimt also painted his own portrait of Elisabeth.
Though both artists painted the baroness, their disciplines varied greatly. Klimt painted her amongst his trademark decorative backgrounds, whereas Schiele's attitude towards her portrait is more straightforward – Schiele focused on capturing her individual personality, rather than masking it with elaborate patterns like Klimt.
Having featured Klimt's work last time around, I turned to Schiele for inspiration in creating simpler looks, which you can check out below.
Outfits Inspired by Egon Schiele's "Portrait of Elisabeth Lederer"
Pastels and Patterns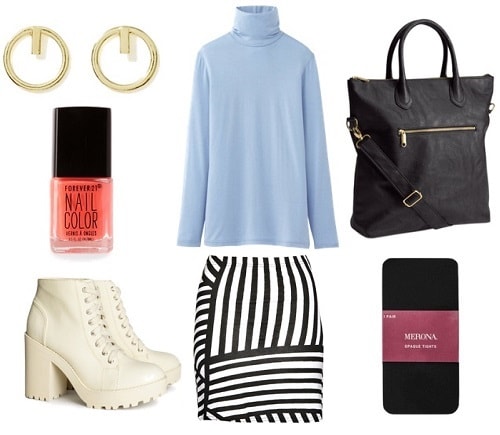 Earrings, Nail Color, Shoes, Sweater, Skirt, Bag, Tights
Although these outfits will keep spring in mind, I wanted to feature a winter staple in this first set. Turtlenecks are usually associated with fall and winter fashion, but even during spring some of us still experience chilly mornings on our way to class or work. A pastel turtleneck functions as a perfect transition piece: it's a winter garment sporting a spring color.
This outfit is also inspired by what Alexa Chung wore at the Peter Pilotto for Target launch party. I've never really thought about wearing a pastel turtleneck, but seeing her outfit sparked some ideas. Wearing a pastel turtleneck with a skirt is an effortless way to mix season essentials, and this black-and-white patterned skirt adds an extra bit of fun to your look!
Lastly, I added the coral polish, off-white boots, and gold earrings as a nod to the colors found in Schiele's painting.
Still not warm enough for your morning or evening commute? Slip on some spring-friendly outerwear, or if you want to add some edge, you can never go wrong with a leather jacket.
Light and Bright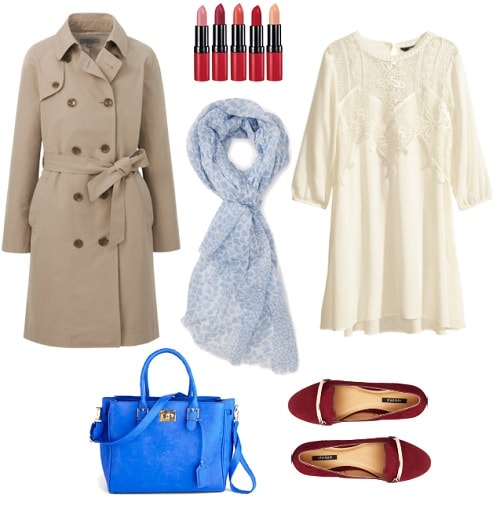 Coat, Lipstick, Scarf, Dress, Bag, Shoes
The soft hues of this lacy dress and classic trench make it easier add on bold-colored accessories, such as this bright blue bag and these maroon loafers. I also opted for a light blue scarf as opposed to one in a louder color to better balance the ensemble.
The red lips displayed on Schiele's painting certainly add some extra life to Elisabeth's portrait! To emulate that look for yourself, add a swipe of matte lipstick. This shine-free finish made many appearances during Fashion Week, and if you're looking for a budget-friendly way to try this runway trend, I highly recommend the matte lipstick line by Rimmel London.
Here's another inspiration tip from the runway: if you're looking for a new way to wear your scarf, try wearing it behind your neck, draped over your front, and secured to your waist, as seen at the Burberry show during London Fashion Week. Cinch it with the cloth belt provided with the coat, or opt for a belt that matches your bag. It'll look fab against the neutral coat and pale scarf!
Spring Suit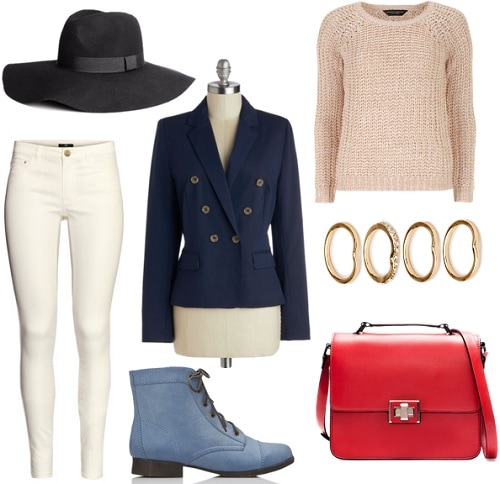 Hat, Pants, Blazer, Shoes, Rings, Sweater, Bag
This menswear-inspired ensemble is perfect for a nice weekend out in the city. If you're searching for a new, versatile piece to add to your wardrobe, consider a navy blazer. There are many ways to wear it, and it's a safe choice for both formal and casual occasions.
The white skinny jeans and wool hat help dress down the formal shape of the blazer, while the red satchel creates a playful contrast to the muted blue boots. If you're interested in patterns, swap the beige sweater for a striped top or try out a graphic tee if you want something more casual.
Schiele's painting includes heavier black lines around Elisabeth Lederer's eyes which, along with her bold lips, draw focus to her character. Consider wearing this last outfit with a classic cat eye, and if you'd like to add a vintage vibe, wear mascara on your bottom lashes to channel Twiggy's iconic eyes.
Final Thoughts:
There are some pieces I fall back to when it starts getting warmer — like sleeved shift dresses or breton stripe shirts — because of their versatility. Bridging that gap between seasons can be a bit tricky! Transitioning your wardrobe from winter to spring might take some time, but while the snow's melting, you can take the chance to experiment. Try wearing your winter favorites with your spring essentials, or mixing classic colors with trending shades.
By combining key elements of both seasons and adding your own touch to the mix, your outfits are sure to emphasize your unique style, just as Schiele's portrait brought out Elisabeth's character.
What do you think?
What do you think of Schiele's painting? What are some of the classic pieces in your closet? Which of these three outfits is your favorite? I'd love to hear your input in the comments below!