This post may contain affiliate links, which means we may receive a commission if you purchase through our links. Please
read our full disclosure here
.
Getting dressed during the transitional period between seasons can be tricky. Stores and magazines start filling with all the new spring trends so early and, if you're impatient like me, it can be hard to wait until the weather warms up to wear them.
Fortunately, you can incorporate a few trendy spring items into your existing winter wardrobe to create outfits that look more like spring, but are still appropriate for the next few weeks of winter weather.
Below, I've created five winter-to-spring transition outfits featuring five different spring fashion trends. Scroll down to see them all:
1. Black-and-White Prints
Product information: Shirt, Necklace, Tights, Skirt, Ankle Boots
Black and white items were all over the spring runways, and a miniskirt incorporating this trend is the perfect way to dress up a chambray shirt. Black tights and booties are polished and streamlined, while a sparkly necklace gives the look a little bit of edge. When spring comes, you can swap out the chambray shirt for a vibrant tank and the tights and booties for bare legs and sandals.
2. Dark Florals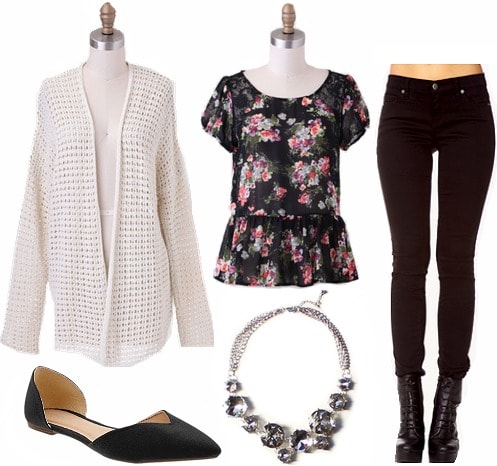 Product Information: Cardigan, Necklace, Blouse, Jeans, Flats
Yes, florals are always on trend for spring. However, a black-based floral print can be just as fitting in the colder months. Wear this peplum-waist top now with black skinny jeans, a chunky cardigan, and a glitzy necklace for a cozy chic look. In the warmer months, it'll be the perfect top to dress up some denim shorts.
3. Icy Pastels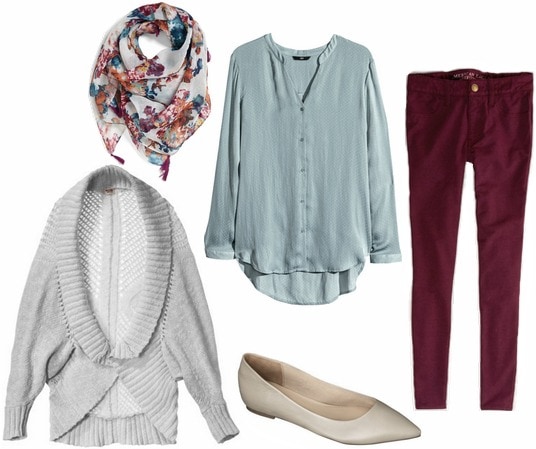 Product Information: Cardigan, Scarf, Flats, Top, Leggings
This spring, pastels will be popping up in all sorts of cool, shimmery tones. Try the look now by pairing a silky ice-blue blouse with a cozy open front cardigan, berry-hued leggings, a floral scarf, and ivory flats. This is the perfect outfit for staying warm and cozy while looking ready for spring.
4. Metallics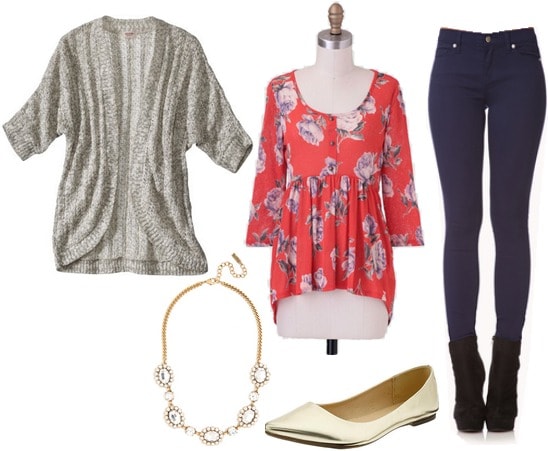 Product Information: Cardigan, Necklace, Top, Flats, Jeans
Use a pair of sleek metallic flats to freshen up your typical cozy layered look. These gold flats will hit just the right note now with a relaxed combination of a cardigan, loose-fitting top, and skinny jeans. Later, you can pair them with flirty sundresses throughout spring and summer.
5. Geometric Prints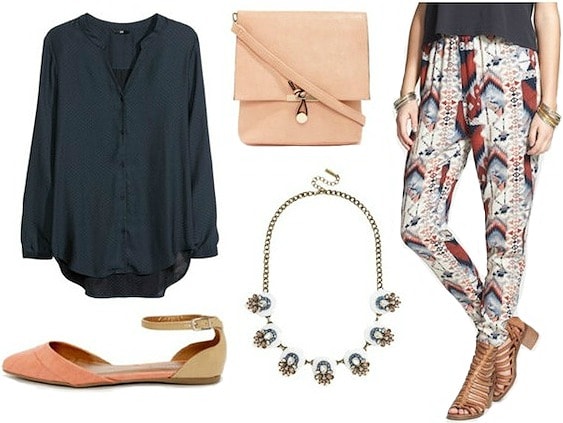 Product Information: Blouse, Flats, Bag, Necklace, Pants
Instead of reaching for a geometric print miniskirt or body-con dress, try the print on a pair of woven track pants. These are the perfect item to help you bridge the gap between winter and spring. When worn with a deep grey blouse, pale pink flats, a crossbody bag, and a statement necklace, you've got the perfect weekend getup for when it's still too cold outside to go bare-legged.
Tell me what you think!
Which spring trends are you looking forward to wearing? Would you wear any of these outfits? How do you dress for the winter-to-spring transition? Let me know by leaving a comment below.